Bullpen has no answer for relentless Marlins
Relievers yield 7 runs to spoil Soroka's 7 scoreless frames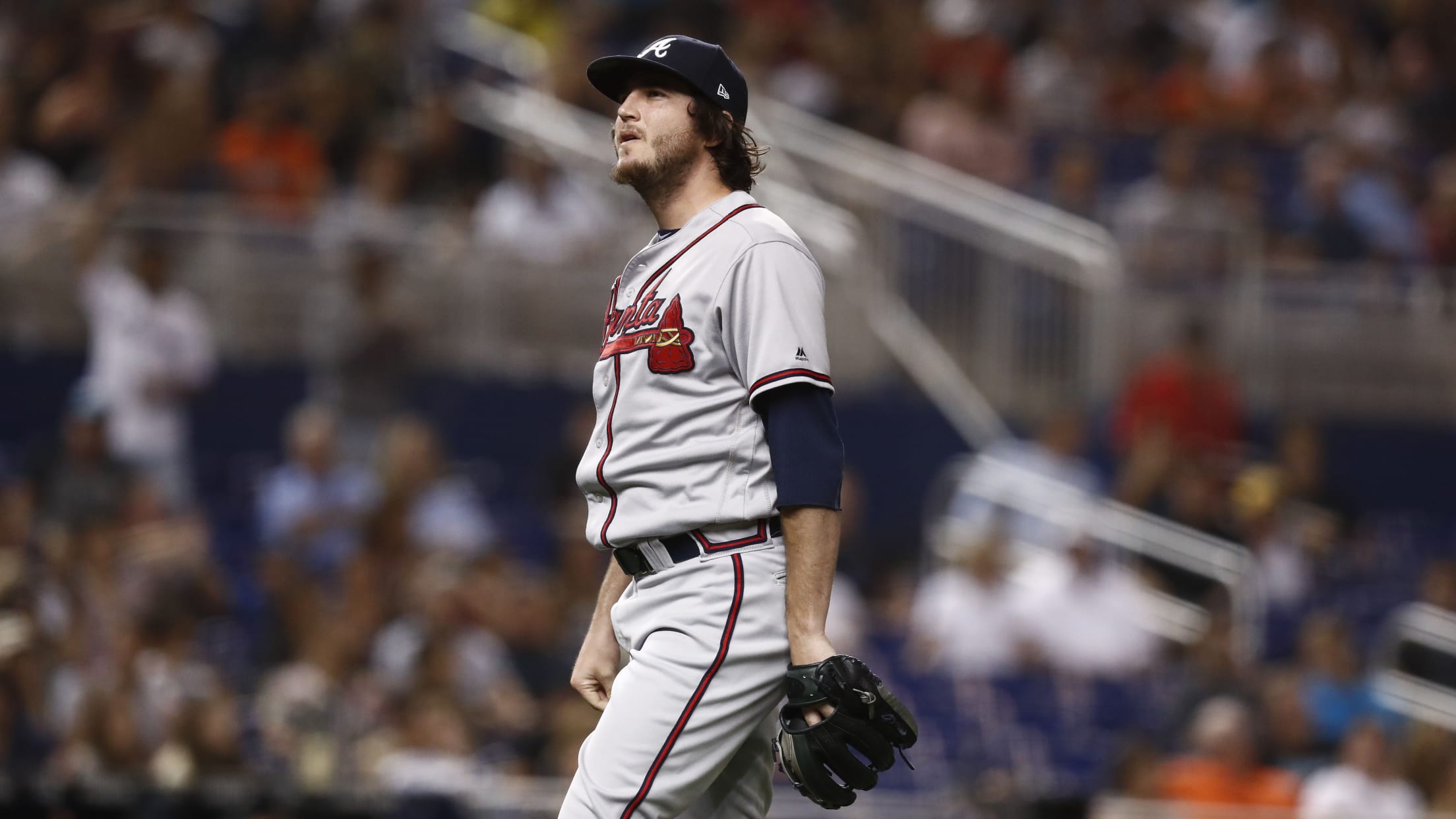 MIAMI -- When the National League East-leading Braves assessed their roster prior to last month's Trade Deadline, they decided to take action to improve their relief corps by acquiring veterans Shane Greene, Mark Melancon and Chris Martin. Things haven't gone quite as planned in the days since. What started as
MIAMI -- When the National League East-leading Braves assessed their roster prior to last month's Trade Deadline, they decided to take action to improve their relief corps by acquiring veterans Shane Greene, Mark Melancon and Chris Martin.
Things haven't gone quite as planned in the days since. What started as a duel of All-Star pitchers Mike Soroka and Sandy Alcantara turned into a battle of the bullpens in the Braves' 7-6 loss to the Marlins in 10 innings on Saturday.
And if the sting of a walk-off defeat wasn't enough, minutes later players scattered when a fire extinguisher that was struck spread dust throughout the basement level at Marlins Park via a portable fan.
"You keep giving guys chances, and it just comes back and bites you," said Braves manager Brian Snitker, who still had dust on his cap when talking to the media in the hallway.
When Johan Camargo belted a pinch-hit three-run homer in the ninth to make it 6-2, it looked as though Atlanta would reach its 70th win by Aug. 10 for the first time since 2013. Though it was no longer a save opportunity for the second straight night, Melancon took the mound hours after addressing being named the club's closer because of Greene scuffling.
That pair proceeded to give up six straight hits that knotted the game. The Braves would throw out the potential winning run at home on Starlin Castro's game-tying, two-RBI double.
"I think it's just one of those nights," said Melancon, who hadn't allowed a run in his first four outings with the Braves. "I didn't locate as well as I wanted to, and when you do that, you allow for balls to be a little more squared up. Guys with good bat control like they have find holes. It is what it is. Tomorrow's a new day, and this is Game 3 in the middle of August, and it's extremely important. We're going to come back hard and strong."
The decision to switch up the closer comes on the heels of Greene's struggles since joining Atlanta at the Deadline. He converted 22 of 25 save situations with the Tigers this season, but he entered Saturday having given up five runs on nine hits over 3 1/3 innings spanning four outings for the Braves.
Prior to Thursday's series opener, Braves general manager Alex Anthopoulos gave an early assessment of the new additions to the bullpen. By going out and acquiring the trio of Melancon (183 career saves), Greene (11.25 ERA since changing clubs) and Martin (13.50 ERA), Atlanta has the luxury of closing experience it didn't have before, when Luke Jackson was thrust into the role and saved 17 games in 24 chances.
Jackson, as it turns out, would take over for Anthony Swarzak, whom the Braves dealt for in May from the Mariners, in the eighth following a pinch-hit homer and single. After walking Isan Diaz, Jackson got Castro to fly out to right before Brian Anderson produced an RBI single to cut the Braves' lead to 1.
"Right now, we obviously haven't gotten the results," Anthopoulos said on Thursday. "Like you said, it's a small sample size. The stuff is there with all these guys, but it's tough anytime. Snit's talked about finding the roles and the right spots. We did get deeper with the bullpen. These guys have been around for a while. They've had some success, and we added to our depth because everyone we sent out, we optioned. From that standpoint, we definitely feel that we're stronger. Since the All-Star break, we haven't performed well as a group. I'm stating the obvious, but I believe in the talent that we have there and the group that we have."
In the 10th, converted reliever Sean Newcomb permitted a leadoff single to Harold Ramirez and his pickoff attempt sailed into foul territory as Ramirez raced to third. With the infield drawn in, Martín Prado knocked the game-winning sacrifice fly to left.
Entering Saturday, Atlanta ranked 29th in bullpen WAR (-1.0). The club dropped to 56-4 when leading after eight innings and 4-5 in August.
"That's not fun," Melancon said. "I think we have to take a step back and look at it as just a bad night for us, bad night for me, especially. There's no excuse for that. You tip your cap to those guys. They put them in the holes, but I didn't lose any confidence in myself or the bullpen.
"We're going to come together real nice at a time that's coming soon. We've got some kinks to work out, and we're going to do that. I'm not concerned about it 'cause we've got a lot of mentally strong guys here. It's a little bit like Spring Training right now with everything, but there's no excuse and it's just part of it. I didn't pitch well tonight, and I deserve to give up some runs."