Wilson chased as injury-depleted staff labors
No. 7 prospect gives up four runs over 3 1/3 innings in second start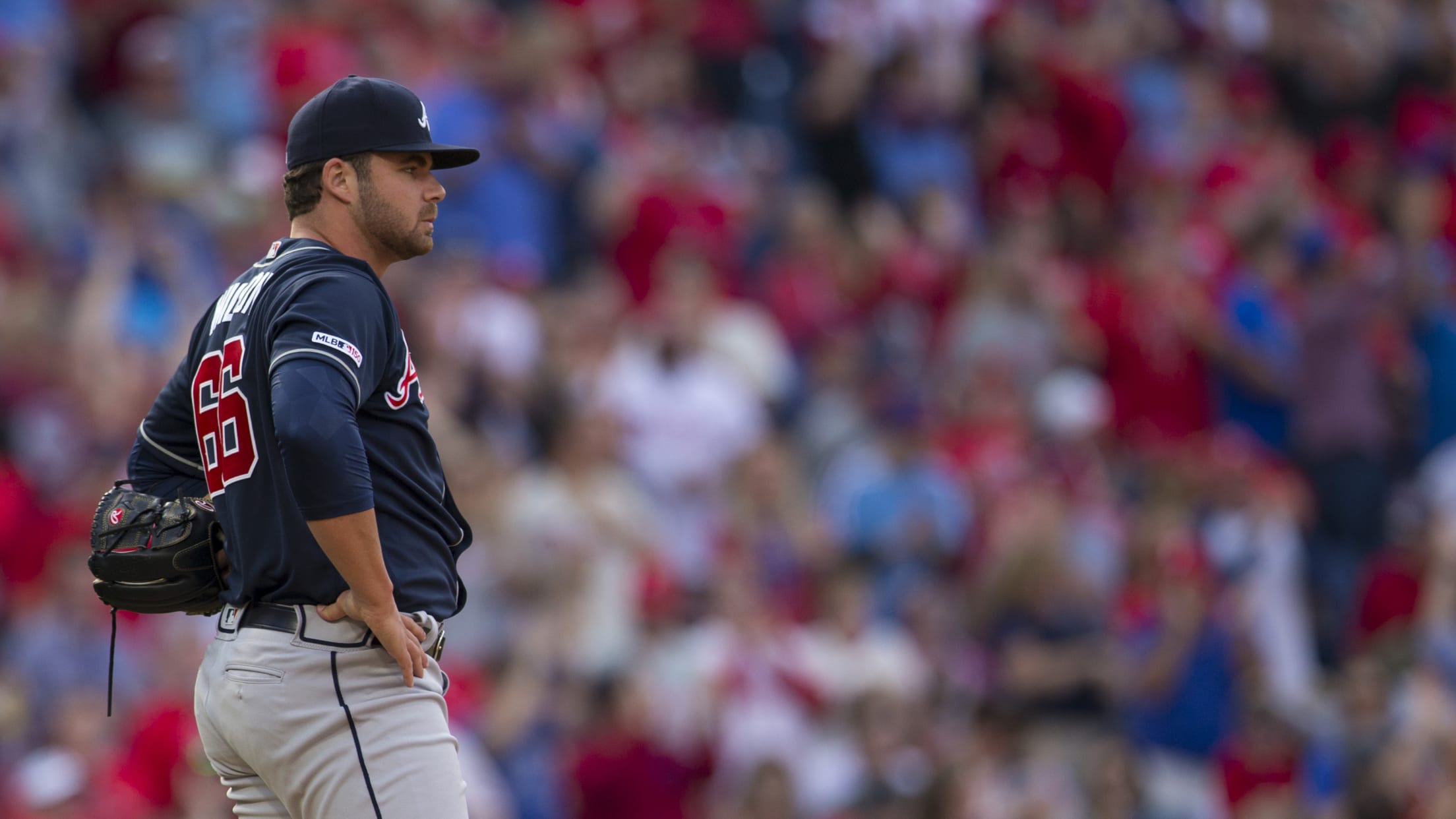 PHILADELPHIA -- While Bryce Harper and J.T. Realmuto further endeared themselves to their new fans in Philadelphia, the Braves opted to remove their key offseason acquisition, Josh Donaldson, with a double switch during the seventh inning of Saturday's 8-6 loss to the Phillies at Citizens Bank Park. This is just
PHILADELPHIA -- While Bryce Harper and J.T. Realmuto further endeared themselves to their new fans in Philadelphia, the Braves opted to remove their key offseason acquisition, Josh Donaldson, with a double switch during the seventh inning of Saturday's 8-6 loss to the Phillies at Citizens Bank Park.
This is just how it has gone thus far for the Braves, who remained relatively quiet over the offseason and then endured a rash of pitching injuries during Spring Training. The combination has been destructive as the Phillies' much-improved and intimidating lineup has tagged Atlanta's pitching staff for 18 runs and 16 hits, including six homers, over 16 innings through this season's first two games.
"It's just two games," Braves shortstop Dansby Swanson said. "What made us great last year will make us great again this year, and that is belief in each other. It's easy to lose perspective and it's everyone else's job to freak out. But that is not what happens around here. We have too many good players and too much belief in each other to be worried about anything."
While Donaldson has gone hitless through his first seven at-bats, Freddie Freeman (5-for-8 with two doubles) has started hot and Swanson has shown some power potential with his healthy left wrist. But dating back to the offseason, the concern about this team has centered around the pitching staff that is currently without its two top starters -- Mike Foltynewicz and Kevin Gausman -- and key reliever A.J. Minter.
These injury-related absences have forced Braves manager Brian Snitker to rely on Bryse Wilson, who spent Saturday reaffirming that a strong Spring Training does not prevent a young starter from being exposed during the regular season. The 21-year-old right-hander issued four walks, including one ahead of the Cesar Hernandez RBI triple and Maikel Franco go-ahead, two-run homer that chased him with one out in the fourth.
Wilson's early exit placed more pressure on an injury-depleted bullpen, which has issued five walks, surrendered four homers and allowed 11 earned runs over 7 2/3 innings. While the Braves did not address their pitching staff this offseason, the Phillies added Harper, who drilled a 465-foot homer off lefty Jesse Biddle in the seventh. The second-deck homer added to the lead created by the two-run homer Wes Parsons gave up to Realmuto, who was pursued by the Braves before the Marlins shipped him to Philadelphia.
"[Wright] didn't seem quite the same," Braves catcher Tyler Flowers said. "I'm not sure if anything in his head was different or whatever it was. In the 'pen, I thought he did a good job of remaining calm and not overamping himself. He didn't seem quite as aggressive throwing pitches. I'm not going to say the word scared, because I know he's not scared, but he might have been trying to be a little too fine."
Franco's 2-run HR ends the day for Wilson: 3.1 IP, 5 H, 4 ER, 4 BB (1 intentional), 3 K. Much of the spring hype focused on his slider, which he used just seven times during today's 73-pitch outing. Slider resulted in two called strikes, three fouls and one BIP (Hoskins double)

— Mark Bowman (@mlbbowman) March 30, 2019
With two starters on the injured list and the desire to throw right-handers against the Phillies, the Braves rolled the dice by giving Wilson his second career start on Saturday and assigning Kyle Wright to make his first career start in Sunday's series finale. The prospects have bright futures and could prove to be valuable assets this season. But they'll be best served with the added Minor League development they'll get once veteran starters Foltynewicz and Gausman are activated from the injured list within the next couple of weeks.
With Foltynewicz, Gausman and Minter sidelined, the Braves have to weather the storm for now. But the early results have not necessarily given hope at full strength they will still have enough to combat the fortified rosters the Phillies, Mets and Nationals built during the offseason.
"No matter who it is, we all represent the same thing," Swanson said. "We all have an 'A' on our hat and 'Braves' across our chest. That's what makes great teams great, is depth, belief in one another and the ability to perform. I don't think anybody in this room cares about who it is. We just want to succeed."
Absence of a weapon
Much of the Spring Training buzz about Wilson focused on the much-improved slider he had developed. But he ended up throwing the pitch just seven times during this 73-pitch outing. Flowers recognized it didn't have the same life early in the game and was hesitant to call the pitch, especially after one resulted in a second-inning double by Rhys Hoskins, who has shown susceptibility to sliders.
Wilson's four-seam fastball averaged 92.6 mph, down from the 94.9 mph average he produced while making one start and two relief appearances last year.
"I felt OK," Wilson said. "There was nothing going on, but the velo wasn't there tonight. It just happens sometimes."
Swanson's power
Swanson gave the Braves a 3-1 lead in the second inning when he turned on Nick Pivetta's inside fastball and lined it into the left-field seats. The two-run homer came off the bat at 108.4 mph and traveled a projected 393 feet. That's the highest exit velo he has generated with any of his 24 career homers.
Four-hit Freddie
Freeman enjoyed his 13th career four-hit game while recording a pair of doubles and two RBI singles. The Braves' first baseman has notched two of those 13 games within his past five regular-season games. His most recent came in Philadelphia on Sept. 28, 2018.
Mark Bowman has covered the Braves for MLB.com since 2001.