Swanson still hindered by right heel injury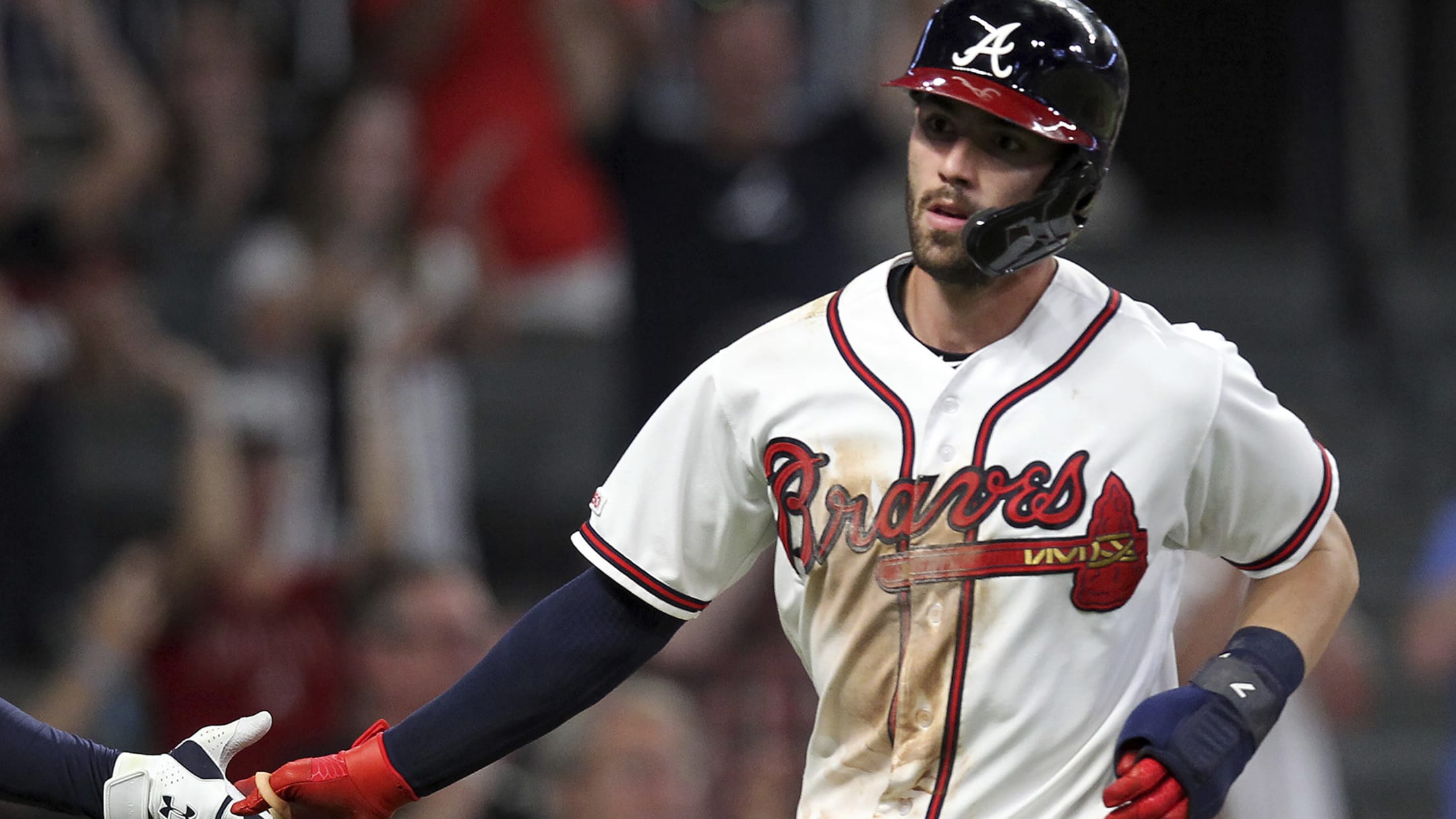 ATLANTA -- Three weeks after suffering a right heel ailment that initially did not seem significant, Dansby Swanson remains relatively inactive and frustrated by the fact that there is no clear indication about when he might resume his role as the Braves' shortstop. "It's a frustrating injury," Swanson said. "It's
ATLANTA -- Three weeks after suffering a right heel ailment that initially did not seem significant, Dansby Swanson remains relatively inactive and frustrated by the fact that there is no clear indication about when he might resume his role as the Braves' shortstop.
"It's a frustrating injury," Swanson said. "It's kind of impossible to avoid because you've got to walk. There's times you put pressure on [the foot] all the time. I'm doing everything I can to get back and be ready. I have no update when that will be."
Swanson bruised his right heel during a July 23 loss to the Royals and then aggravated it while completing running drills during August's first weekend, a few days before the Braves were hoping he would return.
"I have no idea with a timeline or anything like that," Braves manager Brian Snitker said. "We'll just go day to day and hopefully, at some point, he gets some treatment and it turns really quick."
Other than gloving some ground balls from his knees, Swanson has been forced to remain rather sedentary. He says he's guided the Falcons to three Super Bowls on Madden NFL since suffering the injury.
"It's really hard to express if I am [improving] or if I'm not," Swanson said. "I think I am. The rest and treatment makes a difference. It's just a matter of how fast and it's never fast enough."
Swanson owns a .798 OPS and was on pace to hit 27 homers, which is four more than the career total (1,095 at-bats) he carried into this season. The absence of his bat has been partially compensated by the tremendous production from Ozzie Albies since he moved to the second spot in the lineup.
But Swanson's glove was clearly missed as the Braves initially filled his void at shortstop with Johan Camargo, whose reduced range has been one of this season's biggest disappointments. Charlie Culberson has served as the primary shortstop dating back to Thursday.
"I hate it for [Swanson] because he's been having just such a good year offensively and defensively," Snitker said. "I just hate it for the player because of what he meant to our club."
Riley update
Austin Riley visited Dr. James Andrews on Monday and received confirmation that he will not need surgery to repair the partially torn lateral collateral ligament in his right knee. The rookie hopes to begin playing in Minor League games again within the next two weeks.
Riley suffered the injury while making daily pregame preparations in the Target Field weight room before last Tuesday's game against the Twins. The 22-year-old slugger began feeling better two days later, but the Braves have maintained a cautious approach.
If Riley does not experience any setbacks after beginning to take batting practice on the field again next week, he will be sent to a Minor League affiliate for a rehab assignment. This stint will allow him to test the knee, and more importantly attempt to regain the confidence that has been shaken as he has produced a .517 OPS over his past 24 games.
The Braves would love to see Riley get hot in September and produce like he did when he homered 14 times and produced a .930 OPS through the 42 career games that preceded his recent skid.
Welcome back
Because their bullpen had a chance to rest during Monday's off-day, the Braves opted to no longer carry nine relievers like they had over the past four games in Miami. They optioned Patrick Weigel to Triple-A Gwinnett before Tuesday's game against the Mets and purchased outfielder Rafael Ortega's contract from Gwinnett.
Ortega tallied 21 homers and produced an .898 OPS over 111 games for Gwinnett this year. The 28-year-old left-handed hitter previously experienced big league stints with the Rockies (2012), Angels (2016) and Marlins (2018).
Mark Bowman has covered the Braves for MLB.com since 2001.