'57 Braves sweep '67 Cards in Bracket 2, Rd 2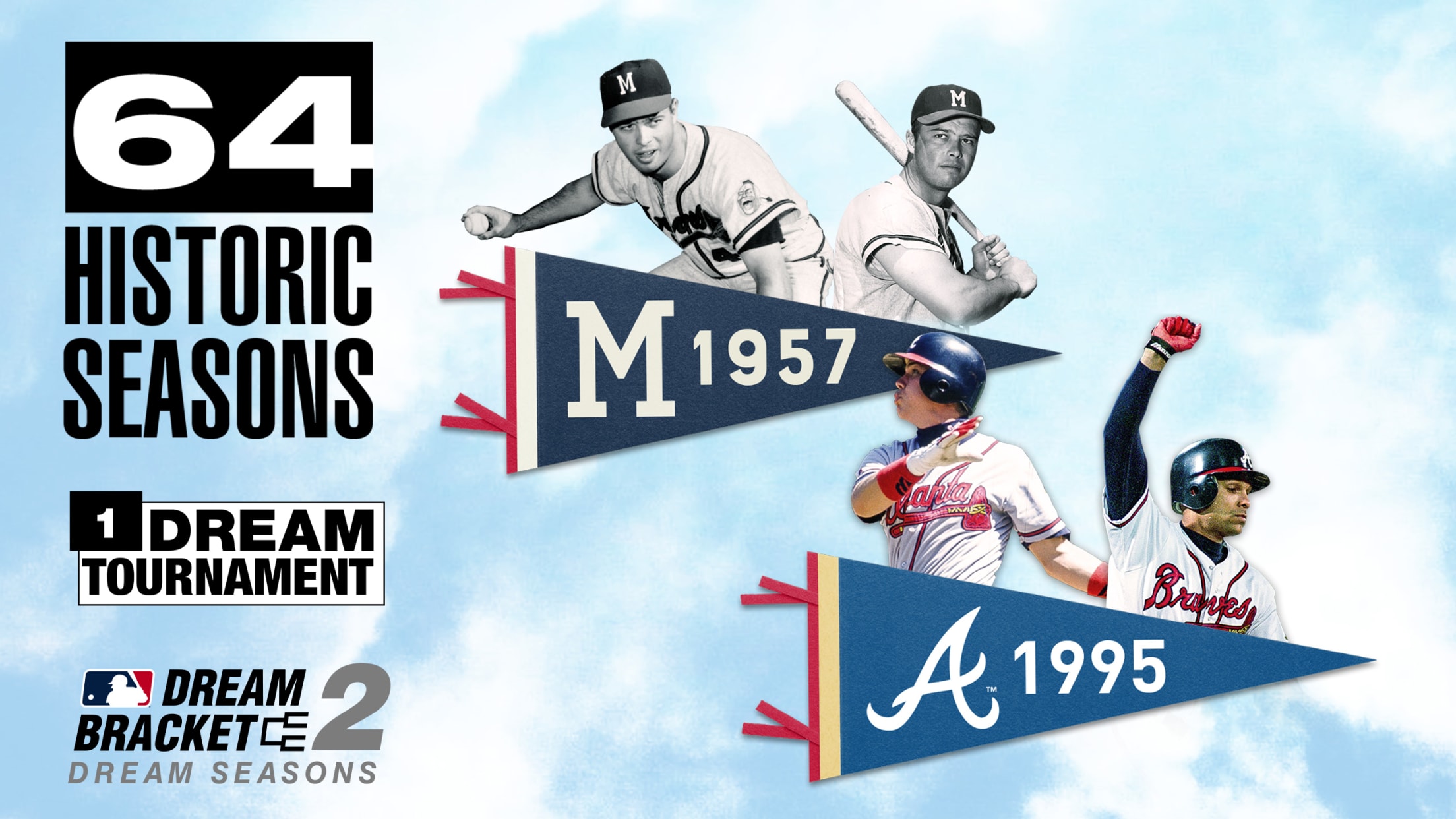 Bill Bruton's game-ending sacrifice fly allowed the 1957 Braves to sweep the '67 Cardinals and advance to the third round of MLB's Dream Bracket 2: Dream Seasons. • Box score and game summary The 1995 Braves will need to get past the 2004 Cardinals to also get to the third
Bill Bruton's game-ending sacrifice fly allowed the 1957 Braves to sweep the '67 Cardinals and advance to the third round of MLB's Dream Bracket 2: Dream Seasons.
The 1995 Braves will need to get past the 2004 Cardinals to also get to the third round of this 64-team computer simulation tournament.
The simulated competition, featuring many of the greatest teams in baseball history, is being produced by Out of the Park Baseball 21, MLB's most realistic strategy game (PC and Mac).
• Complete Dream Bracket 2 rosters
Here's a game-by-game look at how the 1957 Braves advanced:
Game 1: Braves 4, Cardinals 2
Cardinals second baseman Julian Javier committed a pair of errors in the decisive two-run seventh inning. Bruton reached on the first of those miscues and then scored the winning run when Javier was unable to handle a grounder by Braves second baseman Red Schoendienst, who played most of his Hall of Fame career with St. Louis (1945-56, '61-63). Eddie Mathews' RBI triple in the third off Bob Gibson provided an early lead for Warren Spahn, who allowed two runs over six innings.
Game 2: Braves 3, Cardinals 1
Hank Aaron gave the Braves an early lead with his fourth-inning solo homer off Steve Carlton. Schoendienst began his two-hit day with an RBI single in the fifth and ended it with solo homer off Nellie Briles in the eighth. Carlton allowed just four hits oven seven innings, but he was outdueled by Lew Burdette, who held the Cardinals scoreless until Lou Brock singled and scored in the eighth.
Game 3: Braves 5, Cardinals 3
Schoendienst's leadoff triple positioned him to score on Frank Torre's decisive sacrifice fly in the fifth. Del Crandall and Wes Covington both homered off Cardinals right-hander Dick Hughes, who finished second in 1967 National League Rookie of the Year Award balloting, but was never able to overcome the torn rotator cuff he suffered the next year. Dal Maxvill's one-out single accounted for the only damage done to Ernie Johnson, who struck out three in a scoreless ninth.
Game 4: Braves 7, Cardinals 6
Aaron went just 3-for-17 during this series, but the Braves legend sparked the decisive ninth inning with a leadoff single. Cardinals lefty Joe Hoerner then issued a walk and surrendered a single to load the bases for Bruton, who hit his series-ending sacrifice fly to left field. Covington drew that ninth-inning walk and hit a pair of homers. Johnny Logan added a homer for the victors. The Cards received three hits apiece from Curt Flood and Orlando Cepeda. But Tim McCarver's fifth-inning homer and Cepeda's third-inning double served as St. Louis' only extra-base hits.
Mark Bowman has covered the Braves for MLB.com since 2001.