Folty, Gausman hoping injuries won't linger
Pitchers confident they'll be ready for Opening Week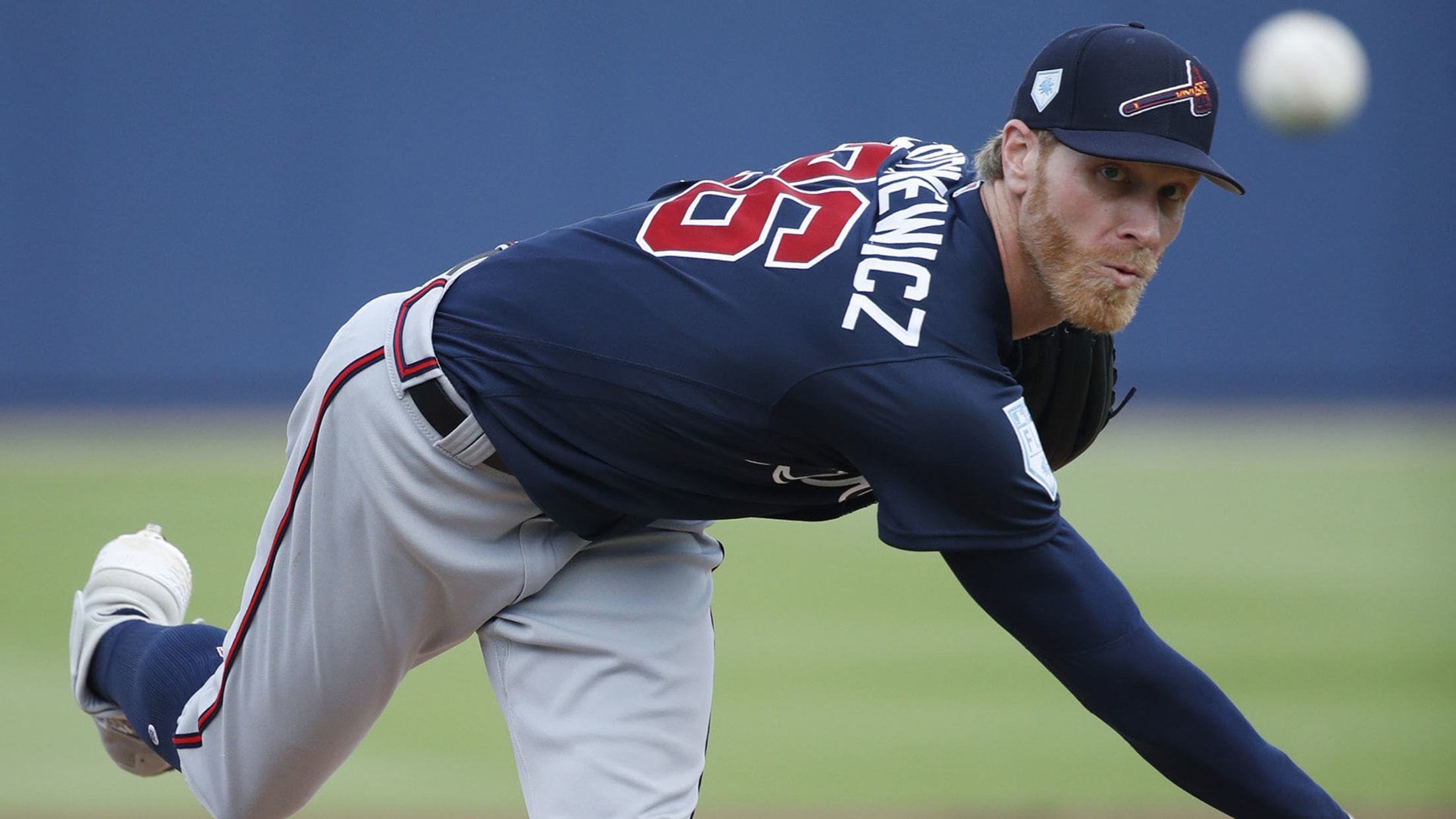 LAKE BUENA VISTA, Fla. -- Mike Foltynewicz may not have enough time to be ready to get the ball for his first Opening Day start. But both the All-Star hurler and Kevin Gausman are confident they will be part of Atlanta's rotation before the end of the regular season's first
LAKE BUENA VISTA, Fla. -- Mike Foltynewicz may not have enough time to be ready to get the ball for his first Opening Day start. But both the All-Star hurler and Kevin Gausman are confident they will be part of Atlanta's rotation before the end of the regular season's first week.
Before the start of the Braves' 4-3 walk-off win over the Blue Jays on Friday, Foltynewicz quieted concerns about his recent right elbow discomfort and Gausman said his recent right shoulder discomfort is also likely just a case of early Spring Training soreness.
"We're going to take this thing day by day," Foltynewicz said. "We're feeling really good. So hopefully we can get outside and start running around within the next few days. It's early right now. We're just going to take it slow right now."
Foltynewicz exited Sunday's spring debut feeling the same soreness that occasionally plagued him as he made 31 starts and posted the National League's fifth-best ERA (2.85) last year. Gausman blames his soreness on possibly being too aggressive with the preparations he made before arriving in Braves camp.
"I've thrown some really good bullpen [sessions] and the ball is coming out real easily, so now it's just a matter of getting built back up," Gausman said. "I'll be ready for the start of the season. That's the good thing, we've planned everything out."
Folty answers questions about his elbow. Opening Day might be a reach, but he and Gausman are confident they'll be ready during the regular season's first week pic.twitter.com/6TeivTPXfw

— Mark Bowman (@mlbbowman) March 1, 2019
While Gausman is aiming to make his Grapefruit League season debut next week, Foltynewicz is uncertain of when he'll be cleared to pitch. His elbow has improved significantly over the past few days, but a timetable will not be set until he meets with the team's head physician, Dr. Gary Lourie, on Saturday.
In order to be deemed ready for Opening Day, Foltynewicz would likely need to make his next start by March 8. But even though it appears he is not dealing with a serious ailment, it does not seem to make sense to rush him and take any chances.
"I can pitch through it and I can pitch through it successfully," Foltynewicz said. "I've proven it. This is just something us players have to go through sometimes. You've just got to read your body through the season. It's something I've been going through, but it's something we can take care of as well."
If Foltynewicz is unavailable, the Braves would have the option to give the Opening Day start to Julio Teheran -- who would match Warren Spahn as the only pitchers in franchise history to make six consecutive Opening Day starts -- or Sean Newcomb.
Braves manager Brian Snitker will evaluate his options once he gets a better feel for how Foltynewicz progresses over the next few weeks.
"I don't know what's going to happen down here," Snitker said. "We're going to let this thing go for a couple more weeks before we begin looking at that."
With two off-days scheduled before their fifth game, the Braves would have the option to begin the season with a four-man rotation and then fit Foltynewicz or Gausman in near the end of that rotation's first turn or at some point during the second turn.
"It's a good thing we have time right now," Foltynewicz said. "They've been working on me the last few days. It's not anything I'm worried about. It was good to catch it early."
Mark Bowman has covered the Braves for MLB.com since 2001.