Showcasing power, Acuna falls in Derby semis
Braves' OF hits 25 HRs in 1st-round win, then loses to Mets' Alonso
CLEVELAND – Hours before the start of the T-Mobile Home Run Derby on Monday night, Braves outfielder Ronald Acuña Jr. made a few predictions. "I'm going to have a lot of fun," he said with a laugh. "And there are going to be a lot of home runs hit tonight."
CLEVELAND – Hours before the start of the T-Mobile Home Run Derby on Monday night, Braves outfielder Ronald Acuña Jr. made a few predictions.
"I'm going to have a lot of fun," he said with a laugh. "And there are going to be a lot of home runs hit tonight."
He was right on both accounts.
The No. 6 seed in the Derby, Acuna hit 25 home runs in the first round to eliminate the No. 3 seed, Pirates first baseman Josh Bell, who hit 17, and advance to the semifinals. Acuna then hit 19 homers, but Mets slugger Pete Alonso, the eventual winner, answered with 20 to move on to the finals against the Blue Jays' Vladimir Guerrero Jr., ending Acuna's night.
• Acuna effortlessly blasted Derby homers while blowing bubbles
"What an incredible experience," Acuna said. "I thought I was going to win. Everyone that was in had a chance and thought he was going to win. I did my best and got beat."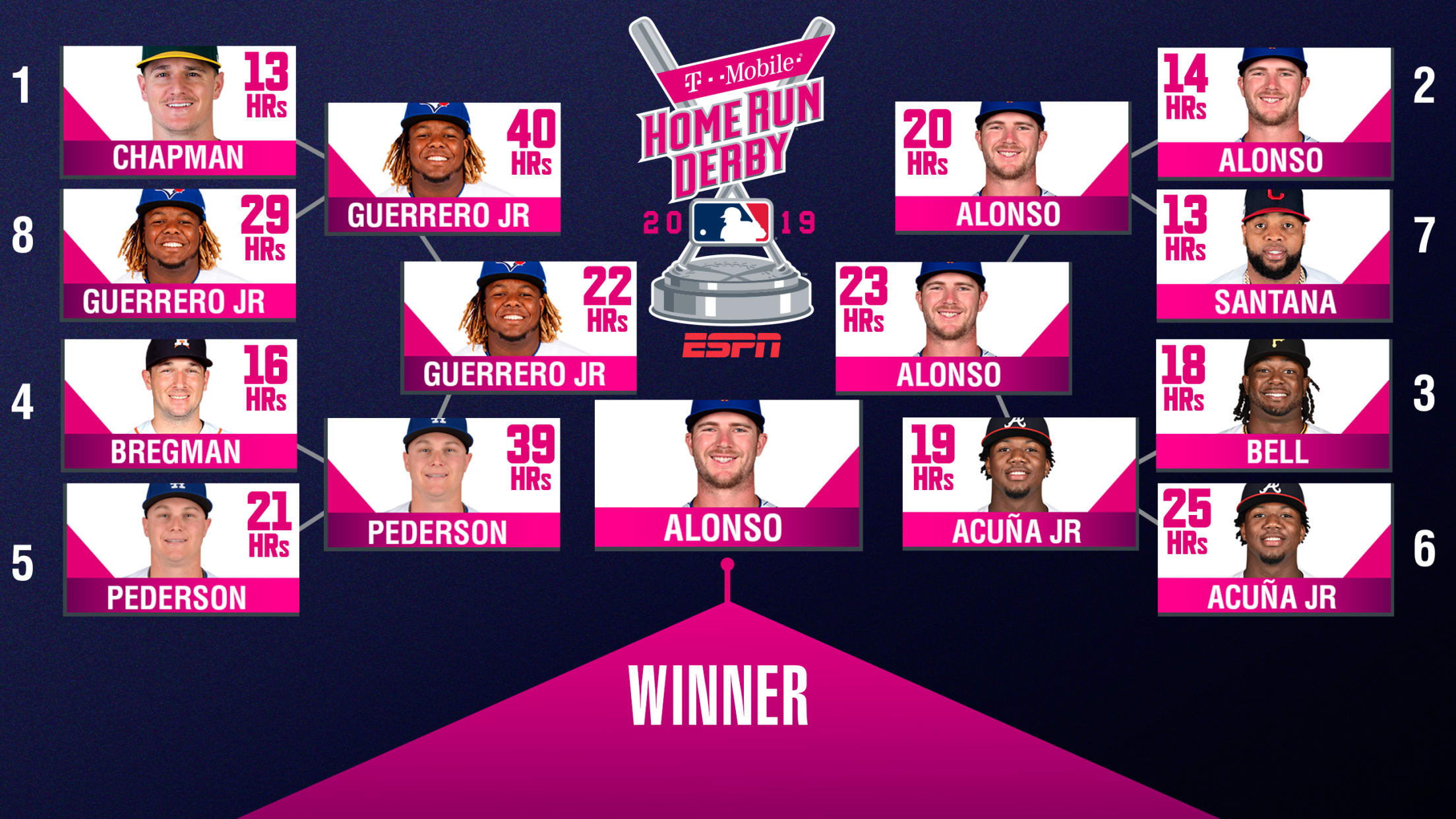 The night was not a total loss.
Braves infield instructor Tomas Perez, a former teammate of Ronald Acuna Sr., pitched to the young All-Star and he delivered the goods. Acuna sprayed home runs to all fields at Progressive Field giving fans seated in all outfield sections a chance at a souvenir. He wore an arm sleeve patterned after the flag of Venezuela for the fans watching back home.
The exit did not dampen Acuna's spirit. In fact, the Braves' outfielder has been having a blast since he arrived in Cleveland for his first All-Star Game. Earlier on Monday, he charmed his way through National League media availability, and then starred with his fellow Derby competitors in the Home Run Derby press conference.
Later, Acuna clowned around with his fellow All-Stars during batting practice, and he never stopped smiling. He even flashed his familiar grin after being eliminated from the Derby.
It was easy to see why.
Ronald Acuña Jr. with 25 home runs for 2 total miles in distance!!! Wow, what a beautiful spray too! pic.twitter.com/8GtywAUZa2

— Daren Willman (@darenw) July 9, 2019
Monday was about fun and homers. Acuna simply had a little more fun than home runs.
"All I can say is that everything was incredible," Acuna said. "What a day. This is something I will never forget."