Notes: Acuna homers, Teheran's velocity up
Swanson cleared for game action; Donaldson on track for Wednesday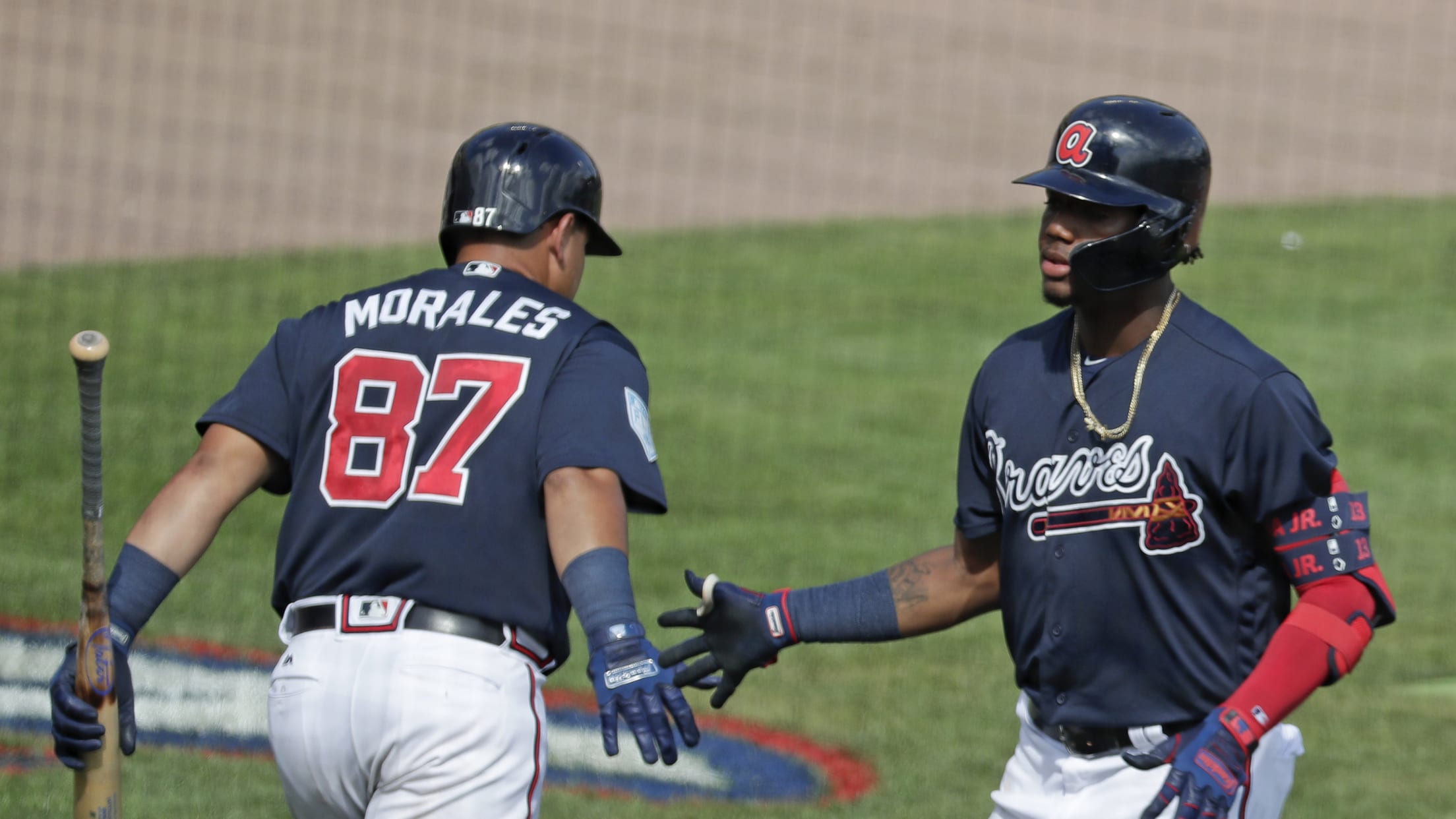 LAKE BUENA VISTA, Fla. -- It was only a matter of time before Ronald Acuña Jr. barreled a ball and felt the satisfaction of hitting his first home run of the spring, going deep in Monday's 4-3 loss to the Astros at ESPN's Wide World of Sports complex. "He's swinging
LAKE BUENA VISTA, Fla. -- It was only a matter of time before Ronald Acuña Jr. barreled a ball and felt the satisfaction of hitting his first home run of the spring, going deep in Monday's 4-3 loss to the Astros at ESPN's Wide World of Sports complex.
"He's swinging the bat good," Braves manager Brian Snitker said. "The takes and the contact he's making. It's just been real consistent and real steady. I think he's right where he needs to be."
Acuña was 2-for-12 with five strikeouts and two walks when he strolled to the plate to face Brady Rodgers during Monday's sixth inning. The reigning National League Rookie of the Year proved his bat is still loaded with power when he drilled a fastball off the batter's eye in dead center field.
"It's good, a home run is a home run," Acuña said through an interpreter. "But I think the important thing is I feel good at the plate, and that's what I'm taking away from it."
👋⚾️@ronaldacunajr24 delivers his first home run of #BravesST! pic.twitter.com/v7P4rfdDGI

— Atlanta Braves (@Braves) March 4, 2019
Having received regular playing time the past two springs, Grapefruit League action has already become quite familiar to the 21-year-old outfielder. This year he can simply prepare for a season without the distractions from last year, when he knew regardless of the results he would start the season in the Minor Leagues.
Now, Acuña only has to deal with the pressure of living up to the tremendous expectations he set when he tallied 19 homers and produced a 1.028 OPS over 303 plate appearances after the All-Star break.
"The at-bats have been good," Snitker said. "When I look at him, I look at the takes. It's the ability to take the close pitches. In his first plate appearance of the spring, he got a 3-2 breaking ball and he took it for a walk. For some guys, it takes them a while with their timing. But his timing to me has been really good."
Increased velo
Julio Teheran displayed an effective slider and increased arm strength as he allowed the Astros three runs (two earned) and recorded four strikeouts over three innings on Monday. This was the first Grapefruit League outing for the veteran hurler, who completed two innings against Minor Leaguers last week.
"He's been working really hard," Snitker said. "I think it was really encouraging today the way the ball came out of his hand."
Teheran's average four-seam velocity has dropped each of the past four years, going from 92.1 mph in 2015 to a career-low 89.9 mph last year. He touched 94 mph on Monday, and his fastball sat at about 92-93 mph. Myles Straw doubled against one of those heaters in the first, and Derek Fisher followed by hitting a 91-mph fastball over the center-field wall for a homer.
Fisher's homer accounted for the only damage against Teheran, who used his slider to conclude three of his four strikeouts.
"The first game, I wasn't expecting [the slider] to be this good, but I'm glad it was working today," Teheran said.
Ready to go
After completing a series of drills Monday, Dansby Swanson was cleared to make his spring debut on Tuesday afternoon against the Yankees in Tampa. His debut was delayed because he was bothered by scar tissue in his left hand while taking batting practice Friday.
As long as Swanson does not have any setbacks, he'll have plenty of time to prepare for Opening Day. The Braves shortstop tore a ligament in his left hand late last season and then underwent left wrist surgery to remove damaged cartilage in November.
Donaldson update
Josh Donaldson will run the bases, complete sliding drills and simulate other game activities on Tuesday at the Braves' complex and then likely make his debut Wednesday in a home game against the Tigers. Donaldson has been healthy since reporting to camp, but the Braves have been cautious with the former American League MVP, who was sidelined by a calf injury the past two seasons.
Up next
Kyle Wright will get the start when the Braves travel to Tampa to face the Yankees on Tuesday at 1:05 p.m. ET. The game will be broadcast on MLB.TV and Fox Sports Southeast.
Mark Bowman has covered the Braves for MLB.com since 2001.