Matzek shows emotion in postseason debut
ATLANTA -- Braves left-hander Tyler Matzek didn't shield his emotions as he clapped into his glove while looking back toward the Reds' dugout after recording three straight strikeouts to escape a 12th-inning threat during Atlanta's 1-0, 13-inning win in Game 1 of the National League Wild Card Series on Wednesday
ATLANTA -- Braves left-hander Tyler Matzek didn't shield his emotions as he clapped into his glove while looking back toward the Reds' dugout after recording three straight strikeouts to escape a 12th-inning threat during Atlanta's 1-0, 13-inning win in Game 1 of the National League Wild Card Series on Wednesday afternoon.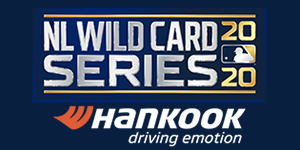 While talking about the significant contributions he made to the Braves in the victory, Matzek explained that emotional display was influenced by what he was hearing from the Reds' dugout.
"It was kind of just that moment," Matzek said. "I kind of had some adrenaline going. With no fans in the stands, you could kind of hear everything they were saying. They were saying some things. That's baseball. It's a man's sport. They were saying some things, and I think I got a little emotional and kind of said something back. But that's how it is."
Asked to explain exactly what was being said, Matzek replied, "I'm just going to leave it on the field. They were just saying some things. It's one thing to cheer for your team and another thing to cheer for your opponent to do bad."
Those who know the inspiring story Matzek is fashioning understand that he has developed the mental resolve necessary to overcome the negative thoughts that may have damaged him in the past. The 29-year-old's promising career was derailed in 2015 when he developed the yips. The maddening complication prevented him from returning to the Majors again until this season.
"He's been coming through in big spots the whole time for us," Braves manager Brian Snitker said. "What a great story."
Matzek's inspirational story got a little better on Wednesday, when he entered with two outs in the 11th inning and struck out Mike Moustakas with the bases loaded. He then surrendered consecutive one-out hits in the 12th before recording the three straight strikeouts.
"After I gave up those two hits, I said, 'I'm not going to let this guy score, and if I'm going to go down, I'm gong to go down aggressive,'" Matzek said. "I just went after it and tried to throw as many balls in the zone as well as I could."
• A postseason first: 11 innings, zero runs
Matzek produced an impressive 35.5 percent strikeout rate while constructing a 2.79 ERA over 29 innings (21 appearances) during the regular season. Over his final 17 2/3 innings (12 appearances) he struck out 40 percent (28 of 70) of the batters faced.
Speaking of improvement
Kyle Wright returned to Truist Park on Thursday morning not knowing whether he would start a potential Game 3 of the NL Wild Card Series on Friday or Game 1 of the NL Division Series on Sunday.
Regardless, he'll take the mound with confidence after limiting opponents to a .164 batting average and a .263 on-base percentage over his final three regular-season starts, each of which included at least six innings.
Before that season-ending stretch, Wright had completed more than four innings in just one of five starts. Opponents hit .312 and produced a .442 OBP against him during this span that was marred by a 18.9 percent walk rate.
A key to Wright's turnaround was the decision to move him to the first-base side of the rubber. This made his enhanced the effectiveness of his two-seamer, which he had trouble commanding in the past.
"I think it just allows the [two-seamer] to hold the plate a little longer," Wright said. "I've got a little more room to work with. If I'm further over [toward the middle of the rubber], it's harder to command that two-seam on the inner half. When I'm on the first-base side, I can let it run a little more. That allows me to tunnel my four-seam and two-seam off of that. It's a simple move, but for me, it's helped me throw more strikes."
Even with all the strikeouts
In Wednesday's win, the Braves became the third team in postseason history to strike out at least 21 times in a game. The other two teams to reach this total also did so in a victory.
The Orioles set a record when they struck out 23 times during a 4-3 win over the Indians in Game 4 of the 1996 American League Division Series. The Indians then struck out 21 times during a 2-1 win over the Orioles in Game 3 of the 1997 AL Championship Series.
And in case you were wondering, the Braves have never lost any game, whether in the regular season or postseason, in which they have struck out at least 21 times. The only other time they reached this total in franchise history was on Aug. 23, 2019, when they struck out 26 times in a 2-1, 14-inning road win against the Mets.
Mark Bowman has covered the Braves for MLB.com since 2001.