New-look D-backs vow to 'keep fighting'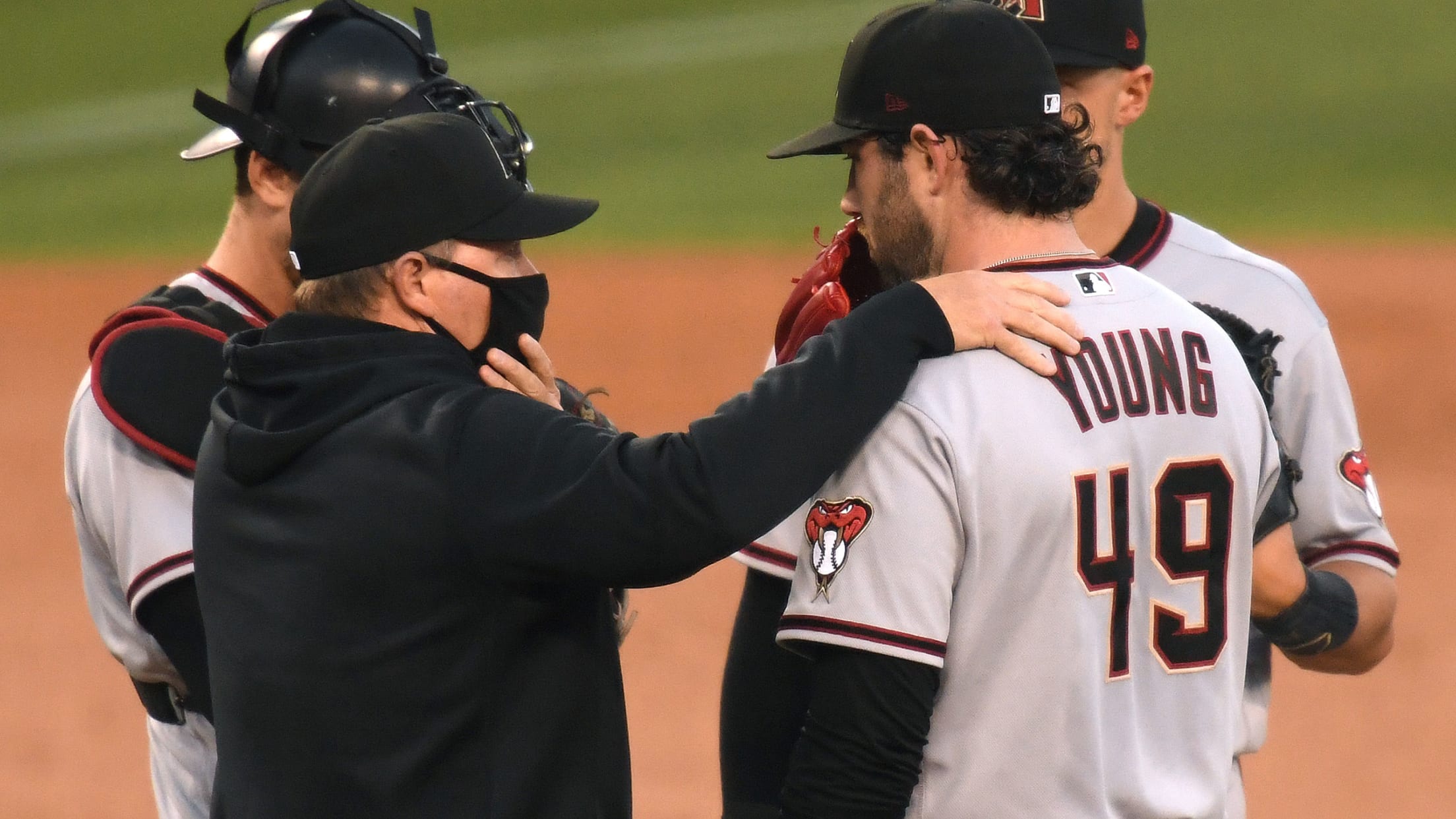 Torey Lovullo gathered his position players before batting practice on Tuesday, and then later as he roamed the Dodger Stadium outfield during BP, he chatted with the pitchers who were shagging balls. The message to both groups was the same: The names in the clubhouse have changed following Monday's Trade
Torey Lovullo gathered his position players before batting practice on Tuesday, and then later as he roamed the Dodger Stadium outfield during BP, he chatted with the pitchers who were shagging balls.
The message to both groups was the same: The names in the clubhouse have changed following Monday's Trade Deadline, but the expectations remain the same.
Unfortunately for the D-backs, the results stayed the same as they've been for the past couple of weeks, as they fell, 6-3, in the opener of a seven-game road trip.
The loss was the 11th in the last 12 games for the D-backs, who traded away veterans Robbie Ray, Starling Marte, Archie Bradley and Andrew Chafin on Monday.
For Lovullo, he wants to make sure his team doesn't feel sorry for itself or see the deals as an excuse.
"I think it's just human nature to get a feeling that things aren't going our way and woe is me," he said. "But those are the things that are really important to me, and that I continue to address and I continue to make sure these guys are not falling into. I don't like pity parties, I don't accept them. I never have, and I never will. As long as they keep fighting and fighting together, that's what I'm concerned about."
D-backs GM Mike Hazen took a hard look at his team in the days before the Deadline and decided that it was time to shake things up.
"There are moments in time when you can't go chasing something that isn't there, and for this season, it hasn't been there," Hazen said. "I feel like pivoting at this moment in time is what is most appropriate."
The moves saved the D-backs over $3 million this year, and they will save even more next year on Marte ($12.5 million option) and Bradley, who is entering his final year of arbitration.
Hazen, though, doesn't do rebuilds. He's never believed in that philosophy, and he wants to compete each and every year. So while he realizes he's taking talent away from this year's team, he fully plans on finding a way to be back in contention next year.
And he expects the current team to be competitive.
"The expectation for these next 25 games is that we are going to go out there and play as hard as we possibly can and challenge whatever we can possibly challenge," Hazen said Monday. "Now, my expectation for what that might mean for wins and losses has to match up to what I just did to the roster. But there's not going to be any [changed] expectation in how we play the game of baseball."
While the D-backs are 14-22 and in last place in the National League West, the playoffs are not completely out of reach given that eight of the 15 teams in the NL are going to make it with the expanded postseason format for 2020.
"Our goal is still the same," said shortstop Nick Ahmed, who hit a ninth-inning homer that forced the Dodgers to use closer Kenley Jansen in a game that saw them leading, 6-1, entering the ninth. "We're not packing in the towel. No one is doing that. We still have a good team and a bunch of good players on our squad. We're going to need guys to step up, but we're not trying to have anybody replace anybody or do anything like that. We've got a month of baseball left, and we're definitely not out of it by any means. We're going to try to win games and get in the playoffs."
To do that, the D-backs will have to get their offense going.
While starter Alex Young (1-2) was not overly sharp -- he walked five in five innings -- he didn't get much support from his hitters.
In what has been an all-too-common occurrence, the D-backs did not work many deep counts or put pressure on Dodgers starter Julio Urías.
Carson Kelly's homer in the third tied the game at 1, but after Ketel Marte singled two batters later, the D-backs did not get another hit until Ahmed's two-run homer with two outs in the ninth.