5 questions facing Padres this offseason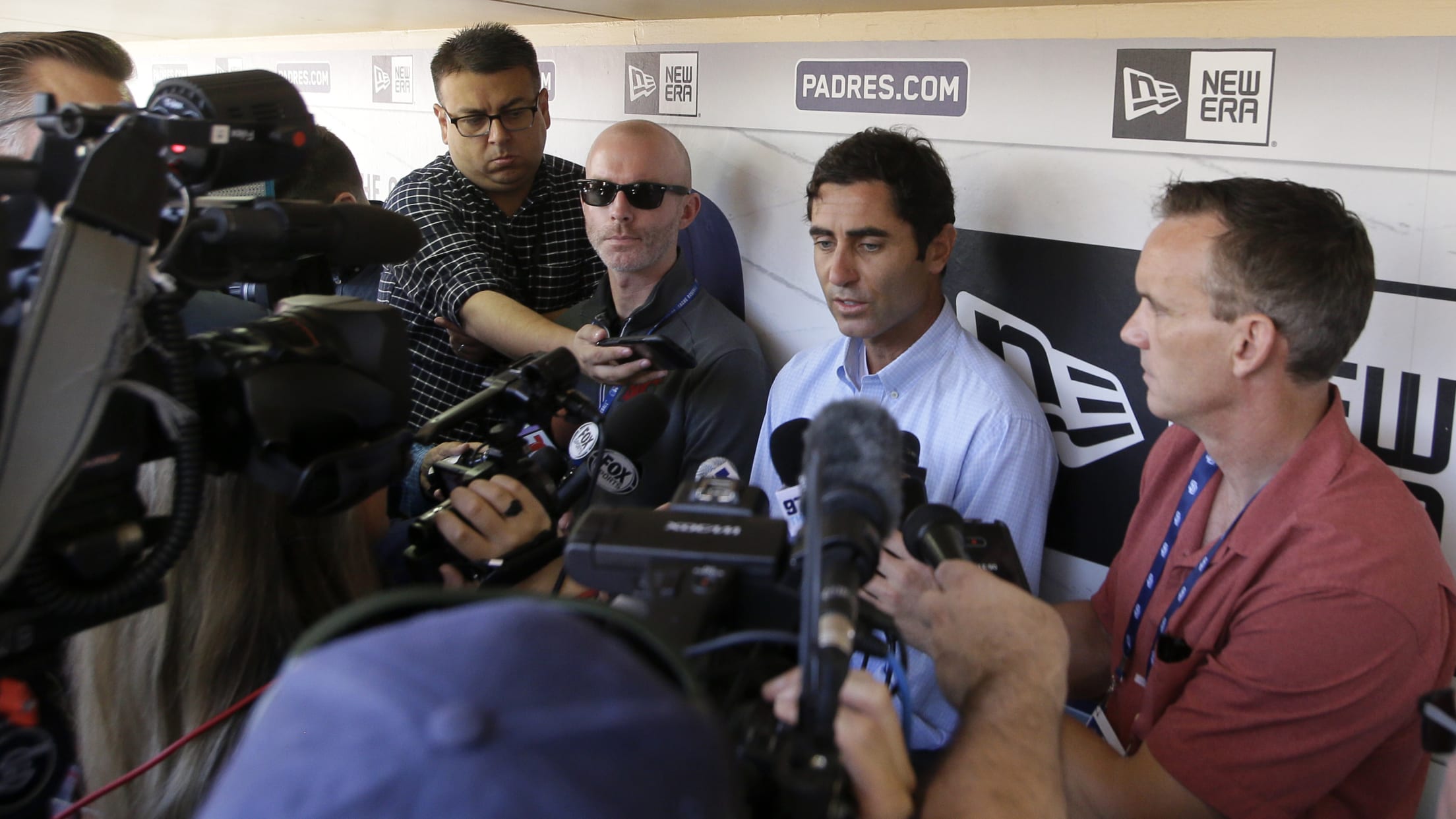 SAN DIEGO -- The first half of the 2019 season brought all sorts of optimism to San Diego. For the first time in a decade, the Padres found themselves in contention at the All-Star break, with a host of talented youngsters leading the way. The second half, instead, brought a
SAN DIEGO -- The first half of the 2019 season brought all sorts of optimism to San Diego. For the first time in a decade, the Padres found themselves in contention at the All-Star break, with a host of talented youngsters leading the way.
The second half, instead, brought a dose of realism. Clearly, this was not a postseason-caliber roster -- at least not yet. On the heels of a disappointing finish to a 70-92 season, a busy offseason awaits.
The future remains bright in San Diego, but a handful of critical decisions loom -- decisions that could shape the trajectory of the organization. Here are five key questions facing general manager A.J. Preller and the Padres this winter.
1. Who's on Jayce Tingler's staff?
The moment the Padres finalized their decision to name Jayce Tingler their manager, the focus in the front office shifted toward Tingler's coaching staff. It's unclear who the rookie skipper will bring on board for his first season at the helm, but it's fair to expect a shakeup.
• Tingler 'cannot wait' to move forward with SD
Where does that leave the current group of coaches? That remains to be seen. But such mainstays as pitching coach Darren Balsley and third-base coach Glenn Hoffman aren't locks to return. It's unclear whether bench coach Rod Barajas -- who interviewed for the managerial opening -- would be interested in staying.
At least a few members of the staff are expected to be retained, a source said, but change is clearly coming. Tingler won't be the only new face in the coaches' room.
• These are MLB's top 15 farm systems
2. Where do the Padres find pitching?
The Padres are probably more optimistic about their in-house rotation options than the rest of the baseball world. Dinelson Lamet and Garrett Richards will be turned loose in 2020 after returning from Tommy John surgery this season. Chris Paddack has solidified himself as a long-term option, too, and some other top prospects will look to follow in his footsteps.
That said, Preller isn't going to stand pat. Last offseason, the Padres didn't add to their rotation, and the results weren't good. San Diego has been linked with the Mets and Noah Syndergaard for about a year, and it's reasonable to expect a front-line acquisition of that stature.
But it remains to be seen whether the Padres add via trade or free agency -- and whether they add one starter or two.
3. In the outfield -- major overhaul or minor tweaks?
The outfield will look different next spring. How much different? That remains to be seen.
It's likely San Diego will bring a lefty bat on board, given the current imbalance. Righties Manuel Margot, Hunter Renfroe and Wil Myers all played prominent roles in 2019, and all three have raked against left-handed pitching. But the Padres have struggled immensely against righties, and the easiest place to shake up their offense is in the outfield.
It's possible San Diego will snag a veteran lefty-hitting free agent to fill the gap while Josh Naylor and Taylor Trammell develop. but the club will also be shopping Myers. If the Padres can move him (and his contract, which has three years and $61 million remaining), it would shake things up in a big way.
With some extra cash freed up, perhaps San Diego will splurge on a bigger-name free agent in the outfield. If that's the case, sources said, it doesn't need to be a left-handed bat. A righty with even splits would do the trick.
4. Is Luis Urias the answer at second?
Urias has given the front office an awful lot to think about this winter. He's shown flashes of the player the Padres hoped he'd become -- particularly in September, when he batted .300/.371/.425. But for the most part, he struggled, posting a .656 OPS in sporadic big league playing time.
Urias was a 22-year-old rookie, so in some regards, those struggles were expected. But San Diego can't afford them next season. Its offense has enough question marks elsewhere to let a subpar offensive second baseman play every day.
Over the next few weeks, the front office needs to make an honest evaluation of Urias' abilities. Is he the future at second base? Does he need some competition for that spot? Or is he an appealing trade chip in a deal that brings in a front-line starting pitcher?
5. Can Preller construct a roster around the edges?
Preller's successes as GM are mostly tied to his evaluation of young talent. He built the sport's best farm system through a series of shrewd trades, Draft picks and international signings, but those moves have not yet translated into big league success.
A handful of those elite prospects arrived in 2019, and another handful will arrive in '20. With Manny Machado and Eric Hosmer locked up long-term, Preller must do a better job of building the fringes of his roster.
The bullpen is already inexperienced, and it's losing Craig Stammen. The rotation hasn't had big league-caliber depth during Preller's entire tenure. The offense isn't balanced enough to counter both lefties and righties.
That isn't a knock on Preller's ability to build a roster. It's merely a statement that roster building has taken a backseat to development and talent acquisition for a few years. This offseason, that's no longer the case.