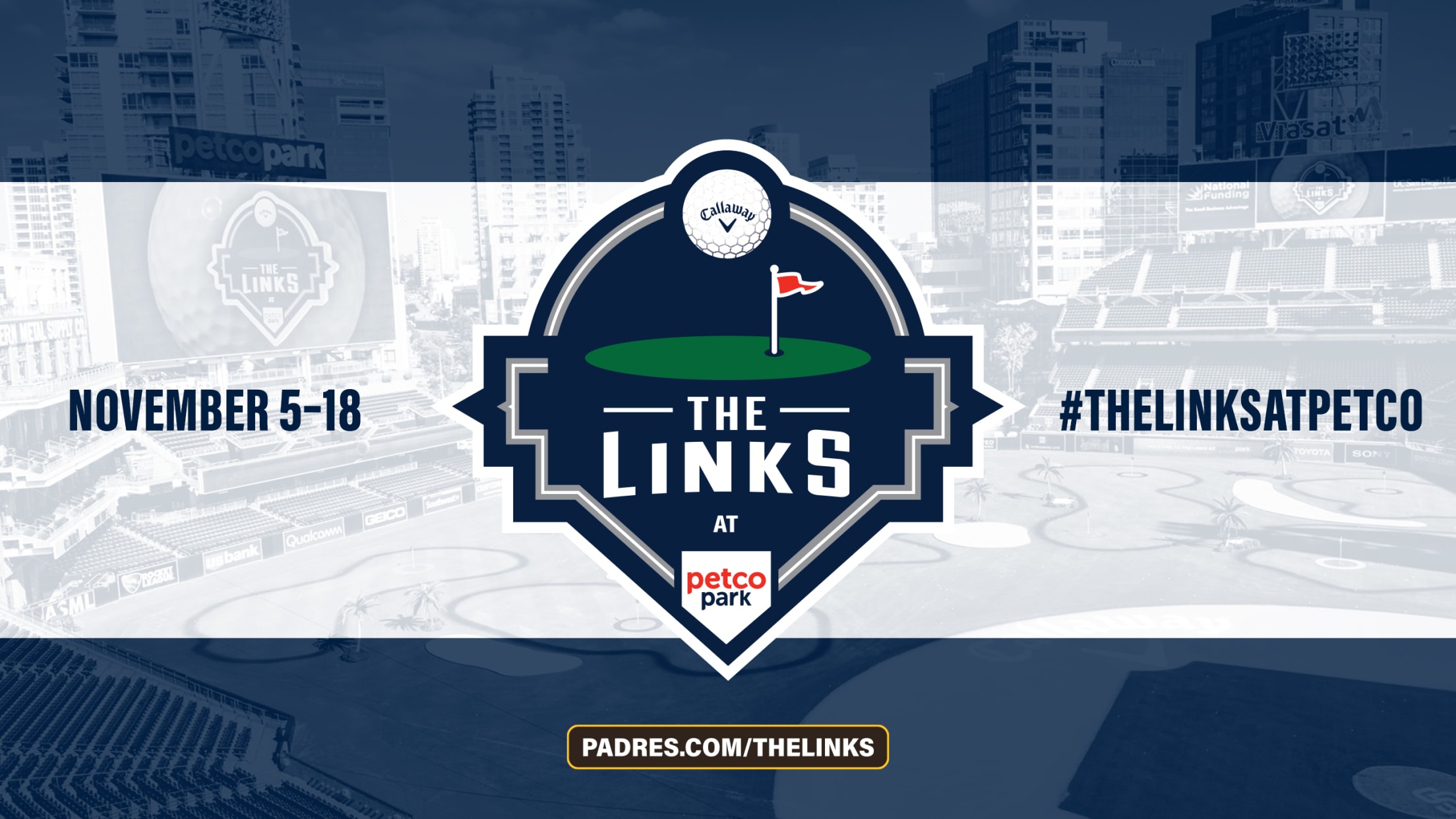 The Links at Petco Park by Callaway, the original and best nine-hole ballpark golf experience, returns for the sixth year in a row with its longest run to date from Thursday, November 5 to Wednesday, November 18. The 14-day event serves as the first opportunity for guests to step inside Petco Park since March.
Sign up for the waitlist to be the first to get access to tee time pre-sales.
THE EXPERIENCE
The fully immersive nine-hole course will feature a combination of signature holes from years past, including from home plate, along with new themed holes and the opportunity to win different prizes. Golfers will be escorted by their own dedicated caddy for the entirety of the course.
Golfers will be provided two Callaway clubs that they will utilize for the duration of their round and carry from hole to hole. Golfers finish their day on the Western Metal Rooftop, which will be transformed into an open-air, socially distanced Callaway clubhouse with the opportunity to relax with additional food and beverages available for purchase, watch other golfers along the course, putt on a putting green and shop for commemorative items.
RESERVE YOUR TEE TIME
The course will be open to the public for purchase from Thursday, November 5 to Wednesday, November 18. The 14-day run is the longest in the event's history and the first opportunity for guests to step inside Petco Park since March. Entry may be purchased for twosomes or foursomes with tee times throughout the day beginning at 7:00 a.m. and running through 9:00 p.m. on most dates.
Pricing starts at $170 for twosomes ($85 per player) and $340 for foursomes. The cost includes a limited-edition "The Links at Petco Park" hat, a nine-hole round for each golfer, scorecard, access to the clubhouse and a dedicated caddy for each foursome. Golfers may also pre-purchase Padres Parkade parking passes for an additional cost.
Upgraded twosome and foursome Premium packages are available for $450 and $900 respectively and include a $50 gift card to the clubhouse, two drink tickets per person and one parking pass per twosome in addition to everything included in the standard package.
Spectator tickets will also be available for $5 with access to the open-air Wester Metal Rooftop clubhouse only.
Tee times will go on sale to the general public on Wednesday, September 23 at 8:00 a.m.
KEEPING YOU SAFE
The nine-hole experience will feature thorough safety and health protocols consistent with state and local guidelines. Golfers will be subject to temperature checks at check-in and be required to wear a mask at all times. Each participant will also be provided two Callaway clubs that they will utilize for the duration of their round and carry from hole to hole.
The Links FAQ
Is parking available?
Yes! You can purchase parking at our Padres Parkade, located off of 10th Avenue and J Street. Presale parking is available for $20.00. In-person purchases at the Parkade are subject to availability and, due to safety restrictions, will be limited to cashless (credit) transactions.
What gates will be open for this event?
Please enter through our Balboa Gate, located on J Street and 9th Ave.
How early can I show up to my time slot?
Due to social distancing and queueing, please arrive no earlier than 30 minutes before your assigned time slot.
Will face coverings be required?
Masks will be required and must cover your mouth and nose at all times (unless you are eating or drinking while stationary or seated). You must wear a mask in addition to any costume mask you have.
Will you take the temperature of guests?
We will not be temperature checking at entry of the event
Can we bring our own clubs?
No. All golfers will be provided (2) Callaway Clubs to utilize for the duration of their round and to carry from hole to hole.
What is your camera policy?
Guests are welcome to bring still cameras, video cameras and other electronic recording devices with lenses smaller than 6 inches into Petco Park for their personal use.
What are your prohibited items?
For the comfort and safety of all, guests are not permitted to enter Petco Park with hazardous or potentially disruptive items. For a complete list, please see Prohibited Items on padres.com under our A-Z Guide.
Are bags allowed in?
Yes! All bags will be subject to search by security prior to entering the ballpark.
Will there be food and beverage available for purchase?
We will have a full bar and food available for purchase at the clubhouse on Western Metal Rooftop.
Can we bring in outside food or beverage?
Outside food and beverages are not permitted.
Factory-sealed plastic bottled water that is still, clear and unflavored and that is one (1) liter or less, and soft-sided single juice or milk containers or ADA required liquids in a sealed container are allowed into Petco Park.
Will restrooms be available?
Restrooms will be available at certain stops along the route.
Will there be hand sanitizer stations available?
Yes!.
Will there be wheelchairs available to use?
We will not have wheelchairs available to rent for this event.
Will Gallagher Square be open to the public?
Access to a portion of the back grass area near 8th and J Street will remain open to the public via the Downtown Gate on event days from 7:00 AM to 2:00 PM.
I purchased a ticket. Can I switch my time slot?
Unfortunately, we are not allowing guests to change time slots.
Can I get a refund?
Unfortunately, we do not offer refunds.
Are dogs allowed in?
Service animals are welcomed at Petco Park. In keeping with U.S. ADA regulations, disabled guests may use either a dog or miniature horse that is individually trained to do work or perform tasks for the guest. The work or tasks performed by the service animal must be directly related to the guest's disability. As such, animals that solely provide emotional support or companionship to a guest will not be permitted inside the ballpark.