Padres prospect report from alternate site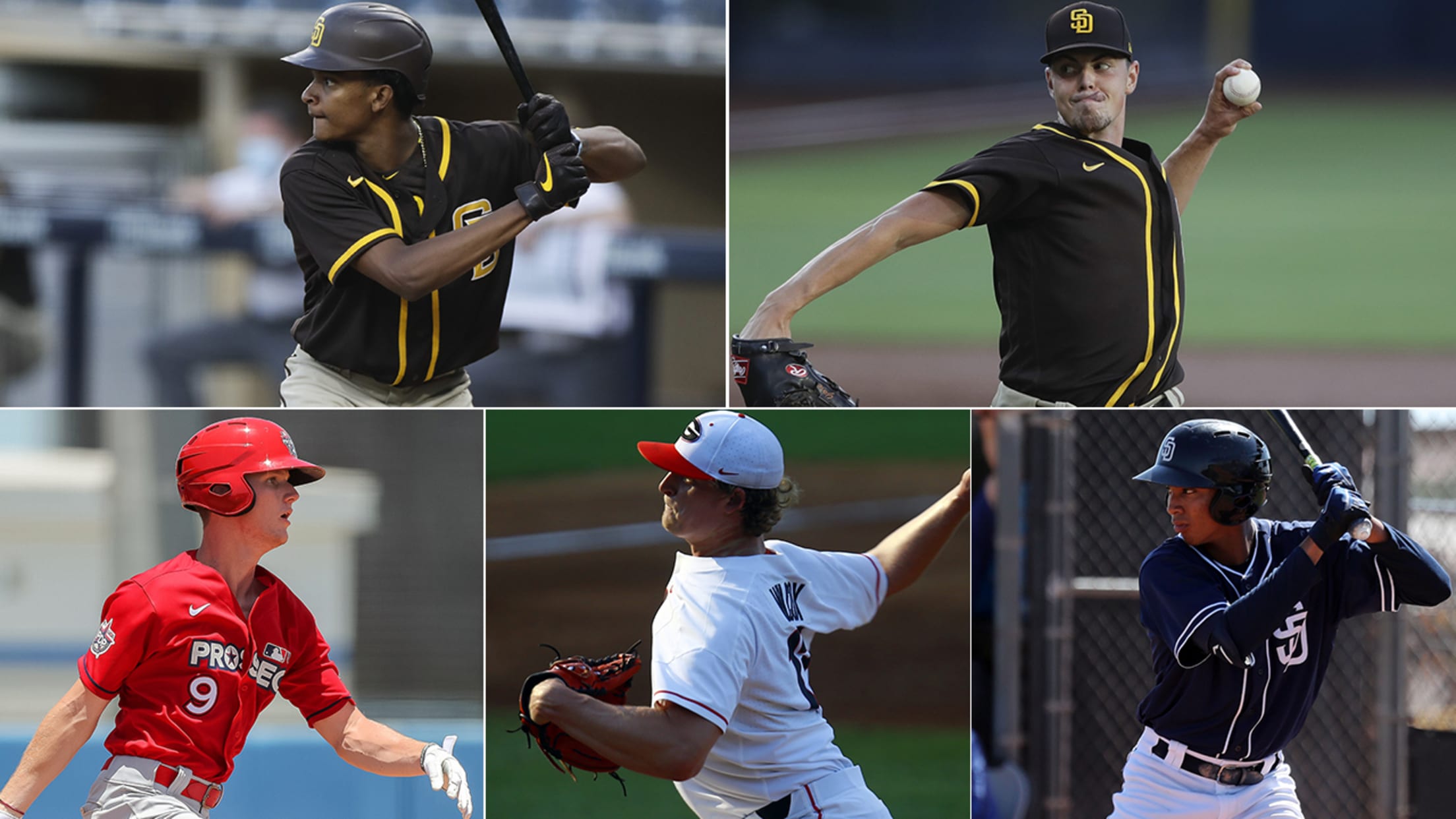 With alternate camps coming to an end, MLB Pipeline is recapping the development highlights for the prospects involved for each organization. Top position prospect: CJ Abrams, SS (No. 2/MLB No. 21) The Padres had used their top pick on a pitcher in three straight Drafts before breaking that trend with
With alternate camps coming to an end, MLB Pipeline is recapping the development highlights for the prospects involved for each organization.
Top position prospect: CJ Abrams, SS (No. 2/MLB No. 21)
The Padres had used their top pick on a pitcher in three straight Drafts before breaking that trend with Abrams, whom they took sixth overall in 2019. The combination of elite speed, athleticism and natural hitting ability that had made Abrams one of the nation's top prep prospects was on full display during his pro debut, as he produced a .401/.442/.662 line over 32 games in the Rookie-level Arizona League before getting a late bump up to Class A Fort Wayne.
In lieu of a normal 2020 season, the 20-year-old shortstop spent the summer at the Padres' alternate training site at the University of San Diego, where he progressed in all phases of his development in a uniquely hands-on and competitive environment.
"When I think about CJ's growth over the last year," said Padres farm director Sam Geaney, "I think of the stuff he was really able to hammer over these past several months. Thinking about the strides he's made defensively, with his work with our Minor League infielder coordinator as well as with Mike McCoy, another one of our Minor League managers [with Class A Advanced Lake Elsinore] who was at our alternate site, and thinking about the polish he's added to his game since he signed ... I think we saw all of that there.
"You also look at the physical development and strength, and it was quite stark to me the strides he made on both sides. What that strength did to his offensive game -- he loves to swing the bat, loves to hit -- was allow him to drive the baseball a lot this summer."
Top pitching prospect: MacKenzie Gore, LHP (No. 1/MLB No. 3)
The Padres did not shy away from using their deep crop of pitching prospects this season, whether it was promoting 20-year-old hurlers like Luis Patiño and Ryan Weathers to help contribute or parting with another, lefty Joey Cantillo, at the Trade Deadline in order to bolster their big league roster. Gore, though noticeably absent from the former group, still had a productive and successful summer at the alternate site and was in the mix for a callup until the very end of the regular season, even earning a spot in the Padres' 40-man postseason player pool.
"Very, very talented young left-hander who we think could pitch at the top of a rotation for years to come," said Geaney about Gore, MLB Pipeline's 2019 Pitcher of the Year and current top-ranked pitching prospect. "But with those types of top guys, you're going to see four plus weapons on a night-in and night-out basis. I think Mac got closer to that goal this year, making sure he had his four pitches on a consistent basis and that his fastball had that signature carry to it.
"It's a high standard we have for Mac, but he also has that for himself. He's really competitive, and that's a really good thing. I think it was a successful year for him."
Youngest prospect: Robert Hassell III, OF (No. 5/MLB No. 74)
San Diego took Hassell, arguably the best prep hitter in his Draft class, with the No. 8 overall pick this past June. A two-time Tennessee Gatorade Player of the Year for Independence High School, Hassell batted .423 with 14 homers and 22 steals from the leadoff spot as a junior and encored with a .514/.548/.866 showing for the USA 18U National Team last fall.
The Padres threw Hassell right into the mix after signing him to a below-slot deal, naming the left-handed-hitting outfielder to the team's initial 60-man player pool before sending him to the alternate training site, where, at age 18 (he turned 19 in mid-August), he impressed club officials both on and off the field as the organization's youngest mainstay in camp.
"Bobby's first professional at-bats were at Petco Park against the Major League team," noted Geaney. "To see his growth on and off the field over that three-month period was pretty amazing."
2020 Draft picks
The Padres gave Cole Wilcox, a Draft-eligible sophomore, a record-setting bonus for a third-round pick, signing the University of Georgia right-hander for $3.3 million after taking him with the No. 80 overall pick. He joined Hassell at the organization's alternate training site shortly thereafter and made the most of his first pro experience, taking advantage of the unique opportunity to work closely with a wide range of coaches, instructors and analysts. What's more, to the Padres' advantage, they were able to get more innings and an overall greater workload out of the 21-year-old righty this summer than they would have in a normal season, when he almost definitely would have been on either a pitch count or innings limit with one of the organization's lower-level affiliates.
Supplemental first-round pick Justin Lange and second-round prep outfielder Owen Caissie were added to alternate site roster early in September -- after San Diego's busy Trade Deadline created some openings -- giving the Padres an early look at, not to mention an opportunity to work closely with, each of the their first four picks from the 2020 Draft.
"We got to spend a little bit of time with those guys in San Diego after we drafted them, but I think where the process really began was at the alternate site," said Geaney. "Nothing can replace games, but seeing how that alternate site sped up the development of guys like Hassell and Wilcox ... it was a tremendously unique experience for those guys with the diversity of players, competition and experiences we were able to put in front of them. They definitely benefited a lot from being with our group."
Pleasant developments
No. 11 prospect Reginald Preciado, a 17-year-old shortstop from Panama who signed for $1.3 million last July, was the youngest player at the University of San Diego by the end of the summer. The son of a former Minor Leaguer Victor Preciado, who played two seasons in the Yankees system, Preciado spent the shutdown training at home, hitting in his family's outdoor batting cage while also adding strength to his 6-foot-4, 185-pound frame before reporting to the Padres' alternate site.
"That [environment] can be fairly daunting for a young kid, but he didn't have any issues and really didn't miss a beat," said Geaney. "He showed up to camp and immediately was making contact against upper-velocity guys, guys with more experience. We like to joke that he looks taller and taller every time we see him. At 17 years, there's a lot of physical upside there."
No. 9 prospect Hudson Head received a then-record-setting bonus for a third-round pick in 2019, signing with the Padres for $3 million. While the above-slot deal came as a surprise to some within the industry, Head certainly looked worthy of the Padres' investment during his pro debut (.283/.383/.417) in the Rookie-level Arizona League. That performance made the 19-year-old outfielder a must-have for the Padres at their alternate site this year, where he showcased loud tools after being hampered by some leg issues early on.
"I think what we saw was a guy who has a chance for some real power," Geaney said. "He's continued to get bigger and stronger -- definitely when he was at home -- and he's moving very well."
No. 21 prospect Anderson Espinoza, 22, returned to game action after recovering from his second Tommy John surgery. A former Top 100 prospect acquired from Boston in the 2016 Drew Pomeranz trade, Espinoza has regained his pre-injury stuff but quite obviously has a lot of time to make up having not pitched in a Minor League game since 2016.
"The talent is absolutely still there," said Geaney. "He seems to amaze with the ease with which he generates his upper-90s velocity. He still has a good changeup and spins the baseball well, and he's taken advantage of all the time he's missed to get bigger and stronger. In addition to the talent, he was a very vibrant, enthusiastic presence every day. He's a very easy guy to root for."