Nola stifles Mets, cruises into All-Star break 
Right-hander finishes first half with 0.61 ERA in last 4 starts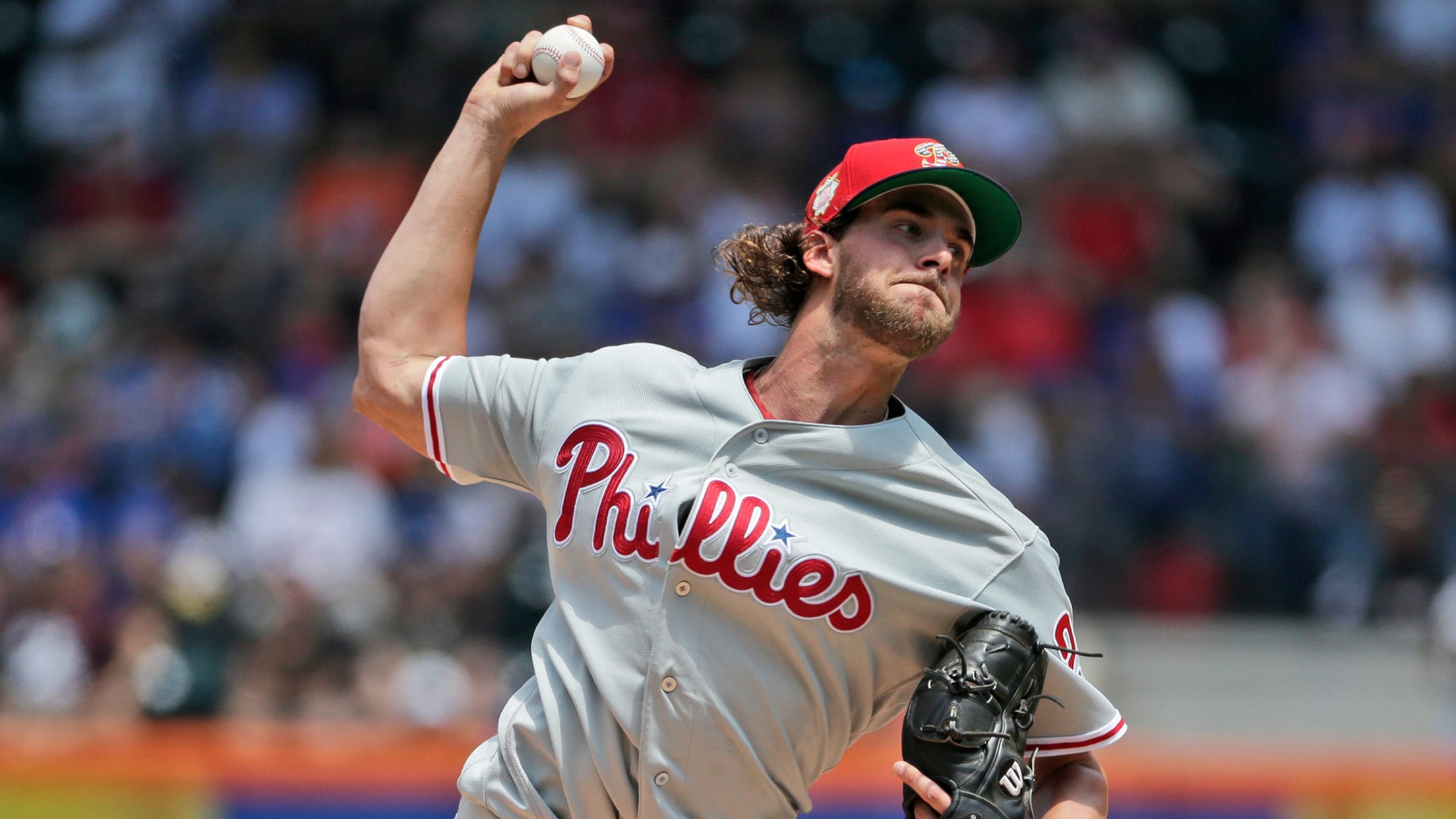 NEW YORK -- Right-hander Aaron Nola showed once again why he is currently the best starting pitcher in the Phillies' rotation. He was dominant for 6 2/3 innings on Sunday, helping the Phillies defeat the Mets, 8-3, at Citi Field, as both teams head into the All-Star break. The Phillies
NEW YORK -- Right-hander Aaron Nola showed once again why he is currently the best starting pitcher in the Phillies' rotation. He was dominant for 6 2/3 innings on Sunday, helping the Phillies defeat the Mets, 8-3, at Citi Field, as both teams head into the All-Star break. The Phillies ended the first half with a 47-43 record.
How dominating was Nola in this game? He toyed with a no-hitter for 5 1/3 innings before Pete Alonso hit a two-run homer to make it a 6-2 game in favor of the Phillies. It ended a scoreless streak of 22 1/3 innings for the right-hander. Before the no-hitter ended, Nola was relying heavily on his changeup. He threw 26 of them before leaving the game.
"He was painting," Alonso said. "He's the type of guy that can throw all three pitches for strikes, pretty much at any time in the count, and he doesn't really leave very many mistakes over the plate. I got lucky and I got one, but that was really impressive."
Nola ends the first half on a good note. In his last four starts, he has allowed two earned runs over 29 2/3 innings (0.61 ERA). His overall ERA is now down to 3.74. It helps that Nola has been throwing strikes early in the count and getting more ground balls than fly balls.
"My offspeed pitches were working pretty well," Nola said. "My fastball velocity didn't feel great today. My command wasn't as good as the last start. I was throwing my offspeed for strikes -- in and out of the zone -- which helped."
Led by Bruce, Phillies give Nola plenty of run support
Nola was given plenty of run support in the first inning, when the Phillies scored four runs off right-hander Zack Wheeler. J.T. Realmuto highlighted the scoring with a two-run double.
But it was Jay Bruce who did most of the damage in the game. He hit two home runs and drove in four runs. Bruce hit a two-run homer in the sixth inning to extend the lead to 6-0. He then added to the lead with a solo home run in the eighth off right-hander Wilmer Font, who also allowed a solo shot to Rhys Hoskins in the ninth.
After hitting 14 home runs with the Mariners, Bruce has now hit 10 for the Phillies. He is the first player in MLB history to hit at least 10 home runs for two different teams before the All-Star break.
Bruce has 29 RBIs in just 28 games since being traded to the Phillies from the Mariners on June 2.
"[Bruce] is perfect for our team. He rakes," Nola said. "He is an all-around good player. He is always positive. A veteran guy like that around a lot of our young guys, it's good to [have him] around."
Said Phillies manager Gabe Kapler, "Jay has been strong since he has been a member of the Phillies. He has come up with some huge hits for us. He has been special in the clutch. Great teammate. I can't say enough good things about Jay Bruce right now."
Bruce played almost three years for the Mets, but said he didn't need extra motivation to have success against his former team.
"[The media] wants to sensationalize this whole thing and I refuse to," Bruce said. "There are no hard feelings. They are in our division. We really want to beat them. It's not like I'm coming here [looking for revenge]."
Bill Ladson has been a reporter for MLB.com since 2002. He covered the Nationals/Expos from 2002-2016. Follow him on Twitter and Facebook.