Healthy Nola looks on track for Opening Day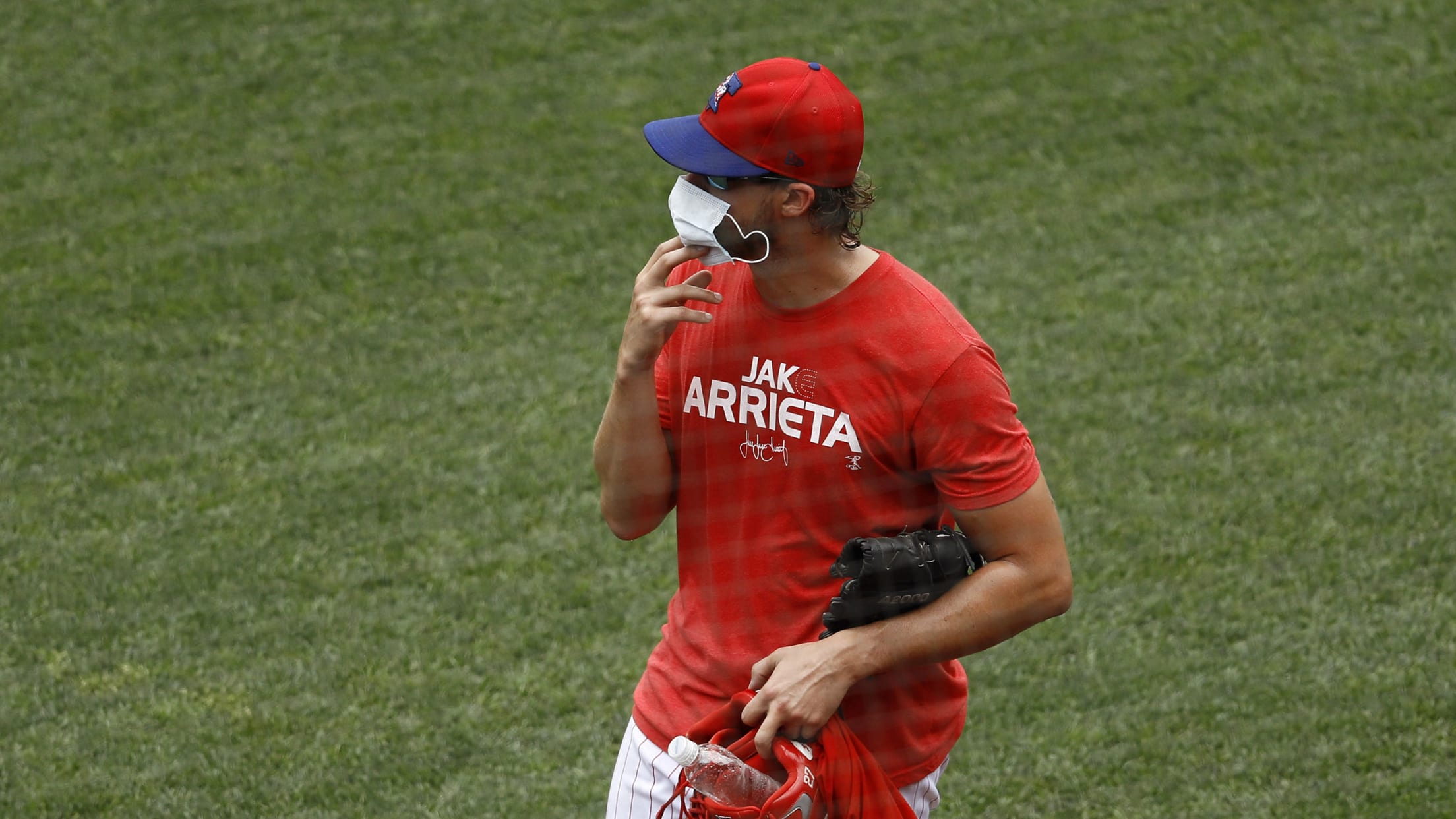 PHILADELPHIA -- Nothing that happened Monday at Citizens Bank Park suggested that Aaron Nola will not start for the Phillies on Opening Day. Nothing has been announced, but it is difficult to imagine another outcome. "I think it's definitely a possibility," Phillies manager Joe Girardi said. Nola missed the first
PHILADELPHIA -- Nothing that happened Monday at Citizens Bank Park suggested that Aaron Nola will not start for the Phillies on Opening Day.
Nothing has been announced, but it is difficult to imagine another outcome.
"I think it's definitely a possibility," Phillies manager Joe Girardi said.
Nola missed the first few days of Summer Camp because he had been exposed to somebody who tested positive for COVID-19. He faced 14 batters and threw 47 pitches on Monday. Nola allowed two hits and two walks, while striking out one. He tired toward the end, leaving with the bases loaded in the third.
But the important thing is Nola is healthy. The sharpness should come.
"If he isn't Opening Day, he would definitely be the first time through the rotation," Girardi said. "As long as everything goes physically OK, we kind of feel that he's going to be all right.
"I thought he threw the ball pretty well. I thought he lost his command a little bit at the end, which is probably normal. It probably comes just like any Spring Training. They start to get a little fatigued at the end. I thought he was pretty sharp. He went through the lineup pretty quick the first nine outs. I was very pleased."
Girardi said they might have Nola throw 60-65 pitches in his next camp start. If so, there is no reason to think he cannot face the Marlins on Opening Day July 24. If not him, right-hander Zack Wheeler probably steps into that spot.
Phillies right-hander Zach Eflin threw a bullpen session on Monday, too. He missed the past several days because of lower-back spasms. Eflin could make the fourth or fifth start of the season.
"He threw it great, aggressive," Phils pitching coach Bryan Price said.
Besides Nola, Wheeler and Eflin, Philadelphia is trying to evaluate every other pitcher in camp before finalizing a roster that could carry 16 or 17 pitchers. Teams will have 30-man rosters the first two weeks of the season. It drops to 28 for another two weeks before dropping to 26 the rest of the way.
"It's a different environment, obviously, because we're going to have a bigger pitching staff, a much larger bullpen, at least from the inception of the beginning of the season," Price said. "It creates a lot of competition, which is a good thing. Even though it's a big number, it's still going to create some challenges to get it right. Especially with some of the challenges we have with our experienced guys, especially like [Tommy] Hunter and [David] Robertson, which are a couple of key components. However, that being said, those final guys making it into your bullpen are your wild cards. You need somebody to step up and have that type of season, or a couple guys to have that type of season that you weren't sure you were going to get from them.
"Sometimes you're trying to catch lightning in a bottle, right?"
Héctor Neris, Adam Morgan, José Álvarez and Francisco Liriano are locks to make the bullpen. The runner-up in the Nick Pivetta-Vince Velasquez competition to be the No. 5 starter will make the bullpen. But with the Phillies potentially carrying 16 or 17 pitchers, there could be 11 or 12 relievers, three or four more than they typical have carried the past couple seasons.
"We have a fair number of wild cards, guys that are either young and lack a little bit of experience, as well as a number of non-roster free agents that have been throwing and throwing the ball fairly well," Price said. "With so many guys that are still in the running, it's trying to make those final choices because the chances are as the season progresses we're going to have to whittle that group down a little bit as well."