Despite 'weird times,' Arrieta raring to go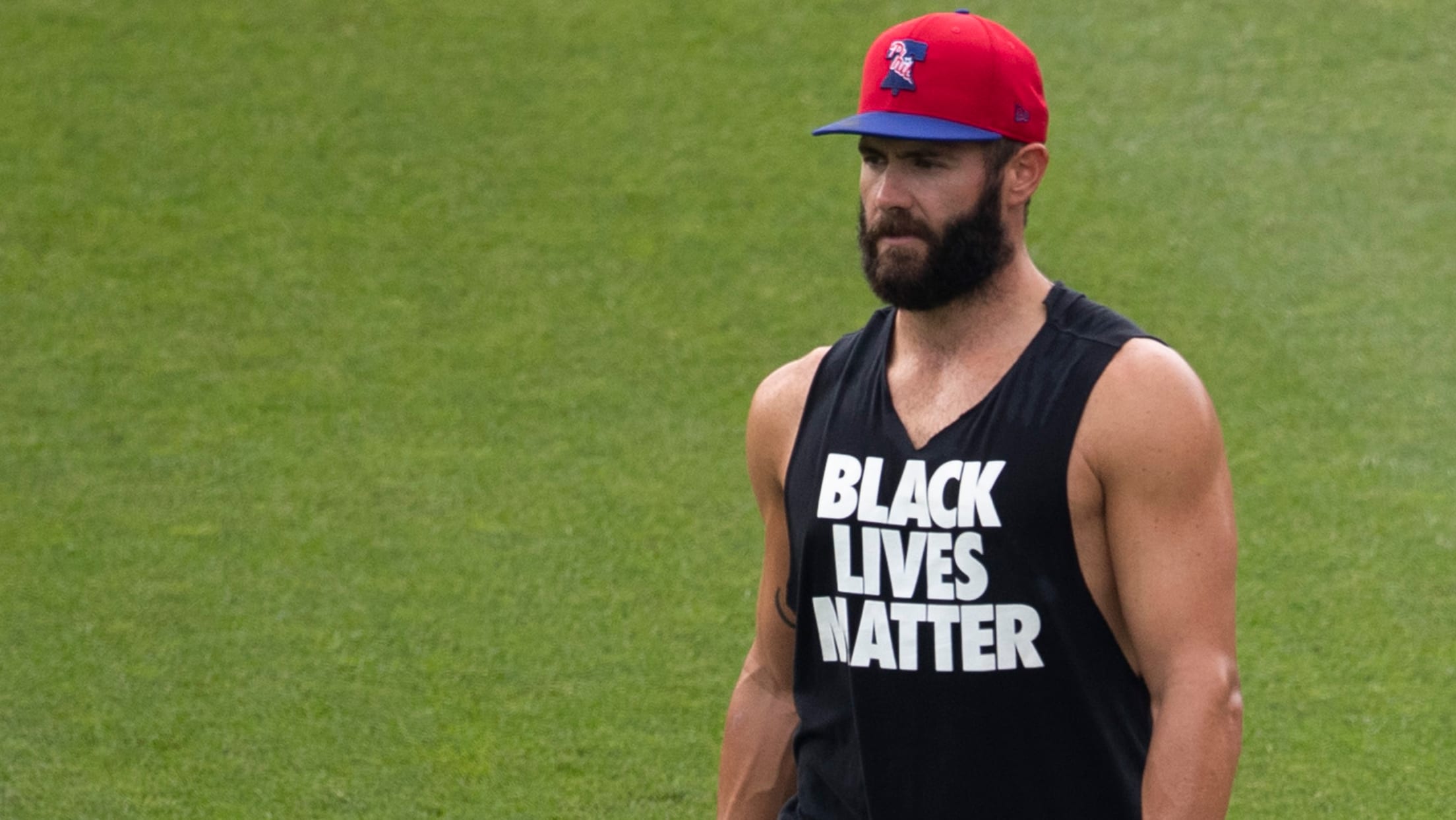 PHILADELPHIA -- There is a field near Jake Arrieta's South Jersey home, so last week -- while the Phillies could not enter Citizens Bank Park because of COVID-19 concerns, he played catch there with teammate Tommy Hunter. "These are weird times," Arrieta said Sunday. Arrieta will make his 2020 debut
PHILADELPHIA -- There is a field near Jake Arrieta's South Jersey home, so last week -- while the Phillies could not enter Citizens Bank Park because of COVID-19 concerns, he played catch there with teammate Tommy Hunter.
"These are weird times," Arrieta said Sunday.
Arrieta will make his 2020 debut on Monday night against the Yankees at Yankee Stadium. He was scheduled to pitch July 27 against New York, but it was the first of seven consecutive Phillies games that Major League Baseball postponed while it determined if the Marlins' coronavirus outbreak had spread to the Phils. Philadelphia announced Sunday morning and again on Monday morning that it had had no new positive tests. A coach and home clubhouse attendant who tested positive earlier in the week turned out to be false positives.
"It feels great to finally have a start lined up," Arrieta said. "It has been frustrating, but at the same time, I haven't been dwelling on that too much."
Arrieta pitched in an intrasquad scrimmage on July 22, meaning there is an 11-day gap between the intrasquad and the Yankees.
"I've thrown in a few [simulated] games, I've thrown a bunch of [bullpen sessions], extended [bullpen sessions] to keep pitch count pretty high," he said. "But it's really tough to do unless you're in real-game situations. But I'm in a good spot. I'm going to be able to give my team what we need. I'm really looking forward to getting into a real game, finally. But it has been a struggle for all of us, really -- playing three games, getting shut down. But these are the circumstances that pretty much every team is going to have to deal with."
Some sights and sounds on a Sunday 😎 pic.twitter.com/JwX8kLTGyZ

— Philadelphia Phillies (@Phillies) August 2, 2020
Arrieta said he believes he could throw 80 to 90 pitches on Monday. He said he is not concerned about any injury risks, despite the long layoff. He said he feels healthy.
Sharpness, however, is a different matter.
"The majority of our arms are not in the most fantastic spots, not having gotten those game innings," he said. "It's really tough. There really is no reason to complain or get upset about it, because that's not going to change the situation we are in. Guys have been throwing every day. Not in games, but our arms are getting work in. We're staying strong, keeping the pitch counts in a decent spots, especially our relievers. I don't think they're going to be affected nearly as much. It's going to be hard to be as sharp as we'd like to be because we've only played three games, but we take our work very seriously and we're very diligent here every day in the short amount of time we are at the field, but that's all we can do."
When Arrieta steps on the mound Monday night, it will be the Yankees' ninth game of the season. It will be the Phillies' fourth.
"It would seem that we are at a disadvantage, not being able to play pretty much every day like we're accustomed to," Arrieta said. "But if you lean too much on that, it could creep into your mind too heavily and could most certainly affect your performance. That's not where my head's at. My head is staying in physical shape and getting work in, getting my reps in and preparing the best way possible for Monday, or for whenever the time comes for us to play a real game again."