Eickhoff done in by lack of 2-strike execution
Crew tags Phillies starter for five runs on two homers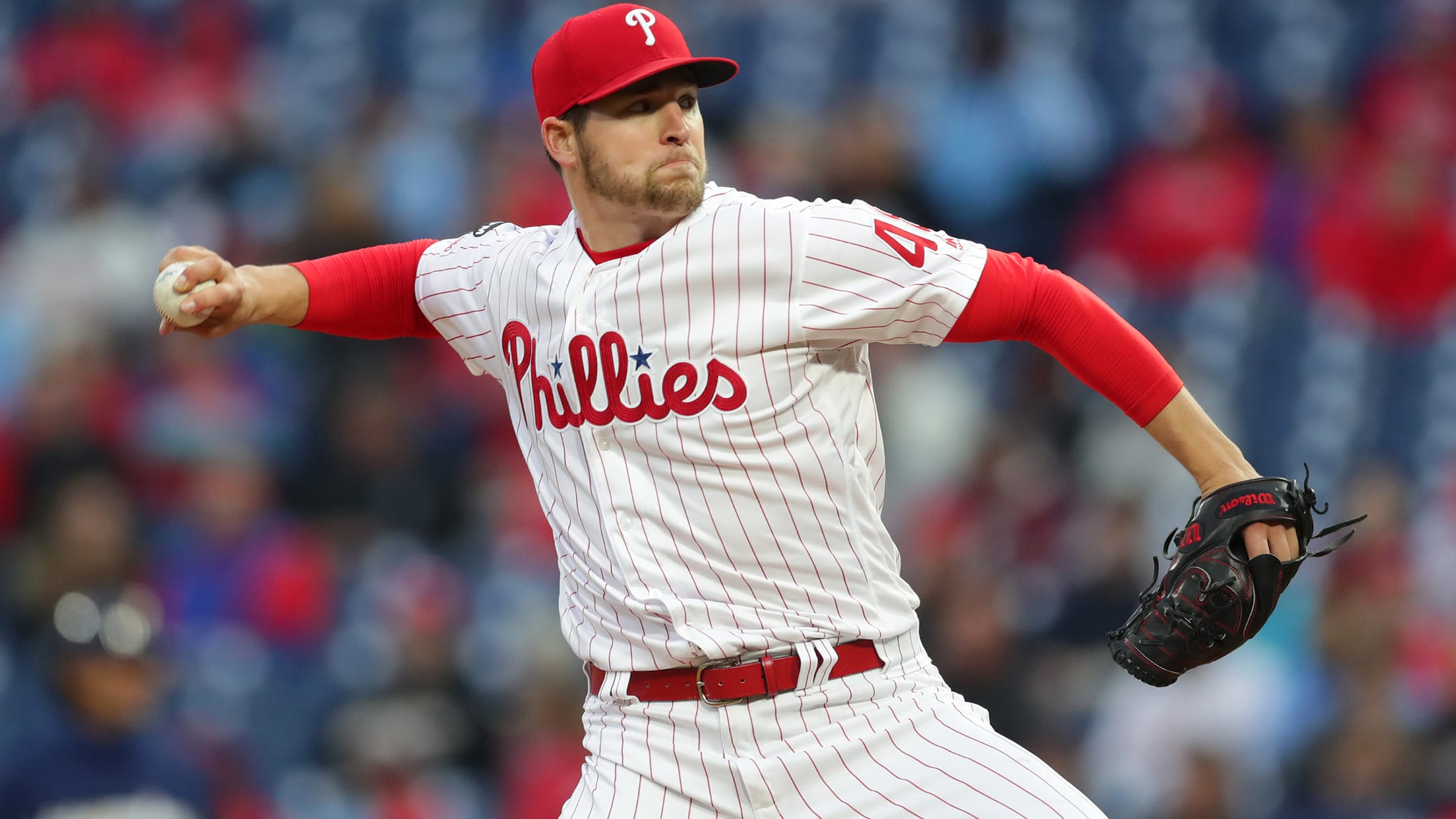 PHILADELPHIA -- Jerad Eickhoff had been nearly unhittable over his last three starts, but that wasn't the case in Tuesday's 6-1 loss to the Brewers at Citizens Bank Park. The right-hander was tagged for eight hits in just four innings of work, matching the total from his previous three outings
PHILADELPHIA -- Jerad Eickhoff had been nearly unhittable over his last three starts, but that wasn't the case in Tuesday's 6-1 loss to the Brewers at Citizens Bank Park.
The right-hander was tagged for eight hits in just four innings of work, matching the total from his previous three outings combined, which spanned 20 innings. Eickhoff, who had also allowed just five runs in 30 innings entering the night, saw that total double against the Brewers.
"Eick just didn't have his best curveball or his best command tonight," manager Gabe Kapler said. "He battled, gave us everything he had, but just wasn't there for him tonight. Turn the page and move on to his next start."
Eickhoff also served up his first two homers of the year, allowing a three-run shot to Yasmani Grandal in the second and a two-run homer to longtime Phillies nemesis Ryan Braun in the third. Grandal's home run had an exit velocity of 109.2 mph, according to Statcast, while Braun's came off the bat at 107.6 mph, making those the two hardest-hit balls Eickhoff has allowed this season.
That seemed to be the theme of the night, as the Brewers had six batted balls with an exit velocity of at least 103 mph against Eickhoff. He had allowed just five such batted balls all season, and no more than two in any of his previous five outings.
"It's a good lineup, but I think I can face any lineup," Eickhoff said. "I actually think my stuff plays really well against them, based on scouting reports and stuff like that, so not being able to execute -- especially against the guys prior to the homers -- was the most frustrating thing."
Eickhoff cruised through the first inning on just seven pitches, seemingly a good sign for the Phillies after Aaron Nola lasted just three frames on Monday. Eickhoff, however, quickly ran into trouble to start the second inning.
He got ahead of Mike Moustakas before hanging a two-strike curveball over the middle of the plate that resulted in a hard single. Eickhoff then missed his spot on a 2-2 slider to Jesus Aguilar, who turned it around for another single to set the table for Grandal's three-run homer.
"Everything wasn't as crisp as I would have liked," Eickhoff said. "The homers didn't bother me as much -- looking back at them, they were actually pretty good pitches. It's just the guys before them, I wasn't able to execute with two strikes -- the curveball to Moustakas and two-strike slider to Aguilar -- it was the several hitters before the homer happened that got me."
Offensively, the Phillies managed just five hits, four of which were singles. Following a first-inning base hit by Jean Segura, they then went hitless until the eighth. Philadelphia's only extra-base hit came on a double by Maikel Franco with two outs in the bottom of the ninth.
One of the lone bright spots for the Phillies on Tuesday came on a pair of sliding catches by Bryce Harper in the sixth inning -- the first of which caused a bit of a scare.
With the Phillies trailing 5-0, Harper raced toward the right-field line and made a sliding catch into the wall in foul territory for the first out of the inning. He stood up and immediately started limping, but he ultimately stayed in the game. Three batters later, he made a nearly identical sliding play to end the inning and jogged off to a standing ovation from the hometown crowd.
"I'll see what I feel like tomorrow," Harper said, when asked if he might need a day to rest. "I like to play, I like to be out there, be in the lineup for my guys and things like that. Sliding into the wall and making a play like that, jamming my knee up -- we'll see how I feel tomorrow. If I think I need a day, I'll talk to [Kapler] and see what he says."