Girardi on testing: 'We have to be safe'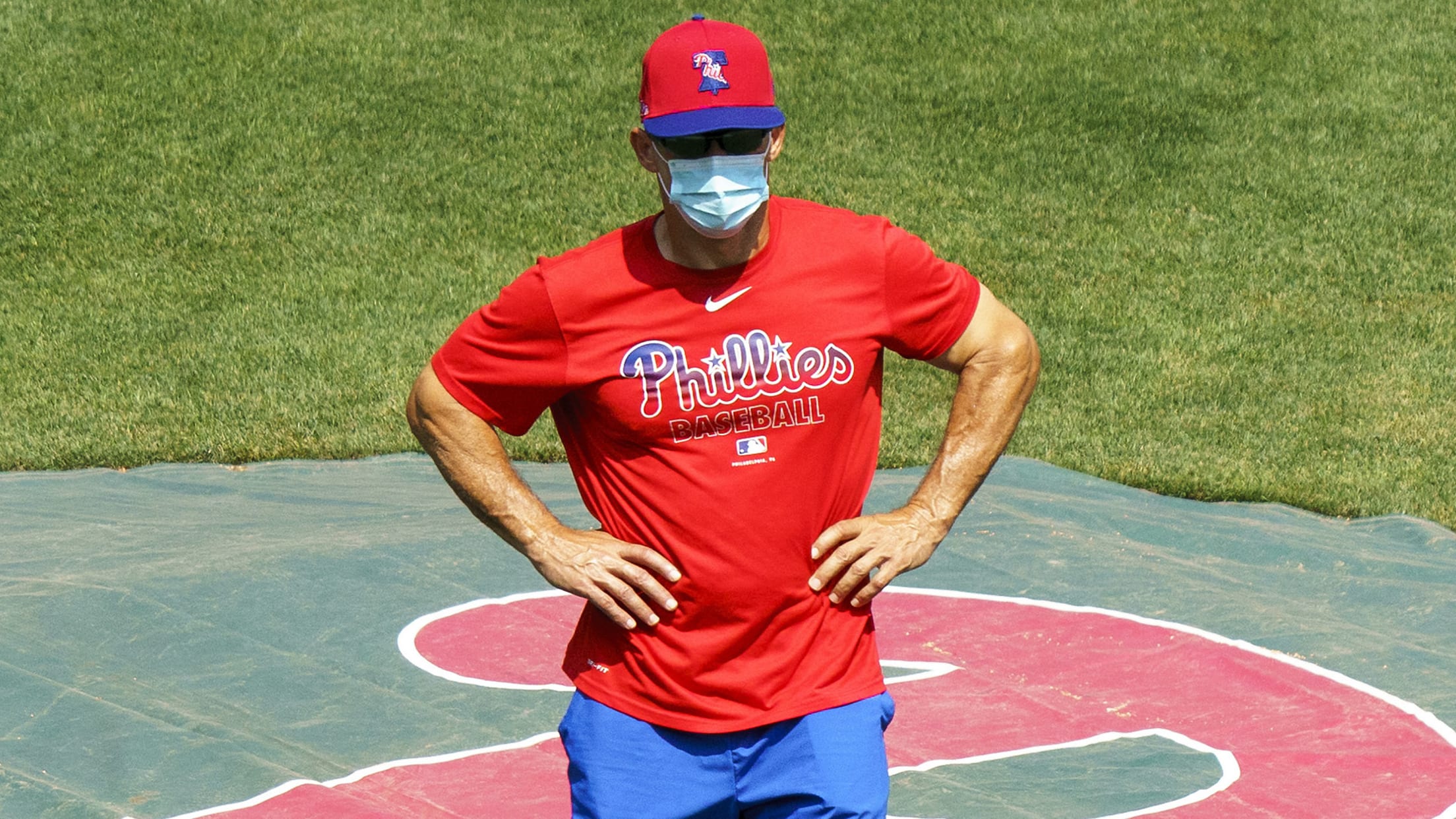 PHILADELPHIA -- The Phillies completed their third day of Summer Camp on Sunday at Citizens Bank Park and FDR Park. They still missed a few very important people. Aaron Nola, Scott Kingery, Héctor Neris, Adam Haseley, Ranger Suárez, Tommy Hunter and Christian Bethancourt have not been in camp. The team
PHILADELPHIA -- The Phillies completed their third day of Summer Camp on Sunday at Citizens Bank Park and FDR Park.
They still missed a few very important people.
Aaron Nola, Scott Kingery, Héctor Neris, Adam Haseley, Ranger Suárez, Tommy Hunter and Christian Bethancourt have not been in camp. The team has offered no official explanation why. Phillies manager Joe Girardi opened his Zoom call on Sunday with reporters with a statement, asking nobody to assume that because somebody is not at the ballpark that they have tested positive for COVID-19.
"That is not necessarily always the case," he said. "I'm not trying to be secretive. This is just the protocol that I've been asked to follow. There's a number of different things. Sometimes certain tests take longer than others. We don't have any reason why. Sometimes it can be through contact tracing. It was like four steps removed, but A was with B, B was with C, C was with D, D was with E. So now we've got to maybe make sure that E is OK. It could be another medical condition that could be someone in their family that I'm not allowed to talk about. It's unfortunate that I can't in a way be more direct, but don't make the assumption that someone is always positive when I say that. I'm not trying to mislead anyone."
But the absences are significant regardless. Nola is the projected Opening Day starter. Kingery is the projected everyday second baseman. Neris is the projected closer. (Girardi said Neris was at the ballpark Sunday and could be back early this week, if he clears a few more protocols.) Haseley could see regular playing time in center field. Suárez could be the team's No. 5 starter or a key piece in the bullpen. Hunter is the only veteran reliever the Phillies signed to a big league contract this offseason. Bethancourt could provide catching depth behind J.T. Realmuto, Andrew Knapp and Deivy Grullon.
There are less than three weeks remaining before Opening Day on July 23 or 24.
"I wouldn't say that three weeks is a lot of time," Girardi said.
Is he concerned then about the type of roster he might field on Opening Day?
"Well, you know what?" he said. "I think there's a possibility that we could go through this the whole season, because of the contact tracing -- A saw B, B saw C, C saw D. Because of that we could go through this on a number of occasions. And then the players end up being OK, but we have to be safe. We're going to be dealing with this a lot."
Celebrate? Maybe
Girardi has popped a few champagne bottles as a player and manager. He knows what World Series-clinching celebrations are like.
But what will they look like this year?
"I've got a feeling that that will be something hard to control -- the team that wins it," he said. "Just because of everything that went into the season, the hard work that they put in throughout the offseason, staying prepared to compete for these 60 games and the playoffs. I would think that would be a tough one."
Extra bases
Girardi said he still projects Jean Segura to play third base. It could change if Kingery is unavailable, but it is not the ideal outcome. … The Phillies hope to play their first intrasquad game sometime midweek.