Girardi on Phillies' big-picture needs
3 key takeaways from Phillies' media availability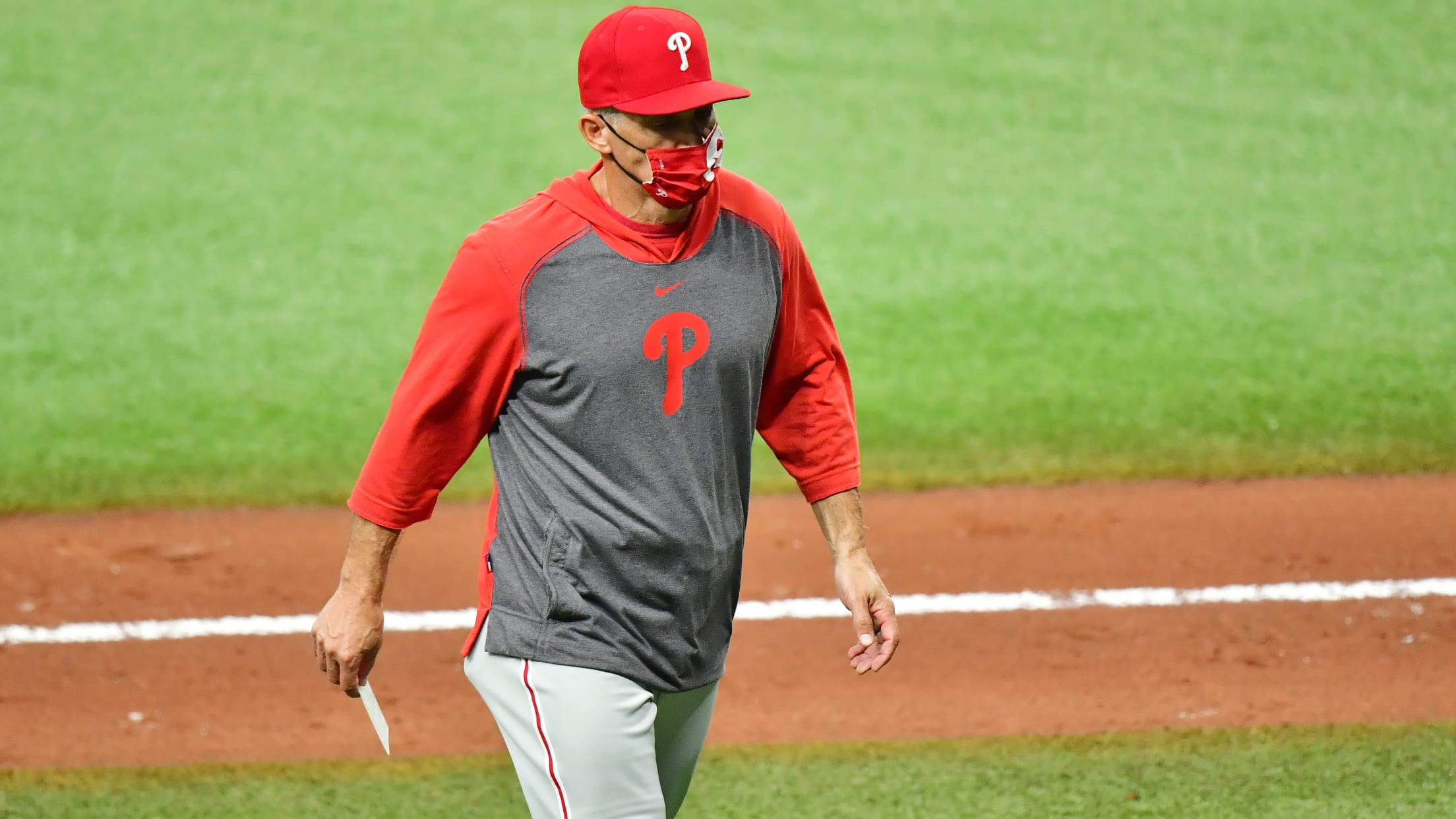 Phillies manager Joe Girardi and new pitching coach Caleb Cotham spoke to reporters for 25 minutes on Friday. It was the first time that Philadelphia officials spoke publicly since president Andy MacPhail's Zoom call late last month. MacPhail said then that the Phillies would not be active over the next
Phillies manager Joe Girardi and new pitching coach Caleb Cotham spoke to reporters for 25 minutes on Friday.
It was the first time that Philadelphia officials spoke publicly since president Andy MacPhail's Zoom call late last month. MacPhail said then that the Phillies would not be active over the next several weeks because they anticipated very little movement on the free-agent market until perhaps early next year. MacPhail said the lack of activity partially explained why the Phils could take their time in finding former general manager Matt Klentak's replacement.
But in between questions on Friday about Cotham's hiring, Girardi offered a couple of answers about big-picture issues surrounding the team.
1) Missed opportunities?
MacPhail was correct when he said he anticipated a slow-moving market. But there have been some moves this month. In the National League East, the Braves signed left-hander Drew Smyly to a one-year, $11 million contract and the Mets signed former Phillies prospect Sam McWilliams to a one-year, $750,000 deal. Neither move is earth shattering and neither will shift the balance of power in the division. (McWilliams has not yet pitched in the big leagues.) But the Braves and Mets saw opportunities to make incremental improvements to their rosters and they took them.
Maybe the Phils did not think Smyly could help them. Maybe they liked him, but they didn't like the asking price. The Athletic said several teams had interest in Smyly on a multiyear deal, but with salaries in the $6 million range.
The point is that Atlanta did not wait to improve its rotation.
Girardi was asked if he is confident in the Phillies front office's ability to sign complementary pieces over the next month or so, while they wait to find Klentak's replacement.
"I'm very confident," Girardi said. "Just because I watched us go through the hiring of Caleb and all the candidates that we had, how well it all worked and how well Ned ran everything and made sure that everything was done. We were thorough in our checks. So I'm very confident that things will run smoothly."
Finding quality depth-type players can turn good teams into great ones. It has been a weakness of the Phillies in the past few years, which MacPhail acknowledged, just another reason why it would be better to find a new leader of baseball operations sooner than later.
2) The search
The Phillies were scheduled to interview former Marlins executive Michael Hill to replace Klentak. MLB.com's Jon Morosi reported over the weekend that Dodgers assistant general manager Jeff Kingston is also a candidate.
Certainly there are others.
Interestingly, The Athletic wrote last week that between the Mets and Phillies, the Mets are viewed as the better job around baseball, and understandably so. The Mets seem to be raring to spend money, while Philadelphia is cutting costs. That said, the Phils should be able to find a quality person to run the show.
3) Sign J.T. Realmuto
It would not be a true media availability without a question about Realmuto. Girardi was asked how much Realmuto is needed to help Cotham and the pitching staff succeed next season and beyond.
"I think all organizations, [especially] the Phillies, love stability," Girardi said. "That's what we love. We love to know what we're going to get out of certain players on a daily basis. That's a manager's dream, when you know that you can pencil a guy's name in and you know exactly what you're going to get and you trust that they're going to be ready to play every day and that they're going to be productive. That's J.T.
"But one of the things that players strive to do is earn free agency. To see what type of value they have. It always takes two parties to make a deal. One party may think that this place is better than the other. I mean, there are 30 teams that would love to have J.T. and we're at the top of the list because we love him. But I can't tell you exactly what's going to happen, because that's not my job. My job is to make suggestions about what we need and who we need and where we have strengths and where we don't have strengths. But then putting together the team is above me. I need to manage the players that they give me."
MacPhail said something interesting a couple weeks ago that could apply here. He said managing partner John Middleton and the rest of ownership needs to be more invested in hiring the new head of baseball operations, because MacPhail will be gone after next season. Does similar thinking influence their pursuit of Realmuto? In other words, are the Phillies comfortable making a potentially record-setting offer to a catcher before they know who will lead baseball operations in the future? Do they pause if things heat up with Realmuto earlier than expected? Not that there is anybody that would not want Realmuto on their roster, but maybe the new head of baseball operations sees a different path forward? It is something to consider.