5 key questions facing Phillies this offseason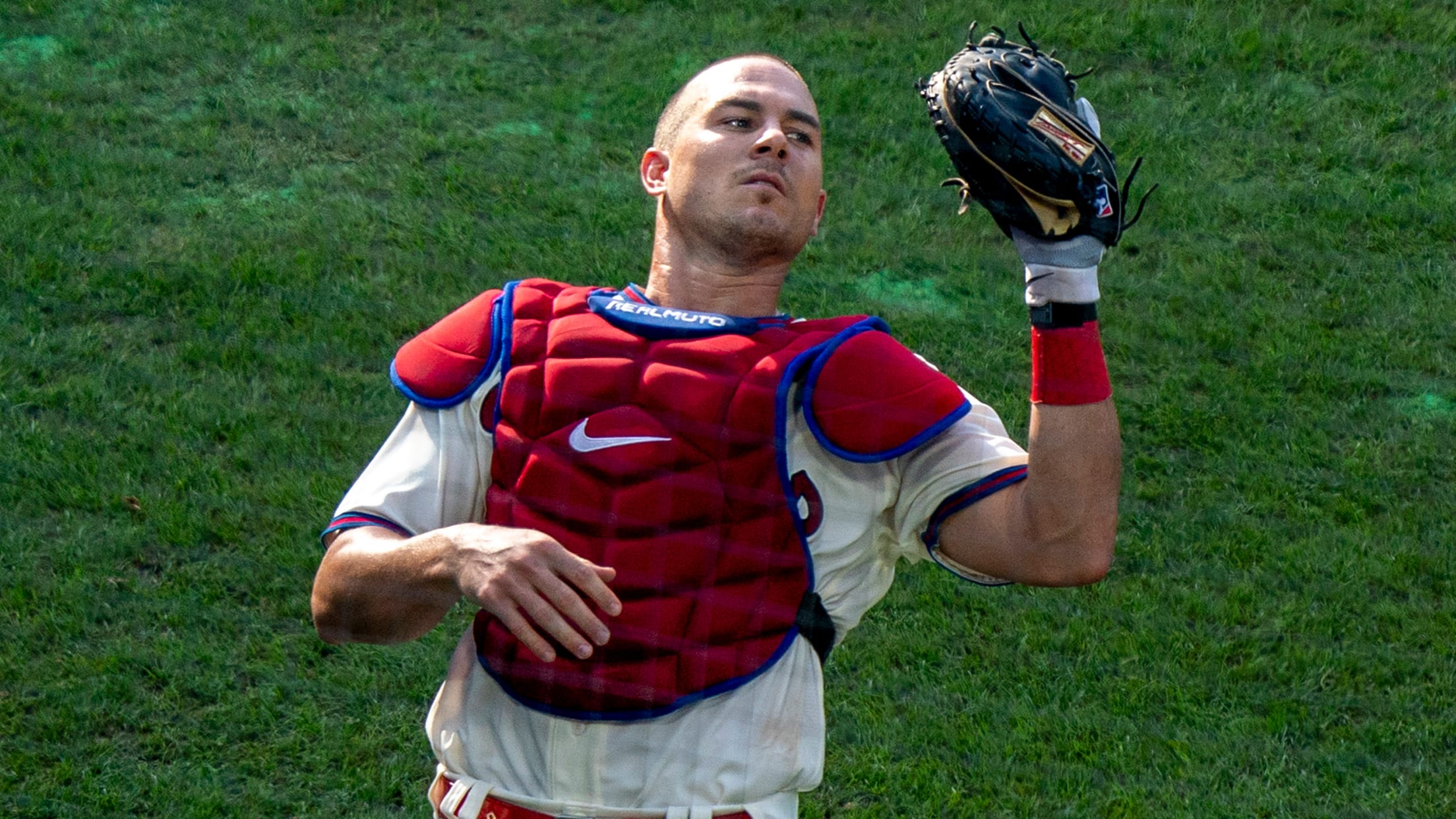 After nearly five years on the job, Matt Klentak stepped down from his role as Phillies general manager on Saturday. Ned Rice will serve as the club's interim GM until a permanent successor is hired to replace Klentak, who will be reassigned within the organization. The front office will have
After nearly five years on the job, Matt Klentak stepped down from his role as Phillies general manager on Saturday. Ned Rice will serve as the club's interim GM until a permanent successor is hired to replace Klentak, who will be reassigned within the organization. The front office will have numerous problems to solve before next season, from a Minor League system ranked amongst the bottom third in baseball to a Major League roster with multiple issues.
There are no easy fixes.
Here are five questions about the big league roster:
1) Do the Phillies sign J.T.?
Everybody knew how Bryce Harper felt about J.T. Realmuto, but he made the point one more time after the Phillies' season-ending loss on Sept. 27. Because, why not?
"J.T. Realmuto needs to be our catcher next year," Harper said. "Plain and simple. … I don't think that should even be a question or anything. Because there's going to be two teams or three teams in the NL East who are going to go after that guy, and if that happens, I mean, that's going to be tough to swallow for us."
The Phillies bet in February that they could lock up Realmuto to a multiyear extension before the end of Spring Training, but once they started talking with Realmuto's agent they realized how far apart they were. Then the pandemic hit and changed baseball's economic landscape. Even then, the Phillies believed they still had more financial resources than anybody to sign him. It was a gamble then. It is a gamble now. The Phillies might feel that their number is the correct number -- and it might be -- but it only takes one team to prove them wrong.
2) Where do they even start with the bullpen?
The bullpen's 7.06 ERA is the second highest in history, according to the Elias Sports Bureau. Yeah, but it was only a 60-game season! Well, only six bullpens in the past 20 years had 60-game stretches worse than the Phillies: the 2003 Royals (7.14 ERA), '19 Orioles (7.15 ERA), '07 Orioles (7.32 ERA), '07 White Sox (7.77 ERA), '10 D-backs (7.77 ERA) and '07 Rays (8.11 ERA).
The Phillies cannot just throw money at the problem, either.
"The bullpen is made from within," Harper said. "Not all teams go out and spend a million bajillion dollars on bullpens. I mean, you can't do it. You can't just go out and just spend a crazy amount of money on a bullpen because you have to be able to rely on the guys in your organization to get the job done. Pitching wins championships. Development wins champions. Being able to develop and understand what it takes to develop wins championships."
José Álvarez, Tommy Hunter, Brandon Workman and David Robertson are free agents. David Phelps will be a free agent, if the Phillies do not exercise a $4.5 million club option ($250,000 buyout). Héctor Neris has a $7 million club option. If the Phillies decline it, he remains eligible for salary arbitration. Adam Morgan, Blake Parker, Heath Hembree, David Hale and Seranthony Domínguez are eligible for arbitration, too.
How many in that 11-pitcher group are back next season?
The Phillies might have something special in Connor Brogdon and JoJo Romero, but they need more than that. Free-agent relievers include Liam Hendriks, Blake Treinen, Alex Colomé and Shane Greene. Josh Hader is always rumored to be available, but the asking price is high and the Phillies do not have enough to get him, unless they want to further cripple the farm system.
3) How many starters do they need?
The Phillies are solid at the top of their rotation with Aaron Nola, Zack Wheeler and Zach Eflin. Spencer Howard figures to be the No. 4 or 5 starter, but after missing time each of the past two seasons with shoulder issues, they cannot bet on him to pitch an entire year.
Jake Arrieta will not be back. It is no guarantee they tender a contract to right-hander Vince Velasquez. The Phillies have Cole Irvin, Mauricio Llovera, Adonis Medina, Ramón Rosso and Ranger Suárez among internal options on the 40-man roster. But the Phillies need at least one more starter, probably two.
4) What about Didi and the outfield?
Didi Gregorius' .832 OPS ranked seventh among 21 qualified shortstops. The Phillies could make him a qualifying offer, but they might decline and take their chances in a post-pandemic market. It is a risk. The Phillies could move Jean Segura or Scott Kingery to shortstop, if Gregorius signs elsewhere, but that is not ideal.
Then there is the outfield. Do they bring back Odúbel Herrera to play center field? If they do, they could have some combination of Andrew McCutchen, Roman Quinn and Adam Haseley in left. Maybe the Phillies bring back Jay Bruce, if there is a designated hitter again in the National League.
For those keeping score, even if the Phillies resign Realmuto, they still need to completely reimagine the bullpen, acquire a starter or two, acquire a shortstop and possibly even an outfielder or two.
How are they going to do all that?
5) Can they do something to help their pitching?
From 2016-19 there were 9.2 runs per game in the regular season, compared to 8.0 runs per game in the postseason, according to Sports Info Solutions. The numbers reinforce the importance of pitching and defense. Well, the Phillies had one of the worst defenses in baseball. They ranked 28th in defensive runs saved (minus-33), according to SIS. They ranked 26th in Statcast's Outs Above Average.
They might need to get creative to boost the defense because it seems unlikely they can do everything they want to improve the pitching.