Here are Players' Weekend nicknames for Phils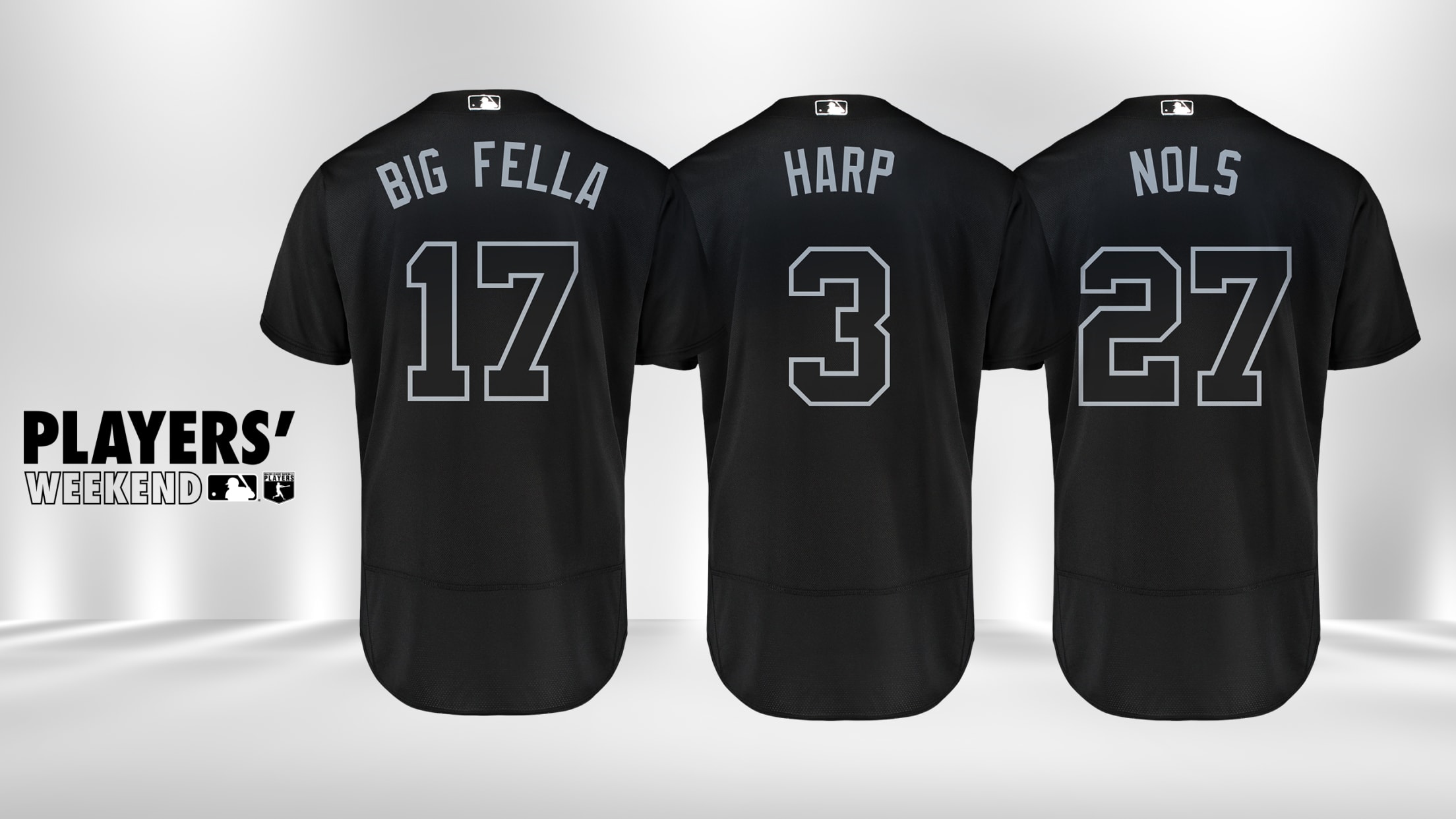 Players' Weekend starts Friday, which means the Phillies will be wearing all-black uniforms with nicknames on the back of the jerseys. Some of the nicknames are obvious. Some are not. Here is a look at the players' nicknames, and what some of them mean: José Álvarez: "EL LLAVE" Technically, it
Players' Weekend starts Friday, which means the Phillies will be wearing all-black uniforms with nicknames on the back of the jerseys.
Some of the nicknames are obvious. Some are not.
Here is a look at the players' nicknames, and what some of them mean:
José Álvarez: "EL LLAVE"
Technically, it should be "LA LLAVE," which means "key" in English. It is a colloquialism from Venezuela, referring to people who are friends with one another. Like, "You know me, so you have access to me. You have the key."
Jake Arrieta: "SNAKE"
Jake "The Snake" Roberts is a famous WWE wrestler. Roberts did a hype video before Arrieta started Game 6 of the 2016 World Series.
Jay Bruce: "BRUUUCE"
Corey Dickerson: "CD"
• Every team's Players' Weekend nicknames
Zach Eflin: "EF"
Bryce Harper: "HARP"
Cesar Hernandez: "CESITA"
It means "Little Cesar" in Spanish. Hernandez's dad is also named Cesar, and Hernandez's mother got tired of trying to figure out who family and friends were talking about, so she changed her son's name.
Rhys Hoskins: "BIG FELLA"
Hoskins' college buddies at Sacramento State long ago nicknamed him "Big Fella."
Scott Kingery: "JETPAX"
"Jetpax" is Kingery's nickname. It is also his Twitter handle: @ScottyJetp4x.
Andrew Knapp: "KNAPP TIME"
Brad Miller: "J. WINDERMERE"
Miller grew up in Windemere, Fla., which has been the home of Ken Griffey Jr., Tiger Woods, Shaquille O'Neal, Prince Fielder and others. When Miller made the Mariners as a rookie in 2013, teammates called him "Silver Spoon" and asked if he took a pay cut when he signed with Seattle and got off his allowance. They asked if his butlers gassed up his jet skis.
Willie Bloomquist, who played with Miller in Seattle from 2014-15, started to call him Johnny Windemere. The Mariners arrived at hotels on the road and Bloomquist submitted "Johnny Windemere" as Miller's alias. Former Phillies left fielder Raul Ibanez played with Miller in '13. Ibanez was in Philadelphia earlier this month for the reunion of the '09 National League championship team.
"He asked me if the butlers and chefs were doing well," Miller said.
Mike Morin: "MOOSH"
Héctor Neris: "COMPA N"
Former Phillies right-hander Luis Garcia, Triple-A Lehigh Valley third baseman Maikel Franco and Neris are friends. Garcia and Franco are godfathers to Neris' son. In seasons past, they chose similar nicknames with Garcia "Compa G" and Franco "Compa F." "Compa" is short for "compadres."
Juan Nicasio: "ARENOSO"
Essentially means "Sandman."
Aaron Nola: "NOLS"
Blake Parker: "B-EASY"
Nick Pivetta: "PIV"
Roman Quinn: "PSJ"
It stands for Quinn's hometown of Port St. Joe, Fla., which was hit hard by Hurricane Michael last year.
• Shop for Players' Weekend gear
J.T. Realmuto: "REAL"
Sean Rodríguez: "CHI CHI"
The roots trace back to golfer Chi-Chi Rodriguez.
Jean Segura: "EL MAMBO"
Drew Smyly: "SMILES"
Ranger Suárez: "CHUPETE"
It means "pacifier" in English. This was a late change, so it's unclear why Suarez chose this one.
Jason Vargas: "VARGY"
Vince Velasquez: "V²"
No Vinny Velo?