Phillies' Top 5 shortstops: Zolecki's take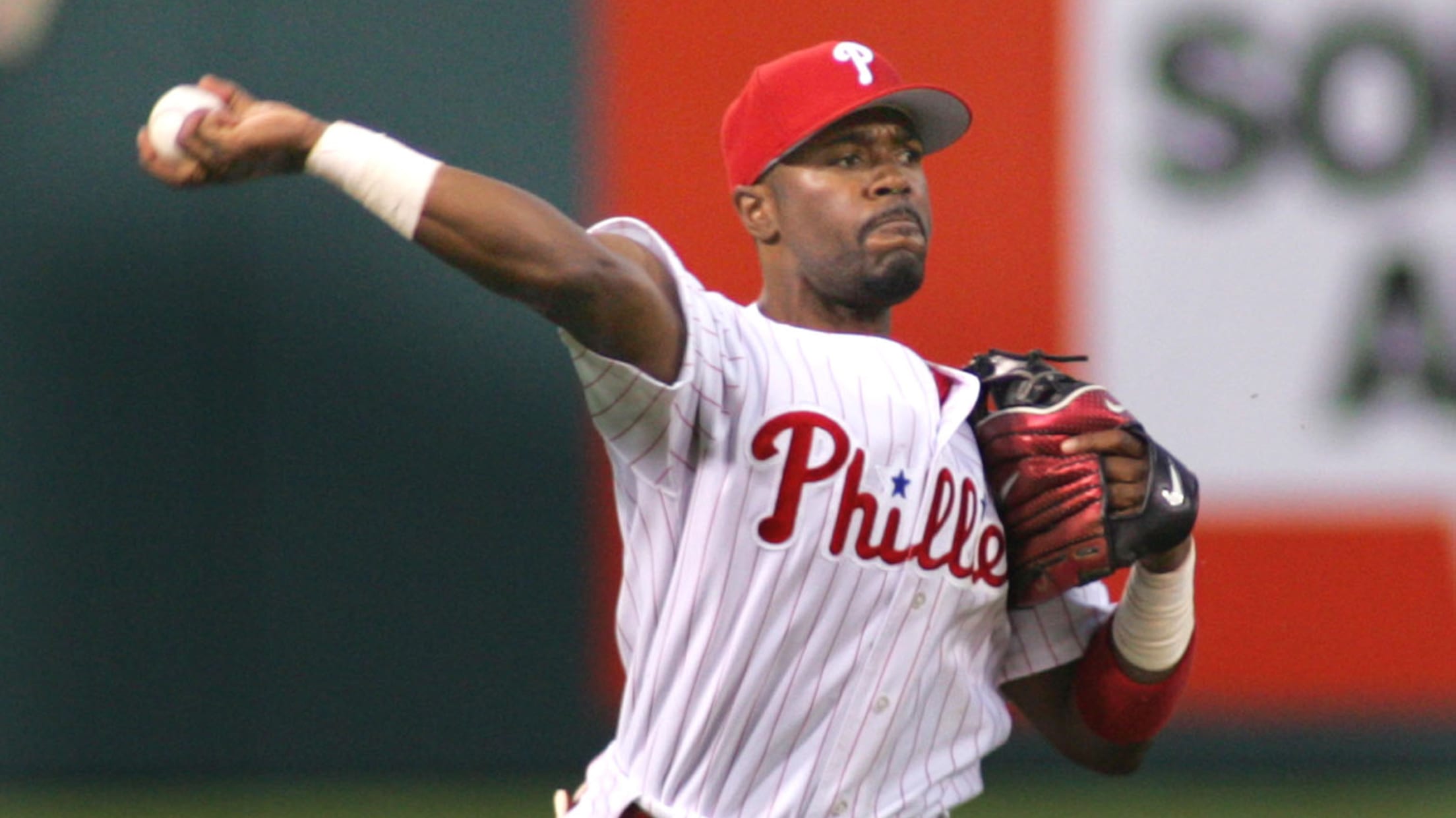 Few people love a good debate like baseball fans, and with that in mind, we asked each of our beat reporters to rank the top five players by position in the history of their franchise, based on their career while playing for that club. Love this list? Hate it? If
Few people love a good debate like baseball fans, and with that in mind, we asked each of our beat reporters to rank the top five players by position in the history of their franchise, based on their career while playing for that club. Love this list? Hate it? If you don't agree with the order, participate in the Twitter poll to vote for your favorite at this position.
Over the next several weeks, https://t.co/REbqIiGVRj is building all-time lineups for all 30 teams. Today, we continue at shortstop. We know Jimmy Rollins is the No. 1 #Phillies shortstop. We know who's No. 2, too. But let's ask anyway. Who's No. 2 behind Rollins?

— Todd Zolecki (@ToddZolecki) April 21, 2020
Here is Todd Zolecki's ranking of the top shortstops in Phillies history. Next week: left fielders.
• Phillies All-Time Around the Horn Team: C | 1B | 2B | 3B
1. Jimmy Rollins, 2000-14
Key stat: Franchise's all-time hits leader (2,306)
I asked Larry Bowa in Spring 2006 if he thought Rollins could be considered the greatest shortstop in Phillies history.
"Nah," Bowa said. "I need to see Jimmy play a little bit longer before I say that."
Rollins hit .277 with 25 home runs, 83 RBIs and an .811 OPS in 2006. He won the National League Most Valuable Player Award the following season, hitting .296 with 30 home runs, 94 RBIs and an .875 OPS.
I talked to Bowa again in 2008. Had he changed his mind?
"I wasn't a great player," Bowa said. "I was a good player. Jimmy is a great player. Yeah, I think he's a great player."
Rollins finished his Phillies career as the franchise's all-time hits leader. He won four NL Gold Glove Awards and one NL Silver Slugger Award. He made three NL All-Star teams and earned NL MVP Award votes in five seasons.
"Some people call me 'Jimmy,' and they say when I put on a uniform, I turn into 'J-Roll,'" Rollins said before his retirement ceremony last May. "In my personal life, I'm very secluded. I keep a small circle and just like to blend in. Obviously, growing up in the Bay Area watching Rickey Henderson, there was an entertainment [factor] when I watched him play. So I liked to bring that to the field every time I took the field, and obviously, that comes with a little more dramatic version of myself."
J-Roll called the Phillies the team to beat in the NL East in 2007, and then he backed up his words with one of the most exciting individual seasons in franchise history. He then helped the Phils win the World Series in '08, the NL pennant in '09 and two more division titles in '10 and '11.
2. Larry Bowa, 1970-81
Key stat: Five-time NL All-Star
I wrote a couple weeks ago about the next players who could have their numbers retired by the Phillies, and I focused on Dick Allen, who could get the nod from the Golden Days Committee in December. Bowa deserves to be in the conversation, too. He will not make the Hall of Fame, but he is one of the most iconic figures in Philadelphia sports history.
Bowa had 2,191 hits in his career (1,798 with the Phillies). His .980 fielding percentage at shortstop is tied for ninth in baseball history. Bowa was a five-time All-Star with the Phils. He won two NL Gold Glove Awards and earned NL MVP Award votes in four seasons. Bowa was also the shortstop when Philadelphia won the 1980 World Series and captured NL East titles from '76-78. He later managed and coached the Phillies, and he currently works in the front office, although he put on a uniform every day this spring to work with the infielders.
But Bowa's longevity in Philadelphia is not the only reason why Phillies fans love him. They adore his story, as he was not drafted, instead working his way up to the big leagues. They're big on his personality, too -- for a kid from Sacramento, Calif., he sure exudes a Philly mindset.
3. Granny Hamner, 1944-59
Key stat: Three-time NL All-Star
Hamner was Bowa before Bowa: tough as nails and one heck of a competitor. He made three NL All-Star teams and earned NL MVP Award votes in six seasons with the Phillies, including a sixth-place finish in 1950, when the Whiz Kids won the NL pennant.
4. Dave Bancroft, 1915-20
Key stat: Inducted into Hall of Fame in 1971
Bancroft joined the Phillies as a rookie in 1915, and he started 153 games as the team won its first NL pennant. Bancroft was known as a slick-fielding shortstop who learned to hit. Phils manager Gavvy Cravath called Bancroft the best shortstop in baseball early in the '20 season, according to The Phillies Encyclopedia. But like a lot of star Philly players back then, he was traded for cash. The Phils shipped him to the New York Giants in June of that year for $100,000 and shortstop Art Fletcher, who played only two more seasons in the big leagues.
Bancroft continued his career with the Giants, helping them beat the Yankees in the World Series in 1921 and '22. He finished his career with a 49.1 WAR, according to Baseball Reference. Rollins finished with a 47.6 WAR. It's something to keep in mind when Rollins appears on the Hall of Fame ballot in a couple years.
5. Mickey Doolin, 1905-13
Key stat: Recorded 1,077 hits with the Phillies
Doolin ranks fifth among Phillies shortstops with a 14.3 bWAR. The Phillies Encyclopedia said that contemporaries compared him defensively to Honus Wagner and Joe Tinker. Offensively, Doolin did not compare at all. He finished his career with a .585 OPS. But, hey, Doolin's 1,376 career hits are second among Villanova alumni. (Mickey Vernon's 2,495 hits rank No. 1.)
Honorable mentions
Dick Bartell (1931-34) posted a 4.4 bWAR in 1932, the highest single-season mark for any shortstop not named Rollins or Bowa.
Bob Allen (1890-94) posted a 10.5 bWAR with the Phillies, but I only considered modern-era players for this list, because the game is so different now.
Ruben Amaro (1960-65) gets a nod because of his contributions to the Phillies as a player, coach and more.
Can somebody explain to me how Freddy Galvis (2012-17) never won a Gold Glove Award?
Kevin Stocker's (1993-97) rookie season in 1993 is enough to put him here.