Notes: Howard's debut on tap? 'Stay tuned'
PHILADELPHIA -- Everything still points to Spencer Howard starting Sunday's series finale against the Braves at Citizens Bank Park. "Stay tuned," Phillies manager Joe Girardi said Thursday. "There's a guy that we could use in a lot of different roles." Is Howard a guy who could fill different roles? "He
PHILADELPHIA -- Everything still points to Spencer Howard starting Sunday's series finale against the Braves at Citizens Bank Park.
"Stay tuned," Phillies manager Joe Girardi said Thursday. "There's a guy that we could use in a lot of different roles."
Is Howard a guy who could fill different roles?
"He is a guy," Girardi said, smiling.
The Phillies need a starter Sunday because Aaron Nola and Zack Wheeler pitched in Wednesday's doubleheader with the Yankees. Zach Eflin pitched Thursday night against the Yankees, and Vince Velasquez and Jake Arrieta will pitch Friday and Saturday against the Braves, respectively.
Howard is the organization's top pitching prospect and the No. 37 prospect in baseball, according to MLB Pipeline. He could have made the Opening Day roster, but there were service time considerations. By keeping Howard at the alternate training site for the first five days of the season, the Phillies guaranteed an extra year of team control. If they call up Howard on Sunday (or any day at this point), he cannot become a free agent until after the 2026 season.
"I think there's a number of different ways that we could use him, whether it's starting or relieving," Girardi said, speaking generally about Howard.
It is possible Howard could stay in the rotation upon his arrival, bumping somebody else to the bullpen. It also is possible that Howard could make a spot start Sunday and move into a beleaguered bullpen. Howard has not pitched out of the bullpen in his career, which means he is unlikely to pitch back-to-back games initially. But his arm certainly would play in short stints.
Once Howard is up, he will surely stay up. His future teammates are looking forward to it.
"His fastball is electric, especially against righties, it kind of jumps at you," third baseman Jean Segura said. "His command is pretty good. He's going to be pretty good."
"He's a special talent," right-hander Tommy Hunter said. "He's a good kid, and he's got a lot of talent, so it'll be fun to see him put that on display."
Segura finds a model in Chapman
Segura is playing third base for the first time in his career. He prepared by studying video of A's third baseman Matt Chapman, a two-time Platinum Glove Award winner.
Chapman typically plays deep compared to other third basemen. The average third baseman stands 118 feet from home plate, according to Statcast. Chapman stands 125.
Segura? He also stands 125 feet from home plate. No third baseman in the big leagues plays deeper.
"It gives you more of a chance to see the ball longer and cover more ground," Segura said. "I have a good arm, so it's easier for me to play deeper because I have more chances to catch the baseball."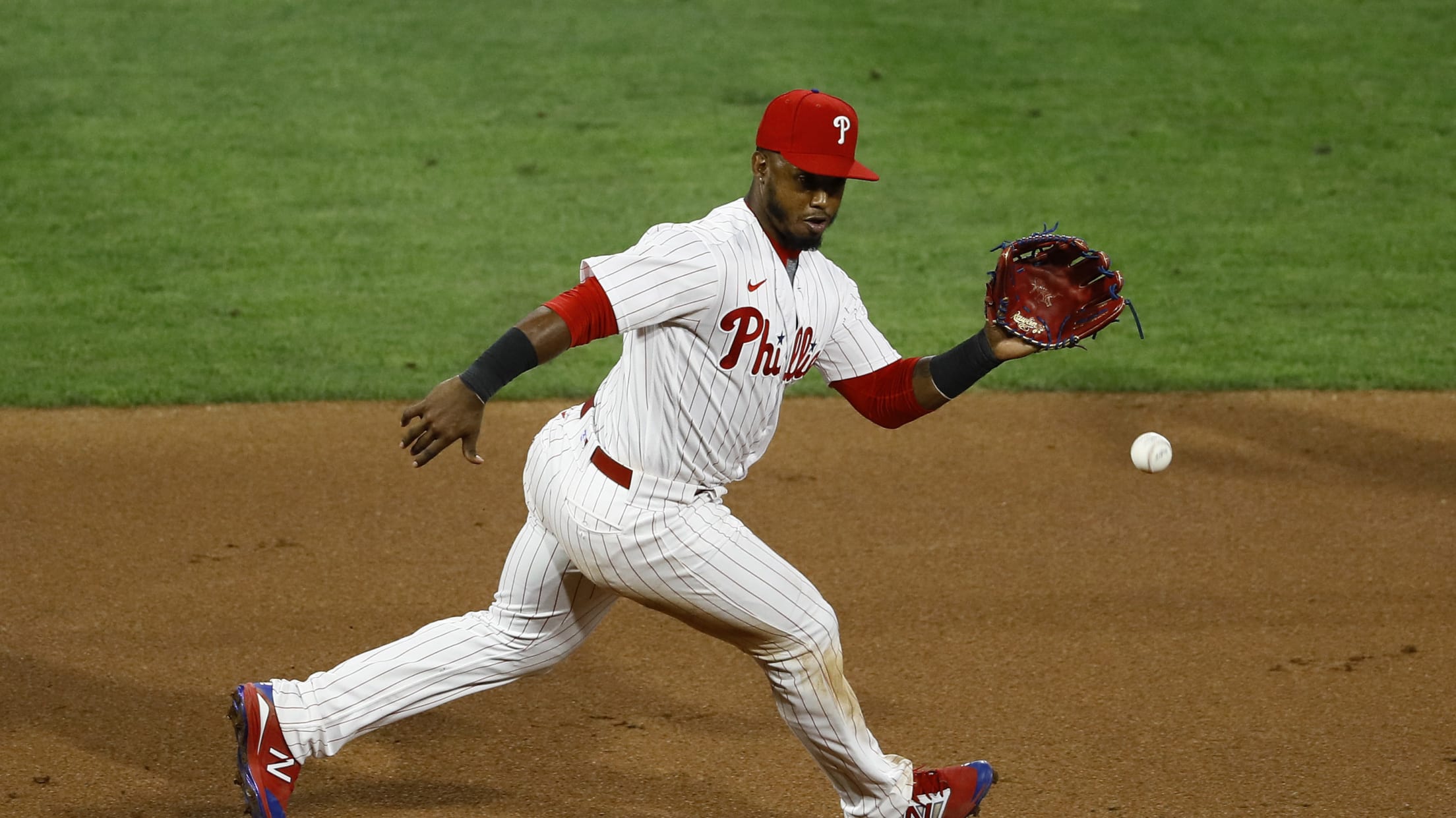 Hunter believes velo will come
Hunter had surgery to repair the flexor tendon in his right arm in July 2019. He missed much of Summer Camp because of COVID-19 and then did not pitch for more than a week following seven consecutive postponements related to the Marlins' coronavirus outbreak. Hunter started the season with two scoreless appearances, but then allowed five consecutive batters to reach base in Wednesday's 3-1 loss to the Yankees in Game 2 of a doubleheader.
Hunter's two-seam fastball is averaging 91.5 mph. It averaged 94.1 mph last season.
"I looked at it too," Hunter said about his velocity. "They said it's kind of a process deal. They said it'll come back. Everybody is pretty confident that it'll come back. It just hasn't yet. I'm kind of waiting just like everybody else is right now.
"I just think it's going to get better. I've faced hitters four times in a year and 24 days," referring to his final appearance on July 13, 2019, before the surgery. "I think I'm going to be OK."
Extra bases
• Right-hander David Robertson underwent Tommy John surgery last year, and he is throwing off a mound. There are times when the Phillies say he could still pitch this season, but there is no timetable for his return.
• Left-hander Ranger Suarez was hit hard by COVID-19. He is behind schedule, but he is throwing. If he returns this season, he will pitch out of the bullpen.
• Teams reduced their rosters from 30 players to 28 on Thursday. The Phillies optioned right-hander Enyel De Los Santos and outfielder Kyle Garlick.