Phillies activate righty Hunter from injured list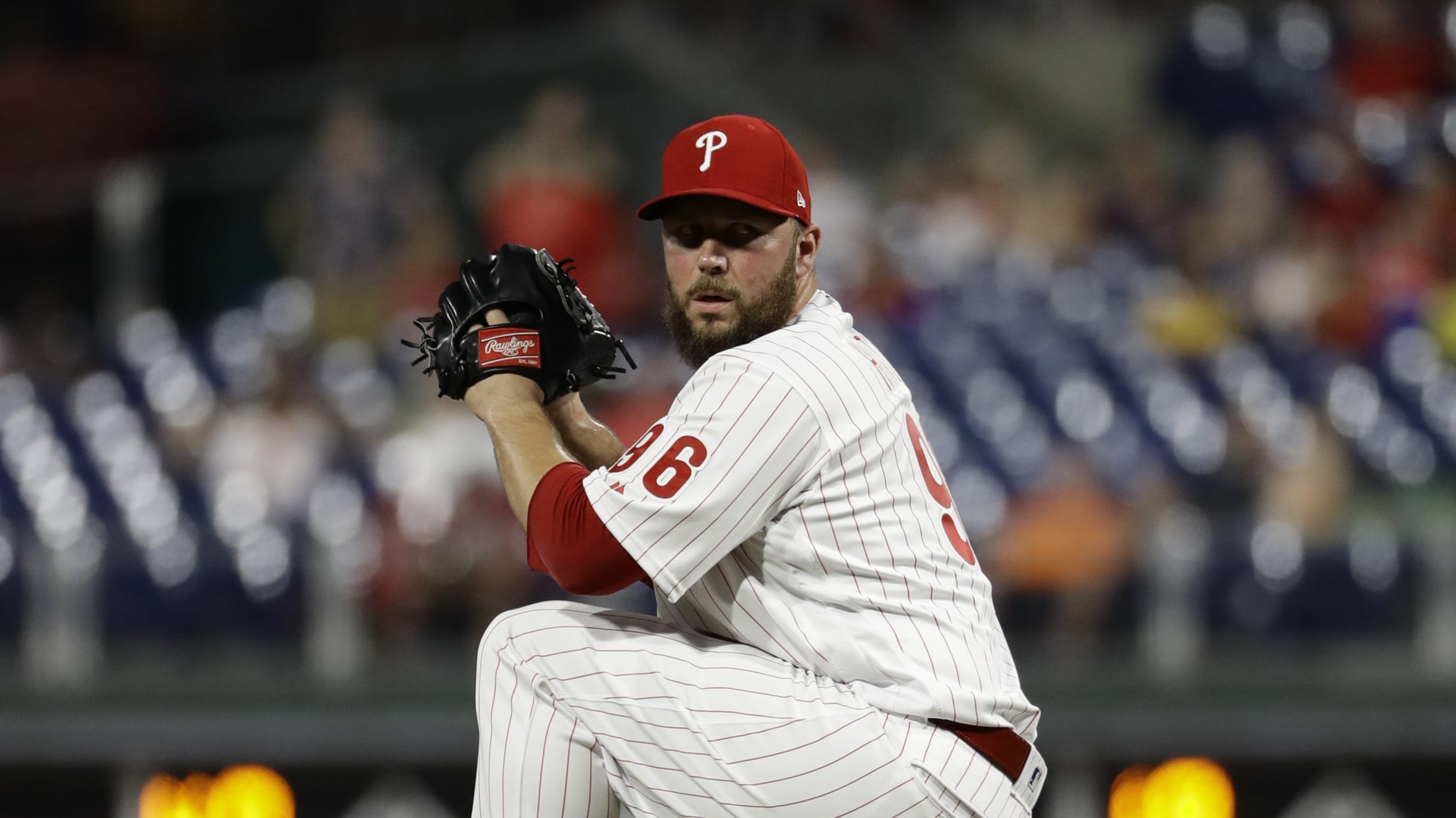 MIAMI -- The Phillies have struggled to find consistency in their bullpen, but they are receiving a boost with the return of veteran Tommy Hunter (right forearm strain) from the 60-day injured list prior to Friday's 6-2 loss to the Marlins at Marlins Park. Hunter pitched a scoreless eighth, throwing
MIAMI -- The Phillies have struggled to find consistency in their bullpen, but they are receiving a boost with the return of veteran Tommy Hunter (right forearm strain) from the 60-day injured list prior to Friday's 6-2 loss to the Marlins at Marlins Park. Hunter pitched a scoreless eighth, throwing 14 pitches and striking out one batter.
"It was really nice to see him come out and be efficient, attack the strike zone, throw his cutter for strikes, threw a couple nice breaking balls," Phillies manager Gabe Kapler said. "I thought it was a really good outing, a healthy outing. He probably won't be up for us tomorrow, but be ready to go again on Sunday."
Philadelphia's relief corps, which entered Friday ranked 20th in the Majors with a 4.61 ERA, is still without righties Seranthony Dominguez (right UCL), David Robertson (right elbow soreness) and Pat Neshek (left hamstring strain).
"With Tommy coming back, with Robertson coming back shortly after that and Seranthony hopefully coming back soon after that, those may be the three biggest bullpen additions made in all of baseball in the next month," Phillies general manager Matt Klentak said. "That doesn't mean we won't necessarily look at other players in potential trades, but if we can get our own bullpen in good shape as we approach the end of July, that will really help us to make good decisions come Trade Deadline time."
Hunter, who had yet to appear in a Major League game in 2019, compiled a 3.80 ERA and 1.25 WHIP over 65 games in '18 after signing a two-year, $18 million deal with the Phillies. He recorded four outs or more in 12 outings last season.
"No. 1, his ability to tackle multiple innings for us," Kapler said of getting Hunter back. "I don't mean two full innings, but one-plus. Just come in after recording three outs and then go back out for an additional out. No. 2, his ability to tackle left-handed hitters. It's nice to have a right-handed pitcher that acts like a lefty. So if we're going through a string of left-handed hitters, we don't have to make multiple moves. It's just Tommy to the rescue in that situation.
"And then finally, it's his overall durability, his want to take the ball, his determination, his desire to play every day. A reliever that wants to play every day is a really good thing."
The 32-year-old right-hander made four Minor League rehab appearances between Class A Advanced Clearwater and Double-A Reading, striking out six batters and allowing one run on three hits over five innings. He threw 18 pitches in his most recent outing on Tuesday.
"After the first [Minor League game], I literally just wanted to throw a strike," Hunter said. "That's all I wanted to do. I hadn't thrown a baseball in eight months. I just wanted to throw the first-pitch strike, and we didn't get it back because it was over the fence. … Then it just kind of rolled after that. Started to get the feel of actually throwing and putting the baseball where you wanted it. That kind of came back quick."
Through his stint in the Minor Leagues, Hunter's main goal was to just feel "not hurt."
"I'm pretty confident in what I can do if I'm healthy, if I'm ready to roll," Hunter said. "That's what we were kinda looking for, what I was looking for, personally."
The Phillies weren't sure if they were going to have Hunter make a second rehab outing with Reading before bringing him back up.
Since relievers Hector Neris, Juan Nicasio and JD Hammer -- who all pitched in three of the four games of the Mets series that ended Thursday -- had been "used quite a bit," Kapler thought Hunter's return gave the team an opportunity to cover three innings with a combination of pitchers and still "have a guy who can potentially close out the game or pitch a big inning."
"What we felt is that we could do two things," Kapler said. "No. 1, protect Tommy and build him back up sensibly. And No. 2, give us another leverage option to win another baseball game. Kind of feels like every game is critical now, through the end of the season."
Other roster moves
The Phillies also activated outfielder Adam Haseley (left groin strain) from the 10-day injured list and optioned him to Triple-A Lehigh Valley on Thursday. Haseley, the eighth overall pick in the 2017 MLB Draft, is Philadelphia's No. 3 prospect, per MLB Pipeline. The Phillies also designated righty Fernando Salas for assignment to open a 40-man roster spot for Hunter. Salas made his lone appearance on Monday, giving up a run on three hits.
Worth noting
Three Phillies Minor Leaguers -- pitchers Engel Estevez and Robinson Martinez as well as catcher Carlos Oropeza of the rookie-level Gulf Coast League -- received a 25-game suspension for violating the Minor League Drug Prevention and Treatment Program, effective immediately.