Phils' injury updates: Velasquez, Quinn, Arano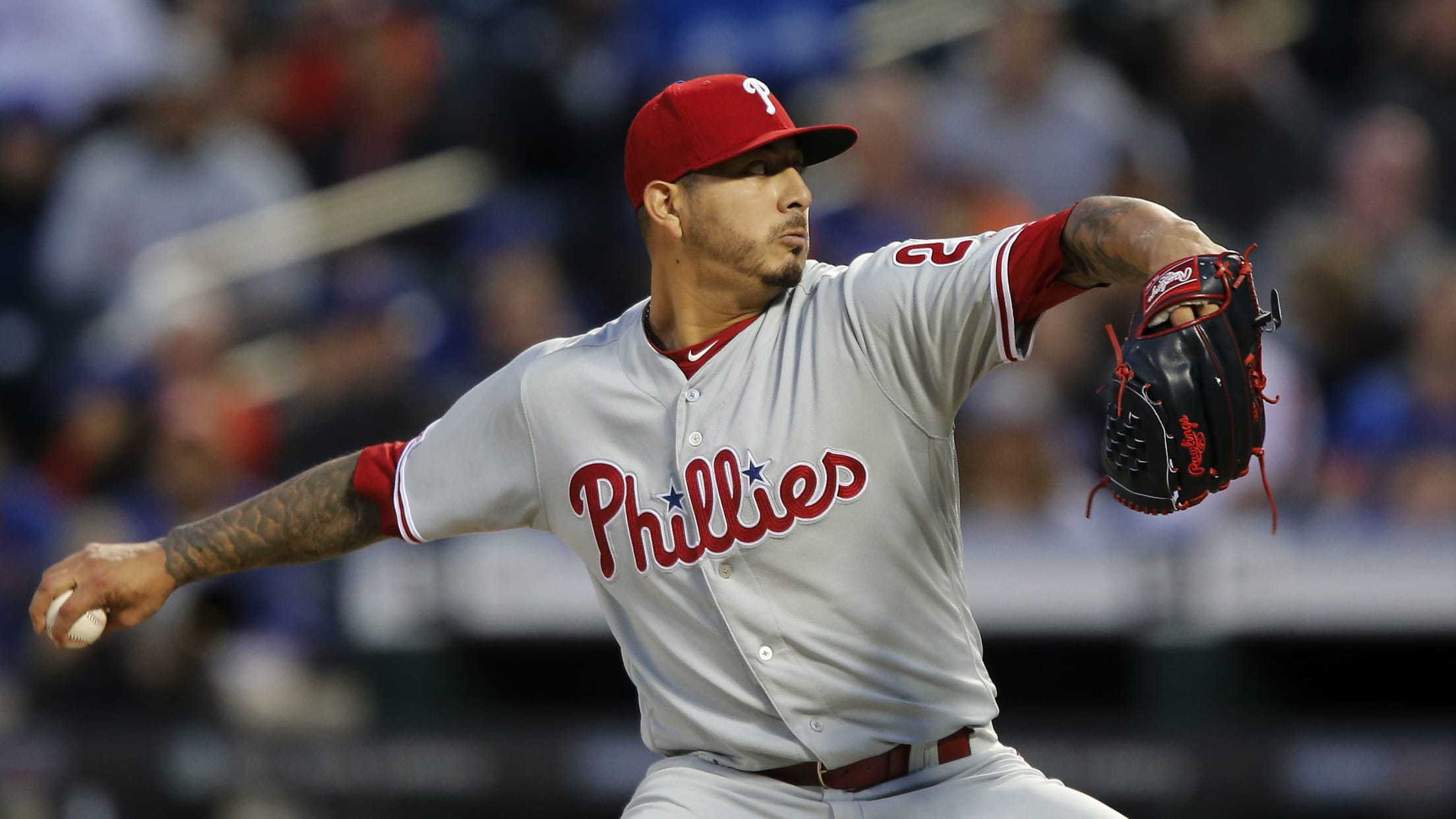 CHICAGO -- Right-hander Vince Velasquez appears closer to making his return to the Phillies' rotation. Velasquez, who played catch prior to Monday night's game against the Cubs, will begin throwing bullpen sessions this week. Velasquez hasn't pitched since May 6 and was placed on the injured list on May 11
CHICAGO -- Right-hander Vince Velasquez appears closer to making his return to the Phillies' rotation. Velasquez, who played catch prior to Monday night's game against the Cubs, will begin throwing bullpen sessions this week.
Velasquez hasn't pitched since May 6 and was placed on the injured list on May 11 with a right forearm strain.
"He's going to throw his first bullpen on Wednesday, then be down for a day, then he's going to throw another bullpen, and then we'll decide what we're going to do with him. He's good," manager Gabe Kapler said. "We're in his throwing progression, and we're building him back up."
Outfielder Roman Quinn is also making steady progress from injury. Quinn has been running at a higher intensity and running on a curve, according to Kapler, as he continues to work back from a right groin strain sustained on April 25.
"The last day [in Chicago, Thursday], he'll do some light outfield work, and the first day in Milwaukee [Friday], our plan is to have him take batting practice on the field. Our thought is that if we keep progressing like we are right now, when we leave for our West Coast trip [on May 31], Roman can head to an affiliate for a rehab assignment."
Reliever Vìctor Arano has not been as fortunate as Velasquez and Quinn in his rehab process. Arano threw a 20-pitch bullpen session on Tuesday but experienced some discomfort in his right elbow. Kapler says Arano will get a second opinion from Dr. Neal ElAttrache in Los Angeles on May 27.
"I'm concerned, because he's concerned," Kapler said. "Anytime one of our pitchers have concerns, I'm going to be concerned right along with them."
ElAttrache is one of the leading orthopedists in performing Tommy John procedures, but the team is hoping the surgery is not the recommendation for Arano.
"That doesn't feel like the concern right now, so that's not what we're thinking," Kapler said. "But having him go get examined, because there's swelling and discomfort, feels like the right play here."