Analyzing Phils' 5th starter competition, role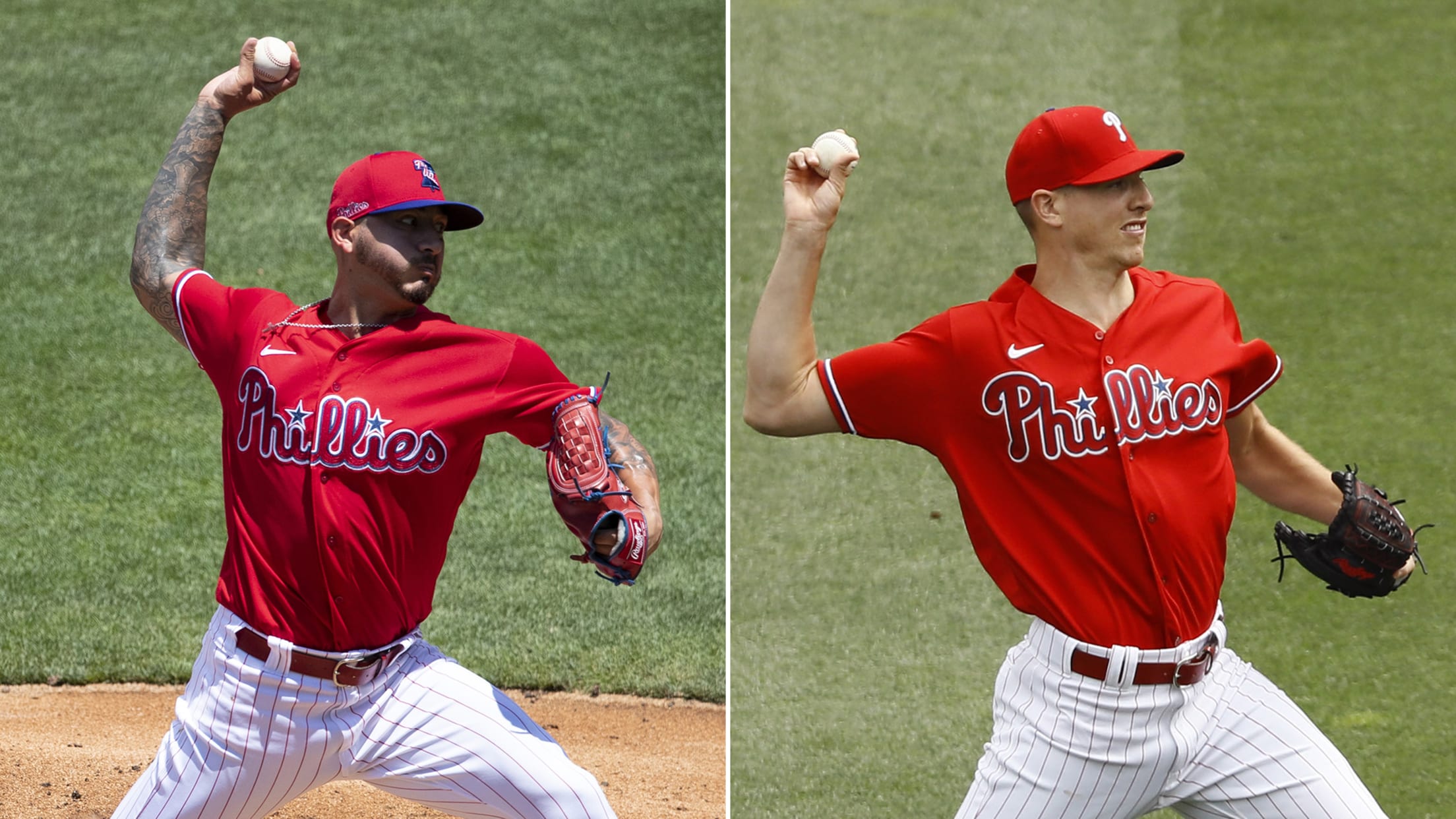 PHILADELPHIA -- The last time Vince Velasquez pitched for the Phillies, before COVID-19 put baseball on a three-plus-month hiatus in March, he spoke about the "art of pitching." He no longer wanted to be a four-seam fastball/curveball guy. He wanted to be less predictable and more efficient. He needed to
PHILADELPHIA -- The last time Vince Velasquez pitched for the Phillies, before COVID-19 put baseball on a three-plus-month hiatus in March, he spoke about the "art of pitching."
He no longer wanted to be a four-seam fastball/curveball guy.
He wanted to be less predictable and more efficient. He needed to be both to win the No. 5 job in the Phillies' rotation, behind Aaron Nola, Zack Wheeler, Jake Arrieta and Zach Eflin. Velasquez entered Spring Training competing with Nick Pivetta and Ranger Suárez for the job. He restarted the competition Thursday in a scrimmage at Citizens Bank Park, where the Phillies are holding workouts before Opening Day on July 24 against the Marlins. He allowed one hit and one run in three innings. He struck out four and walked two.
"I expect big things from him," Phillies catcher J.T. Realmuto said. "He worked on a new pitch during quarantine, mixing in a cutter now, and his changeup he's using a lot more than he has in the past, so just the pitchability from him. I was talking to [pitching coach] Bryan Price about it. We're not going to be so one-dimensional with him. We're going to move the ball around the plate, pitch up and down, mix the changeup in, mix that cutter in. He's always had that curveball. He looked really good during the scrimmage in his first outing."
But the three-man competition from the spring has been reduced to two in the summer. Suárez has not been in camp, and the club has not specified why. Major League Baseball has instituted a COVID-19 list this season, although clubs will not announce which players are placed on it due to privacy laws regarding individuals' health. Players may address their status if they wish, though they are not required to do so. Merely being placed on an Injured List without further explanation is not confirmation that a player has tested positive for COVID-19. For example, potential exposure to a person who has the virus can be sufficient cause.
It is Velasquez vs. Pivetta, if both stay healthy. Top pitching prospect Spencer Howard should get an opportunity, although he is unlikely to make the Opening Day roster. Left-hander Cole Irvin (No. 22 prospect) is a strong bet to make the team and step into a starting role, if there is an injury or somebody misses time because of the coronavirus, either because they test positive or because they are exposed to somebody who tested positive. There are other starters in camp like JoJo Romero (No. 13 prospect), Damon Jones (No. 14 prospect), Enyel De Los Santos (No. 8 prospect), Ramon Rosso, Connor Seabold (No. 21 prospect) and Mauricio Llovera (No. 15 prospect).
Many will head to Allentown, Pa., once the season starts. Coca-Cola Park is the home of the Phillies' Triple-A affiliate. The pitchers will maintain arm strength there and join the big league club if needed.
So what does it really mean to win the fifth spot in a 60-game season while COVID-19 poses a constant threat to the roster? It means something. Starting is starting, after all. But the runners-up should know that there should be opportunities for them.
"I'm going to stress," Phillies manager Joe Girardi said Thursday, "I think with what we're dealing with, with the COVID-19, realistically you have to build up a number of guys. I don't think you can say, 'OK, these are my five starters and you build up guys just able to throw two innings.' I think you have to have seven or eight ready to go.
"We'll have a five-man rotation and the other guy will go to the bullpen. I wouldn't go to a six-man rotation or a seven-man rotation. I just think you have to have those guys built up as much as possible when we leave here, just because if there was an outbreak in the clubhouse or an injury. It could happen really quick. We saw what happened with Nola, right? We had to sit him down [last week] because we thought he was exposed. If he sees two other guys and plays catch with his buddies, it could happen fast. We will build up more guys [as starters] in Allentown."
Girardi seemed to be impressed with Velasquez's three-inning performance Thursday.
"He was dynamite," he said.
But the Phillies remain high on Pivetta, too. He was working on a changeup this spring. He believed it would complement his fastball and elite curveball nicely. Both pitchers are excited to work with Price, who is new. They believe he will help.
"I think you have to take into account what you saw in March," Girardi said about the team's roster battles. "I think you have to take into account player's track records, and I think you have to take into account what you see in intrasquad and … a few [exhibition] games at the end of [Summer Camp]. Those are the things that we have to look at. There will be a lot of eyes evaluating. I think you have to take into account how it affects everything in your organization moving forward, too. This is going to be tricky, but I think we had a pretty good handle on it before we were shut down, and we'll continue to try and feed off of that."