After setbacks, Wood (back) now progressing
Casali makes history; Senzel playing in extended spring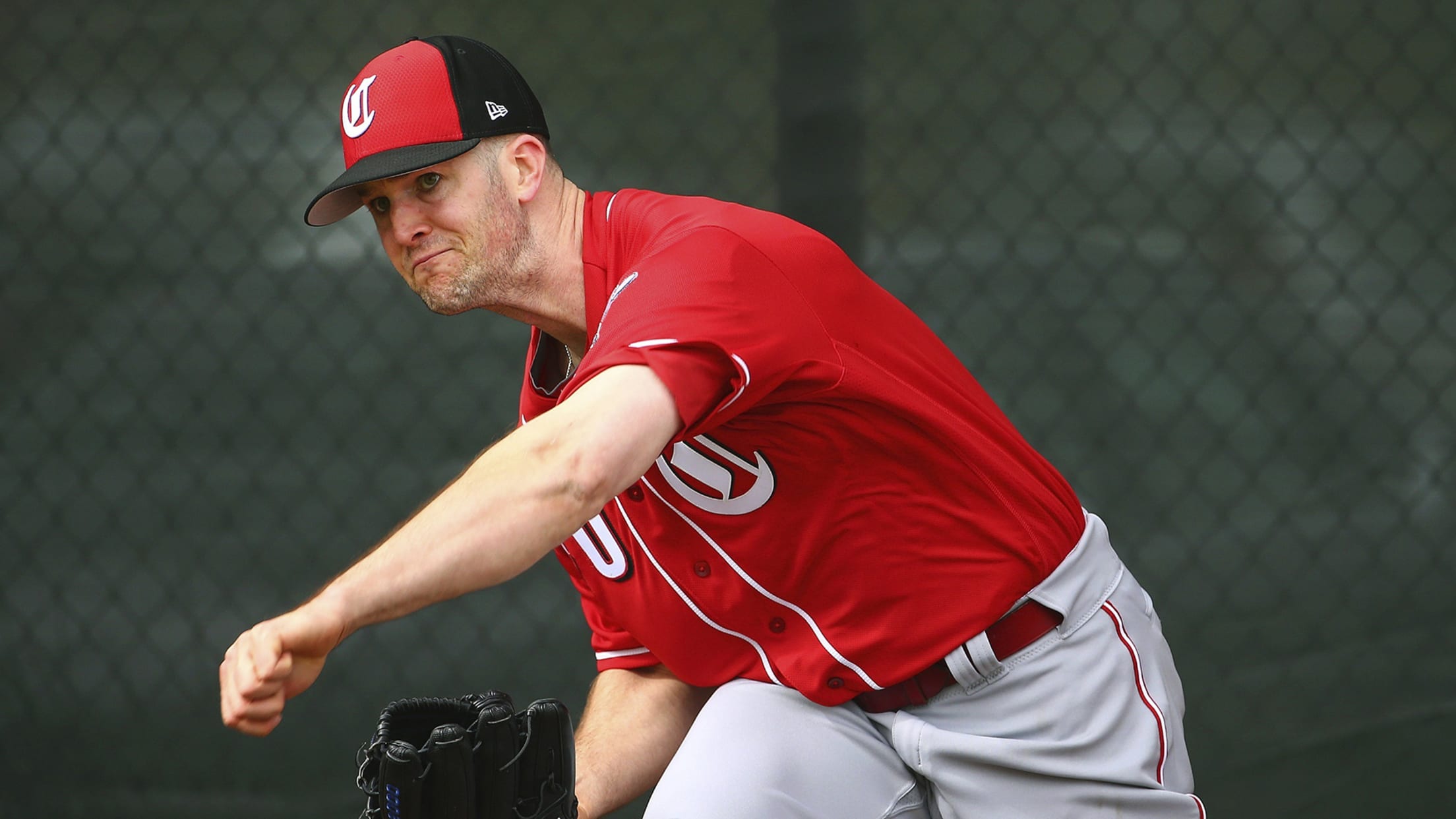 LOS ANGELES -- From Yasiel Puig to Matt Kemp, the Reds have a lot of ex-Dodgers playing at Chavez Ravine again this week. The one player unable to participate is left-handed starter Alex Wood, who has been on the injured list with a sore back since Spring Training ended. Wood
LOS ANGELES -- From Yasiel Puig to Matt Kemp, the Reds have a lot of ex-Dodgers playing at Chavez Ravine again this week. The one player unable to participate is left-handed starter Alex Wood, who has been on the injured list with a sore back since Spring Training ended.
Wood has been rehabbing at the Reds' complex in Goodyear, Ariz., but he joined the team Monday for their West Coast swing through Los Angeles and San Diego. He is scheduled to throw off a mound Saturday, which would be his first time doing so since a setback March 24.
"I got to live BP the day everybody left camp," Wood said Monday as Cincinnati opened a three-game series vs. the Dodgers. "I came in the next day and had basically a setback. I essentially had to shut down for a couple of days and kind of start all over almost from where I was. I'm starting to feel better. I had a good week this last week."
Wood was initially injured following his lone spring start on Feb. 25. At first not viewed as a long-term injury, he endured a few setbacks. With his teammates playing in the regular season, the rehab process has felt isolating.
"It's pretty lonely," Wood said. "I'm up at 7:30 every morning, driving over to the stadium from Scottsdale. I get all my stuff done and I'm home by 2 o'clock. I pretty much watch the game every day when it comes on. I was telling Tucker [Barnhart] earlier that I need to drink a Red Bull [tonight], because I've been going to sleep around 10 o'clock every night. I watch the game, eat dinner and get to bed at 8."
Wood and the Reds have not targeted a return date, which was originally expected to be mid-April.
"If I get to Saturday and throw a 'pen, and everything is good from there, then we can start talking about a serious timetable," Wood said.
Casali makes Reds history
Looking to put a mostly right-handed lineup together against Dodgers ace Clayton Kershaw for his 2019 debut on Monday, Reds manager David Bell did the unexpected by having backup catcher Curt Casali bat leadoff. The Elias Sports Bureau reported that in the modern history of the franchise (since 1900) the Reds never previously had a catcher start a game and bat first.
"I did not know that," Bell said. "Really, it just comes down to believing in Curt and especially what he's been able to do in his career against left-handed pitching. It just made sense. He has the ability to get on base, he controls the strike zone and he's just had success against the really tough pitchers, and he made sense."
The unique lineup did not include the left-handed-hitting Joey Votto, who got his second off-day of the season. Kyle Farmer started at first base and was one of five former Dodgers in Cincinnati's lineup. Votto came into the night 5-for-25 (.200) with two home runs and 13 strikeouts vs. Kershaw.
"We want him in the lineup every day, but the fact is, he wants to be in the lineup every day and certainly today, it's a tough matchup," Bell said. "He wants that challenge, no question. Part of my job is to look for days. It's not going to be frequent, for sure, but we have to be proactive with days for him to keep him strong and healthy, like we've talked about. It's never easy to take a guy like that out of the lineup."
Senzel plays in extended spring game
Nick Senzel, the Reds' No. 1 prospect per MLB Pipeline, played three innings in center field during an extended spring training game in Arizona on Monday and had two at-bats. It was Senzel's first game action since he sustained a sprained right ankle on March 25. There were no issues reported, and Reds president of baseball operations Dick Williams said that Senzel is scheduled to play five innings Wednesday.
Kemp loves Jackie Robinson Day
As a former Dodgers player, it was a nice moment for Kemp to not only play his old team, but to play that club on Jackie Robinson Day. Robinson broke baseball's color barrier on April 15, 1947, with the Brooklyn Dodgers.
"I've done book reports on him. He's someone who paved the way and was a great example of what it is to be a true hero in America," Kemp said. "I'm thankful for him and everything he did. On top of that, being part of this organization for so long, I got to hear stories from Don Newcombe and Maury [Wills] and those guys who were my mentors growing up, there are a lot of things that I know that a lot of people don't know -- a lot of stories they told me. It's definitely more special for me to come back here and play on this day."
Mark Sheldon has covered the Reds for MLB.com since 2006, and previously covered the Twins from 2001-05. Follow him on Twitter @m_sheldon and Facebook.