Renovated Reds Hall of Fame opens its doors
Veterans and kids 12 and under receive free admission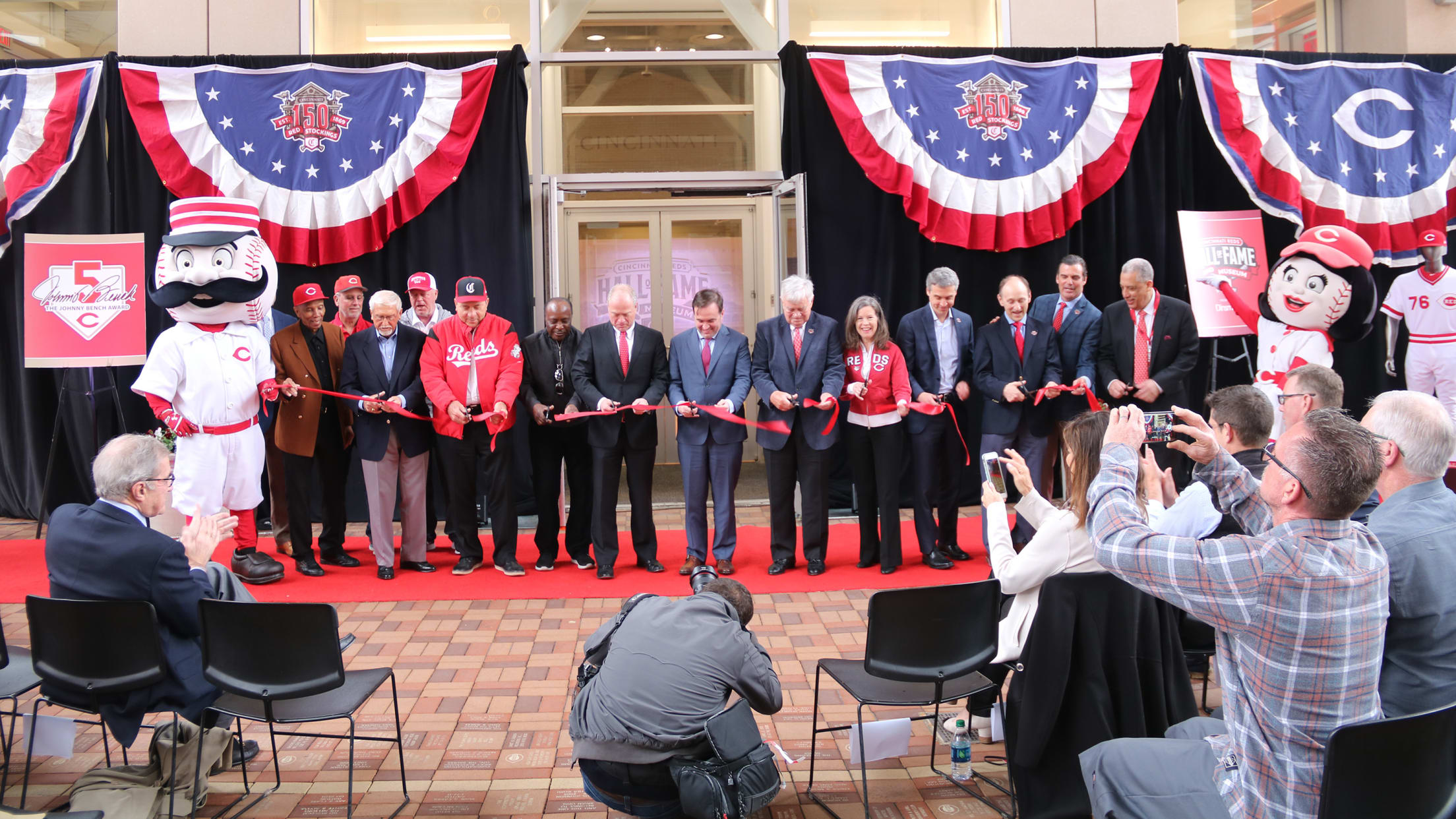 CINCINNATI -- After an extensive offseason renovation, the new Reds Hall of Fame and Museum presented by Dinsmore has opened its doors. The official ribbon cutting took place on Friday during a ceremony in the breezeway in front of the Hall of Fame entrance. Hall of Famer Johnny Bench, Reds
CINCINNATI -- After an extensive offseason renovation, the new Reds Hall of Fame and Museum presented by Dinsmore has opened its doors. The official ribbon cutting took place on Friday during a ceremony in the breezeway in front of the Hall of Fame entrance.
Hall of Famer Johnny Bench, Reds CEO Bob Castellini, Cincinnati mayor John Cranley, Hamilton County commissioner Denise Driehaus and Reds Hall of Fame executive director Rick Walls all spoke at the event, with broadcaster George Grande serving as the emcee.
"One-hundred-fifty years of Reds baseball has produced some of the best players in the game," Castellini said. "This baseball town proudly shares its renovated Hall of Fame -- which is dedicated to these athletes in appreciation [of] the importance they have played in Reds history."
Several Reds Hall of Famers were in attendance, as well, including Joe Morgan, Tommy Helms, Leo Cardenas and "Mr. Perfect" Tom Browning.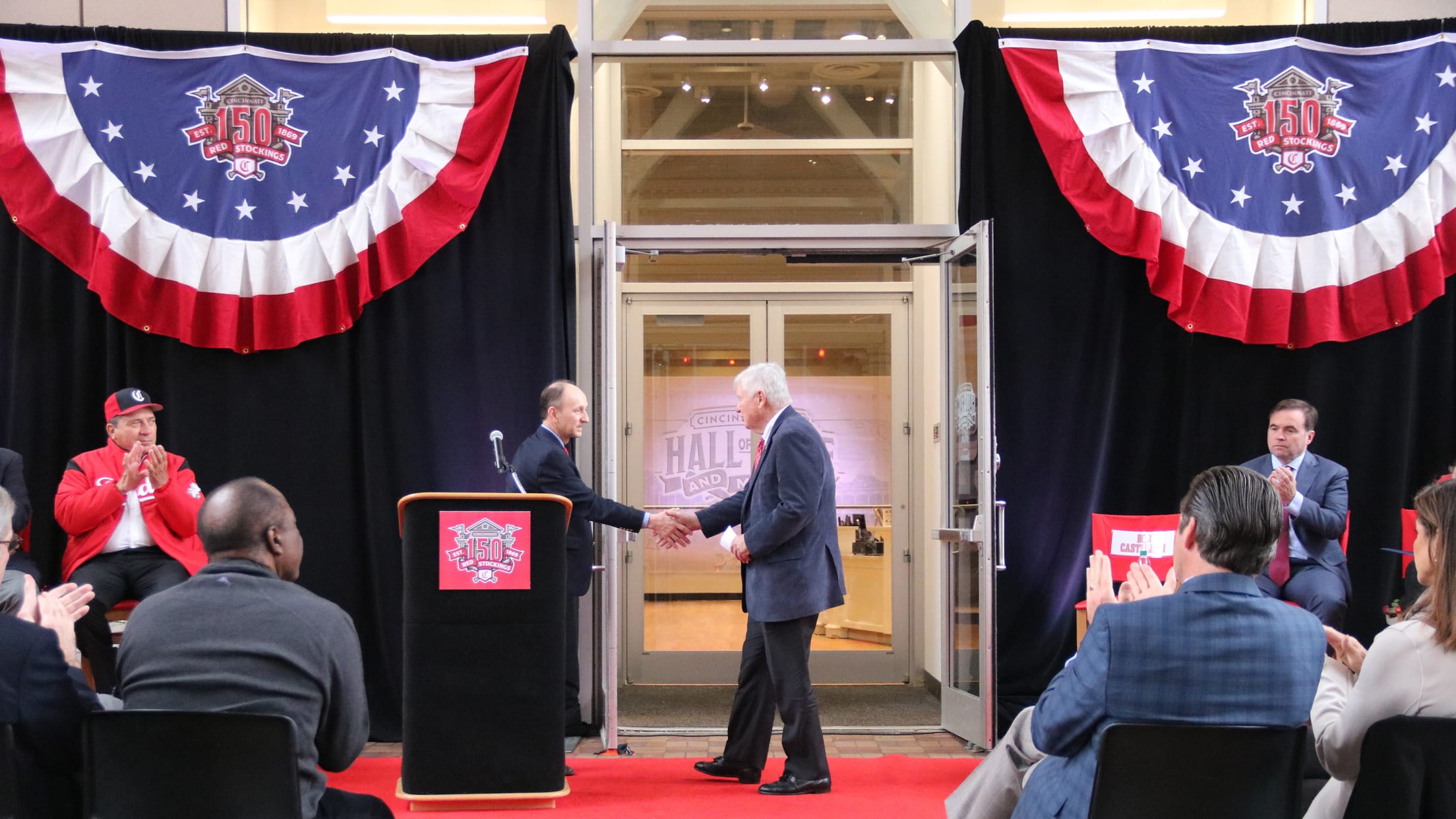 As part of the ceremony, Walls unveiled two new programs that will ensure more people have the opportunity to see the Hall of Fame for themselves. Thanks to the Sargent Family Foundation, all veterans and active military personnel will receive free admission. All children 12 and under will also receive free admission, thanks to the HCS Foundation.
As part of the festivities, it was also announced that the Johnny Bench Award will be coming to Cincinnati -- with the Reds Hall of Fame and Museum serving as its new home. The award, which was created in 2000, is presented annually to college baseball's top NCAA Division I catcher. Starting this year, the honor will be expanded to include the top high school and college baseball and softball catchers.
Following the announcement and words from the panel, the ceremonial ribbon cutting commenced and media and VIPs were invited to take the first look at the brand-new Hall. The doors were opened to the public at 1:50 p.m. ET, as a tribute to the Reds' 150th anniversary this season.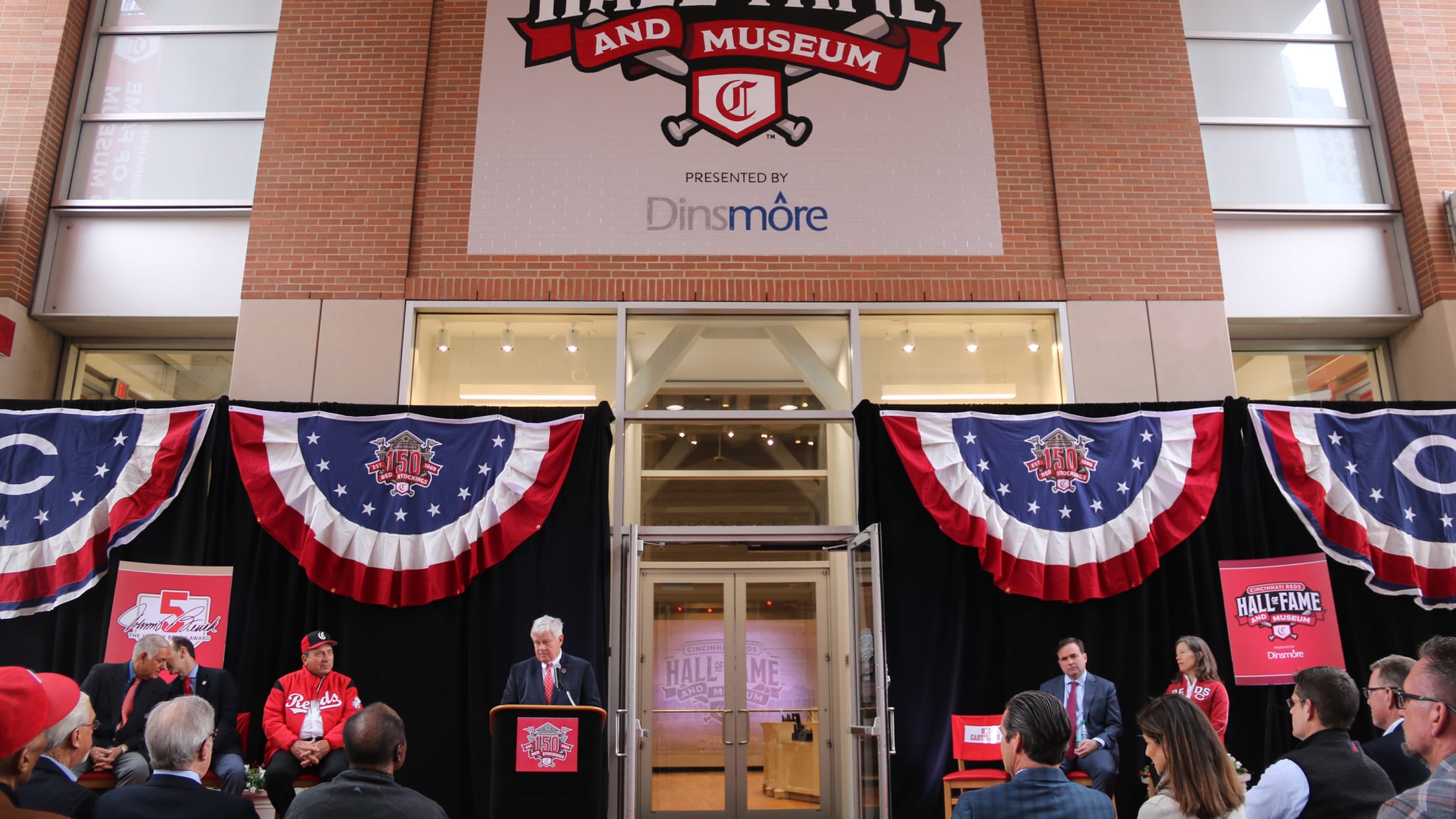 Here's what guests can expect to see at the newly renovated Reds Hall of Fame and Museum:
-- 9 brand new exciting galleries
-- 100 cases housing over 7,000 artifacts
-- Hours of gripping highlight videos from numerous different eras of Reds baseball
-- Captivating new images used throughout the newly renovated museum
-- Comprehensive AV upgrades spread throughout the museum to present Reds history in a new, interactive way
-- Brand new 360-degree interactive theater in the Hall of Fame plaque gallery
-- Luxurious Champions room honoring the 5 championship teams in Reds history, which is available to rent for special events
-- Brand new 1869 Red Stockings Pavilion -- which will be dedicated May 4, exactly 150 years to the day the first professional baseball game was played