Red Sox pitching staff impacted by positive tests
Lefties Hernandez, Taylor have coronavirus; E-Rod awaits results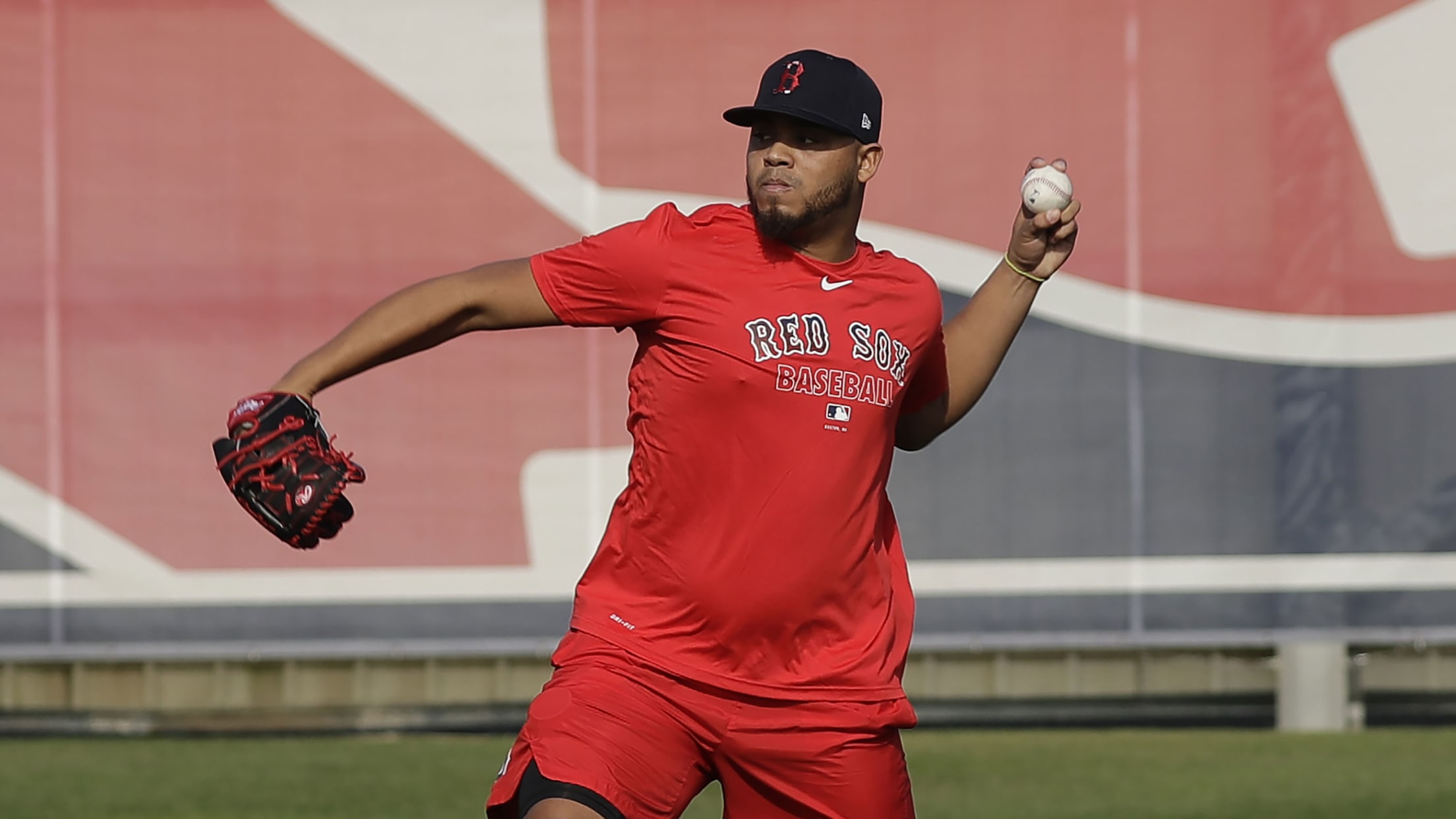 BOSTON -- There's a chance the Red Sox will be missing two key lefty pieces in their bullpen for Opening Day after manager Ron Roenicke announced on Saturday that Darwinzon Hernandez and Josh Taylor have tested positive for COVID-19. Taylor's positive test was part of the intake from when the
BOSTON -- There's a chance the Red Sox will be missing two key lefty pieces in their bullpen for Opening Day after manager Ron Roenicke announced on Saturday that Darwinzon Hernandez and Josh Taylor have tested positive for COVID-19.
Taylor's positive test was part of the intake from when the players reported to Boston for the start of Summer Camp earlier this week. He is currently quarantining in his hotel room and will be monitored by the medical staff.
Hernandez tested positive in Florida and hasn't made it to Boston yet. Both players gave the club permission to release their names with the positive tests.
"It's definitely unfortunate," said Red Sox righty Nathan Eovaldi. "We wish them a fast recovery, and hopefully it's not as severe for them as it has been for certain people.
"Again, I think the Red Sox have done everything they can. It's just part of it. It's a virus that you can't really prevent. You can do everything you can, but it's still out there. Again, just try to keep your hands clean."
As per the protocol MLB is going with, both players will have to test negative twice before being cleared to return to the team.
In addition, the Red Sox are still awaiting test results on ace lefty Eduardo Rodriguez, who was recently exposed to someone who was sick and is waiting for results from his home in Florida before coming to Boston.
Roenicke added that an additional player is waiting on results before being cleared for action.
With less than three weeks to go before Opening Day, Hernandez and Taylor will be up against the clock in trying to get back in time.
"Anytime anybody is positive now, it impacts what happens at the start of the season just because of the short training camp we have," said Roenicke. "We'll see how it goes. Some guys are in their rooms and will throw balls up against a mattress or trying to do anything to keep their arm activated, so we'll see what we can do."
Hernandez has an electric arm and got his feet wet as a reliever in the second half of last season. The Red Sox are also hoping he can be a big part of their opener maneuvering for the fifth spot in the rotation -- perhaps serving as the fireballer who can go bulk innings.
But for now, usage wish lists have been tabled and the priority is for the 23-year-old to get healthy.
"I can't tell you he's not going to be ready, because it depends on how far along he is in the stages that he has the virus," Roenicke said.
Taylor, not nearly as heralded a prospect as Hernandez, came out of nowhere last season to turn into a force for the Red Sox. In 52 appearances, he had a 3.03 ERA and notched 11.79 strikeouts per nine innings.
"Josh, we think, is a little further along [in recovering]," said Roenicke. "Hopefully he'll start getting some negative tests back pretty soon and we'll go from there."
With Taylor and Hernandez in limbo, lefties Josh Osich and Brian Johnson might have better chances to make the Opening Day roster.
Mike Kickham and Bobby Poyner are southpaws who could get added to Boston's player pool, which is currently at 49 after Saturday's addition of Minor League free-agent righty Caleb Simpson.
Each team can have 60 in the pool of players eligible to play this season.