'Horrible week': Price extends Sox rotation's skid
Boston drops sweep in New York on 8th straight loss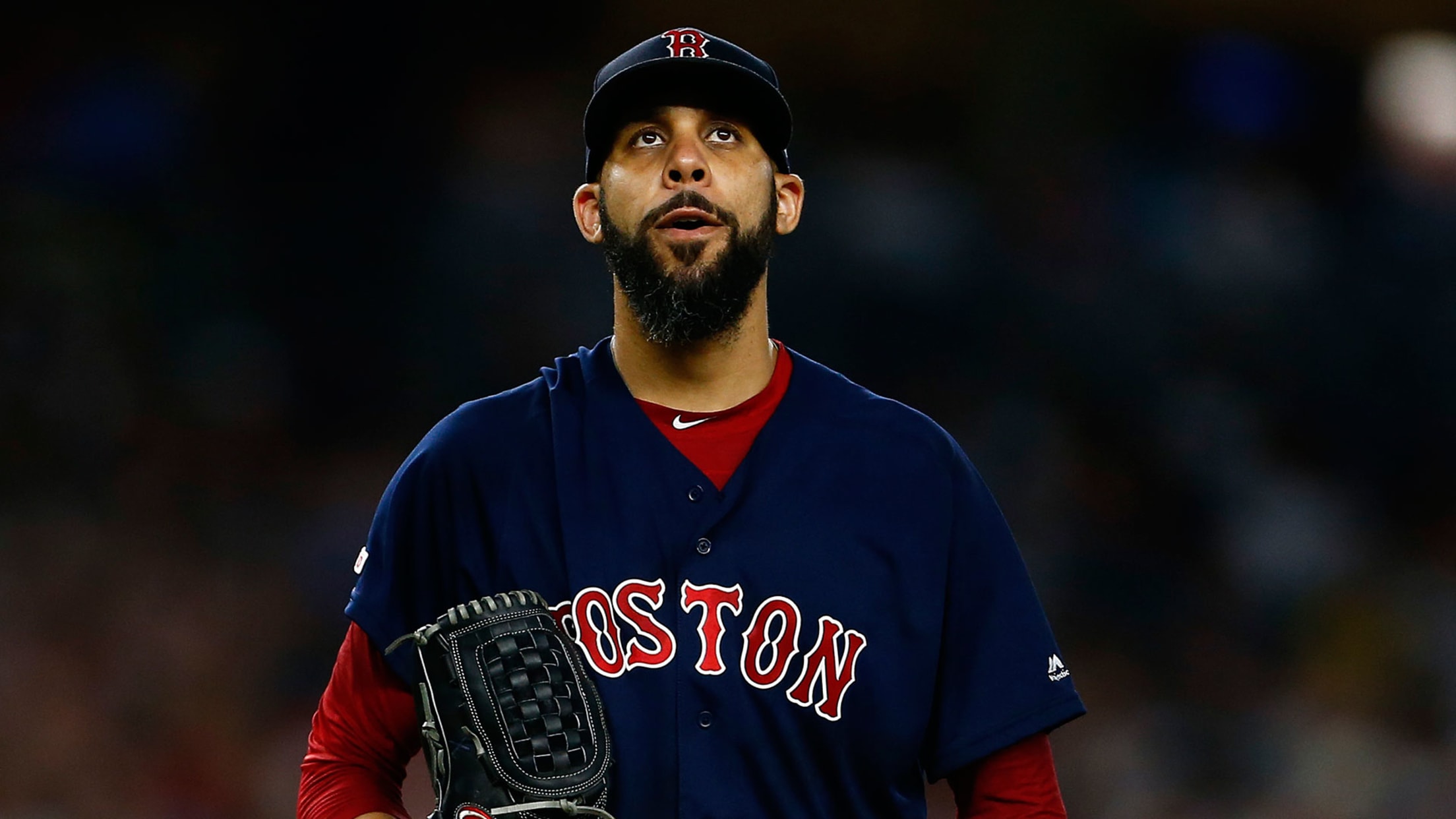 NEW YORK -- For much of the season, everyone fretted that the Red Sox didn't have enough in the bullpen. This allowed the team's biggest issue to be underplayed for a considerable amount of time. But there is no hiding it anymore. • Box score The starting rotation for the
NEW YORK -- For much of the season, everyone fretted that the Red Sox didn't have enough in the bullpen. This allowed the team's biggest issue to be underplayed for a considerable amount of time.
But there is no hiding it anymore.
The starting rotation for the defending World Series champions is a serious impediment in their postseason hopes.
David Price was the latest starter to get roughed up, taking an 7-4 loss to the Yankees on Sunday Night Baseball. Boston's longest losing streak since 2015 swelled to eight games. During the skid, the starting rotation is 0-6 with a 10.70 ERA.
"It's been tough," said Price. "Just for myself, the rest of our pitchers, our starters, it's been a tough stretch for us for sure. We haven't thrown the ball to our capabilities the last eight or nine games and for the most part of the season, and that's been tough for us."
For the season, the rotation is 37-39 with a 5.07 ERA. The numbers are striking, considering the rotation was viewed as the team's biggest strength coming into the season.
Even more striking is that the 59-55 Sox are now 14 1/2 games back in the American League East and 6 1/2 behind the Rays for the second AL Wild Card spot.
"It wasn't a good week," said Red Sox manager Alex Cora. "Not only the trip, but the whole week, so we've got a lot of work to do. We're in a big hole, and obviously we're very talented, but it didn't go our way this week."
The team's last victory was eight days ago over the Yankees, a win that put Boston eight back in the division and a half-game ahead of the Rays in the Wild Card standings. The degree to which things have changed in the span of a week has been astounding.
"We didn't put games together. We had some close ones at home, but we didn't finish them," said Cora. "We didn't pitch. Offensively, it's been OK lately. We didn't hit with runners in scoring position, and we didn't put pressure on the opposition. So, overall, a horrible week."
If there is to be a revival, it will have to start with the starters.
To date, only Eduardo Rodriguez (13-5, 4.19 ERA) has been basically what you'd expect.
Price was his team's best starter through July 14, but he has a 10.59 ERA in his last four starts. In eight starts at Yankee Stadium since joining the Red Sox, Price is 1-7 with a 9.61 ERA.
Ace Chris Sale has been almost unrecognizable compared to the rest of his career, going 5-11 with a 4.68 ERA. Rick Porcello, a Cy Young Award winner in 2016 and a stabilizing force in last year's rotation, has a 5.74 ERA in 22 starts. Andrew Cashner was having a career year until the mid-July trade from Baltimore to Boston, after which he is 1-3 with a 6.94 ERA.
"This team was built around the starting rotation, and we need to do better," said Cora.
At this point, Cora doesn't really have any options as far as changing personnel in the rotation. Nathan Eovaldi was moved to the bullpen when he returned from the injured list, and he's not stretched out to start. Brian Johnson, who came back from a prolonged absence to start Game 2 of the doubleheader on Saturday, is more of a spot starter.
And, July 31 was the final Trade Deadline this season, so there's nothing that president of baseball operations Dave Dombrowski can do. There are no prospects at Triple-A who would be poised to join the rotation at this point.
"We trust these guys. We're going to roll them out there and we're going to keep working for them to make adjustments and get better," said Cora. "We were talking about it earlier today during the game. It's like, we roll 15 days in a row of good pitching, we know we can do it. We did it for seven days [a week ago] and you saw what happened. There's no doubt in my mind these guys can turn it around."
There's also little doubt that they can't wait any longer.
"We know where we're at," said Cora. "We're going to go home and that Green Monster is going to remind us where we are. There's no hiding. We know we're talented and we can do it. It's just a matter of start doing it now."
With their 55th loss on Sunday, the Red Sox surpassed their total from last season. That serves as a reminder of both how ridiculously good the team was a year ago, and how dramatic the slippage has been so far in 2019.
The one thing the Red Sox have going for them is they are just about fully healthy. They also have nearly every player back from the 2018 juggernaut, which only makes this season harder to figure out.
"We have a very good team in this clubhouse -- 1 through 25, we have a very good team," said Price. "Just some of us haven't had very good seasons up to this point. There's still [48] games to be played and there's still time."