Decision looms on Pedroia's Opening Day status
Betts belts first spring homer; Red Sox bullpen solid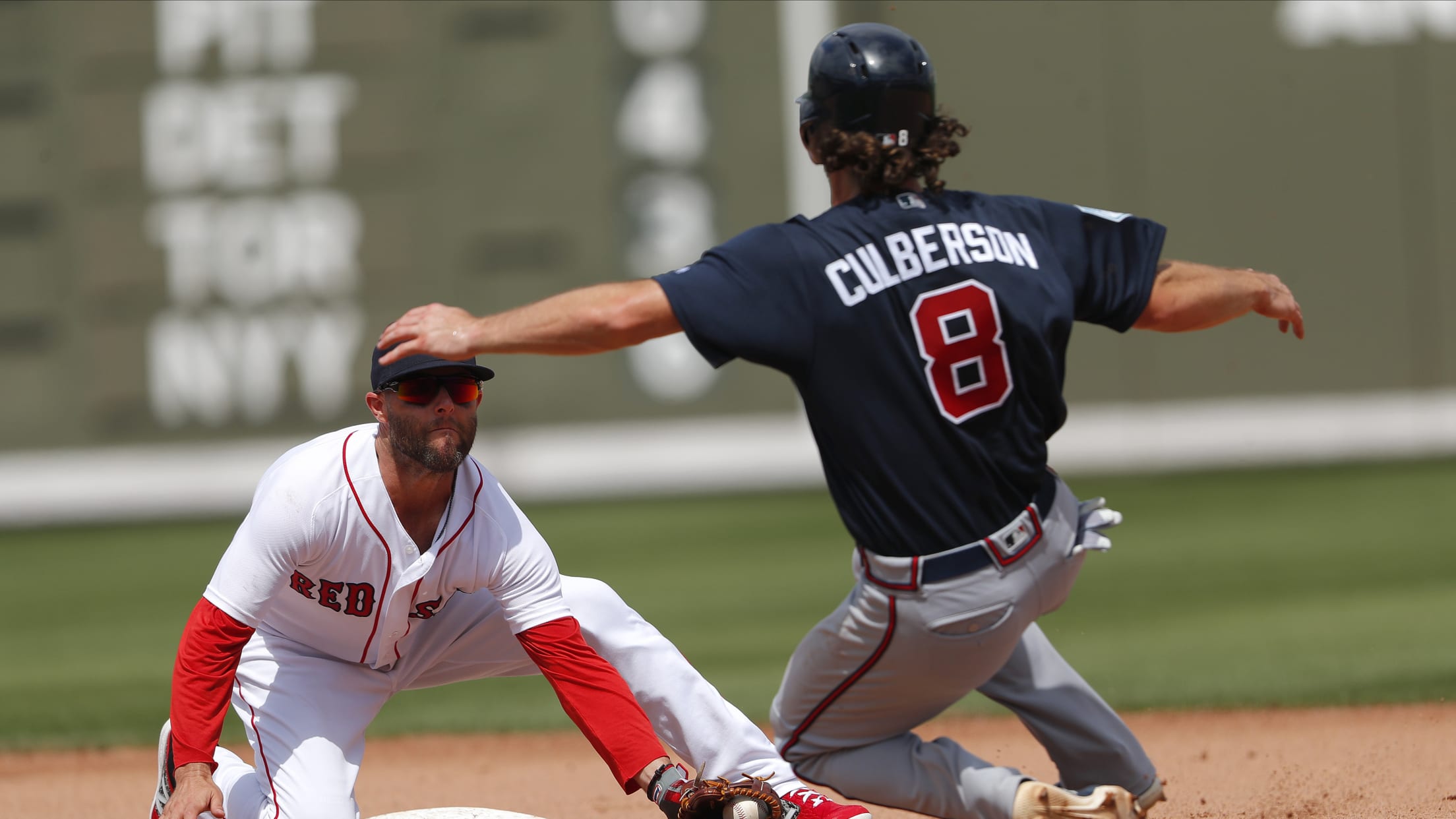 FORT MYERS, Fla. -- Second baseman Dustin Pedroia checked off another milestone in his comeback on Saturday when he played five innings of defense and got three at-bats in Boston's 6-1 victory over the Braves. A decision could be made as early as Sunday if Pedroia will play for the
FORT MYERS, Fla. -- Second baseman Dustin Pedroia checked off another milestone in his comeback on Saturday when he played five innings of defense and got three at-bats in Boston's 6-1 victory over the Braves.
A decision could be made as early as Sunday if Pedroia will play for the Red Sox on Opening Day in Seattle.
At this point, Pedroia has proved that his left knee is healthy. The internal debate at this point for the team is if he could benefit from using a few extra days at the end of Spring Training to ramp up before making his regular season debut.
Pedroia sounds on board with whatever the training staff decides in conjunction with manager Alex Cora.
"I mean, we'll see," said Pedroia. "I just got out of the game and I felt great. How it's gone so far, I feel great. I understand the question but the big picture is I'm trying to play the next three years, you know what I mean?
"If that sacrifices five days or whatever to do that, then we have to do that. We have to do the right thing and make sure that I'm fine long term instead of rush something, something my knee's not ready for, and then have a problem."
Pedroia went 0-for-3, including a hard liner to right on a 95-mph fastball by Kyle Wright. But he admits he is still getting his timing back after missing all but three games last season.
"Yeah, I feel good," Pedroia said. "It's just, I haven't had at-bats in a while, and especially consistent ones. I'm on this every other day thing and that's kind of tough to get your timing and get locked in. Overall, I feel great. I'm hitting the barrel every time so that's a good thing. We'll just keep it rolling."
If Pedroia starts the season on the active roster, the Red Sox will carry 13 position players and 12 pitchers. Cora said that if Pedroia needs more time, they will take 13 pitchers and 12 position players.
"I do feel tomorrow we'll talk about what the workload will be this week [for Pedroia] and that's going to kind of give us an idea where we're going to go," said Cora.
Big day in the 'pen
The Red Sox saw some encouraging signs from the bullpen on Saturday. Matt Barnes, who struggled with fastball command in his first outing and his breaking ball the second time out, was pinpoint in this one. The righty struck out two in a scoreless fifth inning.
Barnes is a top candidate to close for the Red Sox this season.
Ryan Brasier, another candidate for the ninth inning, made his Spring Training debut and gave up two hits and a run. Brasier had been slowed by an infection in his right pinkie toe that he suffered early in Spring Training.
"Now he's going to be pitching on the program every two days and he should be fine for the beginning of the season," said Cora.
Righty Tyler Thornburg had his first scoreless outing of the spring after giving up runs in four consecutive outings.
"Better," Cora said. "The adjustments that they talked about, his last one, he was able to execute out there. He slowed down his delivery. I think his stride was shorter."
Mookie mashes one
Red Sox star right fielder Mookie Betts smashed his first home run of Spring Training, a laser beam of a solo shot that soared over the replica Green Monster in bottom of the sixth.
Betts also had a single to right-center in the first, and is hitting .296 on the spring.
Up next
The Red Sox will have split-squad games on Sunday. The home squad will face the Rays, with lefty David Price making his second start of Spring Training. J.D. Martinez, Rafael Devers, Mitch Moreland and Eduardo Nunez will start at home. Jackie Bradley Jr. and Mookie Betts will be among the regulars who travel to Bradenton to face the Pirates. Righty Marcus Walden will be the starting pitcher against the Pirates. Both games start at 1:05 p.m. ET.