E-Rod continues Sox starters' early struggles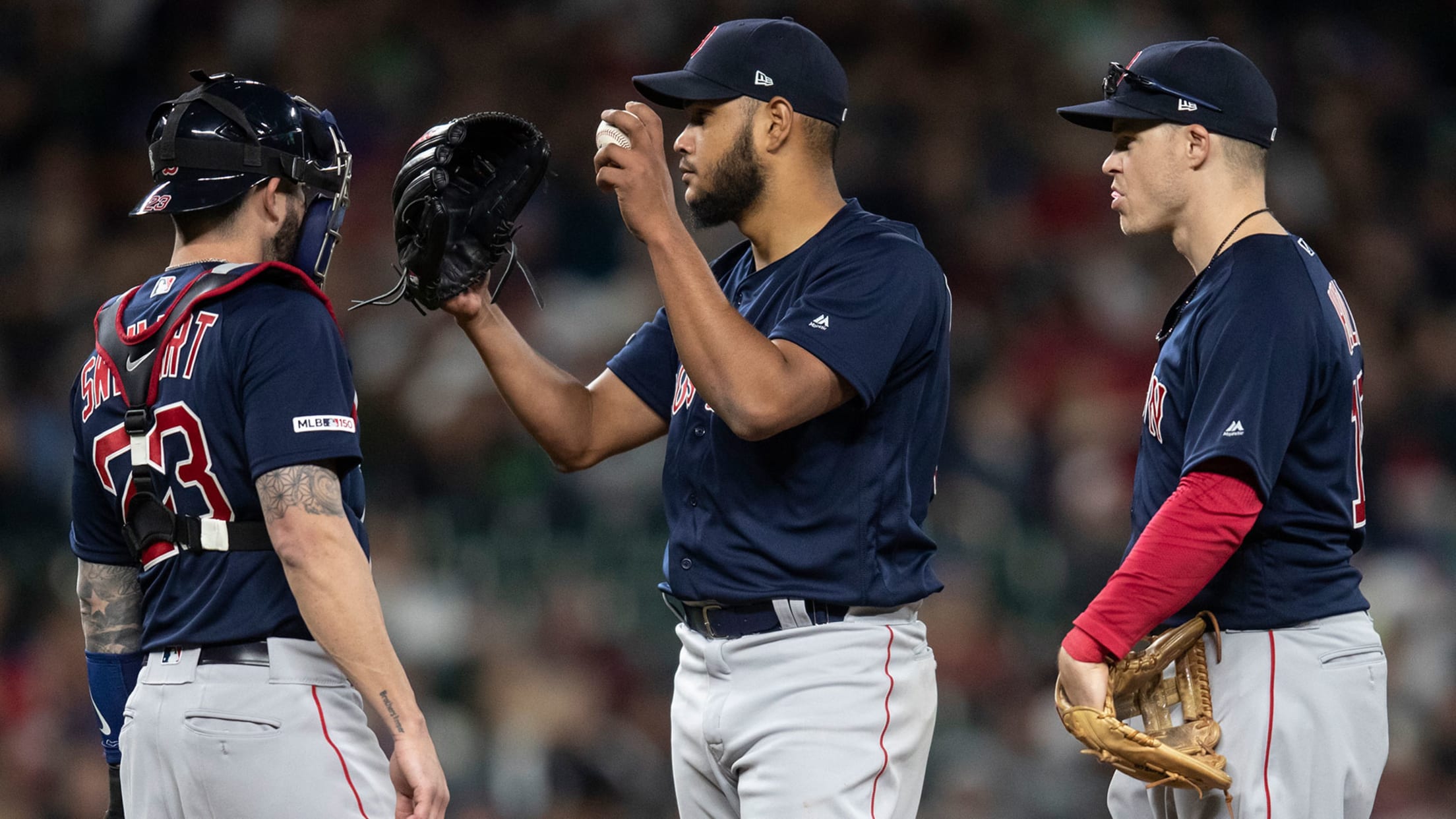 SEATTLE -- Red Sox manager Alex Cora proudly mentioned a couple of weeks ago that his team starts with the starting rotation. Ace Chris Sale called that same starting five the backbone of the team. In a most surprising turning of events, three games into the season, nearly all of
SEATTLE -- Red Sox manager Alex Cora proudly mentioned a couple of weeks ago that his team starts with the starting rotation. Ace Chris Sale called that same starting five the backbone of the team.
In a most surprising turning of events, three games into the season, nearly all of the problems the defending World Series champions have run into are due to leaks in what is supposed to be the foundation of the team.
In Saturday night's 6-5 loss to the Mariners, Eduardo Rodriguez became the third straight Sox starter to give up six runs or more while recording 15 outs or less. It is the first time in team history that the starting pitchers gave up six runs or more in the first three games.
Over those first three games, Sale, Nathan Eovaldi and Rodriguez have combined on just 12 1/3 innings while giving up 18 earned runs.
"We don't expect this," said Cora. "They're human. We know that's not going to be the norm. They're going to be OK."
So what happened with E-Rod?
The Red Sox looked to ultra-talented Rodriguez to play the role of stopper on the heels of Sale and Eovaldi both getting belted around. Finally coming into a season healthy, the hope is that Rodriguez can break through this season. So what happened on Saturday?
Pitching coach Dana LeVangie thought it was a breakdown in the gameplan.
"The one thing about this team, I think we've all seen the last three nights, they're game-planning really well against our starters," LeVangie said. "They've done a really good job. I thought we had a good gameplan going into it tonight, how we were going to combat it. I felt like they were going to be sitting on changeups all night long, sitting out over the plate."
And?
"We sort of got away from our plan a little bit. I thought our cutters were going to play a big part of this pitch mix tonight," LeVangie said. "He used the cutter a lot but he didn't keep the right-handed hitters uncomfortable in with it. We made a few mistakes to the lefties that we can't do. We didn't use his changeup against the lefties, which was really surprising because it is his best pitch versus lefties. It's a wipeout changeup. It's a really good pitch against those two guys. We didn't get to it."
Why not?
"I don't know. It was a big part of my plan against those guys tonight. It's unfortunate," LeVangie said. "He had a few good innings with his pitch count down, then a couple innings where he kind of throws up a little bit. They're doing a good job against us. We've got to do better."
In the past, Rodriguez has worked mostly with catcher Christian Vazquez. Blake Swihart was behind the plate on Saturday. Maybe it was just a case of the pitcher and catcher not having enough familiarity with each other. Rodriguez put the blame on himself.
"I mean, I wasn't able to throw the ball where I wanted," Rodriguez said. "I was missing a lot and maybe they didn't miss my changeup because I wasn't able to show fastball for a strike or cutter or slider."
Bad start sets tone
The tone was set when Rodriguez threw 31 pitches and gave up two runs in the first. After playing from behind in the first two games, this was the last thing the Red Sox needed.
Rodriguez briefly righted himself in the second and third and the Red Sox tied the game at 2. But in the fourth, he got right back into trouble, putting runners on second and third with nobody out. A huge double-play ball off the bat of Dylan Moore had Rodriguez primed to escape the fourth. But Dee Gordon tapped an RBI single to left to put Seattle back in front. And everything fell apart in the fifth. The usually sure-handed Mitch Moreland made a key error at first. And with two outs, Jay Bruce hammered a back-breaking, three-run homer on a 90.9 mph fastball.
"One big swing cost us the game," LeVangie said.
Rick Porcello should be extra motivated to save face for the rotation and salvage a split on Sunday.
"Yeah, a little kick in the teeth here and there, a wakeup call [for us]," said LeVangie. "Give credit where it deserves. They're doing a hell of a job. We have to make some adjustments. That's all I can say about it."
Silver lining? The bullpen
Going into the season, the bullpen was supposed to be the question mark. But for the second straight night, they were lights out and didn't allow any runs. When the Red Sox came back from 6-1 down on Friday for a dramatic, 7-6 win, it was thanks in large part to the bullpen. And while three errors by Moore in the ninth made Saturday's final score close, Boston's bullpen also played a big role in the team staying in the game.
Heath Hembree (1 2/3 innings, 2 K's), Tyler Thornburg (1 inning, 2 K's) and Hector Velazquez (1 inning, 1 K) were all sharp.
"It's tough in the sense that we know where we're at, we know we have 11 games [in 11 days] and we felt that the starters, they were going to give us a few innings and we'd have to mix and match with the bullpen," said Cora. "But you have to always try to get something positive out of the three games and I think the guys in the bullpen have shown up."