Opening Day FAQ: Orioles vs. Red Sox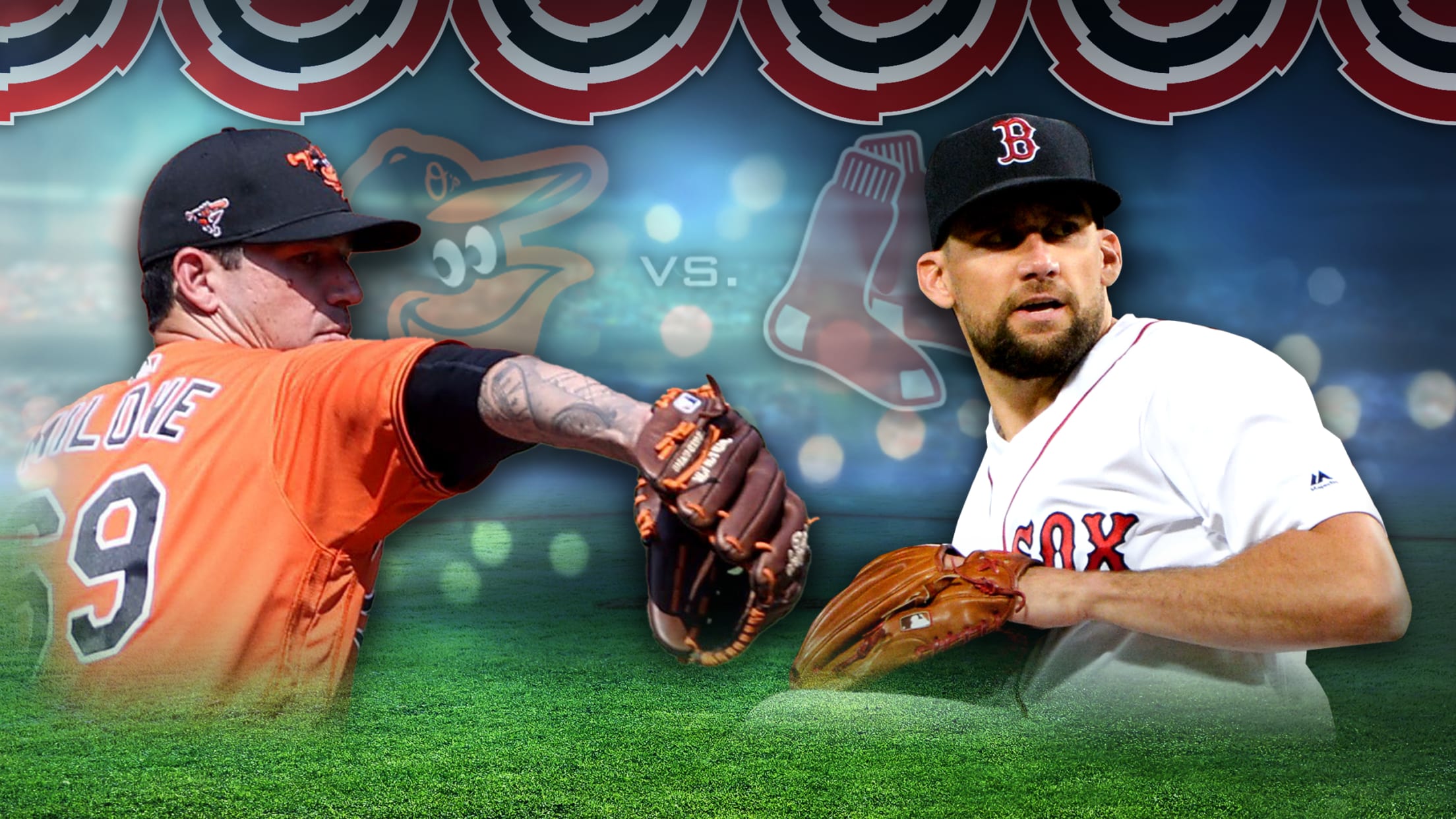 The Red Sox and Orioles, two long-time American League East rivals, face off on Friday night at Fenway Park in the much-awaited opener for both teams. This marks the first time the squads have faced off on Opening Day since 2014 at Baltimore. While many of the same faces remain
The Red Sox and Orioles, two long-time American League East rivals, face off on Friday night at Fenway Park in the much-awaited opener for both teams.
This marks the first time the squads have faced off on Opening Day since 2014 at Baltimore.
While many of the same faces remain from a Red Sox team that underachieved with 84 wins last year, they are led by a new manager in Ron Roenicke. The other big difference for the 2020 Red Sox is that Mookie Betts, the team's signature star the last several seasons, was traded to the Dodgers in February.
Though the Red Sox have many questions on their pitching staff, they have enough confidence in their high-powered offense to think they might be able to contend in this shortened, 60-game season.
Heading into the second year of their planned rebuild, second-year manager Brandon Hyde and the Orioles are looking for steps forward from players like outfielder Anthony Santander, second baseman Hanser Alberto and designated hitter Renato Núñez, who broke out in surprise fashion last year, and a least a few prospects set to debut later in this shortened season.
Former home run champion Chris Davis is back at first base and veteran righty Alex Cobb in the rotation, both hoping for bounce-back seasons. The Orioles traded away Dylan Bundy and Jonathan Villar over the winter and signed veteran shortstop Jose Iglesias and swingman Kohl Stewart to free-agent deals. They will play the year without star slugger Trey Mancini, who is undergoing treatment for colon cancer.
When is the game and how can I watch it?
First pitch is scheduled for 7:30 p.m. ET on Friday. The game will be televised on NESN and MASN, along with MLB.TV, and there will be radio broadcasts on WEEI 93.7, WCCM 1490 AM/103.7 FM and 105.7 The Fan, the flagship station of the Orioles Radio Network.
The starting lineups
Orioles: The O's must get used to life without their best hitter and lineup linchpin, as they'll miss Mancini for the entire season due to his treatment for colon cancer. No. 4 prospect Ryan Mouncastle may ultimately assume the bulk of Mancini's reps, but for now it's DJ Stewart earning those, especially with Dwight Smith Jr. questionable after arriving late to camp.
The rest of the lineup has been more or less set in stone for some time, though the arrangement likely changes against left-handed starters. In that situation, expect Alberto to be elevated due to his wild success against southpaws last season.
Lineup:
1) Austin Hays, CF
2) Anthony Santander, RF
3) José Iglesias, SS
4) Renato Núñez, DH
5) Chris Davis, 1B
6) Hanser Alberto, 2B
7) Rio Ruiz, 3B
8) Pedro Severino, C
9) DJ Stewart, LF
Red Sox: While five-tool stud Betts will obviously be missed, the Red Sox love their offense. Andrew Benintendi seems determined to bounce back in the leadoff spot. Roenicke made the decision late in Summer Camp to install J.D. Martinez as his No. 2 hitter, following the recent wave of elite hitters around the game who now bat in that spot. Rafael Devers and Xander Bogaerts make for a potent 3-4 combo, and also have lefty-righty balance.
The lineup isn't just top heavy. Players like Christian Vázquez and Jackie Bradley Jr. provide additional production. The Red Sox acquired Kevin Pillar specifically to start against lefties.
Opening Day lineup:
1) Andrew Benintendi, LF
2) J.D. Martinez, DH
3) Rafael Devers, 3B
4) Xander Bogaerts, SS
5) Kevin Pillar, RF
6) Christian Vázquez, C
7) Michael Chavis, 1B
8) Jackie Bradley Jr., CF
9) José Peraza, 2B
Who are the starting pitchers?
Orioles: The O's had lined up 2019 All-Star left-hander John Means for his first Opening Day start, but scratched him earlier in the week due to arm fatigue. The replacement is Tommy Milone, a nine-year veteran debuting for his seventh team. It is his first career Opening Day start.
Milone, 33, has as unique a path as any to Opening Day. He was signed to a Minor League deal in February, pitched his way onto the roster and was propelled into the Opening Day assignment when the O's decided to hold Means back. The southpaw is 50-47 with a career 4.47 ERA in 174 games (136 starts), spending parts of the past three seasons with the Brewers, Mets, Nationals and Mariners. He went 4-10 with a 4.76 ERA in 23 games for Seattle last season, starting six games and entering the rest behind openers.
Red Sox: Just like the Orioles, Boston's original plans for an Opening Day starter did not come to fruition. It was supposed to be Eduardo Rodriguez pitching the first game of the season for the first time in his career. But those plans had to be scrapped due to the lefty testing positive for COVID-19 and reporting to Summer Camp a couple of weeks late. Instead, flame-throwing righty Nathan Eovaldi will take the ball.
This is the first time Eovaldi has started an opener, and he seems primed for the opportunity. Eovaldi was sharp every time he pitched in Spring Training and Summer Camp and enters this season with no (knock on wood) health issues.
How will the bullpens line up after the starters?
Orioles: Expanded rosters could allow the Orioles to carry as many as 11 relievers to begin the year, especially given Means' uncertain status at the top of the rotation. Mychal Givens is back as the primary back-end option after handling the lion's share of high leverage assignments last year; he's expected to share ninth-inning duties with Hunter Harvey and Richard Bleier based on matchups, in a closer-by-committee style arrangement. Shawn Armstrong, Paul Fry, Miguel Castro and Tanner Scott return in setup roles, with Castro and Scott profiling as sleeper breakout candidates.
The Orioles are also intrigued by hard-throwing Cody Carroll -- who was acquired in the Zack Britton deal in 2018, but missed almost all of last season due to back issues -- and waiver claim Cole Sulser, a 30-year old strikeout artist looking to make his first Opening Day roster. The major wild card on the staff is free-agent signee Kohl Stewart, who the O's could toss into the rotation, use as a swingman, throw behind openers or all of the above.
Red Sox: Brandon Workman broke out as the closer in the second half of last season and he'll get the opportunity to do it for a full (shortened) season in 2020. Workman had a 1.88 ERA last year with 104 strikeouts in 71 2/3 innings. Matthew Barnes is a quality lead setup man, and that's been the case for a few years.
The Sox open with two of their key lefties on the injured list in Josh Taylor and Darwinzon Hernandez. To fill the void, the Red Sox will rely on strength in numbers, carrying 11 relievers. Ryan Brasier, Heath Hembree and Marcus Walden could all pitch in high-leverage situations. With such a thin starting rotation, Roenicke will ask many of his relievers to work multi-innings.
Any injuries of note?
Orioles: In Means and Mancini, the Orioles are opening 2020 with their two top players from '19 sidelined. Means' injury is only considered a short-term issue, but even unprolonged absences will be felt more during such a condensed season. The Orioles are also keeping close eyes on Smith Jr. and Santander since both tested positive for COVID-19 before arriving at Camp.
Lost for the season during Camp were left-hander Ty Blach (Tommy John surgery) backup shortstop Richie Martin (right wrist surgery) and likely utility man Stevie Wilkerson, who fractured his left ring finger sliding to make a defensive play Sunday night. Also questionable for Opening Day: rookie reliever Hunter Harvey (arm fatigue) and backup catcher Chance Sisco (triceps soreness).
Red Sox: The big one is ace Chris Sale, who won't throw a pitch after undergoing Tommy John surgery in March. Veteran Dustin Pedroia, who has barely played since 2017 due to a problematic left knee, is unlikely to suit up this year. The other players who will be missing for the start of the season are the three pitchers coming back from COVID-19 (Rodriguez, Taylor and Hernandez).
Who is hot and who is not?
Orioles: Chris Davis didn't catch fire this summer like he did in spring, but has shown well early in exhibition play, doubling off Stephen Strasburg on Monday. … Severino homered off Phillies free-agent prize Zack Wheeler to the opposite field in the O's first exhibition game. … Iglesias swung the bat as well as any player in intrasquads, then collected three hits in his exhibition debut Monday.
Red Sox: Moreland, who smashed a three-run homer in Tuesday's exhibition game against the Blue Jays, has looked terrific in camp. Benintendi, Bogaerts, Devers and Martinez all swung hot bats since arriving in Boston at the beginning of July. … Chavis and Verdugo have been unable to get their swings going.
Anything else fans might want to know?
• This will be the first time the Orioles open their season at Fenway Park in 54 years, since 1966. Coincidentally, they will do so again in 2021. They also finished the '19 season in Boston and it is where Means made his MLB debut in September '18.
• This is the first time the Red Sox have opened a season at Fenway Park since 2017, when they hosted the Pirates.
• It could be a homecoming of sorts for Orioles right-hander Hector Velázquez, who has a chance to make the team as a swingman. Velázquez was acquired off waivers this spring after spending his first three MLB seasons with the Red Sox, pitching to a 3.90 ERA in 89 appearances.
• Out of their homegrown players, Bogaerts leads the Red Sox in service time -- with six years and 42 days. Bradley is second, at five years and 150 days. The player on the active roster with the most service time? Moreland, at nine years and 67 days.