Swihart's brother passes away unexpectedly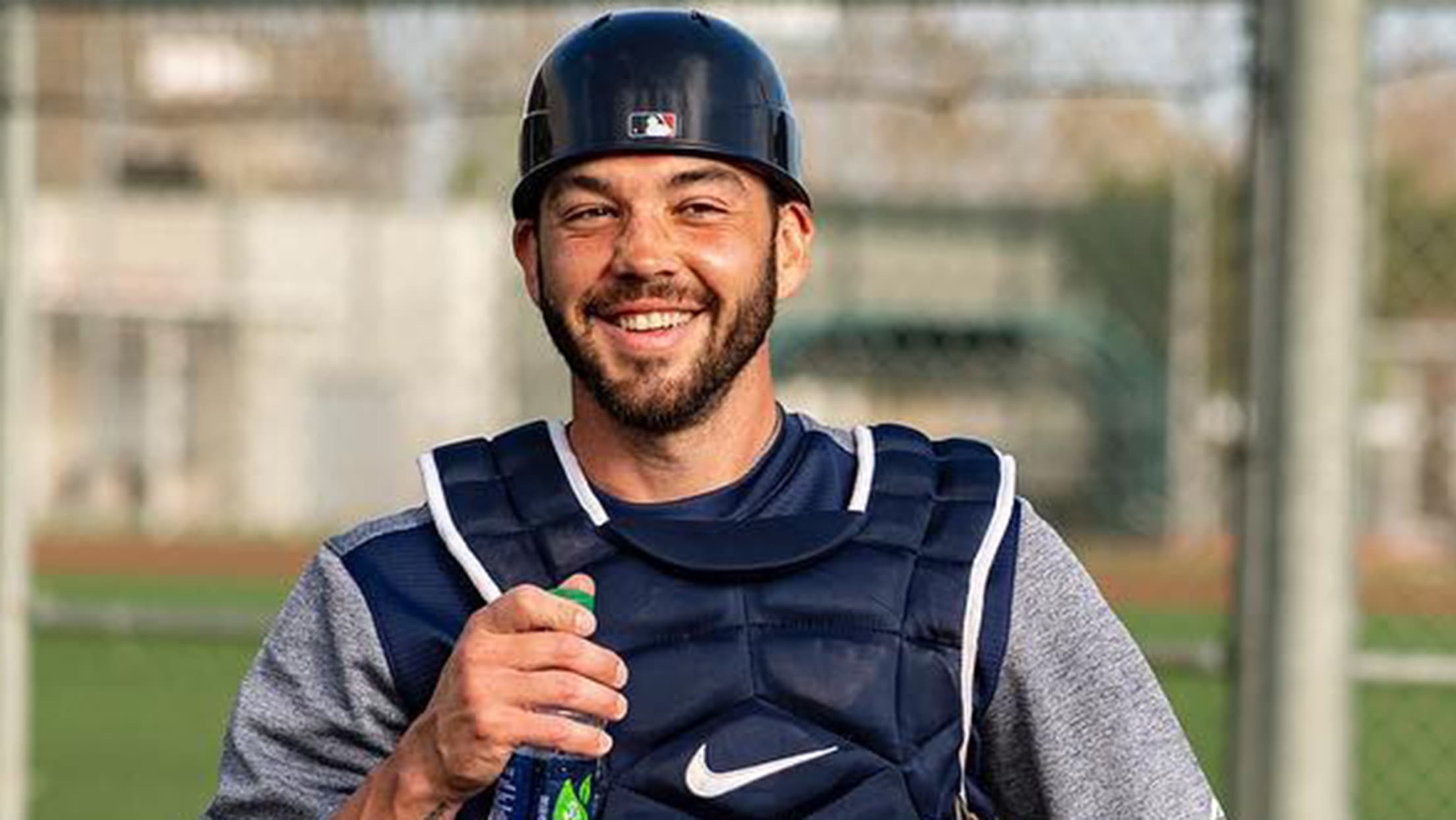 FORT MYERS, Fla. -- The Red Sox spent Wednesday grieving for teammate Blake Swihart, whose brother Romell Jordan died suddenly earlier in the day. Jordan, who played running back at the University of New Mexico, was 23 years old. No details of the death have been released, and the Swihart
FORT MYERS, Fla. -- The Red Sox spent Wednesday grieving for teammate Blake Swihart, whose brother Romell Jordan died suddenly earlier in the day.
Jordan, who played running back at the University of New Mexico, was 23 years old. No details of the death have been released, and the Swihart family has asked the public to respect their privacy.
"We are saddened to confirm the passing of Red Sox catcher Blake Swihart's 23-year-old brother, Romell Jordan," the Red Sox said in a statement. "The entire Red Sox organization sends its deepest condolences to the Swihart family for their loss. The family is asking for privacy at this difficult time."
Swihart started the day at JetBlue Park and was scheduled to be the designated hitter in a home split-squad game against the Orioles. After learning the news, Swihart left the ballpark.
Manager Alex Cora said that Swihart will be back at the park for Thursday's game against the Nationals and might even DH if he so chooses.
"It will be interesting," said Cora. "He feels that being around his teammates right now is good for him. He feels like whenever he has to go, he'll go. But not right now. He's here with his wife and around the guys, so he feels like, 'Why not?' Whatever he wants to do.
"I told him, 'Dude, whatever you want to do tomorrow. If you want to play, you play. If you don't want to play, don't.' He kind of like said, 'My brother would probably love me to show up and play,' so he might DH tomorrow. We'll see."
After learning of the jarring news, the Red Sox played a pair of split-squad games, losing 7-6 at home to the Orioles and 5-4 to the Rays on the road.
Cora admitted the team's heart wasn't much into baseball.
"Can't wait to go home," said Cora, when asked what the vibe was like in the dugout. "The whole day, 'I've just got to go home.' Everybody. That's the first time I've felt it. There was no energy in that dugout. We just showed up today. I'm not complaining, because I was the same way."
On this day, the Red Sox viewed Swihart not as a switch-hitting catcher, but as a family member. He hurt, and so did everyone else connected to the team.
"It's tough, you never want something like that with anybody," said Red Sox right fielder Mookie Betts. "He's like a brother to me. Blake has been with me since the first day we stepped into the Red Sox's organization, so I'm there for him, I'm praying for him. It's a tough time to get through."
"You spend so much time away from your loved ones that this group becomes your loved ones," said Cora. "I'm 43, but I feel they're my kids. That's the way I see it. It's hard, but we'll be OK. We've got plenty of help. We're together and obviously our condolences to the Swihart family. I can't even imagine what they're going through right now. We're here for their kid."
Cora felt this was a day unlike any other he's had in a baseball uniform.
"It was a tough one," Cora said. "He's a good kid, and a great family. For everybody in the clubhouse, he's a great teammate."
The Red Sox spent the morning coming to grips with the tragedy and consoling each other before taking the field for their standard pregame drills.
"We're family here," said Betts. "We're kind of doing what we can to make him feel as comfortable as he can. Obviously it's tough. As a unit here, we're doing what we can to make sure he's OK."
The latest sad development occurred six days after longtime Red Sox reporter Nick Cafardo of The Boston Globe collapsed while working at Spring Training and died within hours.
"It's tough. It's very tough," said Cora. "We went through Nick, and now we're going through this. It's not easy honestly. Just start thinking the same things I said last week [about Cafardo], same feelings today."
Lefty David Price wrote about the team's closeness in a tweet.
Through triumph, tragedy, and heartbreak this team/organization sticks together!! @redsox #extendedfamily

— David Price (@DAVIDprice24) February 27, 2019
"The one thing about the group, David put it in 150 characters," said Cora. "That's who we are. That's how we feel about each other. For everything that we went through last year, it was awesome, but the coolest thing is, we really became a family. You start looking at everything we went through, it was amazing. But there's certain days that you look back and you're like, 'Yeah, that's what makes this special.'"
Last July, Cora's best friend's son, 16-year-old Ari Arteaga, was killed in a car accident. Through the rest of the World Series-winning season, Cora had the initials "AA" penciled on his cap.
"The same way they were there for me when J.D. [Arteaga]'s son passed away, they were there for me, the same way I'm going to be there for them," said Cora. "It's tough. It's something that … I know it's part of this because it's life. I said it last week. It's not about what happens on the field. It's the other stuff that happens and we're going to have some great days and then we're going to have some tough days, but at the end, we do care about each other.
Swihart has been a member of the Red Sox organization since 2011, when he was a first-round Draft choice out of Cleveland High School in Rio Rancho, N.M.