Offseason checklist: Sox's needs and moves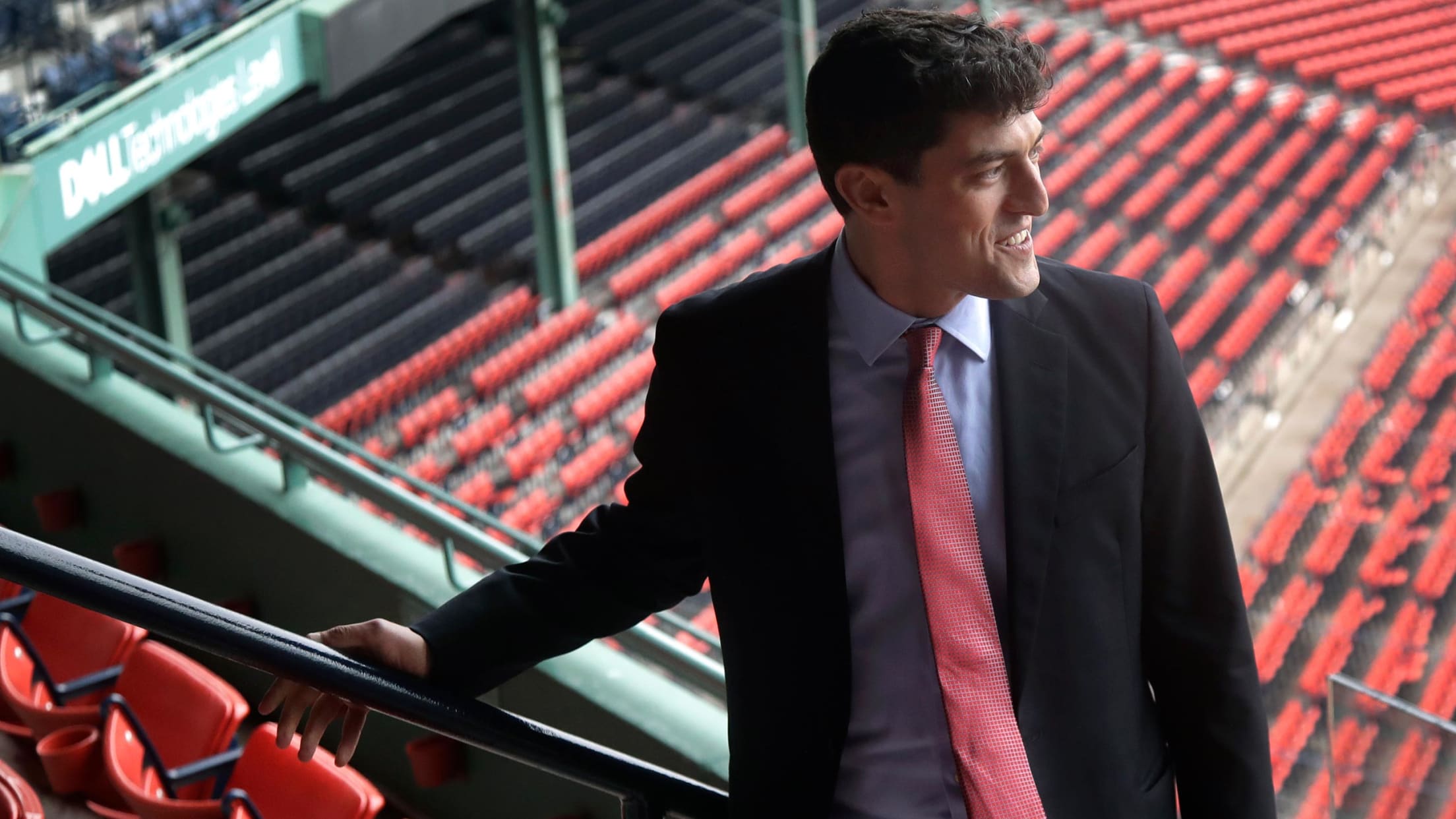 BOSTON -- After a letdown season in 2019 that resulted in 84 wins and no playoffs, the Red Sox are spending the offseason regrouping as they attempt to get back to the postseason for the fourth time in five seasons. There is a new leader of the front office in
BOSTON -- After a letdown season in 2019 that resulted in 84 wins and no playoffs, the Red Sox are spending the offseason regrouping as they attempt to get back to the postseason for the fourth time in five seasons.
There is a new leader of the front office in chief baseball officer Chaim Bloom to help Boston get back on track.
So what are the club's biggest needs entering 2020, and what moves have they made to address them? MLB.com is keeping track here. As the offseason continues, be sure to check back for updates.
BIGGEST NEEDS
Starting pitching
The Red Sox have $79 million committed to Chris Sale, David Price and Nathan Eovaldi for next season, but all of them had injuries in 2019. Eduardo Rodriguez had a breakout season with 19 wins, but Rick Porcello departed as a free agent to the Mets. However, there continues to be buzz that Price will get traded given ownership's desire to get the payroll below the first luxury-tax threshold of $208 million.
This would leave another spot open in the rotation. Bloom's ability to think outside the box cold come in handy here, as the Sox aren't going to be big buyers. Don't rule out an opener.
Bullpen
The decision the Red Sox made not to replace Craig Kimbrel and go with a closer-by-committee approach backfired, at least early in the season. Matt Barnes was inconsistent and Ryan Brasier found himself back in the Minors by July. However, Brandon Workman developed into a lights-out closer the last couple of months of the season. While the Sox would like to add another arm or two in the bullpen, it's possible Workman could get the chance to be the closer in 2020.
Right side of the infield
First basemen Mitch Moreland and Steve Pearce are both free agents. The same is true of Brock Holt, who has played a lot of second base the last two years covering for the injured Dustin Pedroia. Speaking of Pedroia, it still seems unlikely he'll be able to come back, but no decision has been made. One move has already been made, with the Sox signing free agent José Peraza to play second base. Michael Chavis can play first and second, providing manager Alex Cora with a right-handed bat. If Holt and/or Moreland sign elsewhere, Bloom is all but certain to look for a lefty bat.
MOVES MADE
Jan. 10: Brice acquired; Hernández DFA'd
Boston added to its bullpen by trading Minor League shortstop Angeudis Santos to Miami for righty reliever Austin Brice. Last season, the 27-year-old posted career bests with a 3.43 ERA, 44 2/3 innings pitched and 9.27 strikeouts per nine innings in 36 appearances for the Marlins. The Red Sox designated infielder Marco Hernández for assignment to make room for Brice on the 40-man roster.
Jan. 9: Travis outrighted to Pawtucket
A week after he was designated for assignment, Sam Travis was outrighted to Triple-A. The Red Sox DFA'd the first baseman/outfielder on Jan. 2 to clear roster space to sign Kevin Plawecki.
Jan. 2: Plawecki signed; Travis DFA'd
To fill their need for a backup catcher, the Red Sox signed Plawecki to a one-year, $900,000 deal. Plawecki was non-tendered by the Indians. He replaces Sandy León, who was traded to Cleveland. Plawecki's strength is his pitch framing. He also has a solid arm, which has helped him throw out 43 percent of attempted basestealers.
Dec. 20: Mazza claimed off waivers
The Red Sox continued their quest to add depth to their pitching staff by claiming a feel-good story from last season off waivers from the Mets in right-hander Chris Mazza. The 30-year-old made his Major League debut at last in 2019 after being selected in the 27th round of the 2011 Draft, notching a 5.51 ERA in nine relief appearances. In his final three outings, Mazza didn't allow a hit or a run, and the Red Sox are hoping he can build off that momentum.
Dec. 19: Pérez signed
The Sox filled Porcello's spot in the rotation when they signed lefty Martin Pérez to a one-year, $6-million deal that includes a club option for 2021. Boston sees untapped potential in Pérez, who pitched a strong game at Fenway Park in the middle of the pennant race back in September.
Dec. 13: Peraza signed
With Peraza in the fold at one year for $3 million, the Red Sox hope the right-handed hitter can hit like he did in 2018, when he was one of the most productive hitters for the Reds. Peraza lost his stroke last season, likely in part due to the funk he got in when the Reds signed shortstop Jose Iglesias in Spring Training to take away his job as the starting shortstop. For Boston, the versatile Peraza projects mainly as a second baseman.
Dec. 2: León traded
The Red Sox dealt veteran Sandy Leon to the Indians in exchange for Minor League right-hander Adenys Bautista. León, entering his final year of arbitration, earned $2.475 million last season. He was widely expected to get non-tendered, but the Red Sox instead found a new home for him in Cleveland while getting Bautista back in return.
Nov. 27: Johnson outrighted to Pawtucket
Lefty Brian Johnson, an invaluable swingman just two seasons ago, wasn't nearly as reliable in 2019. The Sox outrighted him to Triple-A after he cleared release waivers. This means Johnson is no longer on the 40-man roster and would need to be a non-roster invitee to come to Major League Spring Training.
Nov. 20: 40-man finalized
To make sure all the necessary players were protected for the Rule 5 Draft, the Sox added their top power-hitting prospect to the 40-man roster in corner infielder Bobby Dalbec, who is ranked second among Sox Minor Leaguers by MLB Pipeline. The Sox also added No. 9 prospect C.J. Chatham (infielder), No. 18 prospect Marcus Wilson (outfielder), No. 28 prospect Kyle Hart (lefty starter) and No. 30 prospect Yoan Aybar (lefty reliever) to the 40-man roster.
Oct. 31: Osich claimed off waivers
The first official player transaction for Bloom as a member of the Red Sox was a modest one to be sure --- the claiming of lefty Josh Osich off waivers from the White Sox. While Darwinzon Hernandez gives Cora a potentially dominant relief arm from the left side, Osich has a chance to earn a spot as a left-on-left matchup reliever.
Oct. 18: Wright released
After three injury-plagued seasons, the Red Sox released knuckleballer Steven Wright six weeks ahead of the non-tender date. News came out shortly after the transaction that Wright is expected to undergo Tommy John surgery this offseason and won't pitch at all in 2020.