These are the top 10 defensive teams for 2019
Using projected fielding runs to find elite groups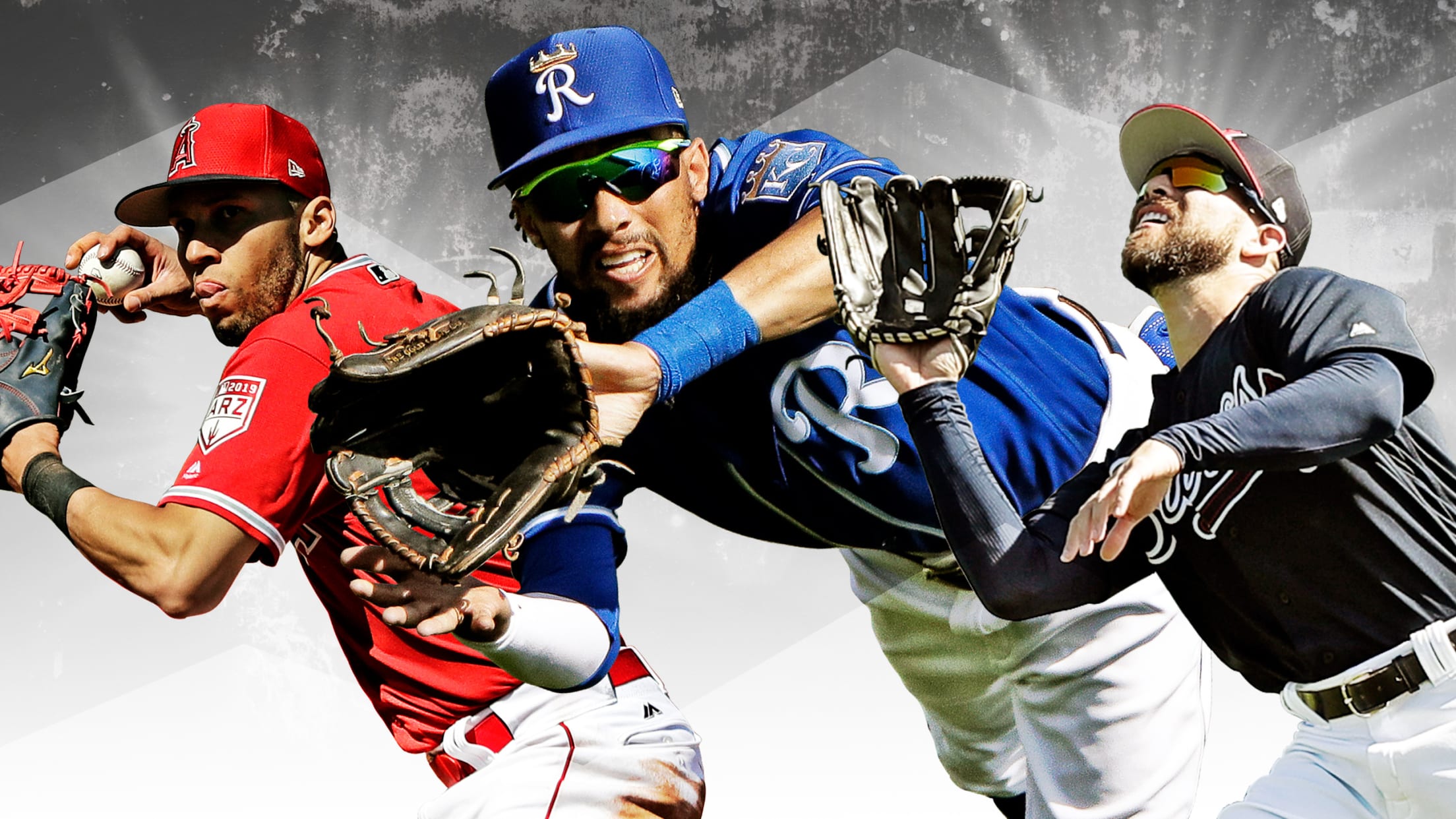 The Royals have made it perfectly clear that they plan to attack the 2019 season behind speed and defense, because they've said exactly as much. "How are you going to win in our ballpark without speed and defense?" general manager Dayton Moore asked rhetorically in February. Earlier in the month,
The Royals have made it perfectly clear that they plan to attack the 2019 season behind speed and defense, because they've said exactly as much.
"How are you going to win in our ballpark without speed and defense?" general manager Dayton Moore asked rhetorically in February. Earlier in the month, he told MLB.com that "we have to be elite at some aspects of the game, and defense and speed is something we can be elite at."
"[In 2014-15, when the Royals went to the World Series twice], it was speed, defense, putting the ball in play, and having a great bullpen," echoed manager Ned Yost.
It might not work, because Kansas City is projected to have the third-lowest scoring offense in 2019, and allow the fifth-most runs per game. But when it comes to speed and defense, at least, the numbers more than back up their expectations. When MLB.com's David Adler looked into 2019's fastest teams last week, there were the Royals at No. 1. As we attempt to look at 2019's best projected team defenses today ... there are the Royals, again, at No. 1.
Those numbers are projected fielding runs, culled from FanGraphs, and they're simply expressing a player's projected fielding value relative to the positional average, with expected playing time baked in. This doesn't account for the positional adjustment -- the idea that it's harder to save a run at shortstop than, say, in right field -- but let's not over-complicate things. Mookie Betts saved +16.8 fielding runs last year; he's projected to save +16.5 this year, the best in baseball. Jason Heyward is projected to save +9.1. This is the idea.
It's not hard to see why each of the top 10 teams are on this list, too. And here they are ...
1) Royals (+25 projected fielding runs)
Of course. The Royals have three of the top 20 projected defense players in Billy Hamilton, Alex Gordon, and Brett Phillips, and if you're realizing that's potentially the starting Kansas City outfield -- at least if Phillips beats out Jorge Bonifacio and Brian Goodwin, and Jorge Soler is mostly at DH -- you're starting to understand how Moore is hoping that this group is going to be able to use the massive Kauffman Stadium outfield to help his underwhelming pitching staff.
Remember, this is a Royals team that's used to seeing the likes of Lorenzo Cain and Jarrod Dyson roaming the outfield, and this group might just live up to that legacy, in no small part because Hamilton is that good. Elsewhere, newly signed catcher Martin Maldonado may be an upgrade, or at least "not a downgrade," from Salvador Perez, and a full year of Adalberto Mondesi should be an improvement over longtime shortstop Alcides Escobar.
2) Angels (+23)
This isn't entirely about star shortstop Andrelton Simmons, but ... it's so much about Simmons, who may go down as the greatest defender of his generation. The more interesting name here is that of David Fletcher, who impressed defensively at both second and third last year, and could see plenty of time at second base in 2019. Veteran Zack Cozart also projects to be a strong defender at third, as does Kole Calhoun in right field, and this was already possibly 2018's best defensive team.
While Mike Trout projects to be merely "average" in center field, remember that last year he said he wanted to improve his defense, and then went out and did exactly that.
3) Indians (+22)
Francisco Lindor remains among the best defensive shortstops in the bigs, and there's even hope now that the right calf injury that has sabotaged his spring won't keep him off the Opening Day roster, while Jose Ramirez is a plus fielder no matter whether he's playing second base or third. Assuming that Leonys Martin is fully recovered from last year's frightening infection, he's been a strong center fielder, collecting +23 Outs Above Average even without playing full-time over the last three seasons. If anything, this is more about all-around competence, as no position is projected to be worse than average.
4) Red Sox (+21)
Betts is obvious, right? We don't need to explain how good Betts is? The same should go for center fielder Jackie Bradley Jr., who won his first American League Gold Glove Award and had the metrics back it up; both Betts and Bradley rated in the top 8 outfielders per Statcast last year. Left fielder Andrew Benintendi was an AL Gold Glove Award finalist, and they've stated their goal is for Boston to sweep the voting in 2019. Dustin Pedroia, if healthy, should be capable enough at second, though the real question here is whether young third baseman Rafael Devers can improve upon his relatively unimpressive fielding showing so far.
5) Rays (+20)
If healthy -- and the last two seasons have shown that the "if" in that sentence is doing a lot of work here -- Kevin Kiermaier is very possibly the best defensive outfielder in baseball. His projections remain elite, and his speed in 2018 was still 90th percentile. Kiermaier's large projected number carries a lot of weight here, with Tommy Pham and Joey Wendle the next-best projections after Kiermaier, and some amount of uncertainty after that.
6) Braves (+19)
Like most of the other teams here, the Braves have a fielding superstar, in this case center fielder Ender Inciarte, who finished ever so slightly behind Cain in Statcast's Outs Above Average last year. But he's not alone in Atlanta, because first baseman Freddie Freeman, second baseman Ozzie Albies, third baseman Josh Donaldson, and shortstop Dansby Swanson are all projected to be above-average gloves. That's no longer the case for 35-year-old Nick Markakis, though he ought to still be competent in right.
7) Padres (+18)
So far as fielding goes, remember that the Padres didn't make one big infield addition this year ... they made two. Manny Machado is the most obvious name, of course, and his numbers ought to look even better at third than they did at shortstop. But Ian Kinsler remains a strong defender at second base, even if his bat isn't what it was in his prime. Austin Hedges is also a highly regarded defender behind the plate, as is Manuel Margot in center, though he'll need to hit more to keep his job.
8) Giants (+17)
This comes down entirely to three veterans. If you think Buster Posey's repaired hip allows him to be a solid defensive force again, and if you haven't forgotten how good Brandon Crawford and Brandon Belt have been at short and first, respectively, for so many years, the Giants could have a trio of strong defenders. (You can throw Evan Longoria in that mix, too, even though his projected number at third isn't high.)
9) Cubs (+16)
The 2016 Cubs were a historically great defensive unit, a big part of that team's push to a title, and they've remained good at this since, especially since stars like Jason Heyward and Anthony Rizzo are still around and fielding well. Albert Almora Jr. has become a strong center fielder, which helps, though Javier Baez having to move to shortstop while Addison Russell serves his suspension causes a domino effect that weakens the rest of the group, and for all the value Willson Contreras brings with his cannon arm, his weak framing calls his catching future into question.
10) Twins (+14)
If Byron Buxton can stay healthy and productive enough with the bat to stay in center field for six months, this ranking is too low. As we've seen from him in the past, he's got some of the most elite defensive skills in baseball, winning the 2017 AL Platinum Glove. He's not alone here, because right fielder Max Kepler and catcher Jason Castro rate well, but Miguel Sano and Jorge Polanco don't, and really this is all about Buxton. He's so good that he can single-handedly change a team's defensive ratings.
Others
The A's just barely came in 11th here, and we'll take the over on that, because third baseman Matt Chapman is that good, shortstop Marcus Semien improved a great deal in 2018, and center fielder Ramon Laureano could be a breakout star in 2019 ... Surprised to see the Phillies pulling up the rear after all of this winter's changes? We were too, but "improved" and "good" aren't the same thing, and neither Bryce Harper nor Andrew McCutchen is coming off a well-reviewed defensive season ... The D-backs had a strong defense in 2019, thanks in large part to shortstop Nick Ahmed, but Paul Goldschmidt and A.J. Pollock have departed, and there's a lot of uncertainty in the outfield with Ketel Marte attempting to shift from second base and new addition Adam Jones past his defensive prime ... The Yankees outfield could be very good, thanks to Aaron Hicks and Aaron Judge, but Miguel Andujar's defense is a big problem at third, and Gleyber Torres' defense could stand to improve as well.
Mike Petriello is an analyst for MLB.com and the host of the Statcast podcast.