5 things we've learned about the AL East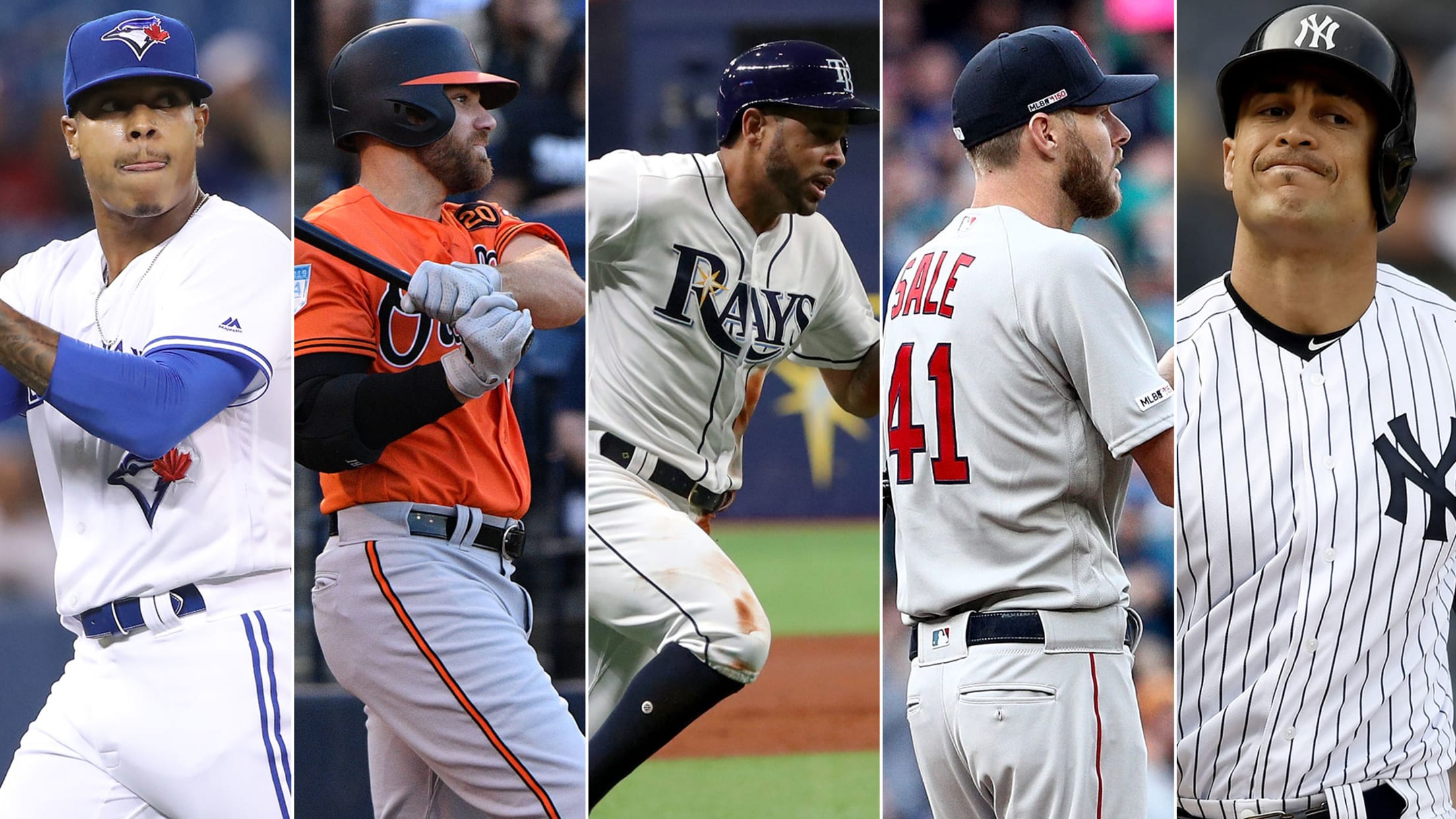 The Major League Baseball season is only entering its second week and yet there are already clues about what to expect in the American League East. The Yankees are dealing with injuries, the Red Sox are facing questions in the bullpen and the Rays are thriving in such a way
The Major League Baseball season is only entering its second week and yet there are already clues about what to expect in the American League East.
The Yankees are dealing with injuries, the Red Sox are facing questions in the bullpen and the Rays are thriving in such a way that some people are predicting them to be the surprise of the division. Then there's an Orioles team that is two games above .500 and a Blue Jays rotation that opened the year with 24 scoreless innings.
No team in the division has played more than seven games and even so, some expectations have already changed. Here's what we've learned and one thing we still don't know about each team in the AL East after Week 1.
BLUE JAYS
One thing we've learned so far: The Blue Jays starting rotation might be better than anticipated. Toronto opened the year by becoming the fifth team since the expansion era in 1961 to open the season with 24 scoreless innings from its rotation. Marcus Stroman is healthy, Aaron Sanchez is hitting 97 mph and Matt Shoemaker looks like the pitcher he was in 2016. There's still a lot of injury risk with this starting five, but with Clay Buchholz expected to debut by mid-April, this group might be a strength, not a weakness.
One thing we still don't know: Will the Blue Jays have enough depth in the bullpen to take advantage of the strong starting staff? Toronto's bullpen blew the first game of the season and there are still a lot of question marks in middle relief. Ken Giles is the undisputed closer and Joe Biagini is off to a hot start, but after that, there are far too many question marks. Protecting leads late in games might become an issue.
One number: .079. That's the Blue Jays' batting average the first time through the order so far this season. Toronto will enter play Thursday with just five hits in 63 at-bats the first time through the batting order and four of those came during Wednesday's series finale against the Orioles. Toronto was expected to struggle to score runs this season, but the early-game issues have become an even bigger concern than anticipated.
ORIOLES
One thing we've learned: There is a reason you play the games. Despite low expectations, the Orioles head into their home opener on a high note. They've won both of their first two series, against the Yankees and Blue Jays, and enjoyed two clubhouse celebrations in the early going. This is a team that is going to compete and have fun doing it.
One thing we still don't know: Will anyone settle into the closer role? Manager Brandon Hyde has called on four different pitchers to secure the final outs of each of the club's four victories, which is consistent with his preference to deploy his top relievers in high-leverage situations regardless of inning. Will relief roles get more defined once Alex Cobb returns to stabilize the rotation? Perhaps. But at least until then, the Orioles are OK with going with the closer-by-committee approach.
One number: .000. That's Chris Davis' batting average through six games. Coming off his historically poor 2018 season, Davis' performance will continue to come under scrutiny, given his big contract.
RAYS
One thing we've learned: The Rays pitching staff is legit, allowing one run or fewer in five consecutive games and going 4-1 in that span. Through 65 innings this season, the Rays pitching staff has a 1.52 ERA and the bullpen has allowed just two earned runs in 28 innings.
One thing we still don't know: As good as the Rays bullpen has been, we still don't know if they can continue to pitch at this level for an entire season. The arms are there with Jose Alvarado, Diego Castillo, Chaz Roe and Ryne Stanek leading the way, but the experience isn't quite there yet. The talent is there and it wouldn't surprise anyone if the bullpen keeps performing like this.
One number: 39. Tommy Pham's on-base streak is now at 39, which is tied with Johnny Damon for the longest streak in franchise history. Pham will get a chance to break the record Friday in San Francisco.
RED SOX
One thing we've learned: Adversity is going to be a thing for the Red Sox and Alex Cora this season. They basically faced none last year, rolling to a 17-2 start and staying hot for just about the entire season, en route to the World Series championship. The vaunted rotation is struggling early and the clutch hits were nearly absent in the first week. The Sox became MLB's first reigning champ since the '98 Marlins to start 1-5.
One thing we still don't know: Is Matt Barnes the primary closer? The Red Sox have consistently been trailing, so it's still hard to know exactly what Cora has in mind when deploying his relievers in the ninth. Barnes was used in the first save opportunity and succeeded. But on Wednesday, in a tie game, Cora brought Barnes on for the seventh inning with two outs to face Khris Davis. For now, it looks like Cora will go with matchups rather than a set closer.
One number: 0. That is how many quality starts the Red Sox had their first turn through the rotation. Chris Sale finally stopped the drought by holding the A's to one run over six innings on Tuesday. But he did so with the lowest average velocity in any start of his career. The Red Sox will go as far as their rotation takes them, so it was a little concerning to see the starters hit a pothole so early.
YANKEES
One thing we've learned: The Yankees will need to call on their depth more than anticipated, given a flurry of early-season injuries that have placed a Major League-leading 10 players on the injured list. Aaron Hicks, Luis Severino and Giancarlo Stanton are among the most prominent missing stars, while Troy Tulowitzki went down with a calf injury Wednesday afternoon.
One thing we still don't know: Starting pitching was the offseason priority, and the Yankees say they believe it has improved. Has it? Severino is not expected back before May, and while Masahiro Tanaka and James Paxton have looked sharp, the rest of the rotation carries significant questions.
One number: 500: Through Wednesday, that's the number of regular-season victories that the Yankees have amassed at the current Yankee Stadium. They own the best home-winning percentage of any team since the building opened in 2009.