10 most comical moments in White Sox history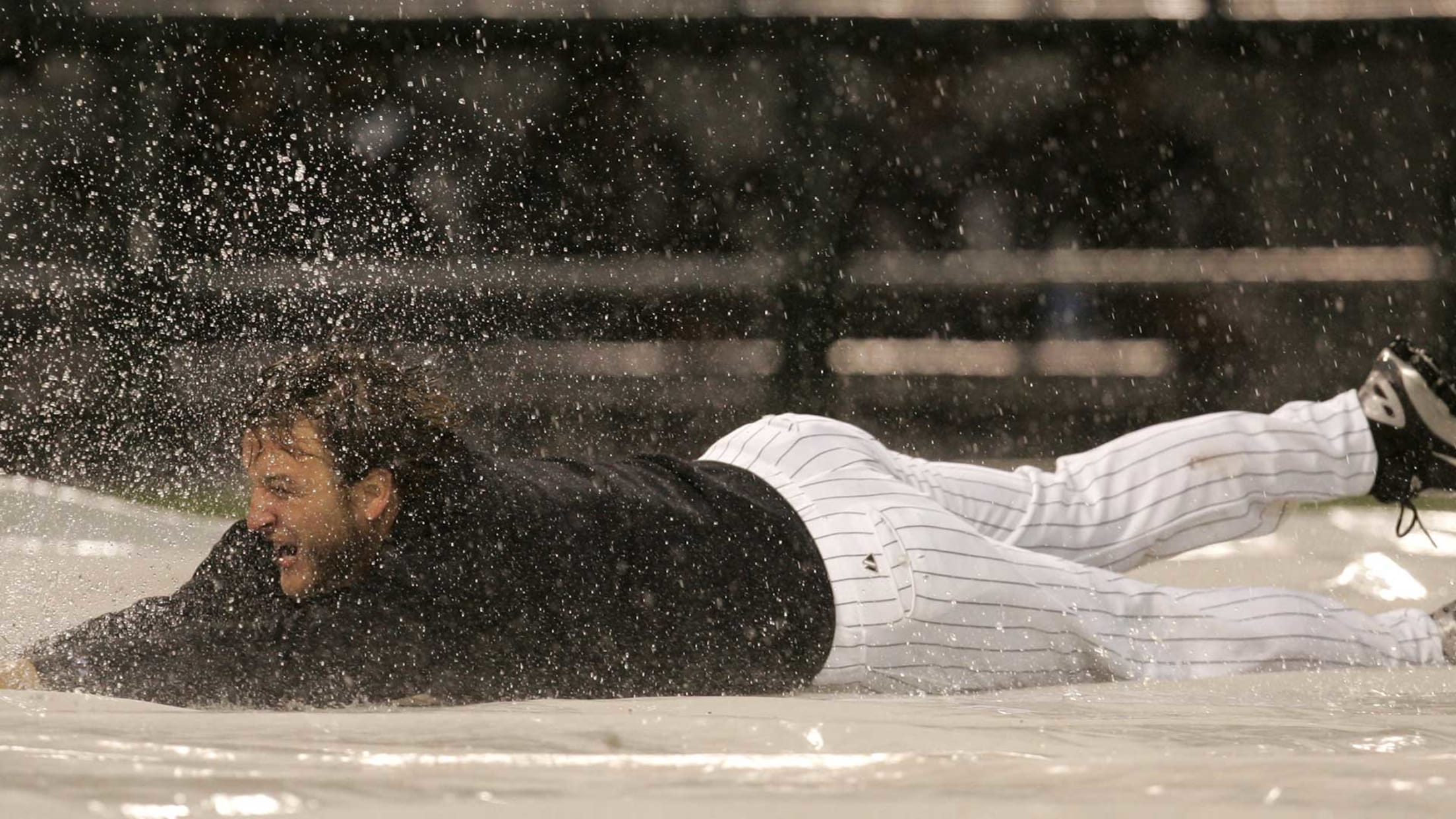 CHICAGO -- When discussing the top moments in White Sox history, a plethora of exciting instances immediately jump to mind. How about Paul Konerko's grand slam and Scott Podsednik's walk-off home run in Game 2 of the 2005 World Series sweep? Let's not forget Mark Buehrle's perfect game against the
CHICAGO -- When discussing the top moments in White Sox history, a plethora of exciting instances immediately jump to mind.
How about Paul Konerko's grand slam and Scott Podsednik's walk-off home run in Game 2 of the 2005 World Series sweep? Let's not forget Mark Buehrle's perfect game against the Rays in '09. And that's just to name a few.
But listing the most comical moments attached to the franchise requires a little deeper dive. Here's a look at 10 that stand out for the White Sox.
1. Lyons drops his pants
July 16, 1990
When cleaning dirt from your uniform after diving headfirst into first base, it's always good to remember there are thousands of people watching right there in front of you. Steve Lyons temporarily forgot after a bunt single attempt at Tiger Stadium. Lyons stood up, dropped his pants and then, quickly realizing where he was and what he did, immediately pulled them back up.
"As soon as I realized that I was still out at first base and not down in the dugout, there was a little bit of shock," Lyons told MLB.com during a 2015 interview.
2. White Sox meet the pro wrestling world
Dec. 11, 2005
Some World Series heroes get commercial endorsements. Some might even go to Disney World. For A.J. Pierzynski, it was moving into the world of TNA Wrestling along with Dale Torborg, the well-respected White Sox Minor League strength and conditioning coordinator, also known as the Demon from his wrestling days. Torborg took part in the BaseBrawl match at the Turning Point pay-per-view before a big crowd in Orlando, Fla., but it was Pierzynski, the manager for Torborg's tag team, who helped win the match after hitting Simon Diamond with a home plate, given to him from the crowd by none other than Johnny Damon.
This storyline carried on through the ensuing Spring Training, when Ozzie Guillen hit Diamond with a chair and told him to get off his field during a taped segment at their complex in Tucson, Ariz.
3. Buehrle's rain delay theater
April 16, 2006
Buehrle threw a perfect game, threw a no-hitter, started Game 2 of the 2005 World Series, saved Game 3 of that same World Series and was the picture of mound consistency throughout his 16-year career. But let's not forget his escapades as an unlicensed tarp diver during a few rain delays at what was then U.S. Cellular Field.
His last performance took place during the second of two delays in this rain-shortened White Sox victory over the Blue Jays. The practice was stopped by then-general manager Ken Williams, who knew Buehrle was far too valuable to the team to risk a little fun for the fans.
"He needs to find another hobby," Williams e-mailed MLB.com shortly after the final tarp dive.
Find someone that looks at you like Mark Buehrle looks at a rain delay. pic.twitter.com/CkPqtSnnVz

— Chicago White Sox (@whitesox) June 20, 2017
4. Cooper's ejection injury
June 26, 2008
All White Sox pitching coach Don Cooper was trying to do was defend his pitchers, arguing a checked-swing call before getting ejected. After Cooper was thrown out, he threw his clicker in the visitors' dugout at Dodger Stadium, and in the process, strained his left hamstring.
The injury certainly was not pleasant for Cooper. But players, coaches and Guillen alike seemed to get temporary enjoyment. Some even gathered around a TV camera near the dugout to watch the replay. All's well that ends well, as Cooper quickly recovered.
5. Guillen kicks in anger
June 20, 2011
It would be easy to construct a list of Top 10 comical moments from Ozzie Guillen's eight-year managerial tenure based solely on his always-entertaining interview sessions. In fact, search Guillen's name on the internet, and lists of his best quotes quickly pop up. But when Guillen is able to make the opposing catcher laugh, it warrants special notice.
With one out in the bottom of the sixth in a game against the Cubs, Alexei Ramirez hit a tapper in front of the plate that looked like a foul ball. The ball was ruled fair, and catcher Geovany Soto tagged out Ramirez. Guillen argued the call, was promptly ejected, and he kicked Soto's mask in disgust. He was no Kevin Butler or even Eddy Pineiro, but Guillen got decent distance.
6. Beckham channels Peavy
July 5, 2012
It's almost impossible for any political candidate to get elected without support from his constituents. That theory also holds true for MLB's All-Star Final Vote balloting, which featured a #TakeJake campaign run by the White Sox for pitcher Jake Peavy in '12. It also featured a spot-on impersonation of Peavy from second baseman Gordon Beckham.
Although it sounds as if Beckham might have injured something trying to get the voice perfect, it earned rave reviews from even Peavy himself. Honorable mention goes to Chicago's creative "Punch A.J." Final Vote campaign in 2006, which earned an All-Star nod for A.J. Pierzynski.
7. Hawk checks on Frazier
May 11, 2016
Todd Frazier busted his lower lip diving into the stands for a Prince Fielder foul ball along the third-base line during the fourth inning of a game in Arlington. Frazier immediately raced off the field with his glove covering his face, and Ken "Hawk" Harrelson, the legendary White Sox television play-by-play voice, was not about to wait for an update from the team's media relations.
"I'm going downstairs," Harrelson told Stone in the visitors' broadcast booth. "You take over."
Harrelson brought back the news of Frazier being OK. His actions confirmed that while some people may have cared as much about the White Sox as Harrelson, nobody cared more.
8. Eaton blows a bubble
Aug. 17, 2016
Bases loaded, one out in the ninth inning, and the White Sox trailed the Indians, 7-6, at Progressive Field. Pressure? Adam Eaton, who played a pivotal role in the Nationals' run to the World Series title this season, laughs at pressure.
Actually, he blows bubbles in its face.
Eaton connected for a game-winning grand slam off of Cleveland closer Cody Allen while casually blowing a bubble with his gum at the same time. The blast drew a jubilant "mercy" from Hawk Harrelson on the broadcast. Eaton somewhat reprised this moment after hitting a game-tying home run off of Justin Verlander in Game 6 of the 2019 World Series.
9. Sánchez strikes
May 3, 2018
Nobody on the White Sox was safe from Yolmer Sánchez -- the life-of-the-party infielder who is a Gold Glove-caliber second baseman -- during a walk-off hit celebration. He doused teammates with Gatorade, he doused third-base coach Nick Capra, and in this case, he got himself. Sánchez did the self-honors as Trayce Thompson approached home plate following a walk-off home run against Addison Reed.
10. Bill Walton goes mic-side
Aug. 16, 2019
Lucas Giolito struck out 11 over six innings and James McCann launched a grand slam during this 7-2 White Sox victory over the Angels in Anaheim. But they weren't the story of the game. That honor belonged to Bill Walton, the psychedelically colorful basketball Hall of Famer who filled in for Steve Stone as the guest analyst alongside Jason Benetti. The combination provided infinite entertainment, with the following quip from Walton winning the night among his many one-liners:
"I would not be a good catcher," Walton said. "I'm much better at getting high than getting low."