Astros Championship Trophy
Presented by Woodforest National Bank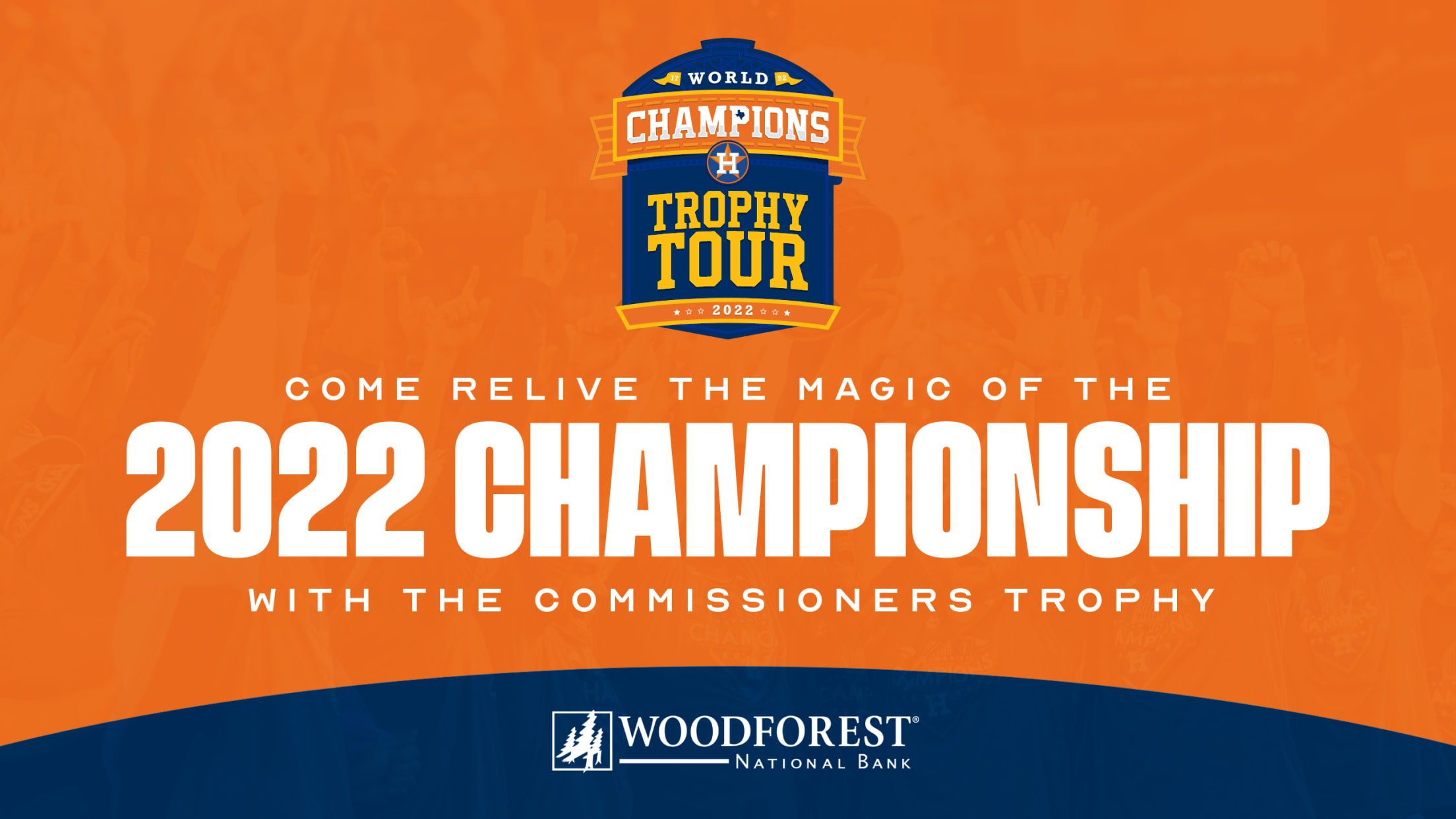 The Astros Championship Trophy Tour presented by Woodforest National Bank is on tour! Come relive the magic of the Astros 2022 World Series run with the Commissioner's Trophy as it makes over 100 stops throughout Texas and surrounding areas. Fans are invited to take photos with the Championship Trophy, free of charge, thanks to the generous support of Woodforest National Bank.
In addition to the tour, the Championship Trophy will be on display at all Monday – Thursday home games from when gates open to 30 minutes prior to first pitch. Get your tickets for the next weekday game and get here early for your chance to take your picture with history.
Please continue to check back here for the most up to date Astros Championship Trophy Tour stops throughout the year.
Trophy Tour Schedule
| Date | Event Name | Venue | Address | Time |
| --- | --- | --- | --- | --- |
| March 29 | Spec's | Spec's #00 | 2410 Smith St, Houston, TX 77006 | 5:00pm-6:00pm |
| March 29 | Cobo's | Cobo's | 2012 Rusk St, Houston, TX 77003 | 6:30pm-7:30pm |
| March 29 | Pitch 25 | Pitch 25 | 2120 Walker St, Houston, TX 77003 | 8:00pm-9:00pm |
| March 29 | East End Backyard | East End Backyard | 1105 Sampson St, Houston, TX 77003 | 9:30pm-10:30pm |
| March 31 | Montgomery County Fair | Montgomery County Fair | 9333 Airport Rd, Conroe, TX 77303 | 2:30pm-3:30pm |
| April 4 | Pluckers | Pluckers: The Linc | 6406 N. I-35 Frontage Rd Ste 2949, Austin, TX 78752 | 11:00am-1:00pm |
| April 8 | Rice Baseball Game | Reckling Park | Reckling Park, Houston, TX 77005 | 1:00pm-3:00pm |
| April 15 | Jersey Village Founders Day | Clark Henry Park | 7804 Equador St, Jersey Village, TX 77040 | 5:30pm-7:30pm |
| April 16 | UH Baseball Game | Darryl & Lori Schroeder Park | 3100 Cullen Blvd, Houston, TX 77004 | 12:00pm-2:00pm |
| April 21-22 | Corpus Christi Hooks | Whataburger Field | 734 E. Port Ave, Corpus Christi, TX 78401 | TBD |
| April 23 | UH Softball Game | Cougar Softball Stadium | 3100 Cullen Blvd, Houston, TX 77204 | 11:00am-1:00pm |
| April 29 | Insperity Invitational Tournament | The Woodlands Country Club | 1830 S. Millbend Dr, The Woodlands, TX 77380 | 12:00pm-1:00pm |
| May 5 | George H.W. Bush Presidential Library and Museum | George H.W. Bush Presidential Library and Museum | 1000 George Bush Dr W., College Station, TX 77845 | 12:00pm-2:00pm |
| May 5 | Texas A&M Baseball Game | Blue Bell Park | 301 Olsen Blvd, College Station, TX 77840 | 4:30pm-6:30pm |
| May 6 | Coffee & Cars | POST Houston | 401 Franklin St, Houston, TX 77201 | 9:00am-11:00am |
| May 6 | Brazos Bend Expo | Brazos Bend State Park | 21901 FM 762, Needville, TX 77461 | 12:00pm-2:00pm |
| May 12 | HCU Baseball Game | Husky Stadium | 7502 Beechnut St, Houston, TX 77074 | 1:00pm-3:00pm |
| May 19 | Texas Sports Hall of Fame | Texas Sports Hall of Fame | 1108 S. University Parks Dr, Waco, TX 76708 | 4:00pm-6:00pm |
| May 27 | Comicpalooza | George R. Brown Convention Center | 1001 Avenida De Las Americas, Houston, TX 77010 | 11:00am-1:00pm |
Event details and times for all tour stops are subject to change