Bullpen role likely for Puk upon return to A's
Left-hander continues to progress in rehab from shoulder strain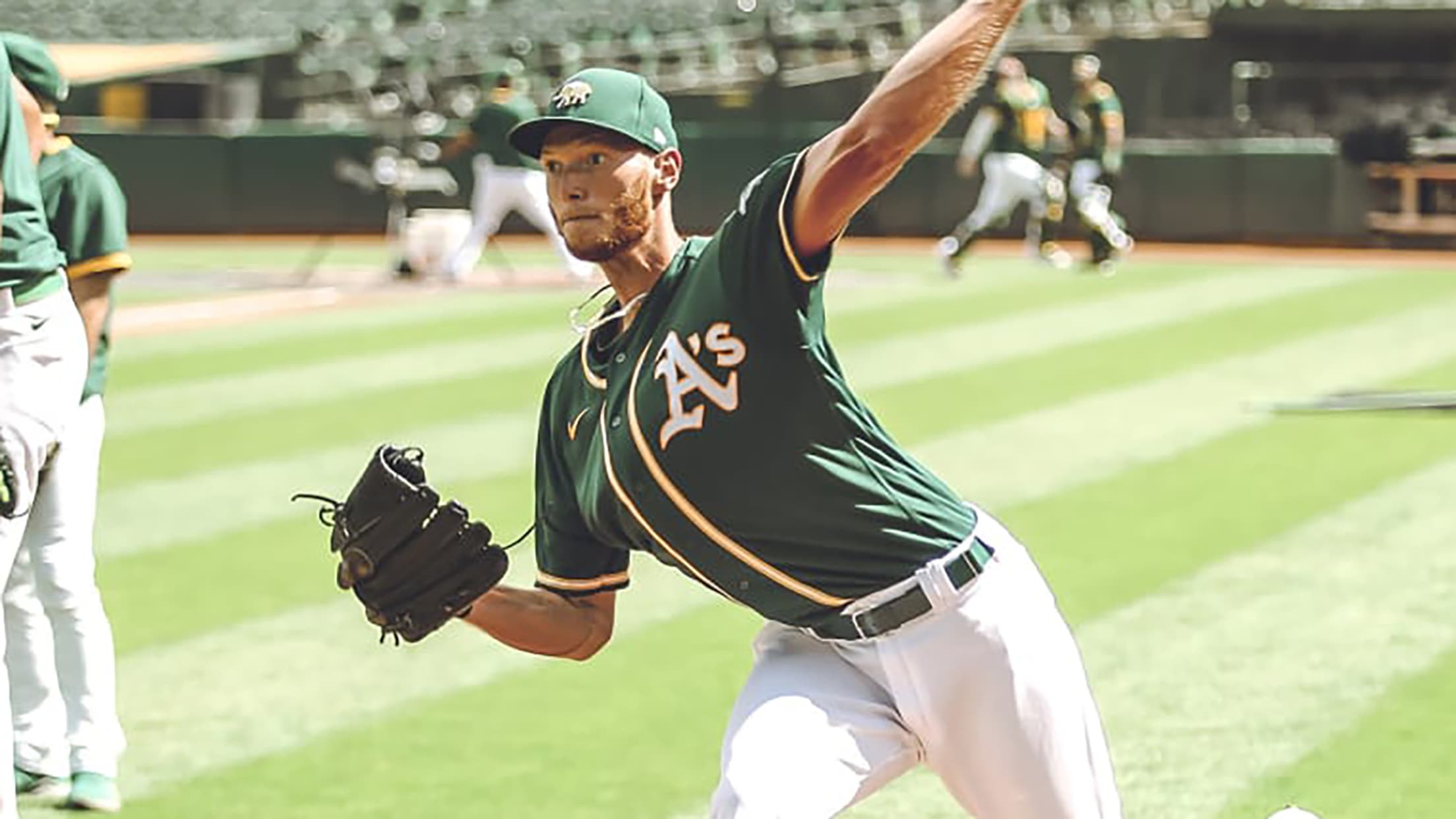 OAKLAND -- A.J. Puk continues to progress from a left shoulder strain that landed him on the injured list just before the start of the regular season. Practicing at the A's alternate training site in San Jose, Puk has been gradually increasing the distance from which he has been throwing
OAKLAND -- A.J. Puk continues to progress from a left shoulder strain that landed him on the injured list just before the start of the regular season.
Practicing at the A's alternate training site in San Jose, Puk has been gradually increasing the distance from which he has been throwing off flat ground. The distance went up from 60 feet to 75 on Wednesday.
A's manager Bob Melvin said Puk has been "feeling good" through each throwing session. But while the two-week mark in Puk's rehab process, when he could begin to advance his activities, is coming up on Friday, Melvin is unsure of a timetable for a return.
"We're not going to push anything," Melvin said before Wednesday's game against the Rangers. "I'll check today to see when he gets on a mound. We're getting close to that two-week period. But still nothing to offer as far as when he would face hitters or anything like that."
Puk, Oakland's No. 3 prospect per MLB Pipeline, was set to move into the rotation this season after impressing in his short time with the A's last year out of the bullpen. However, given the 60-game regular season for 2020, if Puk pitches in the big leagues this season, Melvin said it will most likely be as a reliever.
"I would say that's for sure. I don't know that we would have time. It takes a month or so to build a guy up to be a starter," Melvin said. "It would be difficult at this point. If something transpires in his rehab when he starts throwing off mounds, if something were to happen in the rotation, maybe you can get him up to three or four innings and try to go from there. But if we get him back, it's almost certain that it will be in a bullpen role."
Having a pitcher like Puk -- who can touch triple digits with his fastball -- available in a bullpen role could still be a valuable asset. The left-hander posted a 3.18 ERA in 10 relief appearances for the A's last season, striking out 13 batters over 11 1/3 innings.