Excited A's head to Japan for Opening Series 
An impressionable A's squad will soon hit the streets of Tokyo for an unmatched baseball experience across the Pacific. Manager Bob Melvin has been here before. His trip to Japan with the A's to open the 2012 season proved to be a positive bonding experience. The A's went on to
An impressionable A's squad will soon hit the streets of Tokyo for an unmatched baseball experience across the Pacific.
Manager Bob Melvin has been here before. His trip to Japan with the A's to open the 2012 season proved to be a positive bonding experience. The A's went on to have an inspiring campaign, claiming the American League West division title on the final day of the season.
"I think it went a long way," Melvin said. "We do have a certain group of core guys now that have been together, but it certainly does not hurt. For any of the new guys coming in, you kind of learn about everyone that much quicker. Your families are together, you have functions and so forth, so I think, regardless, it's a team-building-type of thing."
Oakland's quest to build on a remarkable 97-win showing in 2018 begins at the Tokyo Dome against the AL West rival Mariners, with a two-game series to christen the regular season on March 20-21. The club will also play a pair of exhibition games against the Hokkaido Nippon-Ham Fighters on March 17-18.
It will be the A's third trip to Japan since 2008.
"I'm excited to go with all the guys that I care about," third baseman Matt Chapman said. "It should be an incredible experience."
All eyes will be on Japanese icon Ichiro Suzuki, who will suit up for the Mariners for what are presumed to be his final Major League games.
The last time these two teams met in Tokyo, in 2012, Ichiro was embarking on the final season of his initial stint with Seattle, and he rose to the occasion with a 4-for-5 display in the Mariners' Opening Day victory over the A's. Ichiro was traded to the Yankees later that season and joined the Marlins in 2015, before returning to the Mariners last spring.
Melvin managed Ichiro in Seattle in 2003-04 and struck up a friendship with the superstar.
"It's going to be emotional," Melvin said. "At the end of the day, he's on the other side and I know he can impact those games. He's had quite the flair for the dramatic over his career, so I'm hoping he doesn't come up in a situation that can really hurt us. But I think there will be some emotion involved, knowing what he's kind of going through, and I know he's kind of being tugged a ton of different directions.
"I don't even think we're going to be able to get a dinner in together, which we typically do when he's in town."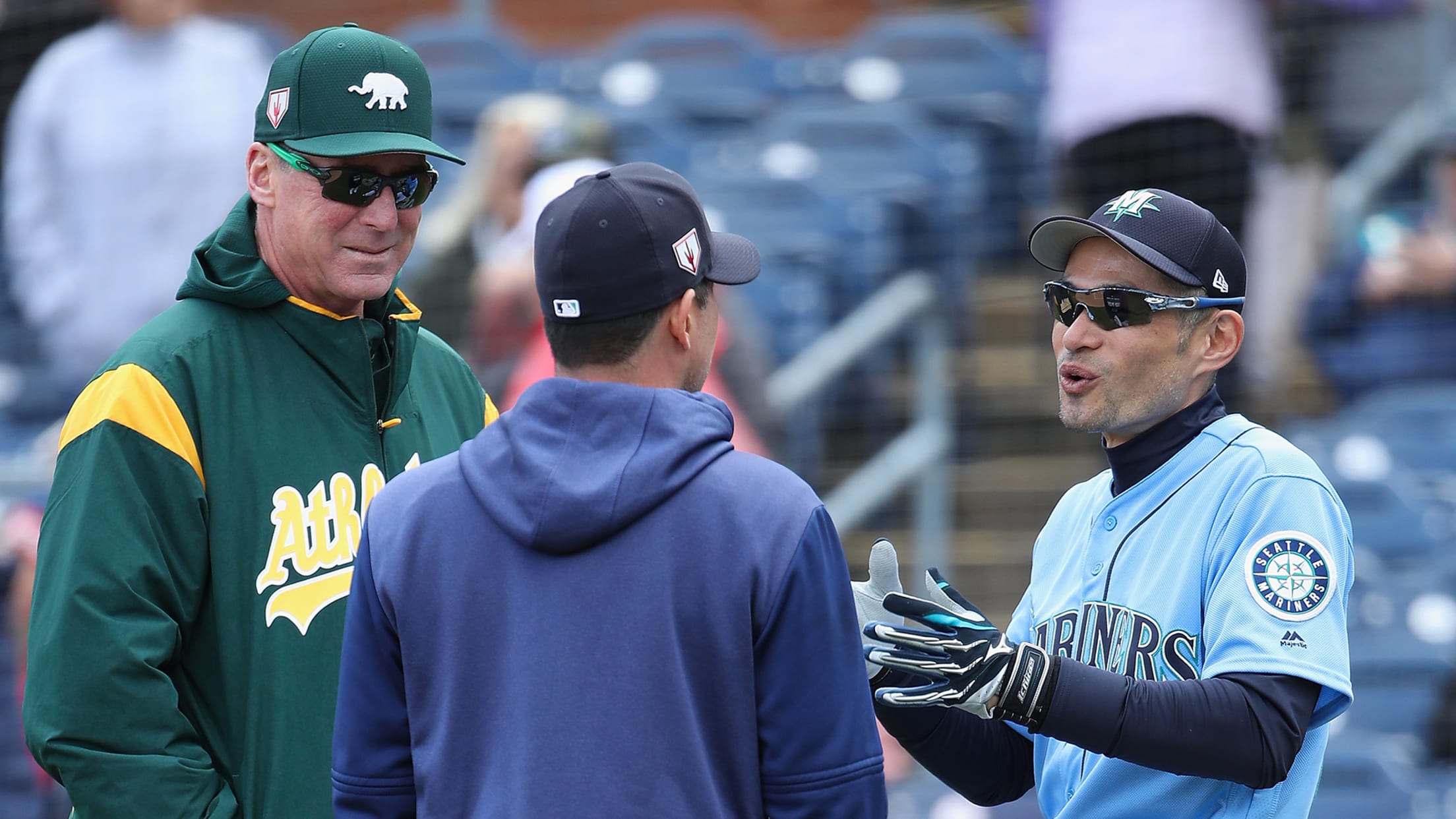 It will be a farewell tour of sorts for Ichiro, a celebration of Japan's most decorated baseball player of all-time. The A's just happen to be along for the ride.
"I don't know that there's been a more impactful player since I've been doing this than Ichiro," Melvin said. "He's beloved there. He's going to be in the Hall of Fame there. He's going to be in the Hall of Fame here. It was the first time we kinda saw what Japanese baseball was all about when he came over here. He's been an ambassador, he's been an entertainer, he's a great player on top of it. He's one of the most impactful players for me in baseball history."
Chapman visited Japan with Team USA when he was 19 years old, and he remembers the deafening sounds of the crowds. Fans routinely shower players with chants.
"The games are loud," he said, "so I'm excited to be part of that again."
Chapman is also returning with a refined palate -- he didn't even like sushi back then -- and an appreciation for what the experience can offer.
"Not very much guidance with a bunch of 19-year-old kids running around being dumb," he joked.
For Melvin, the trip will not only be a bonding opportunity for his young club, but also a learning experience.
"I think you get so caught up in baseball here and your routine here," Melvin said. "They're going to see that baseball is played a little bit differently there and it's looked at differently. The crowds are different. There are a lot of fun things and you'll expand your horizons and understand that, internationally, it's a little different than what we do here, and I think it'll be good for them in the long run."
Jane Lee has covered the A's for MLB.com since 2010.