Embracing the uncertainty: Bassitt used to role
A's righty could find himself in rotation if Luzardo isn't ready for opener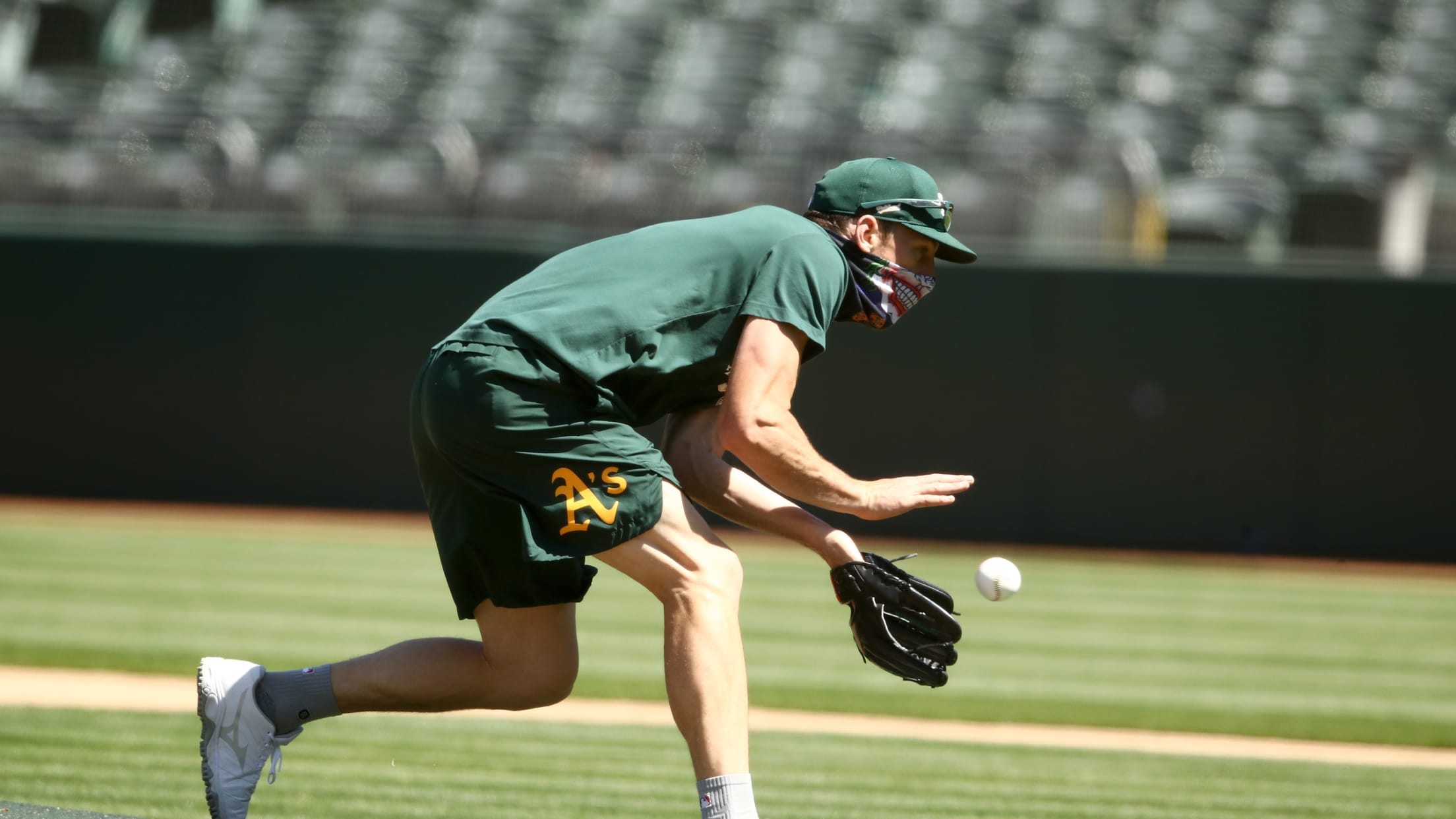 OAKLAND -- Chris Bassitt doesn't know what his role with the A's will be come Opening Day. Similar situations entering the season over the past two years have left him irritated. But Bassitt no longer thinks that way. Perhaps it's the maturity that came with his wife, Jessica, giving birth
OAKLAND -- Chris Bassitt doesn't know what his role with the A's will be come Opening Day. Similar situations entering the season over the past two years have left him irritated. But Bassitt no longer thinks that way.
Perhaps it's the maturity that came with his wife, Jessica, giving birth to their first child, a daughter, last year. Maybe it was his success both as a starter and reliever in 2019 that helped him alleviate those frustrations. Whatever the case, Bassitt is embracing the uncertainty.
"I think Oakland kind of groomed me to be in this role. We know my history behind it, kind of fighting it, but now I embrace it and kind of like the hecticness of it all," said Bassitt, who finished 10-5 with a 3.81 ERA over 28 games (25 starts) last season. "Doing it last year helped a ton. I know I can do starting or relieving at a very high level. I think it's just me understanding my role and staying in the best shape I can to give our team a chance to win whenever I get called upon."
"It's one thing to embrace that role and another to excel at it," A's manager Bob Melvin said. "Last year, he did. I know he comes into this year with the confidence he can do it. It's very difficult to bring pitchers into roles they're not used to, and it almost gives them an excuse if they fail. That's out the window for him."
A spot in the starting rotation could be Bassitt's for the taking after Jesús Luzardo, the A's No. 1 prospect per MLB Pipeline, who was expected to open the season in the rotation, confirmed to MLB.com on Tuesday that he tested positive for COVID-19 and will not be able to rejoin the club until he tests negative for the virus twice. If starting is in Bassitt's future, he admitted that he's a bit behind the others in terms of workload.
While other members of the rotation had nearby training facilities where they could throw bullpen sessions, Bassitt did not have that luxury anywhere close to his home in Washington, N.C. Luckily for Bassitt, though, he spent most of Spring Training working out alongside veteran teammate Yusmeiro Petit, picking up a throwing regimen from Petit that was easily doable at home and utilizing that to maintain his arm strength.
"I was so concerned about keeping my arm in shape. I basically took Yusmeiro Petit's workout routine and did that every day," Bassitt said. "He just long tosses every day and tries to stay directionally correct. I learned his routine and kept doing that. I think my arm is in great shape from doing it. Now it's getting the reps on the mound."
Bassitt threw two innings of live batting practice during Tuesday's workout at the Coliseum, facing Chad Pinder, Ryan Goins, Stephen Piscotty and Khris Davis. He wasn't pleased with the hits that Piscotty and Davis collected off of him, but he was satisfied with the way he felt overall back on a dirt mound.
As far as how many innings he could go, Bassitt believes he can work his way up to a starter's workload by the time the 60-game regular season begins on July 24.
"I think everyone is so unique with this. I think I will be the most behind," Bassit said. "Other starters are built up a lot more than I am. I was long tossing and throwing, I'm in good shape, but guys were throwing sim games. I just didn't have the people where I live to do that.
"Guys are ready to go five or six innings. There's no way I can do that right now. But I think I could easily get built up to five or six innings by Opening Day. It'll be interesting."