Here are 3 ways the Braves could use Duvall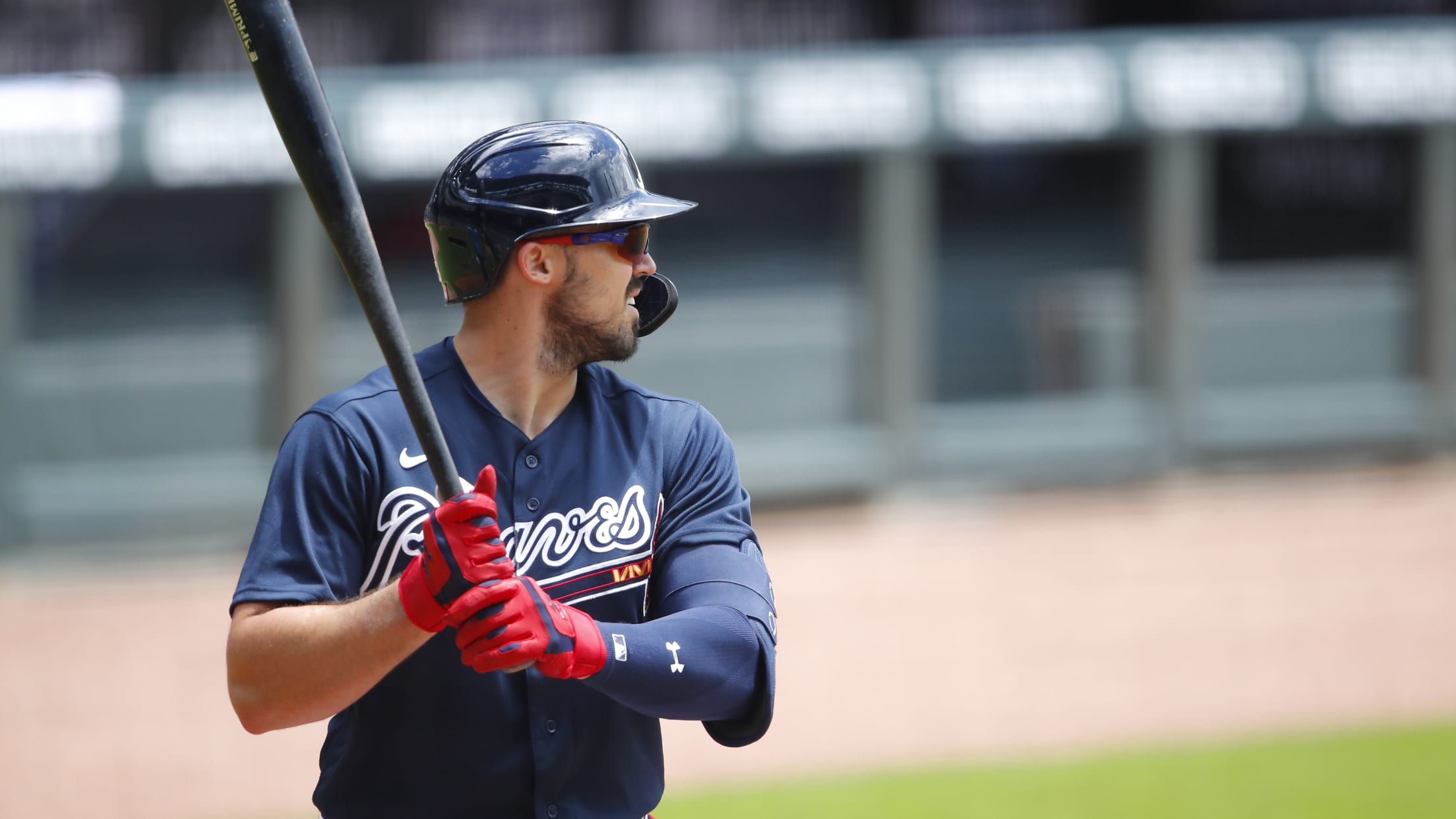 ATLANTA -- Once Nick Markakis elected not to play this year, the Braves gained further reason to be pleased with their decision to remain patient with Adam Duvall. Though Duvall spent most of last season at the Triple-A level, he provided value when Markakis fractured his left wrist, and then
ATLANTA -- Once Nick Markakis elected not to play this year, the Braves gained further reason to be pleased with their decision to remain patient with Adam Duvall.
Though Duvall spent most of last season at the Triple-A level, he provided value when Markakis fractured his left wrist, and then was widely deemed the best option to be added to the lineup for the must-win Game 5 of the National League Division Series.
• Acuña's on-field banter rivaled only by his play
Now, as Braves manager Brian Snitker assesses this year's roster, he knows Duvall could prove to be one of his key players.
"He's going to make our club and probably be a big part of it," Snitker said. "We don't have to make a decision and label anybody. I haven't gone that far. He's going to be one of our outfielders. We'll just wait and see. A lot of this might be matchup-driven."
Here's a look at a few ways the Braves could use Duvall, whose role will be influenced by whether the team opts to use Marcell Ozuna as the designated hitter on an everyday basis:
1. Use Duvall against left-handed starters
This is a given. Duvall produced a 1.130 OPS against lefties last year, and he has a .842 OPS against them since the start of the 2017 season.
Now, the question is where should Duvall play during these starts?
Ozuna is clearly the team's worst defensive outfielder, so the Braves would have the option to hide him in right field like they did with Markakis, who stayed there while Ronald Acuña Jr. patrolled Truist Park's more cavernous left field.
But Ozuna has played just 65 games in right field, and most of those came in 2013. As for Duvall, he's considered a Gold Glove-caliber outfielder in left field. But he has not looked nearly as comfortable in right.
So instead of deciding which of the corner-outfield spots would best suit these two veterans, the Braves would be wise to prioritize defense by keeping center fielder Ender Inciarte in the lineup against left-handed starters.
If the Braves were to do this, they could go with Duvall in left field, Inciarte in center and Acuña in right. Ozuna would be used as the designated hitter with this arrangement.
2. Use Duvall as the everyday left fielder
Before Markakis elected not to play, one option would have been for the Braves to platoon Markakis and Duvall in left field while using Ozuna as the everyday DH.
Given Duvall is far superior than Ozuna defensively, it would still make more sense to have him in left field on a regular basis. But before committing to this arrangement, the Braves would have to account for the fact Duvall has a .706 OPS against right-handed pitchers since the start of 2017.
That's an ugly number compiled over 875 plate appearances. But you have to remember just how bad Duvall was in 2018, especially after the Braves acquired him from the Reds at the Trade Deadline. He hit .199 with a .656 OPS for Cincinnati and then batted .185 with a .489 OPS in 30 plate appearances against right-handers with Atlanta.
When Markakis broke his left wrist near the end of July last year, Duvall came up and hit 10 homers in 120 big league at-bats. He struck out once every 2.7 plate appearances against righties, but he also homered once every 13.5 at-bats against them.
Duvall's potential defensive value in left field could certainly compensate for the swing-and-miss frequency he'd realize while still being a legit power threat against right-handed pitchers.
"He's played every day in the Major Leagues and been an All-Star," Snitker said. "This is a legit guy. We'll evaluate as we go along and see what best serves us as a club."
3. The Pache factor
There's no doubt top prospect Cristian Pache is the best defensive outfielder in the Braves' system. But it remains to be seen when the club might be willing to promote the 21-year-old center fielder, who ranks as the game's No. 13 prospect per MLB Pipeline.
If the Braves were to promote Pache at some point, Snitker would be able to more comfortably sit Inciarte against some left-handed pitchers.
Within this arrangement, Braves fans would get their wish of seeing Pache and Acuña in the same outfield. Meanwhile, Duvall could keep the defense strong in left as Ozuna serves as the DH.
Mark Bowman has covered the Braves for MLB.com since 2001.