Acuña's on-field banter rivaled only by his play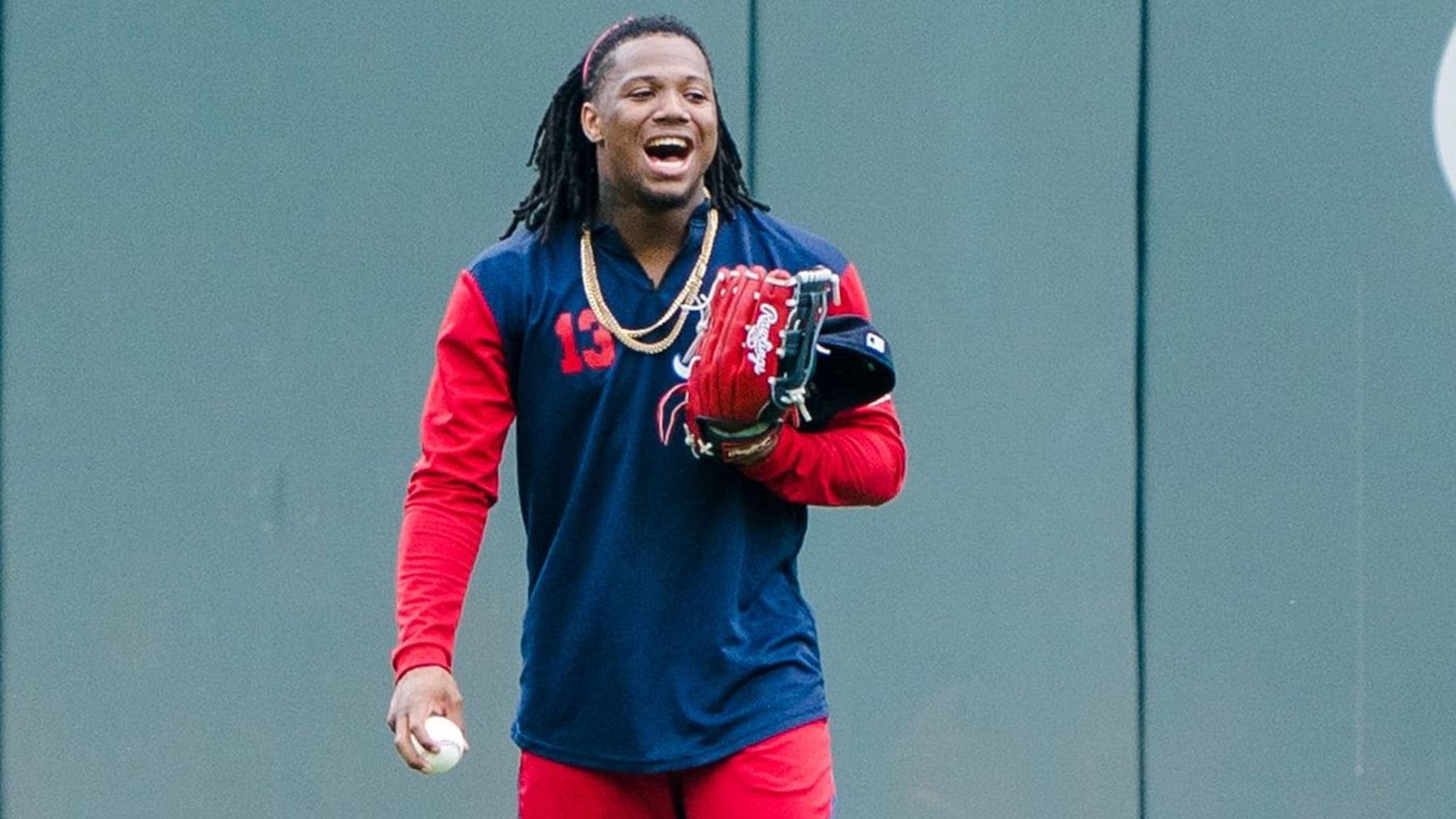 ATLANTA -- Though Truist Park has remained relatively quiet as the Braves have played controlled scrimmages the past two days, Ronald Acuña Jr. has kept things lively with the energy he brings to the park on a daily basis. As Acuña stood out in right field, his chatter and singing
ATLANTA -- Though Truist Park has remained relatively quiet as the Braves have played controlled scrimmages the past two days, Ronald Acuña Jr. has kept things lively with the energy he brings to the park on a daily basis.
As Acuña stood out in right field, his chatter and singing has been clearly heard in the press box. The All-Star outfielder talked smack as good friend Johan Camargo batted against Sean Newcomb on Thursday. He then howled when Camargo struck out.
• Here are 3 ways the Braves could use Duvall
A short time later, Marcell Ozuna was the target of Acuña's enthusiastic banter. After Ozuna lined a single to right field off Grant Dayton, Acuña stood at the top of the dugout and playfully asked for the ball to be sent to him to be preserved as a keepsake.
Once Acuña received the ball, he waved it as he looked toward Ozuna, who had gone 2-for-24 before Spring Training was shut down in March.
"It's kind of typical of this group," Braves manager Brian Snitker said. "They've demonstrated over the past few years just how much fun they have playing baseball."
• Acuña sets sights on joining this exclusive club
The scene will be much different this year as the coronavirus has created reason to wonder when stadiums might once again be filled with fans. But it has been refreshing to see Acuña, Ozzie Albies and some of the other Braves show some genuine excitement while simply going through the process of playing scrimmage games on Wednesday and Thursday.
Albies ranged halfway into right field and neared the line before diving and nearly securing an Austin Riley pop fly on Thursday. Social distancing will prevent the young second baseman from sharing some of the same playful exchanges he's had in the past with Acuña and third-base coach Ron Washington.
But Albies also has shown he is going to continue having fun.
"You know you're going to have a lot of chit-chat and a lot of friendly talk, but a lot of smack talk at the same time," Mike Foltynewicz said. "That's really what keeps you enjoying it and what keeps a smile on your face."
Folty vs. Acuna pic.twitter.com/QeqJqmKdzw

— Mark Bowman (@mlbbowman) July 9, 2020
2021 schedule released
The Braves will open next year in Philadelphia on April 1 and they will welcome the Phillies to Atlanta for a home opener on April 9. These stood as two of the highlights of the 2021 schedule, which was released on Thursday afternoon.
The Braves had been scheduled to play the American League West before the coronavirus forced the schedule to be changed and reduced to 60 games this year. Atlanta will spend next year matching up against American League East opponents, including the Yankees and Red Sox, who are both scheduled to visit Atlanta next year.
• Complete Braves 2021 schedule
Check out the 2021 Atlanta Braves schedule!

🔗 https://t.co/TIYzwtYdEZ pic.twitter.com/bMCjHwyDD4

— Atlanta Braves (@Braves) July 9, 2020
Thursday's home runs
New Braves catcher Travis d'Arnaud showed his power potential when he hit a Newcomb pitch over the center-field wall during Thursday's first inning.
Charlie Culberson also showed the quarantine didn't affect his ability to make timely contributions. "Charlie Clutch" hit a two-run homer off Grant Dayton during the final inning of the scrimmage.
But the day's most encouraging homer was hit by catching prospect William Contreras. Acuña barely moved from his spot in right field when Contreras hit an opposite-field homer off Newcomb.
Contreras totaled just six homers over 381 combined at-bats at the Class A Advanced and Double-A levels last year. But over the past few days, Snitker has gotten the sense the 22-year-old catcher might be developing some of the same power All-Star brother Willson Contreras, 28, has shown over the past few years with the Cubs.
"I was out there [in right field] shagging balls with Austin Riley and [Contreras] was hitting balls like a left-handed pull hitter," Snitker said. "His body looks better. I think he used the time off to his benefit. He's a young man who is maturing. He looks great physically."
A new view
Snitker enjoyed the perspective he had as his players played scrimmage games the past couple of days. Bench coach Walt Weiss, pitching coach Rick Kranitz and Snitker were seated behind a portable screen that was positioned alongside the warning track behind the plate.
"I told Kranny, 'You don't get that feel when you watch a game on TV,'" Snitker said. "I enjoyed that as much as anything, just seeing the action on the pitches and everything. That was fun to be that close to those guys."
Upcoming schedule
The Braves will work out throughout the weekend and then begin playing intrasquad games on Monday. Snitker has indicated he'll likely play some of the games at night to allow the players to adjust their body clocks for the season.
Mark Bowman has covered the Braves for MLB.com since 2001.