'95 Braves join '57 club in Bracket 2 Rd of 16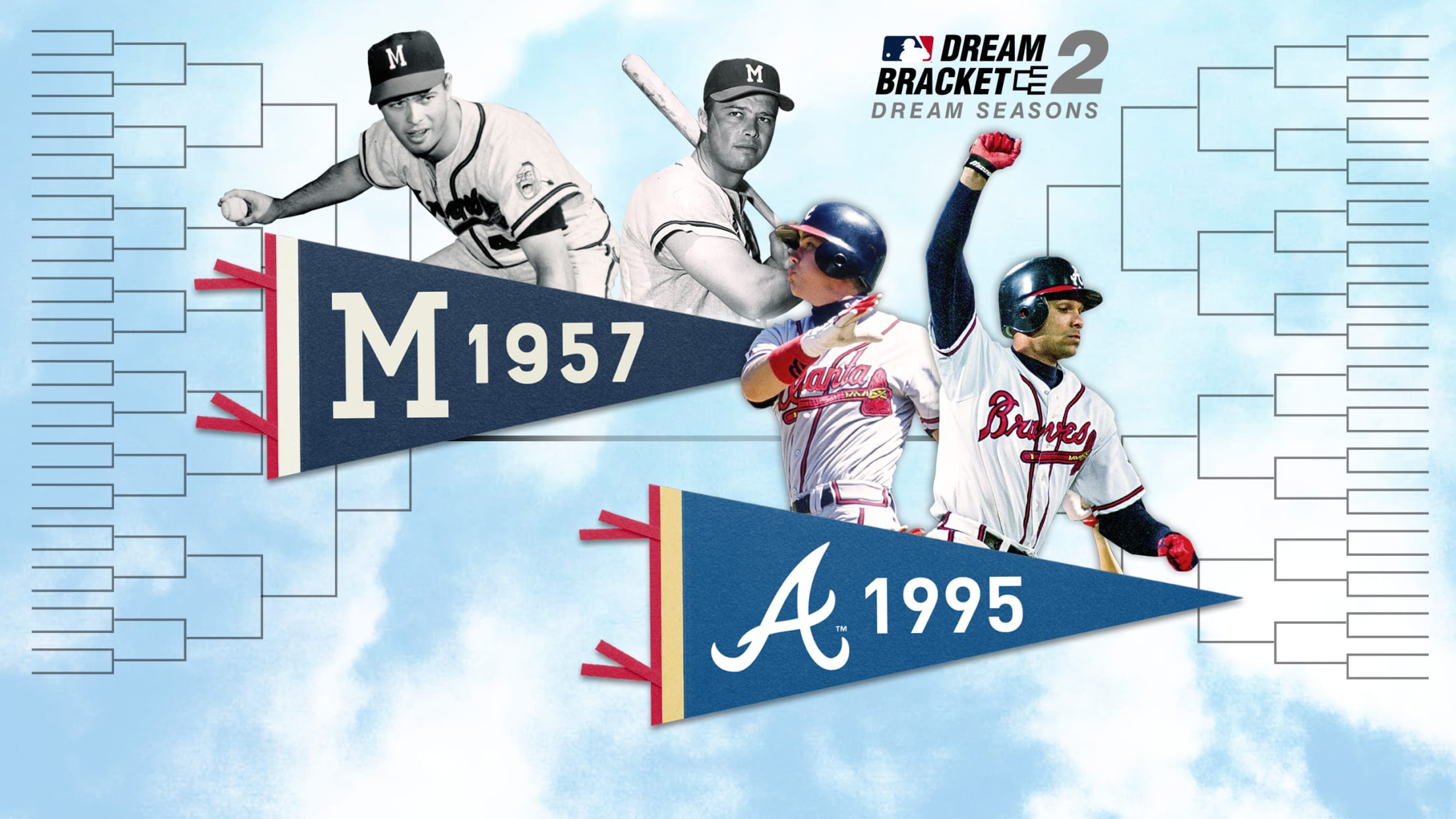 The 1995 Braves have created excitement with the many late-inning home runs they have already hit within the first two rounds of MLB Dream Bracket 2: Dream Seasons. Fred McGriff pushed the 1995 Braves past the 2004 Cardinals with a walk-off homer in Game 5 of a best-of-seven Round of
The 1995 Braves have created excitement with the many late-inning home runs they have already hit within the first two rounds of MLB Dream Bracket 2: Dream Seasons.
Fred McGriff pushed the 1995 Braves past the 2004 Cardinals with a walk-off homer in Game 5 of a best-of-seven Round of 32 series. The Braves first baseman also hit a go-ahead homer in the ninth inning of Atlanta's Game 1 victory.
The 1995 Braves will now match up against the 2019 Nationals in the Round of 16. Javy Lopez's home run erased a ninth-inning deficit and gave this Braves team a Game 7 win over the 2011 Brewers in the first round.
The 1957 Braves, who swept the '67 Cardinals in the Round of 32, will face the '75 Reds in the Round of 16.
The simulated competition, featuring many of the greatest teams in baseball history, is being produced by Out of the Park Baseball 21, MLB's most realistic strategy game (PC and Mac).
Here's a look at how the 1995 Braves advanced.
• Complete Dream Bracket 2 rosters
Game 1: Braves 2, Cardinals 1
Chris Carpenter threw seven scoreless innings and St. Louis' bullpen kept the Braves scoreless until McGriff hit a two-run homer off Jason Isringhausen in the ninth. Chipper Jones, who had produced one of the four hits allowed by Carpenter, began the ninth with a single. The lone run Greg Maddux allowed over six innings was tallied by Reggie Sanders, who scored on a Tony Womack single after being hit by a pitch in the fifth.
Game 2: Cardinals 8, Braves 3
Edgar Renteria sparked a two-run second with a leadoff homer and Larry Walker chased Tom Glavine with an RBI single in St. Louis' two-run fourth. Cardinals starter Matt Morris allowed two runs over five innings and drew strong support from Julian Tavarez, Jason Marquis and Dan Haren, who combined to cover the game's final four innings.
Game 3: Braves 11, Cardinals 4
Chipper Jones homered off Woody Williams and Lopez chased him with a grand slam in Atlanta's five-run first inning. Ryan Klesko contributed four knocks to the 17-hit attack that supported John Smoltz, who struck out 13 and allowed two hits over seven innings. So Taguchi and Renteria doubled in St. Louis' four-run ninth against Kent Mercker.
Game 4: Braves 5, Cardinals 3
Mark Lemke and Klesko homered during the decisive three-run fourth inning against Jeff Suppan. Braves starter Steve Avery owned a 5-0 lead until the Cardinals tallied a three-run sixth that included a Tony Womack triple and Scott Rolen RBI single.
Game 5: Braves 8, Cardinals 7
With Maddux and Carpenter both chased before the end of the fifth, this anticipated pitchers' duel proved to be more of a slugfest. After Mark Wohlers struck out the first two batters he faced, the Cardinals produced a game-tying, two-run ninth against the Braves' closer. Scott Rolen's RBI double and Edgar Renteria's RBI single sent the game to extras and led to Atlanta opting to use Glavine in the 10th. After Glavine worked a scoreless frame, McGriff immediately ended the game with a leadoff solo shot off Isringhausen.
Mark Bowman has covered the Braves for MLB.com since 2001.