With Petco Park ideally located at the hub of San Diego County's public transportation network, taking the Trolley, Coaster or bus to the ballpark area is a convenient way to go.
Public Transportation Details
BUS
Parking for private charter buses is extremely limited and must be requested at least 14 days prior to the game. Please contact your Sales Representative for more information.
Metropolitan Transit System (MTS) Bus and Trolley ServiceAll three (3) MTS Trolley lines, plus select bus routes, provide direct, frequent service to Petco Park. Three Trolley stations – 12th and Imperial, Park and Market, and the Gaslamp Quarter Station (Fifth Avenue and Harbor Drive) – are all within two blocks of the stadium. Fans can also use MTS' free Park & Ride lots along MTS Trolley and Rapid routes for easy access to Petco Park! Trolley service runs every 15 minutes or better during most game times, and will also offer enhanced service after most night games. View the MTS Trolley map (including stations with parking).
Check www.sdmts.comfor routes and schedules, or sdmts.com/padres for additional gameday travel information.
Paying for your Fare:
Padres fans can purchase fares right on their phone with the PRONTO mobile ticketing app in the App Store or on Google Play. Simply load money to your phone, then scan your app on a validator to pay for a one-way fare (good for two hours of travel time).
PRONTO cards are also available for purchase or reload at all Trolley ticket machines or retail partner locations. Every passenger must have their own PRONTO card or app to ride.

Family Promotions: Starting May 1, all riders 18 & under will be eligible for free transit rides with a Youth PRONTO card or app account! Learn more. In addition, every Saturday & Sunday, two children (12 and under) can ride Trolley for free with any paying adult (18 and over, no PRONTO card or app account necessary).
Service Information:
New for 2022: The UC San Diego Blue Line Trolley now runs north to UTC, with stations at Balboa Avenue, Clairemont, UC San Diego and more!
A number of Trolley and Rapid stations offer free parking. Visit sdmts.com/padres to view a list of Park & Ride lots with travel times, or the MTS Park & Ride page. Please note that new stations along the extended Blue Line (Tecolote Road, Balboa Avenue, and Nobel Drive) offer significant parking. Also note that parking is no longer available at Stadium Station or Grantville Station along the Green Line, due to construction (best alternative lots along the Green Line are Hazard Center and Old Town).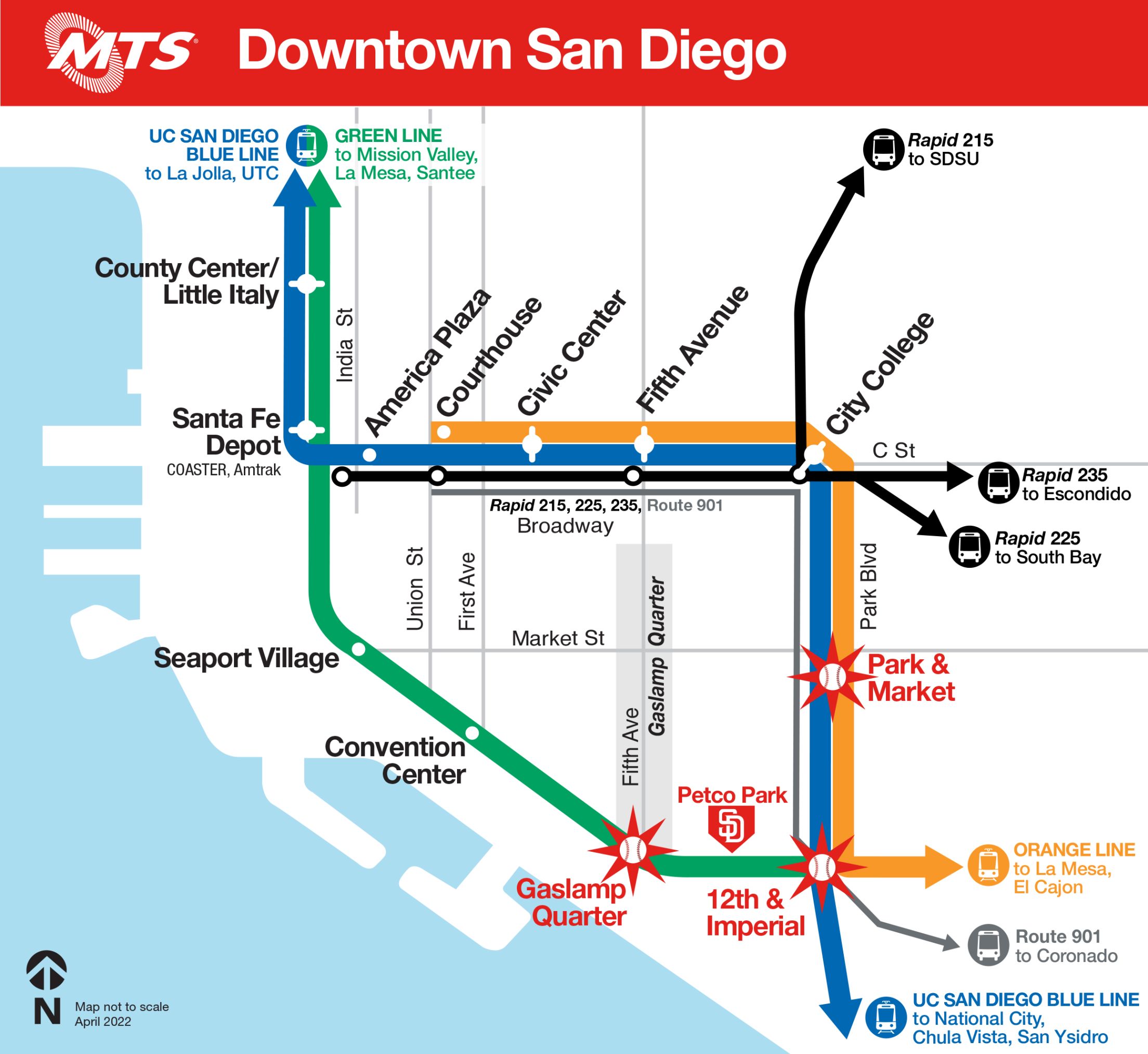 Take the COASTER from North County
The COASTER train is a convenient way to travel from North County to every Padres home game. Easily accessible with free parking from coastal communities, the COASTER lets you avoid summer traffic on Interstate-5. Visit www.GoNCTD.com/Coaster or call (760) 966-6500 for complete map and schedule information.
COASTER Regional Day Passes are available for $15.00 per adult, or $7.50 for children between the ages of 6 and 18 and include a round trip on the COASTER and FREE Trolley connections to Petco Park. Children 5 and under ride free. COASTER schedules and prices are subject to change. COASTER Regional Day Passes are available at ticket vending machines at COASTER stations or via the PRONTO mobile ticketing app (available for iOS and Android devices). Consumption or possession of open containers of alcoholic beverages is strictly prohibited on the COASTER, and all NCTD vehicles and property.
Take Amtrak Pacific Surfliner from Orange County and Los Angeles
Amtrak Pacific Surfliner offers 11 trips each day to Santa Fe Depot in downtown San Diego from Los Angeles, Orange County and North San Diego County. The Pacific Surfliner travels along a scenic coastal route between Orange County and San Diego, offing a convenient alternative to sitting in traffic on Interstate 5. Each Pacific Surfliner train features spacious, reclining seats; power outlets; complimentary Wi-Fi; and a Café car offering a variety of snacks, sandwiches, and beverages, including local craft beer. Visit PacificSurfliner.com or call 800-USA-RAIL for schedules, fares, and reservations.
From the Santa Fe Depot, take a 25-minute stroll to Petco Park or board a southbound Green Line Trolley to the Gaslamp Quarter Station or 12th & Imperial (about a 12-minute trip).
For additional Trolley, bus (Breeze & MTS), COASTER train or paratransit information:
Go on line at www.sdmts.com
In San Diego County dial 511
TTY/TDD in San Diego dial (619) 234-5005
TTY/TDD in North County dial (888) 722-4889
From outside San Diego County call (619) 233-3004
By Ferry
The San Diego Bay Ferry departs from the Coronado Ferry Landing Shopping Center to 5th Ave Landing (behind the Convention Center) starting at 9:10 a.m. and recurring every half-hour until 9:40 p.m (10:40 p.m. on Fridays and Saturdays). Returning from 5th Ave Landing to Coronado starting at 9:25 a.m. and recurring every half-hour until 9:55 p.m. (10:55 p.m. on Fridays and Saturdays). The ferry costs $5 per person, each way. Children 3 and under are free. Subject to change: for more information, please refer to www.flagshipsd.com/cruises/coronado-ferry.