MRI set as Clevinger's biceps pain returns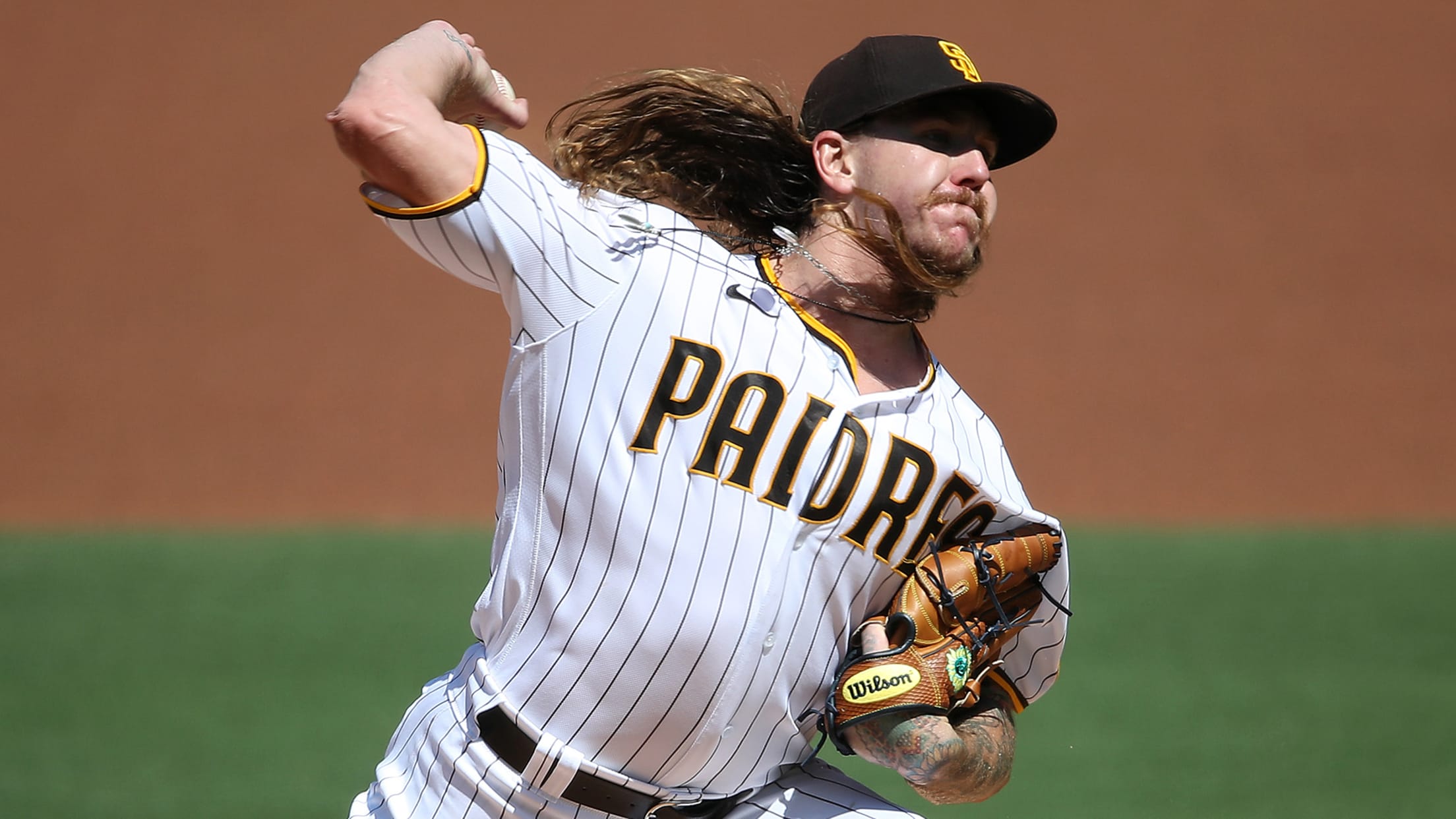 SAN DIEGO -- From the moment they acquired him as their Trade Deadline prize, the Padres envisioned handing the ball to Mike Clevinger for the franchise's first playoff game in 14 years. They're now one week away from the start of the National League Wild Card Series. Suddenly, Clevinger's status
Hosmer back in fold; Clevinger scratched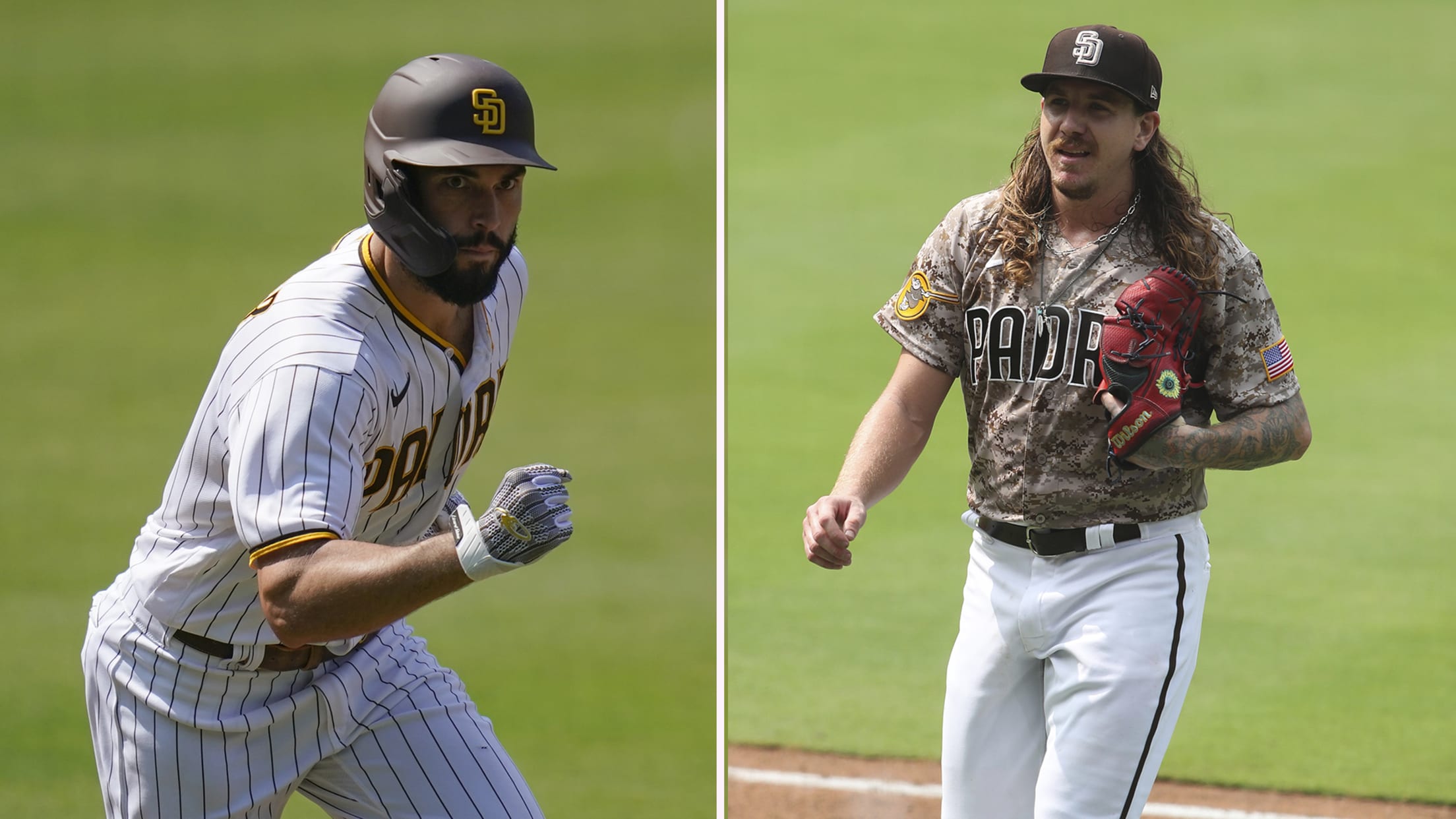 SAN DIEGO -- On the verge of their first postseason in 14 years, the Padres welcomed their veteran first baseman back into the fold -- then tempered news of Eric Hosmer's return with a worrying revelation about their ace. Right-hander Mike Clevinger, originally scheduled to start Saturday's game against the
Sprained ankle casts uncertainty for Paddack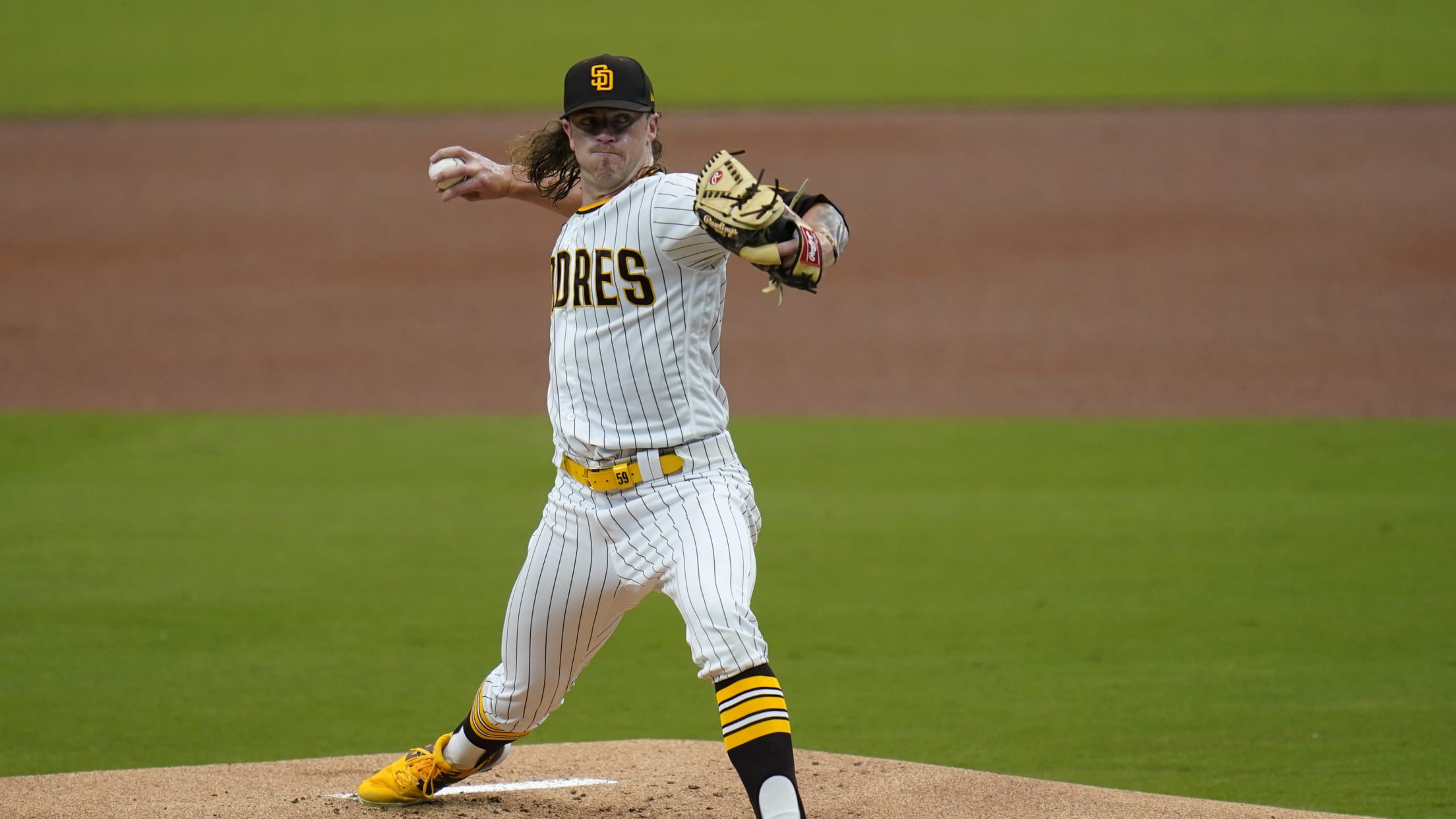 At some point in the next two weeks, the Padres' decision makers will sit down to map out the team's first postseason roster in 14 years. Chris Paddack is running out of time to ensure that his name is on it. The Friars continued cruising toward the playoffs with a
Pham takes BP, might return next week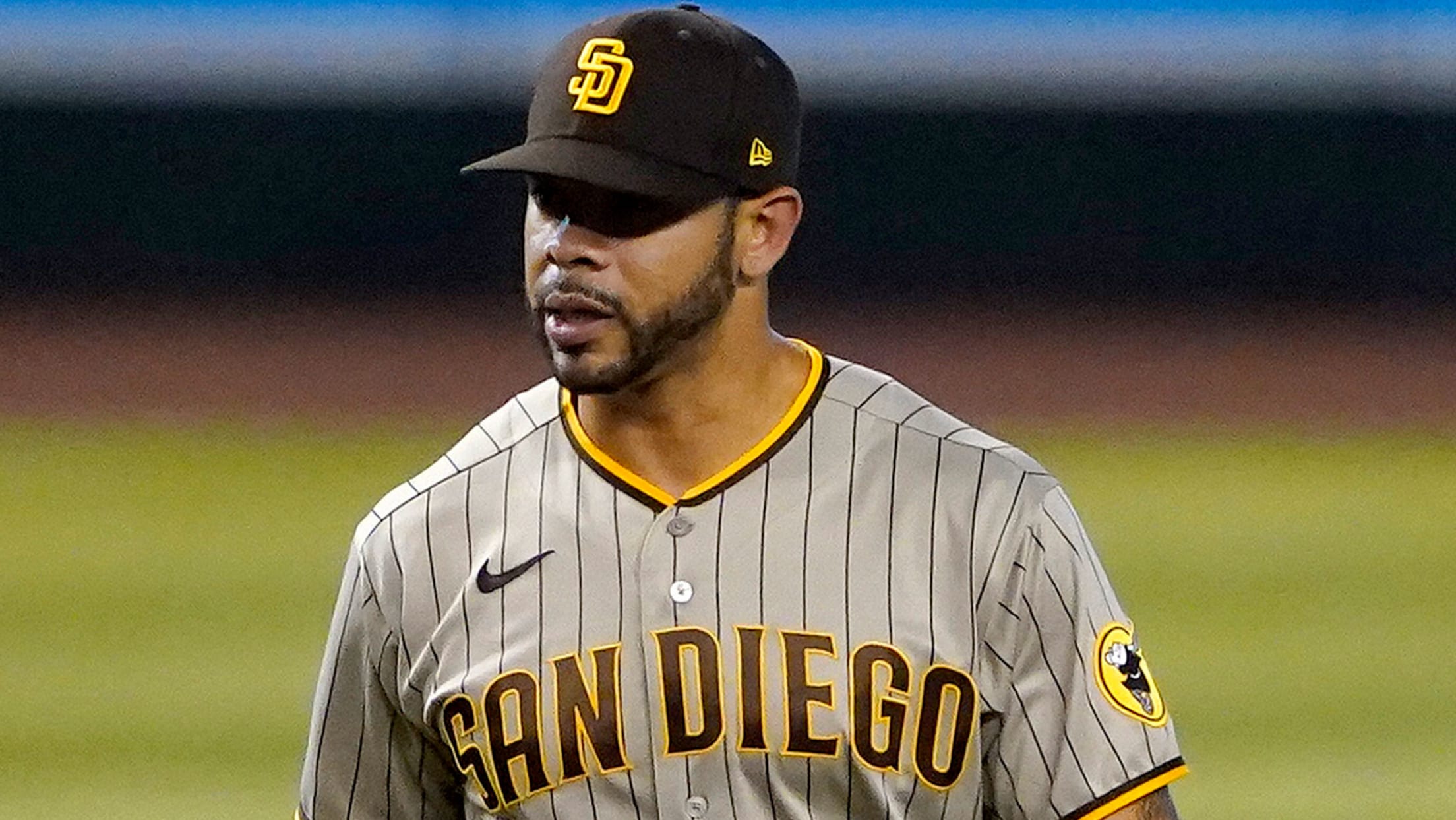 SAN DIEGO -- What happens when you take baseball's top offense and add the elite on-base weapon it's been missing for most of the season? The Padres should find out soon enough. Tommy Pham has made serious progress in his recovery from surgery for a broken hamate bone on his
Fractured finger sends Hosmer to injured list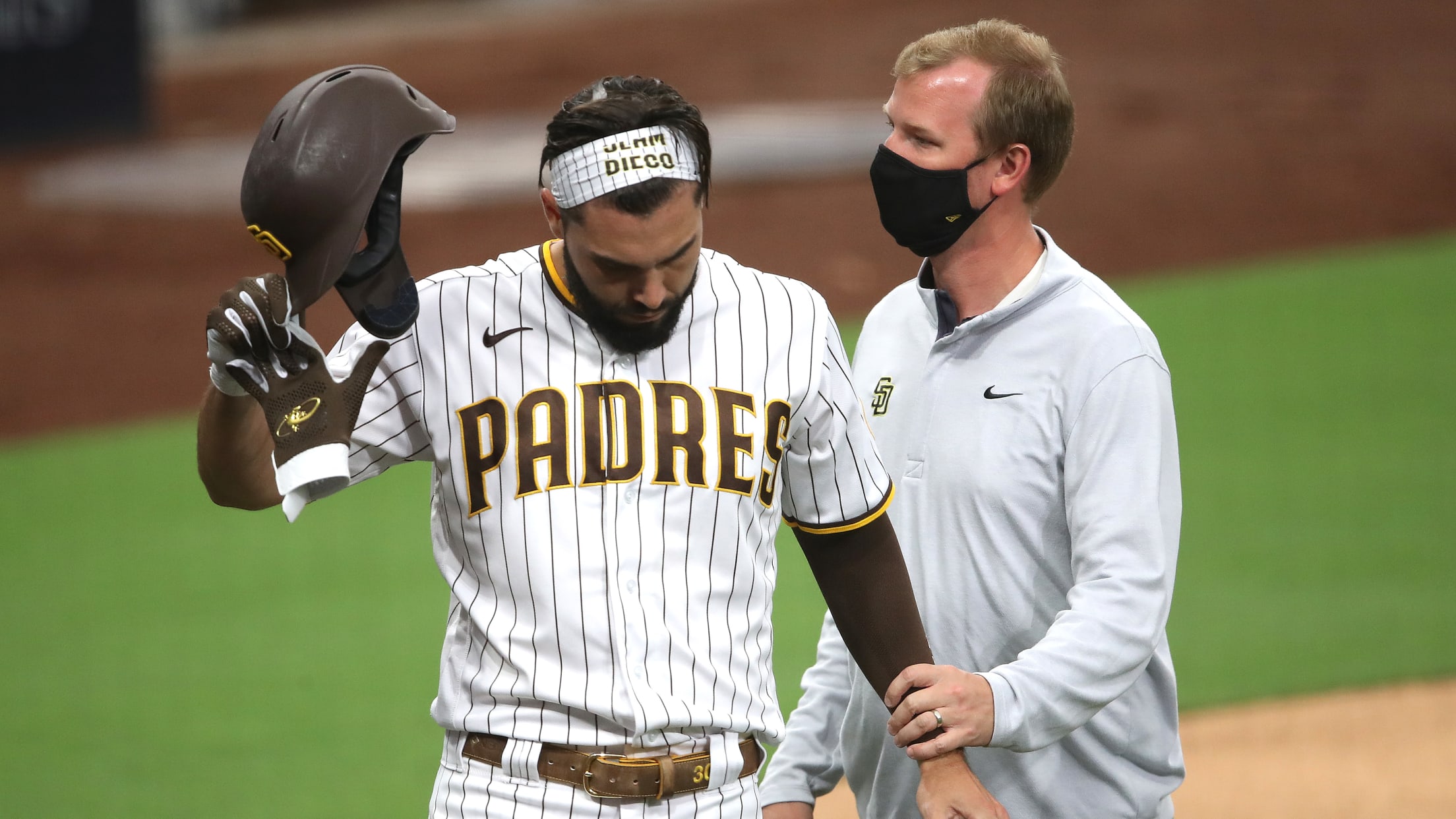 SAN DIEGO -- Eric Hosmer's best season as a Padre was derailed in inconceivable fashion on Monday night -- with a two-strike bunt attempt that resulted in a fractured left index finger. Hosmer was removed from the Padres' 1-0 win over the Rockies after he was hit with a fastball
Wrist sprain puts Campusano on injured list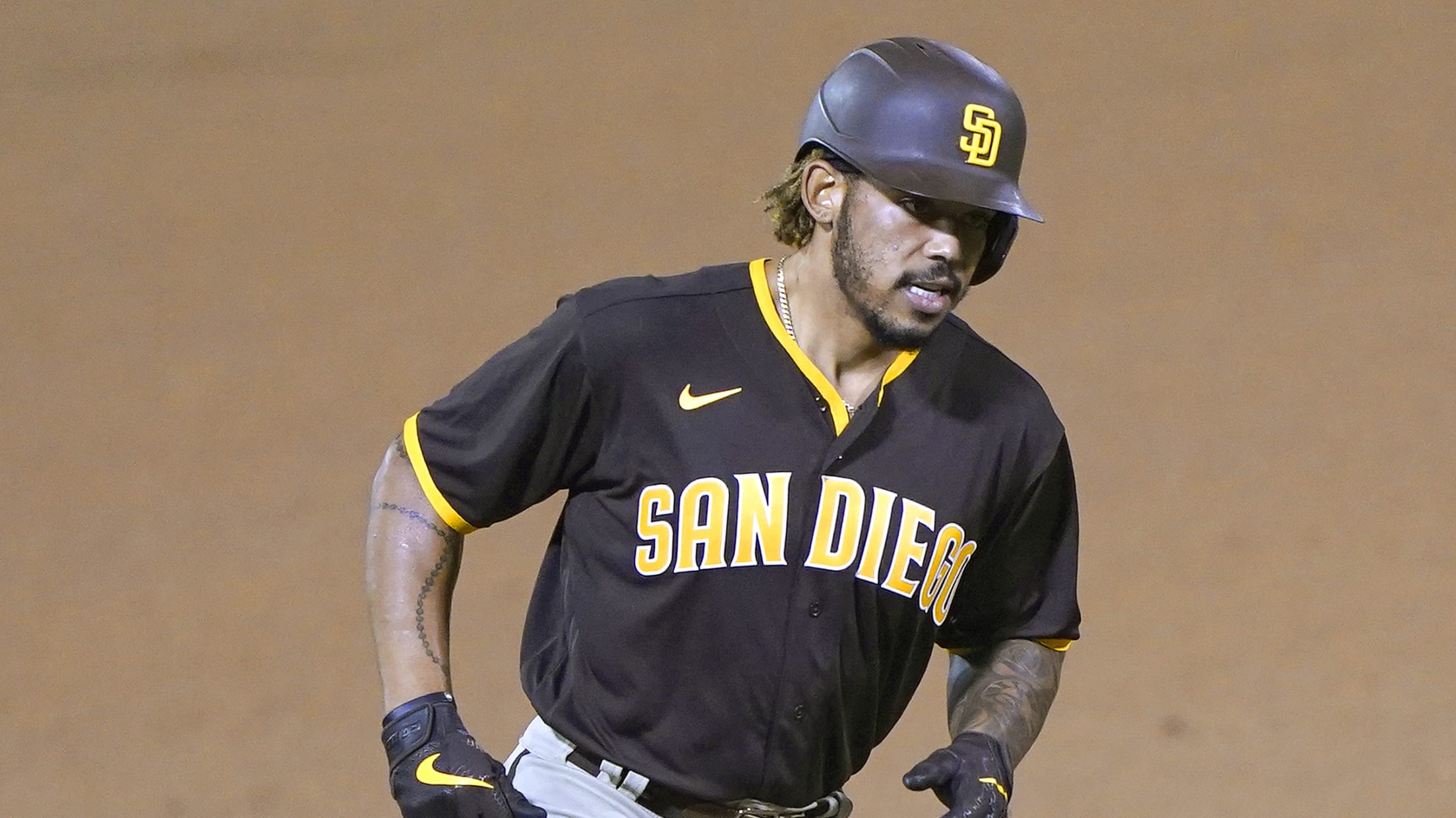 Luis Campusano will have to wait for a follow-up to his impressive big league debut. The 21-year-old catcher homered on Friday after earning his promotion earlier in the day. But he was scratched from Saturday's game and landed on the 10-day injured list Sunday with a left wrist sprain. Campusano,
Pagán, Myers to IL as new Padres arrive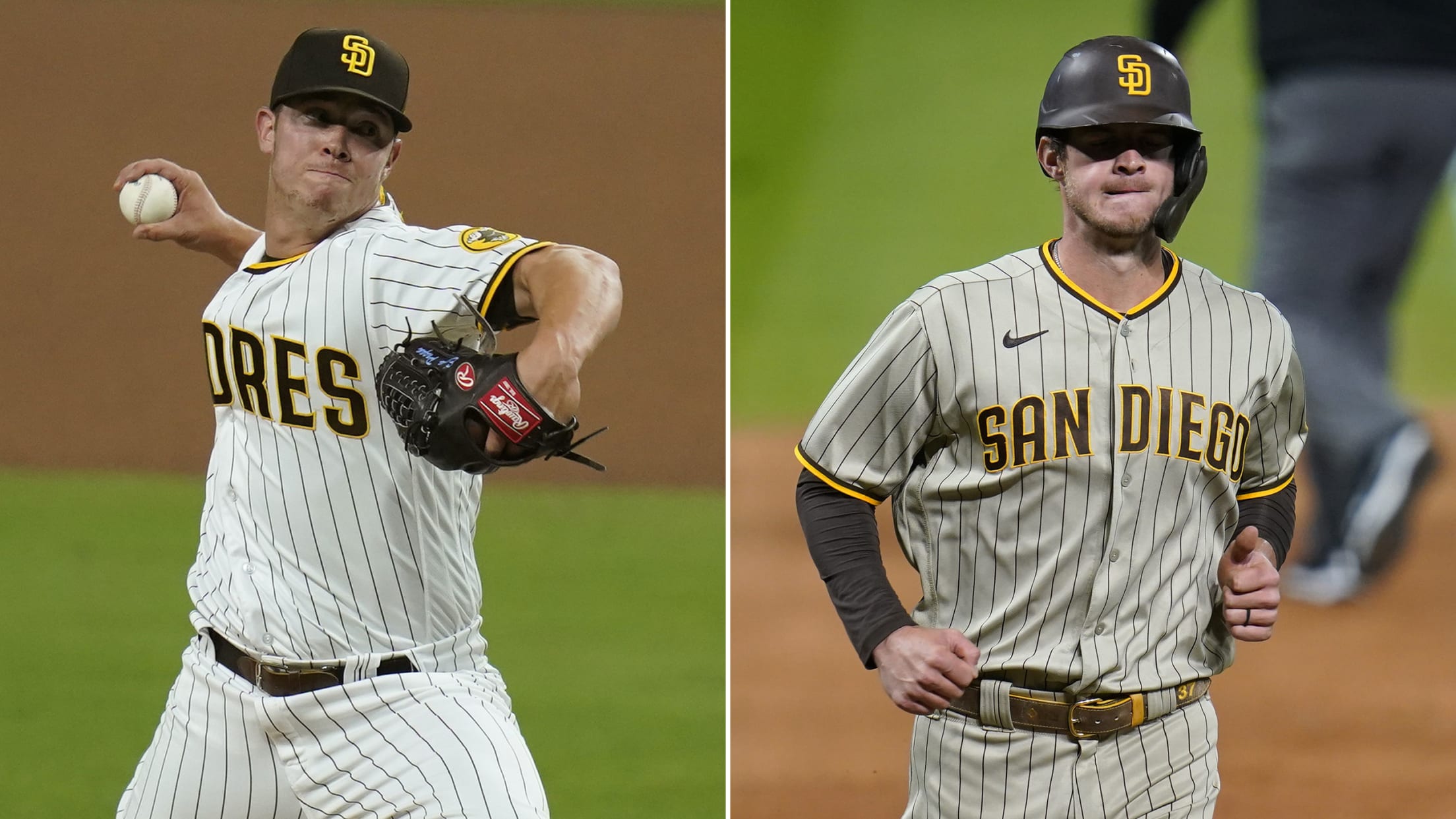 When the dust settled on one of the busiest Trade Deadlines for any team in history, the Padres had a full day of roster shuffling on their hands Wednesday. That included Emilio Pagán and Wil Myers landing on the injured list. Pagán is dealing with right biceps inflammation, but the
Padres scratch Morejon, activate Pomeranz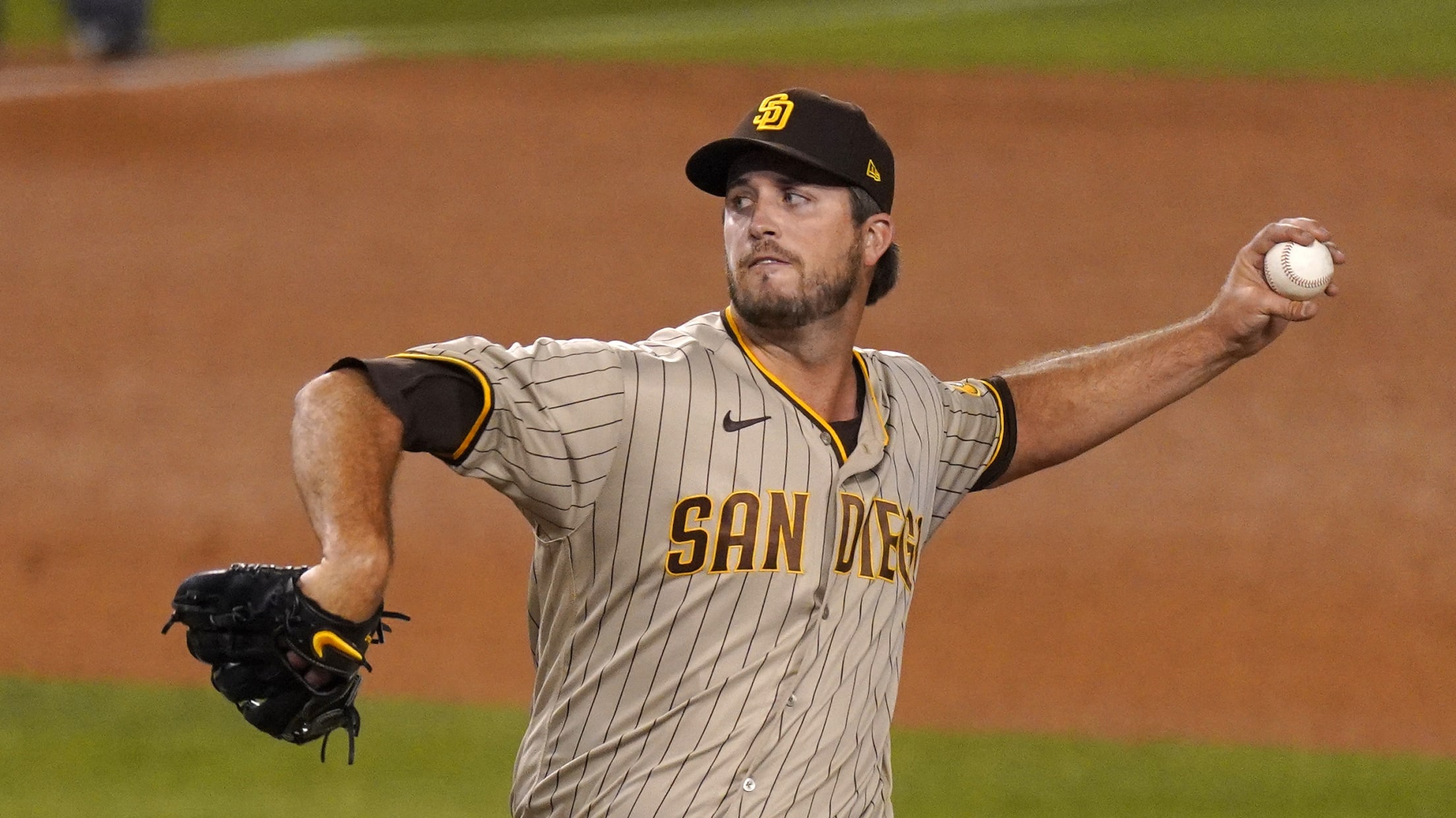 Padres left-hander Drew Pomeranz, who was sidelined 10 days due to a strain in his pitching shoulder, was activated from the injured list on Saturday. But the optimism surrounding Pomeranz's return was tempered a bit with this bit of news: fellow left-hander Adrian Morejon has landed on the IL in
Yates (elbow) hopes for possible Oct. return
Padres closer speaks for first time since surgery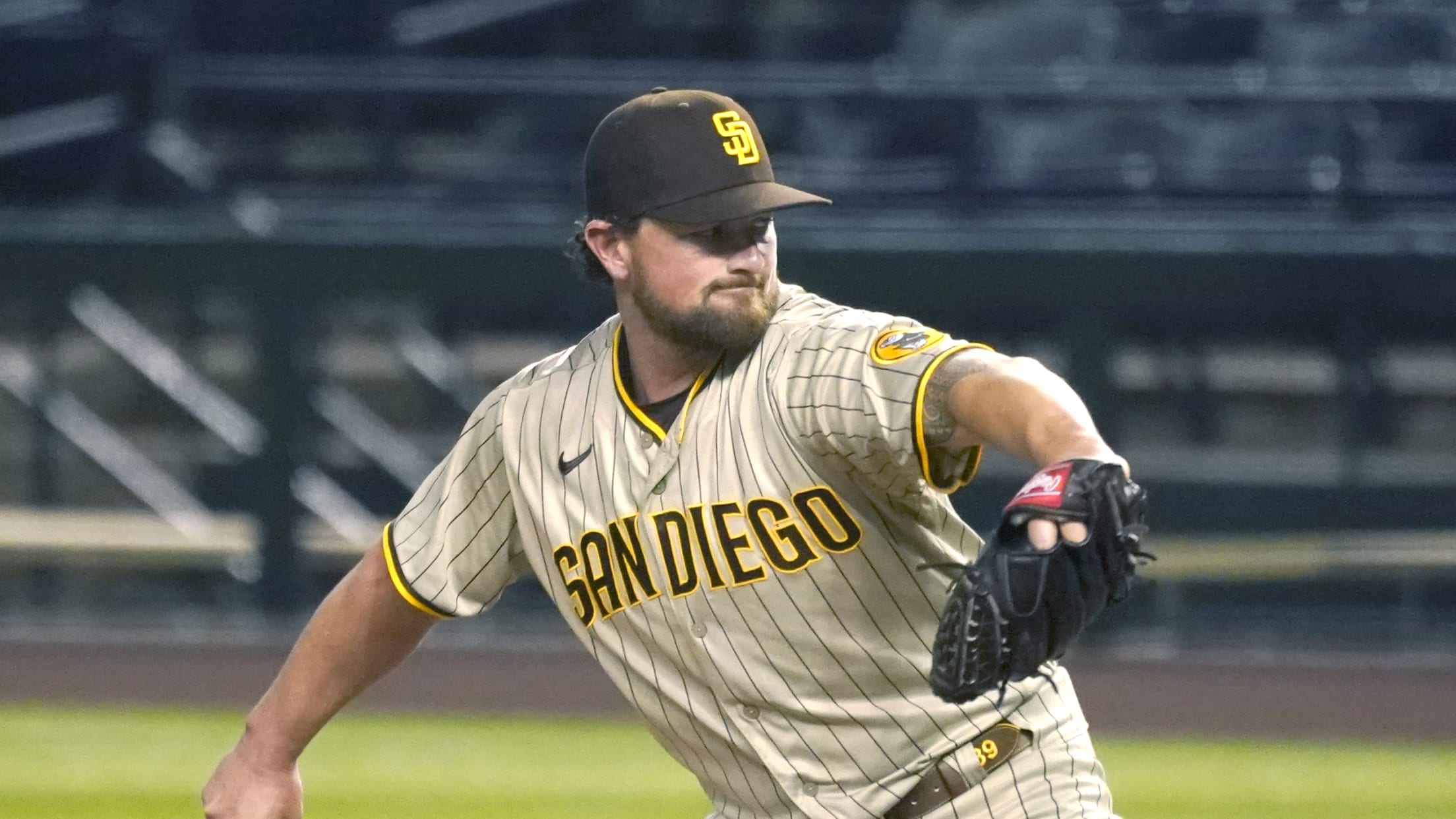 SAN DIEGO -- Padres closer Kirby Yates isn't ruling out an October return, should San Diego make a postseason run. But given the variables in play, Yates also wouldn't commit to that as his target just yet. Last week, the veteran right-hander underwent surgery to address bone chips in his
Pomeranz placed on IL with shoulder strain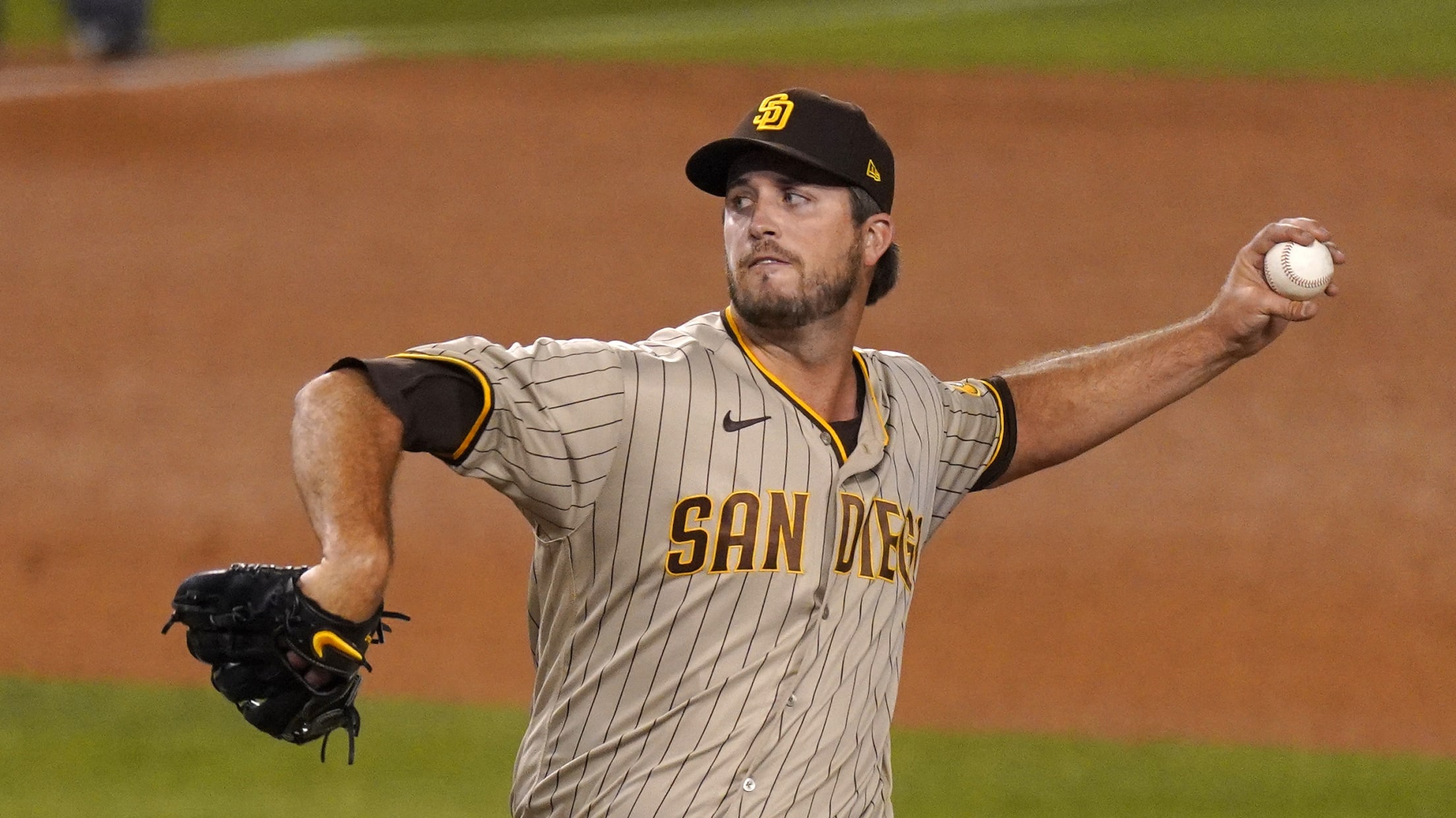 SAN DIEGO -- In the season's first four weeks, Drew Pomeranz had established himself as a worthwhile investment and the Padres' most reliable relief arm. Now, they'll be without the veteran left-hander for at least a week -- and possibly more. Pomeranz landed on the injured list on Friday evening
Yates likely to need season-ending surgery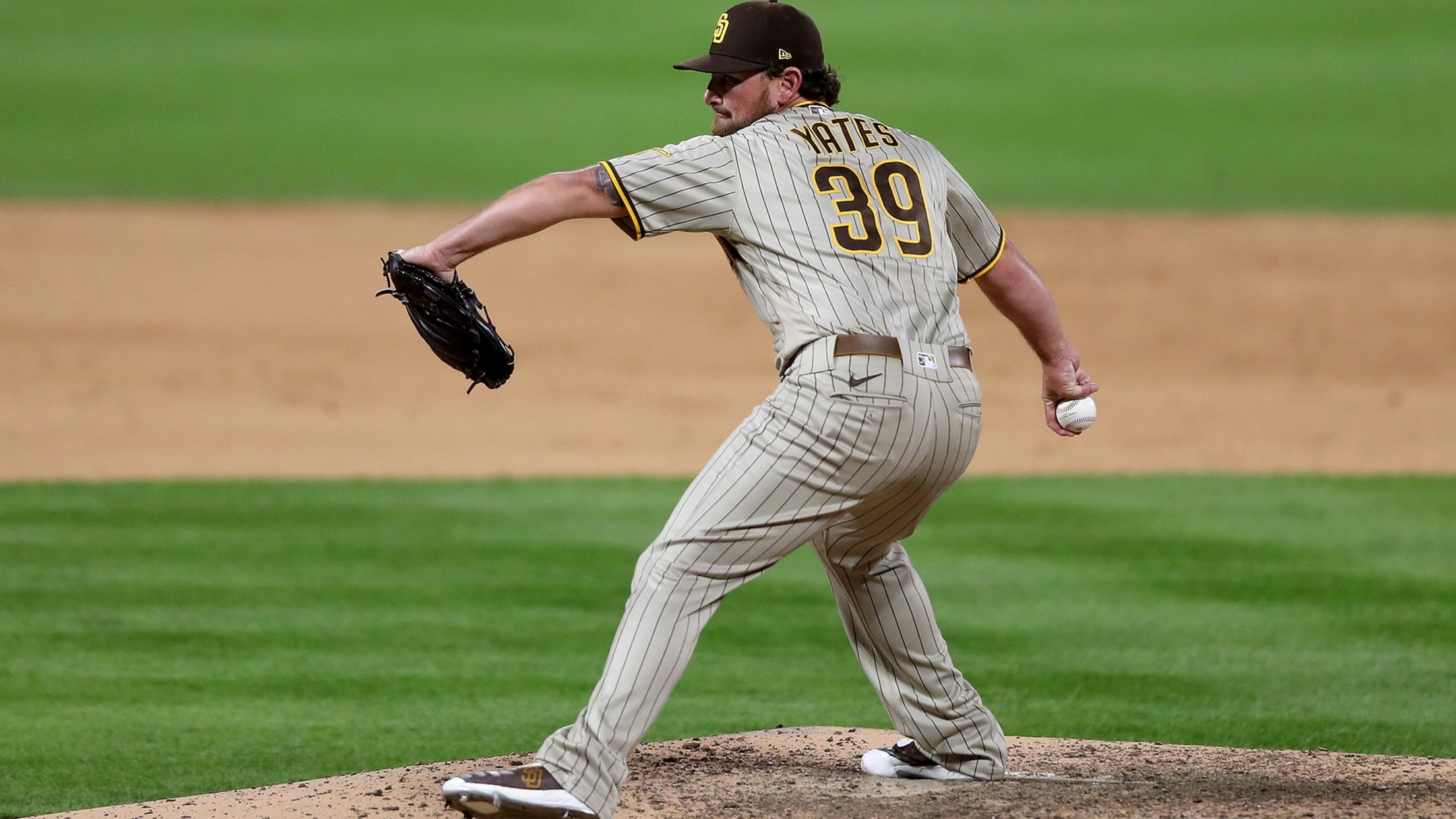 Kirby Yates -- who rejuvenated his career in San Diego, where he made the leap from waiver claim to All-Star -- may have thrown his final pitch for the Padres. The veteran closer got a second opinion on his ailing right elbow on Monday, and he seems likely to undergo
Padres recall Torrens as Mejía lands on IL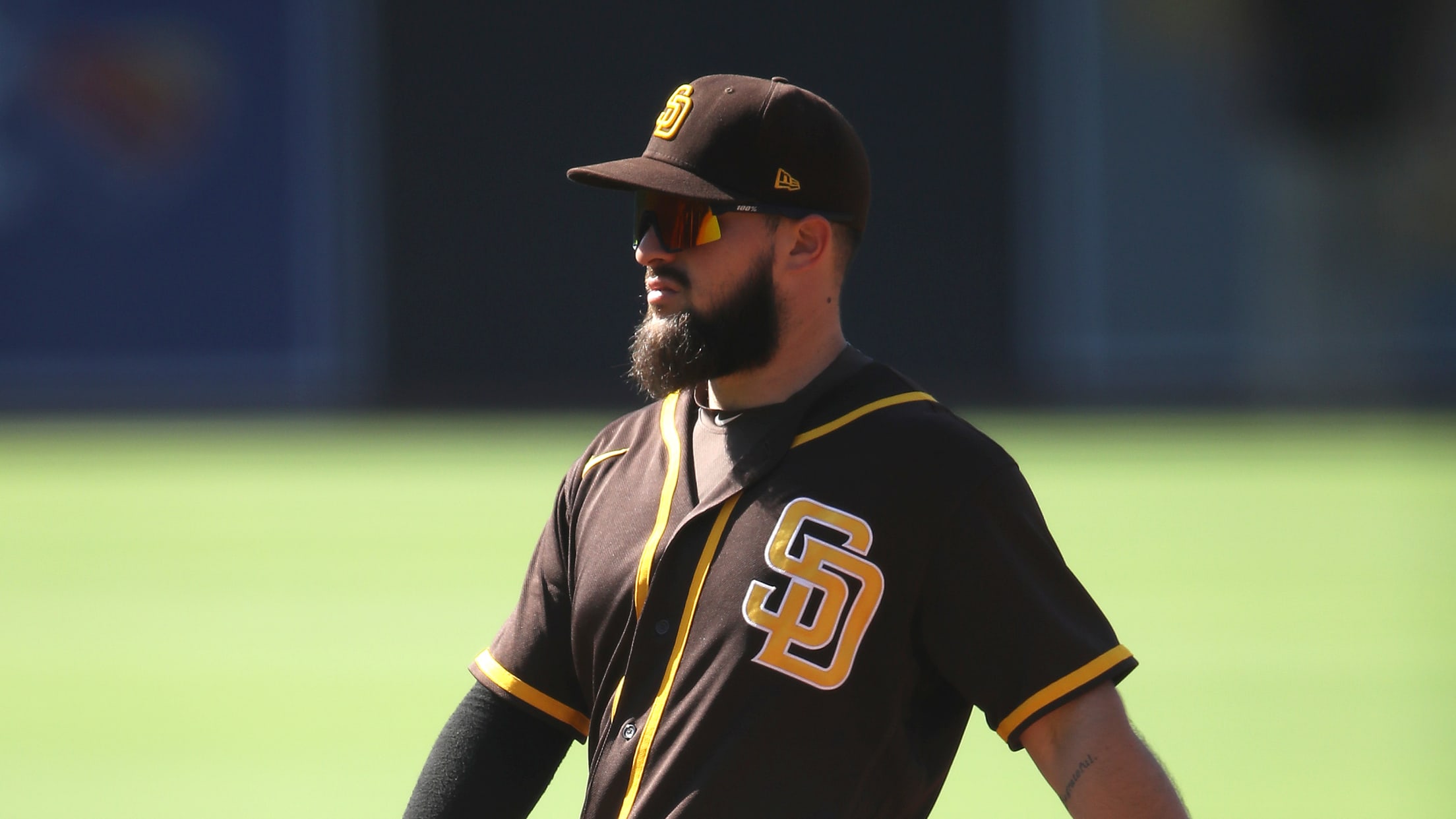 The Padres' long-awaited catching shakeup arrived out of necessity ahead of Monday's game against the Rangers. San Diego promoted Luis Torrens to the big league club, where he will take the place of Francisco Mejía, who was placed on the injured list with a left thumb contusion. It's a like-for-like
Pham (broken hand) to miss 4-6 weeks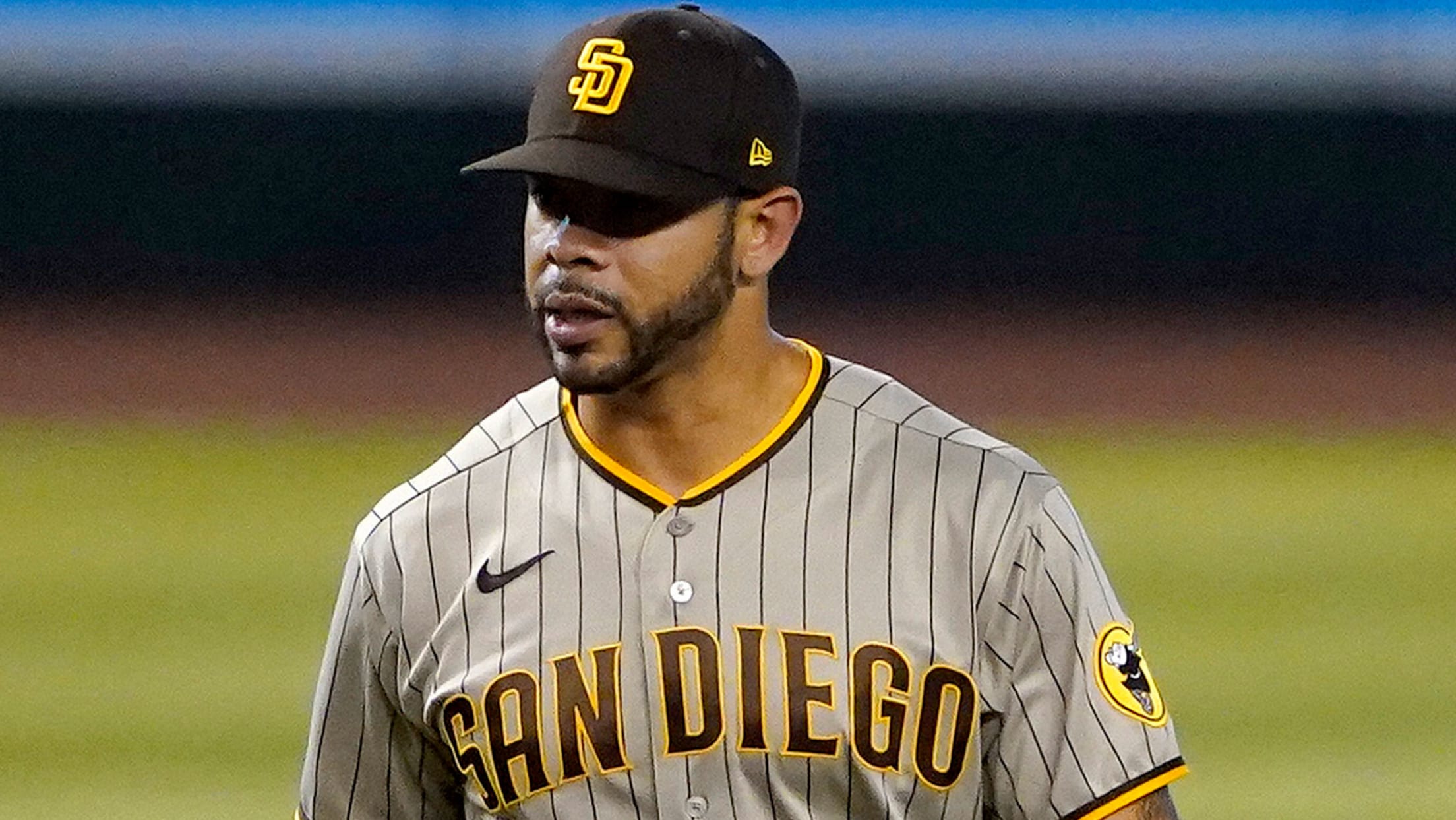 Padres outfielder Tommy Pham is expected to miss four to six weeks after undergoing surgery on Monday for a broken hamate bone in his left hand, manager Jayce Tingler said. Pham sustained the injury while swinging at a pitch in the ninth inning of a 5-4 loss in Arizona. He
Pham (leg cramps), Myers (back) exit early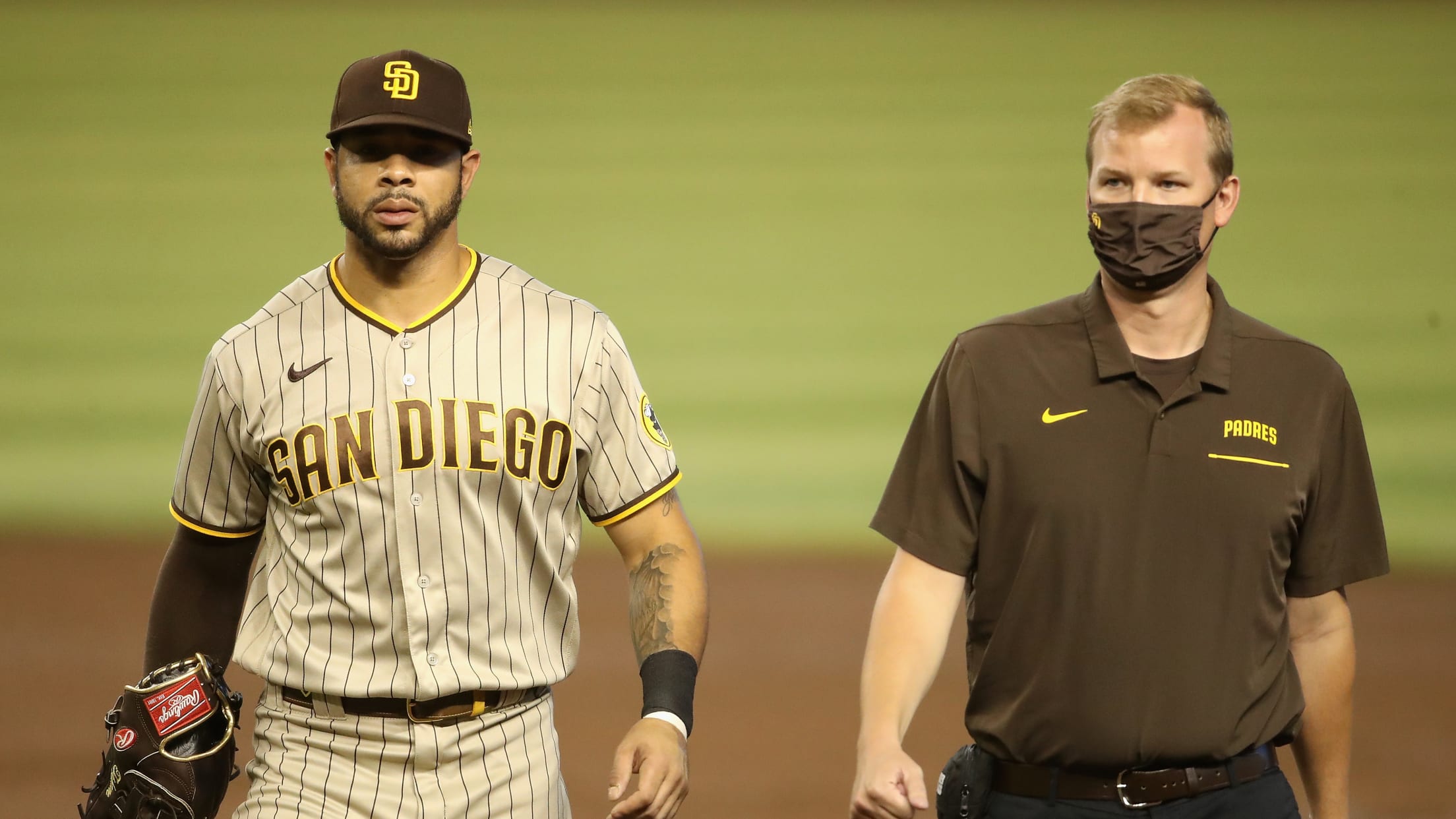 Left fielder Tommy Pham was removed from the Padres' 7-6 loss to the D-backs on Saturday night at Chase Field in the second inning because of cramping in both calves, the team announced. Three innings later, right fielder Wil Myers departed because of back tightness. Pham fielded what appeared to
Closer Yates (elbow) lands on injured list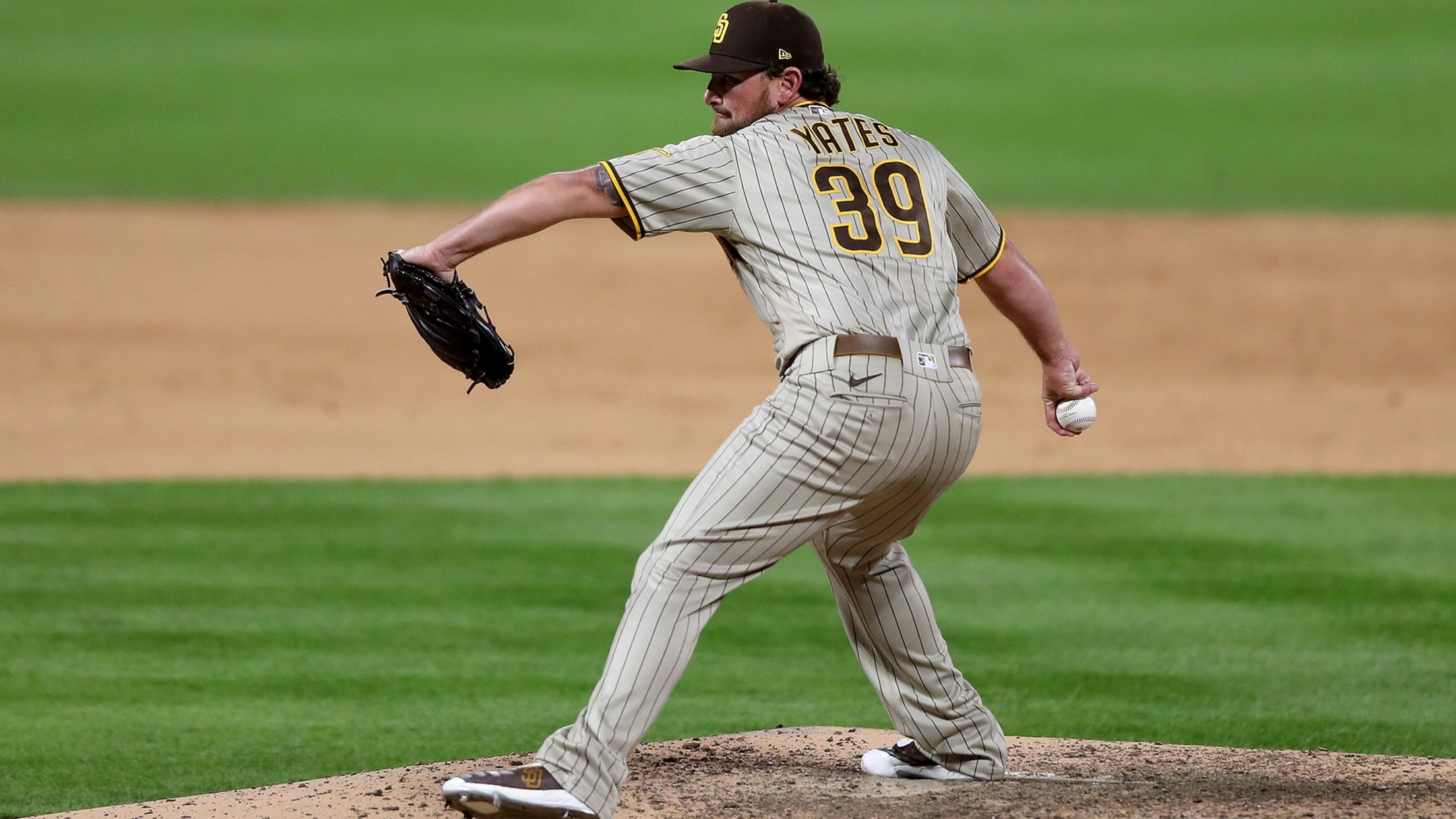 The Padres placed right-handed pitcher Kirby Yates on the 10-day injured list with right elbow inflammation and recalled right-handed pitcher David Bednar on Saturday. The team's closer was removed from the Padres' 5-1 loss to the D-backs at Chase Field in the eighth inning Friday night after six pitches after
SD closer Yates to undergo MRI on elbow
Right-hander exits Friday's game at Arizona with discomfort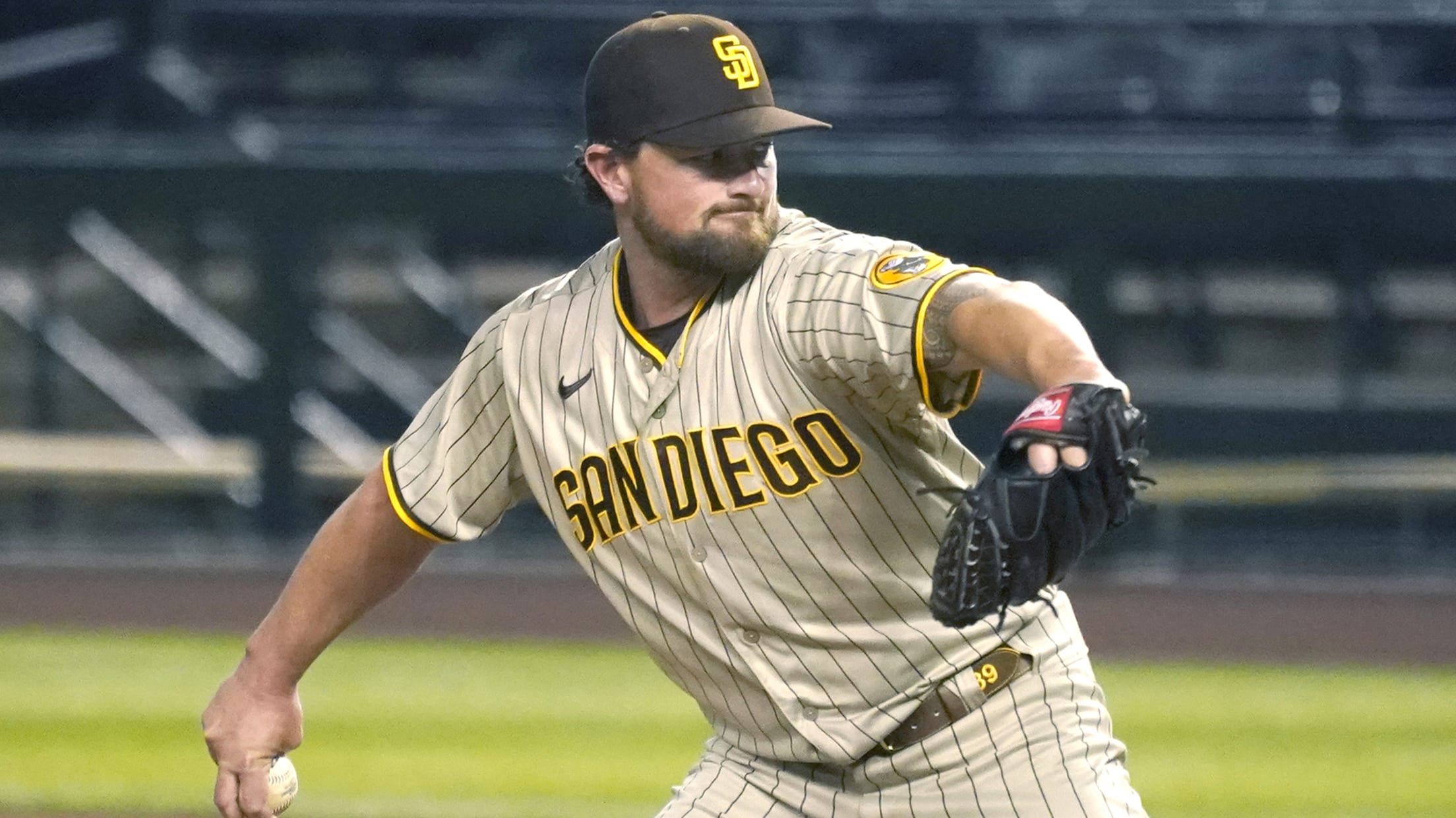 Kirby Yates' first appearance in seven days might be his last for some time. The Padres closer's future is uncertain after he was removed from Friday's 5-1 loss to the D-backs at Chase Field in the eighth inning after six pitches because of right elbow discomfort. Padres manager Jayce Tingler
Notes: Hosmer producing; Yates' balky back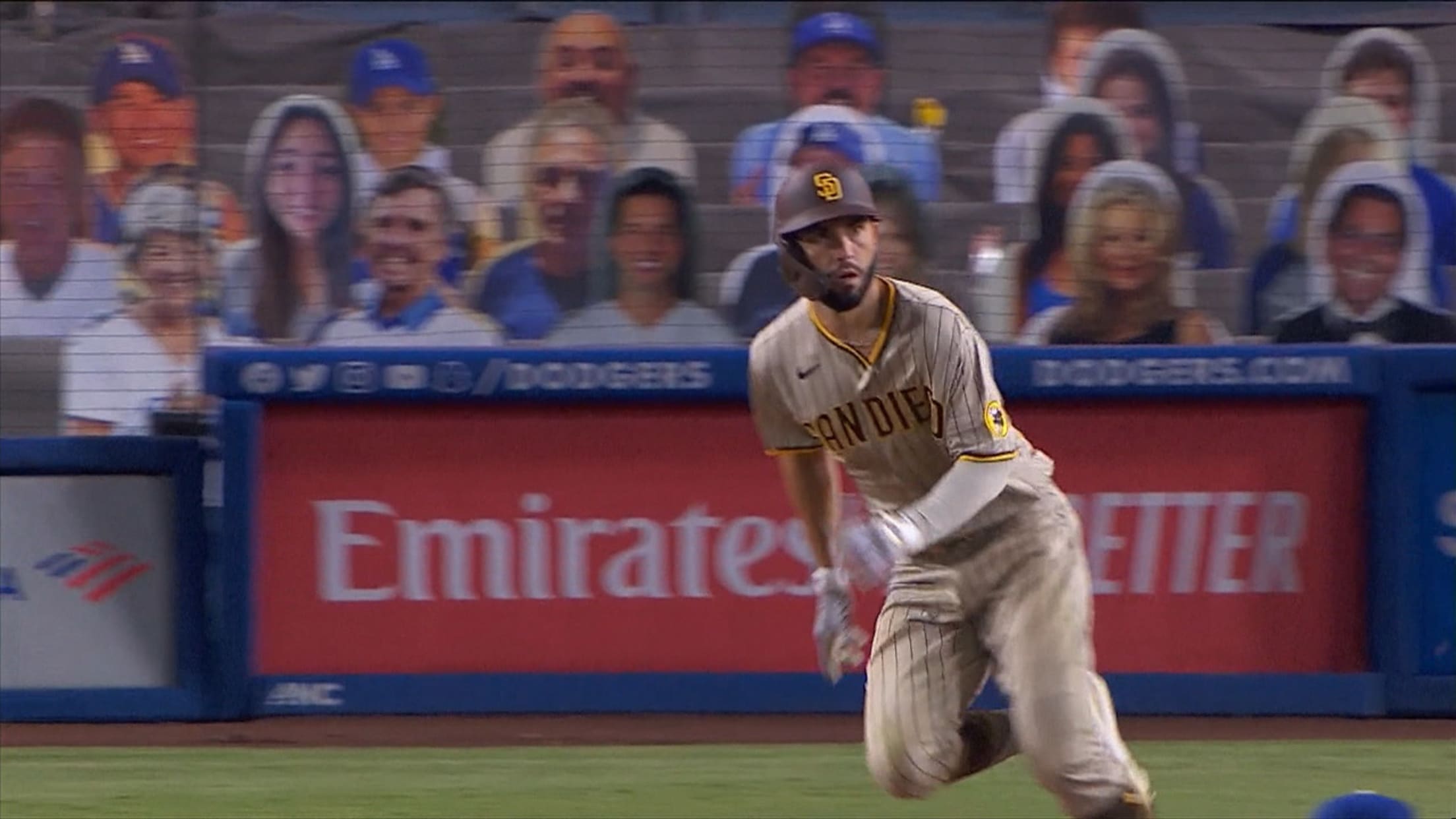 The 2020 season has been a slog for Padres first baseman Eric Hosmer. But when he's on the field, it hasn't shown. Consider what Hosmer dealt with for the first week of the season. He struggled to keep food down as he battled a non-COVID-19-related gastrointestinal illness. Yet he still
Hosmer activated from IL, returns to lineup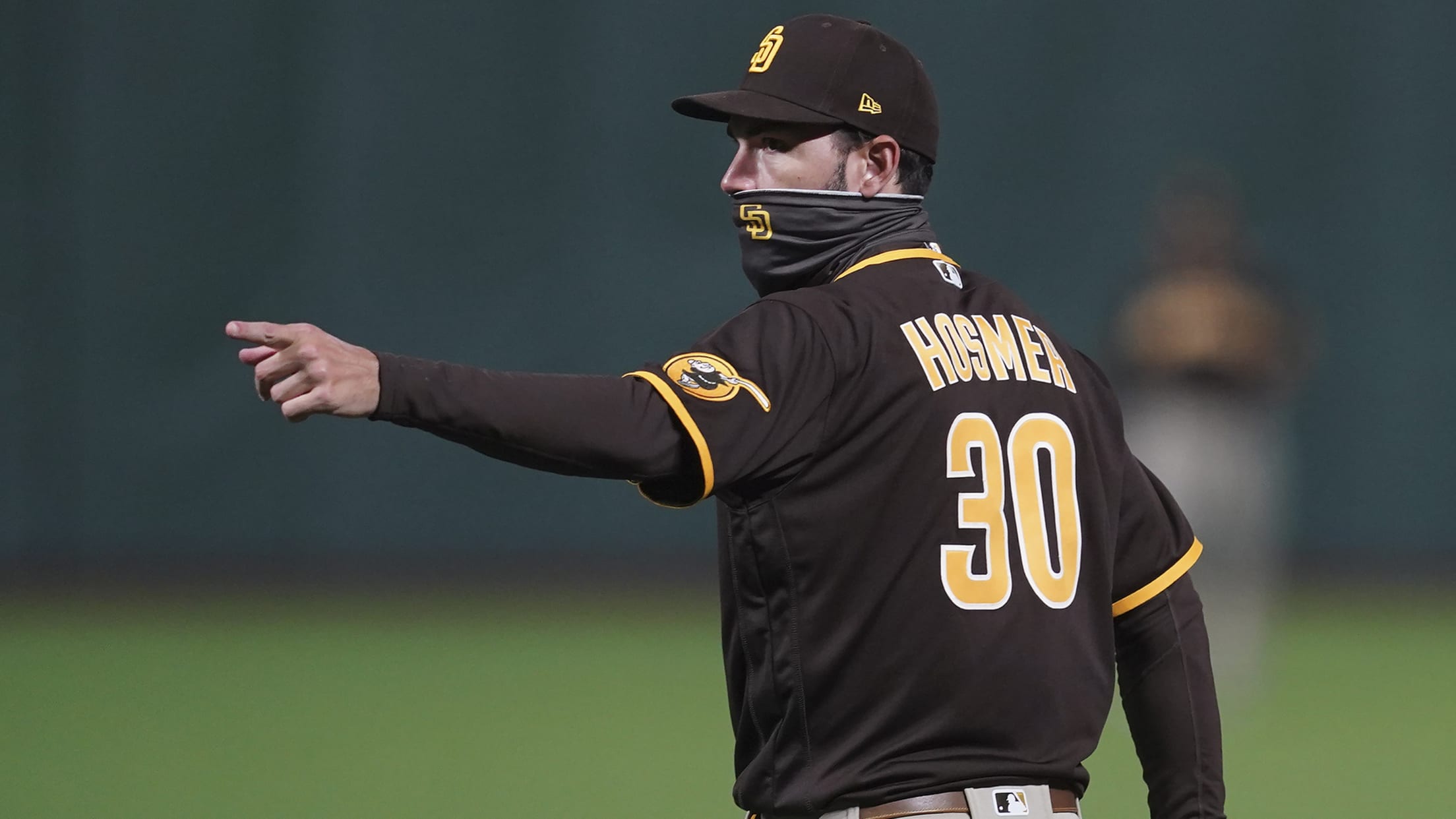 SAN DIEGO -- The Padres activated Eric Hosmer from the injured list ahead of Saturday's game against the D-backs, and he made his return to the lineup, playing first base and batting fifth. He went 0-for-4 in San Diego's 3-2 loss. Hosmer took part in the team's intrasquad game at
Hosmer scratched after big Opening Night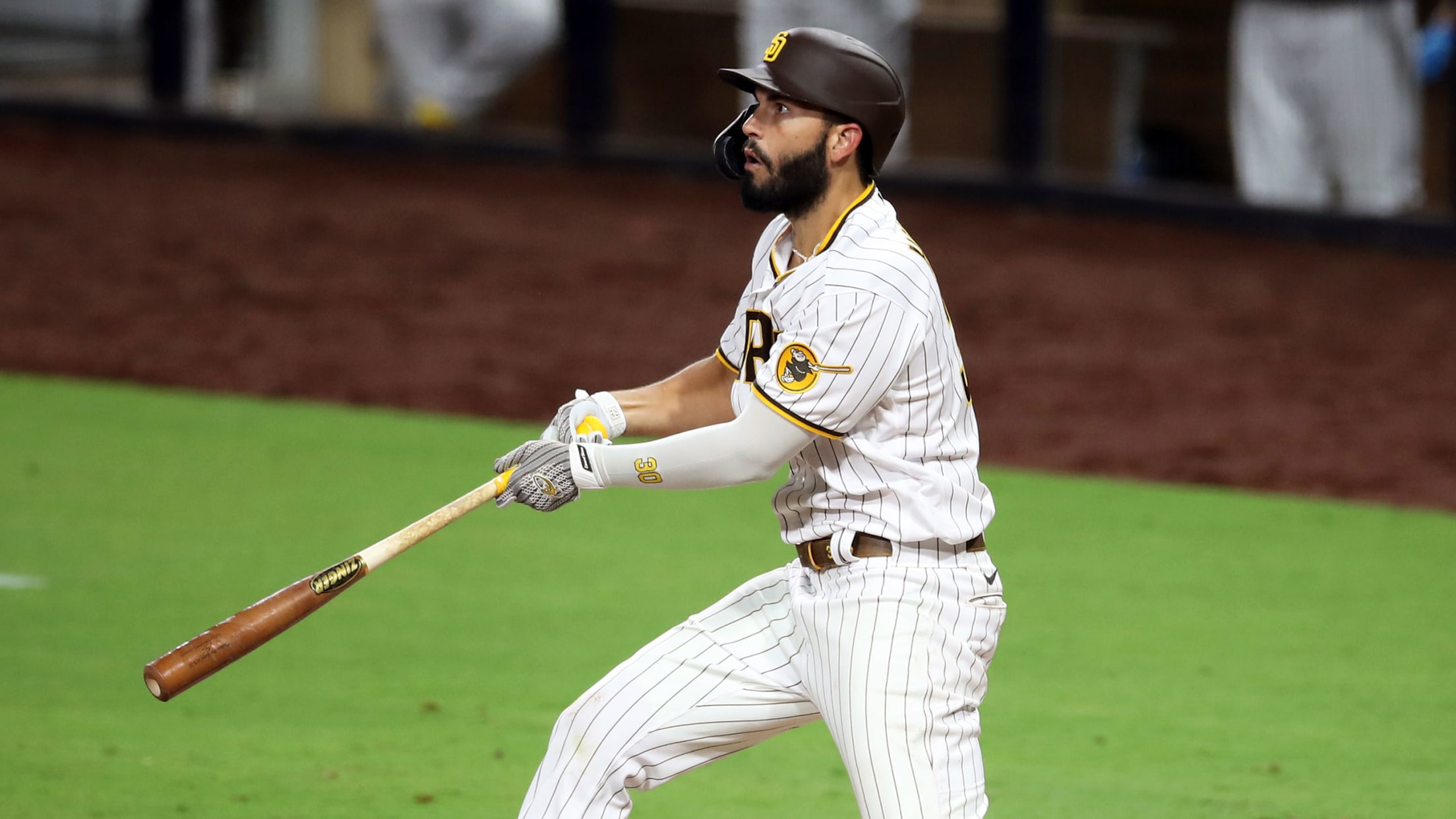 SAN DIEGO -- Eric Hosmer's encore has been put on hold. An hour before first pitch of the Padres' game against the D-backs on Saturday night, Hosmer was scratched from the starting lineup with an illness that is "not COVID related," the team announced. After the game -- a 5-1
Wingenter undergoes Tommy John surgery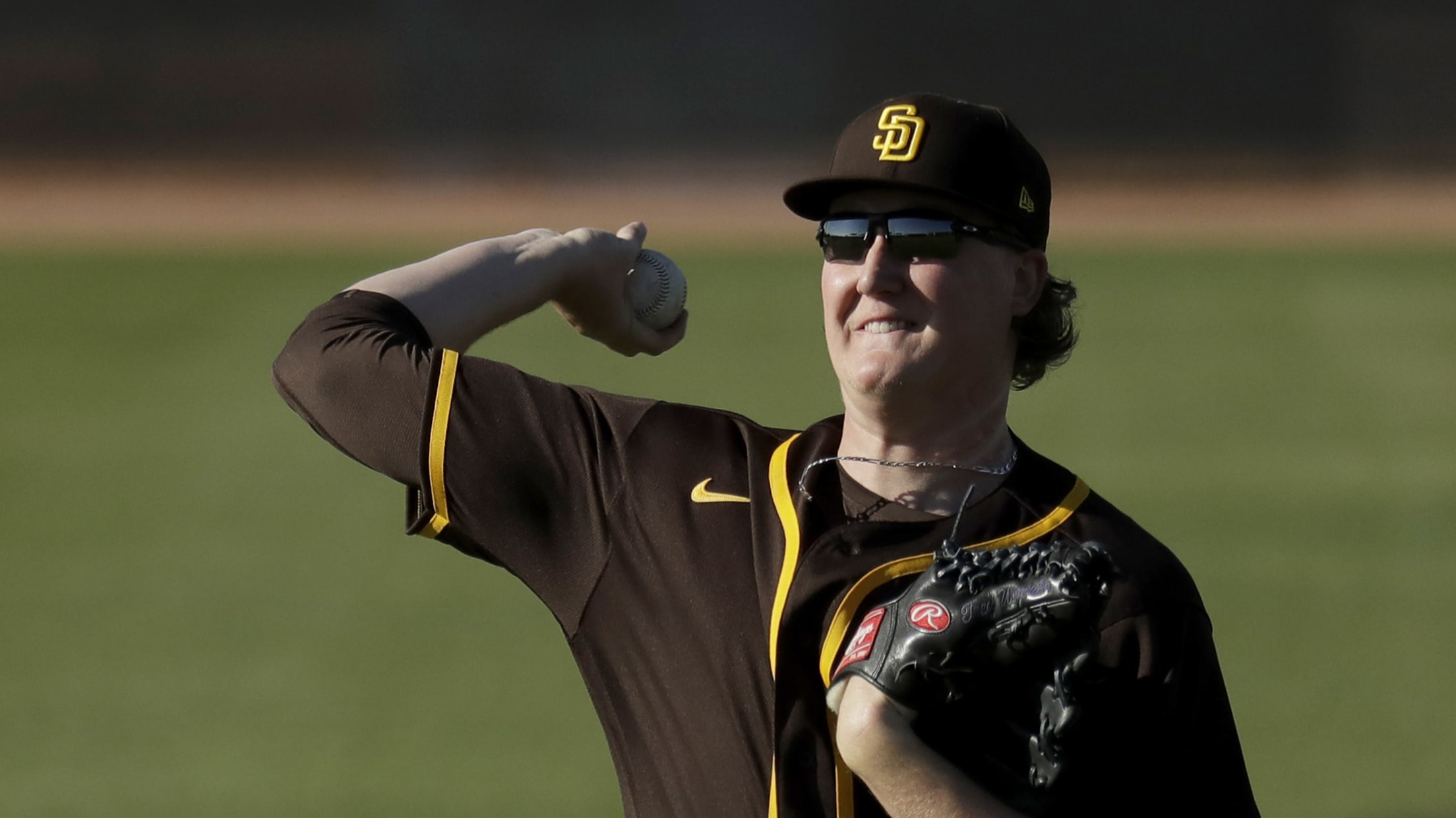 SAN DIEGO -- Padres right-hander Trey Wingenter will miss the entire 2020 season after he underwent Tommy John surgery on Friday, delivering another blow to the Padres' bullpen depth -- and a reminder of why the Friars were so eager to add Tim Hill to the mix earlier this week.
Notes: Castillo lat strain, 2021 schedule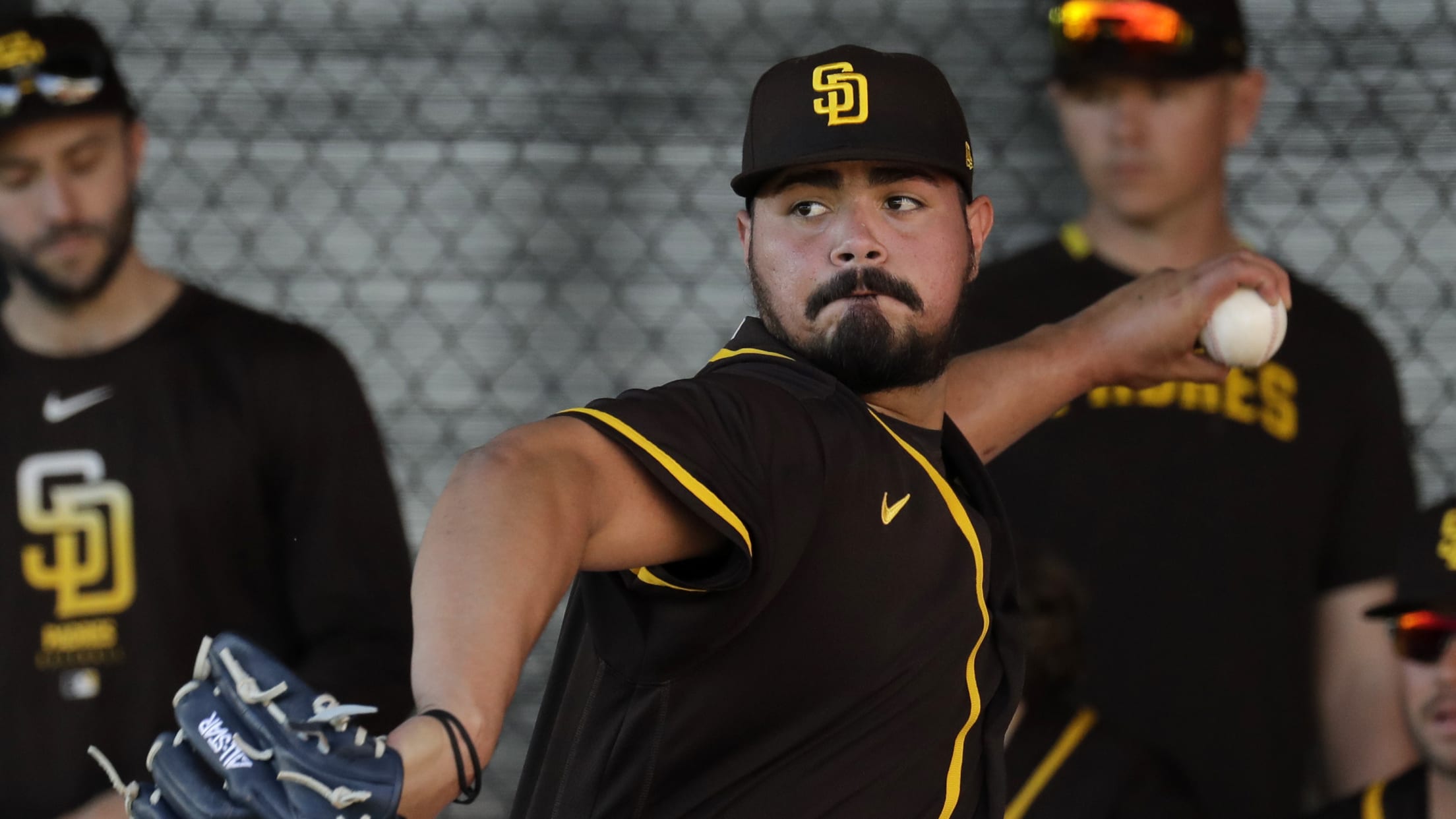 SAN DIEGO -- The Padres' vaunted bullpen depth is getting an early test. José Castillo, expected to be one of the team's most prominent lefty weapons, will miss significant time with a left lat muscle strain, Padres manager Jayce Tingler said. Castillo sustained the injury during an intrasquad game on
Padres cautious with Pham (side soreness)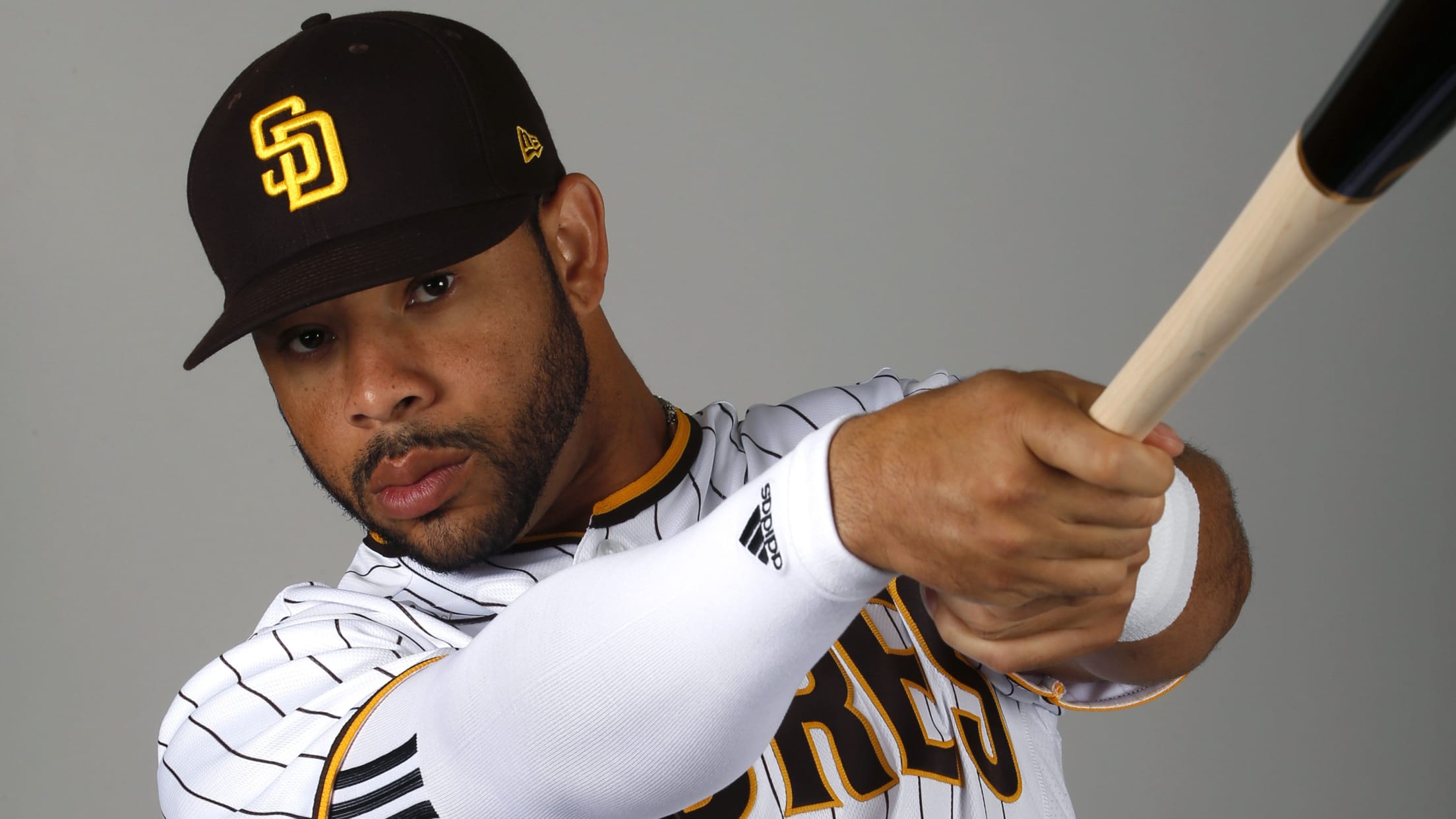 PEORIA, Ariz. -- Obviously, Tommy Pham would've preferred to be taking swings in a cage over the offseason. Instead, he was receiving platelet-rich plasma injections on his ailing right elbow -- leaving him sidelined and antsy. But the veteran left fielder insists he's been playing in the big leagues long
Richards to make his Padres debut at Milwaukee
Right-hander's return from surgery will have ripple effects on rotation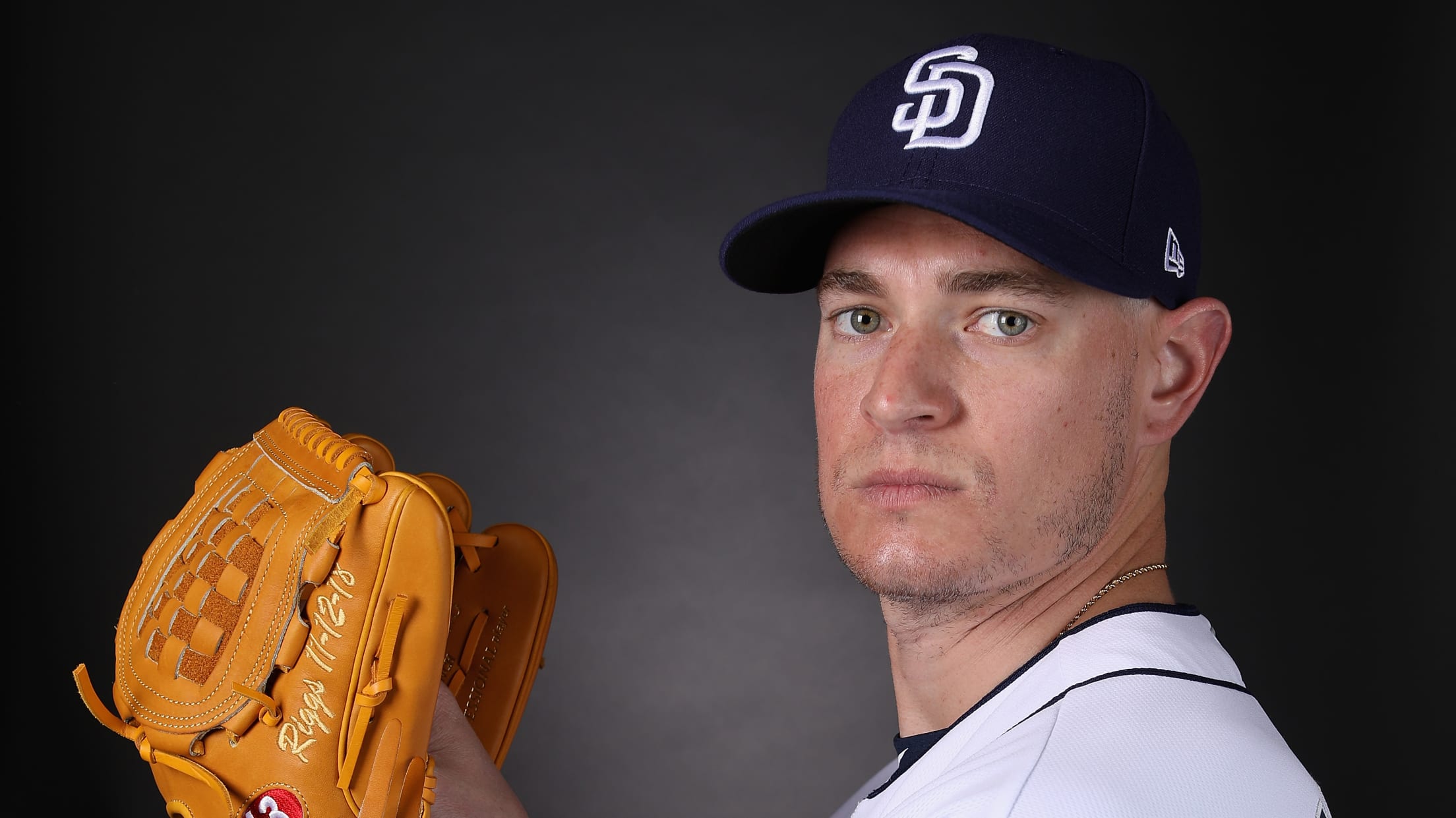 DENVER -- After 14 months recovering from Tommy John surgery, right-hander Garrett Richards is slated for his Padres debut Monday in Milwaukee. The veteran cleared his final hurdle, a Saturday afternoon bullpen session in Colorado, and the team confirmed the decision immediately afterward. Richards made seven Minor League rehab starts,
Richards eyes Tommy John return, SD debut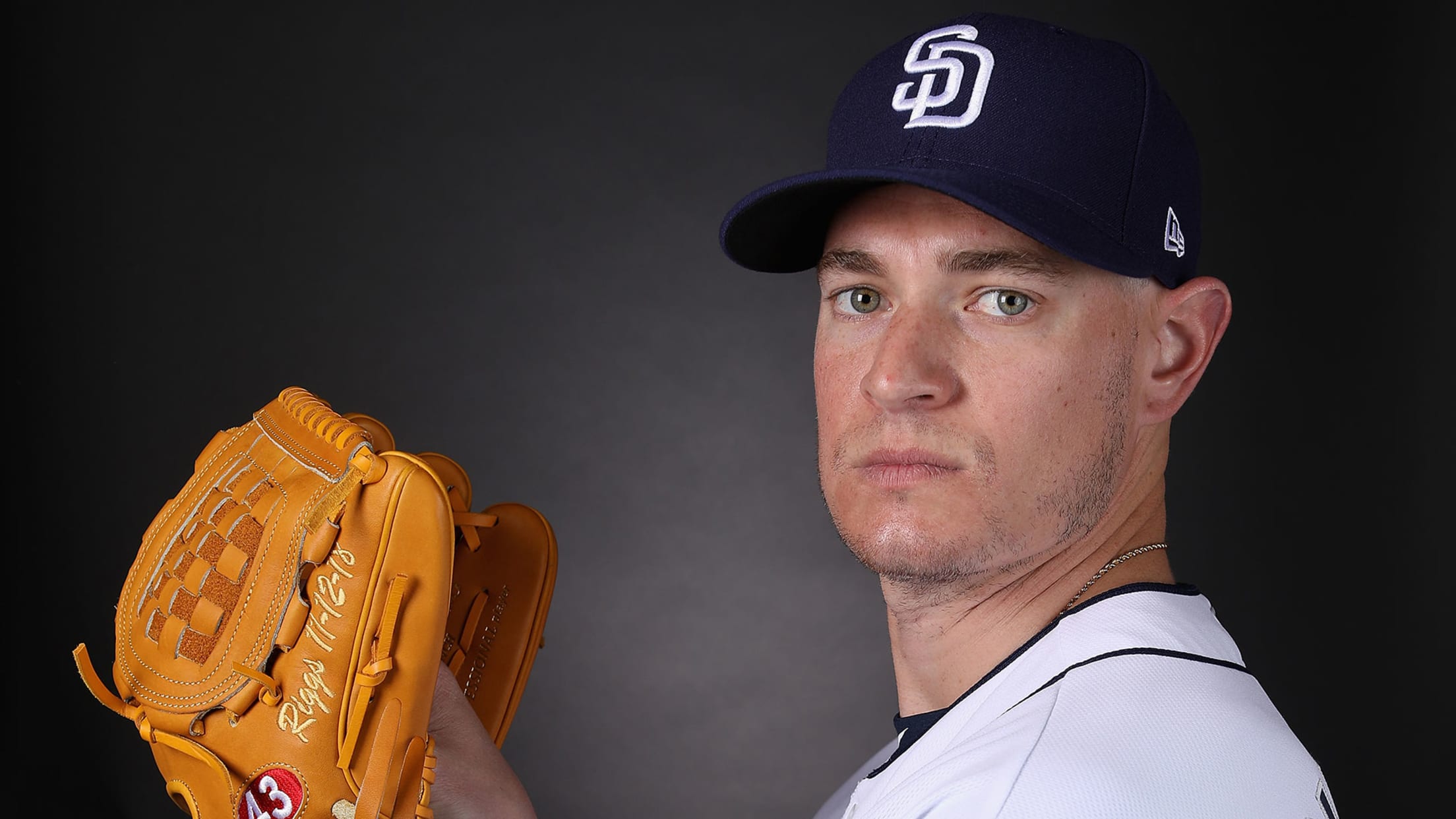 SAN DIEGO -- Garrett Richards' rehab stint is officially over. Next on the agenda: A return to the big league mound next week in Milwaukee. Well, technically the next step for Richards is a bullpen session, slated for Saturday in Colorado. The Padres won't finalize plans for his start until
Struggling Renfroe to rest chronic sore ankle
SAN DIEGO -- Hunter Renfroe's rough second half has taken another unfortunate turn. The Padres right fielder is expected to miss time -- perhaps a week, perhaps longer -- as he battles a lingering right ankle injury. Renfroe aggravated his already sore ankle while swinging on Saturday, and he hasn't