Halloween Trail at Petco Park
Join us along the Halloween Trail at Petco Park, a socially distanced one-way Halloween-themed pumpkin patch in Gallagher Square where you will have the opportunity to visit various themed booths, collect candy and toys and partake in the spooky festivities from October 23 – November 1.
Kids
Starting at $25
Stroll through the pumpkin patch, featuring Halloween surprises and character favorites
Trick-or-Treat Souvenir Bag
Candy and Toys
Commemorative Lanyard with Halloween Trail Map
Small Pumpkin
Adults
Starting at $20
Stroll through the pumpkin patch, featuring Halloween surprises and character favorites
Add-On: Trick-or-Treat Bag
Candy and Toys
Commemorative Lanyard with Halloween Trail Map
Small Pumpkin
THE EXPERIENCE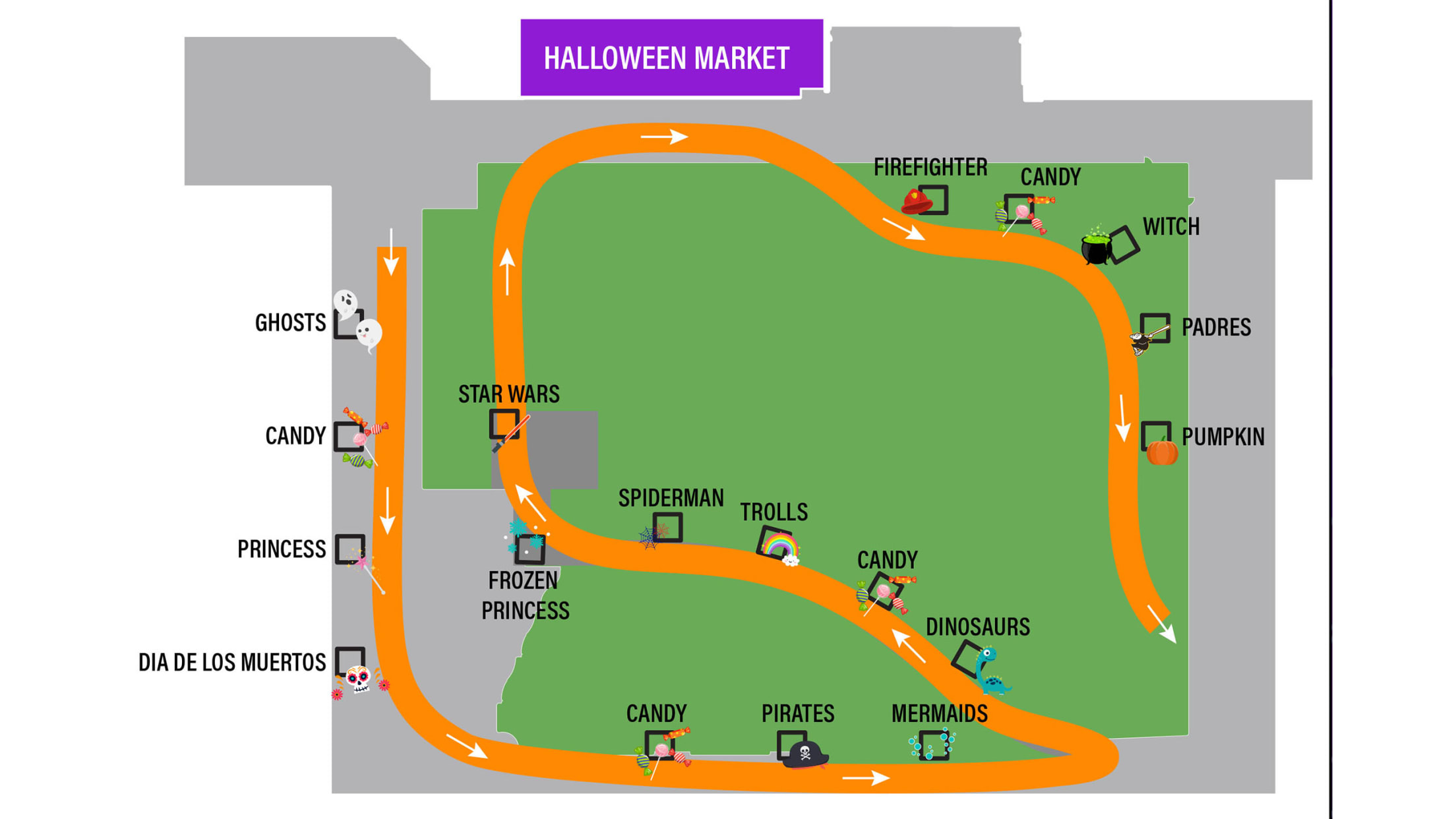 The Halloween Trail at Petco Park will run nightly for 10 consecutive days beginning on Friday, October 23 and running through Sunday, November 1. In order to ensure a safe experience, guests will be able to choose from a limited number of designated time slots, with a maximum capacity of 75 guests per slot. Upon entering the experience, families and their kids will navigate their way through the decorated pumpkin patch, stopping at booths along the way to collect their treats via contactless delivery. Trick-or-Treating can ONLY be done with the Official Halloween Trail Trick-or-Treat Bag
Each booth will feature character favorites, special effects and themes including witches, pumpkins, superheroes, mermaids and more. Once guests have made their way through the pumpkin patch, they will be able to enjoy their candy, or other food and beverage available for purchase, while watching a Halloween movie from a socially distanced space.
Face masks are required at all times. All costumes still require a face covering. Face coverings must also be worn with any themed costume face mask. Upon entry, guests will be subject to security screenings and temperature checks.
Children under one year old are free and do not need a ticket for entry.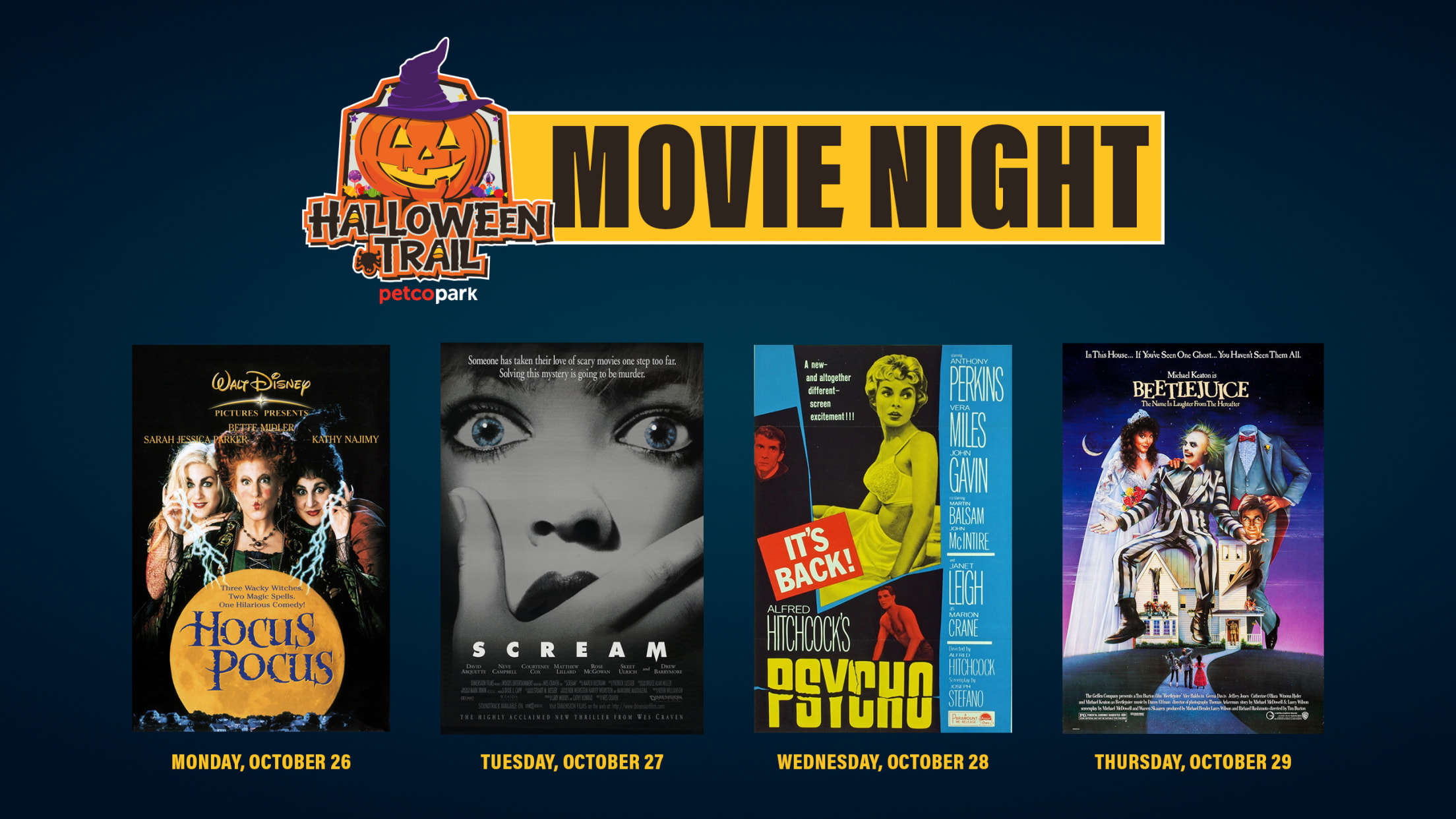 For those looking for a scarier thrill, adults will have the opportunity to participate in The Halloween Trail at Petco Park Movie Night, a special outdoor movie experience complete with Halloween snacks and a Halloween-favorite movie. A Halloween-themed market will also be available for guests to pick out their favorite festive treats, merchandise and more.
Halloween Trail After Dark featuring Hocus Pocus
Monday, Oct. 26
SOLD OUT
Halloween Trail After Dark featuring Scream
Tuesday, Oct. 27
SOLD OUT
Halloween Trail After Dark featuring Psycho
Wednesday, Oct. 28
SOLD OUT
Halloween Trail After Dark featuring Beetlejuice
Thursday, Oct. 29
SOLD OUT
Movie Pack
$85
A socially distant marked space on the park grass for up to four (4) guests
The pumpkin patch experience, filled with characters and Halloween fun
One Trick or Treat Bag and Contactless Candy and Toys (One per group)
One beverage per person, including Soda, Water, Beer, Wine, or Canned Cocktails (must be 21+ for alcoholic beverages)
A shareable artisan cheese board and bag of popcorn
Halloween Trail FAQ
Is parking available?
Yes! You can purchase parking at our Padres Parkade, located off of 10th Avenue and J Street. Presale parking is available for $15.00 by clicking on the parking links above. In-person purchases at the Parkade are subject to availability and, due to safety restrictions, will be limited to cashless (credit) transactions.
What gates will be open for this event?
Please enter through our East Village Gate, located on K Street and 10th Ave.
How early can I show up to my time slot?
Due to social distancing and queueing, please arrive no earlier than 30 minutes before your assigned time slot.
Will face coverings be required?
Masks will be required and must cover your mouth and nose at all times (unless you are eating or drinking while stationary or seated). You must wear a mask in addition to any costume mask you have.
Will you take the temperature of guests?
You will need to get your temperature checked prior to entering; any guest with a temperature of 100.4 or higher will not be allowed entry.
What is your camera policy?
Guests are welcome to bring still cameras, video cameras and other electronic recording devices with lenses smaller than 6 inches into Petco Park for their personal use.
What are your prohibited items?
For the comfort and safety of all, guests are not permitted to enter Petco Park with hazardous or potentially disruptive items. For a complete list, please see Prohibited Items on padres.com under our A-Z Guide.
Are bags allowed in?
Yes! All bags will be subject to search by security prior to entering the ballpark.
Do we need to bring our own trick-or-treat bags?
Each children's ticket comes with a bag and a lanyard that has the map of the event. Adults can purchase a bag separately from their ticket. Pick-up will be inside East Village Gate after scanning your ticket. Outside trick-or-treat bags will not be allowed.
Are there restrictions on costumes?
Appropriate costumes are up to the discretion of our Petco Park Staff.
Will there be food and beverage available for purchase?
We will have beverages available for sale inside East Village Gate, as well as food and beverage options available at the Craft Pier. Trick or treaters will also collect candy along the trail!
Can we bring in outside food or beverage?
Outside food and beverages are not permitted.
Factory-sealed plastic bottled water that is still, clear and unflavored and that is one (1) liter or less, and soft-sided single juice or milk containers or ADA required liquids in a sealed container are allowed into Petco Park.
Will restrooms be available?
Restrooms will be available in our Power Alley, located in right field near Sections 129-131.
Will there be hand sanitizer stations available?
Yes!
Is there a time limit at each booth?
Guests will be allotted a maximum of 1-2 minutes per booth to ensure proper social distancing.
Is there a time limit for the event?
To accommodate all guests, please keep your stay to no more than one hour.
Will there be wheelchairs available to use?
We will not have wheelchairs available to rent for this event.
Will there be stroller parking?
There will be no designated parking for strollers at this event.
Will Gallagher Square be open to the public?
Access to a portion of the back grass area near 8th and J Street will remain open to the public via the Downtown Gate on event days from 7:00 AM to 2:00 PM.
I purchased a ticket. Can I switch my time slot?
Switching time slots after purchase are subject to availability. Please email [email protected] with your desired date(s) and new time(s) to request a switch.
Can I get a refund?
Unfortunately, we do not offer refunds.
Are the movies appropriate for children?
Please note the movies are geared toward adults and include a condensed version of the Halloween Trail. Children are allowed entry with tickets. Hocus Pocus and Beetlejuice are rated "PG." Scream and Psycho are rated "R." One trick or treat bag per circle (group) is included and you can buy additional bags on site. Only 21+ are allowed alcoholic beverages.
Is the Trail accessible?
The Halloween Trail event is accessible for all. If you have any special needs or questions, please contact [email protected].
Service animals are welcomed at Petco Park. In keeping with U.S. ADA regulations, disabled guests may use either a dog or miniature horse that is individually trained to do work or perform tasks for the guest. The work or tasks performed by the service animal must be directly related to the guest's disability. As such, animals that solely provide emotional support or companionship to a guest will not be permitted inside the ballpark.
For Petco Park movie night, we are not allowing lawn chairs in but encourage guests to bring blankets to sit on and enjoy the show!