Phillies' Top 5 center fielders: Zolecki's take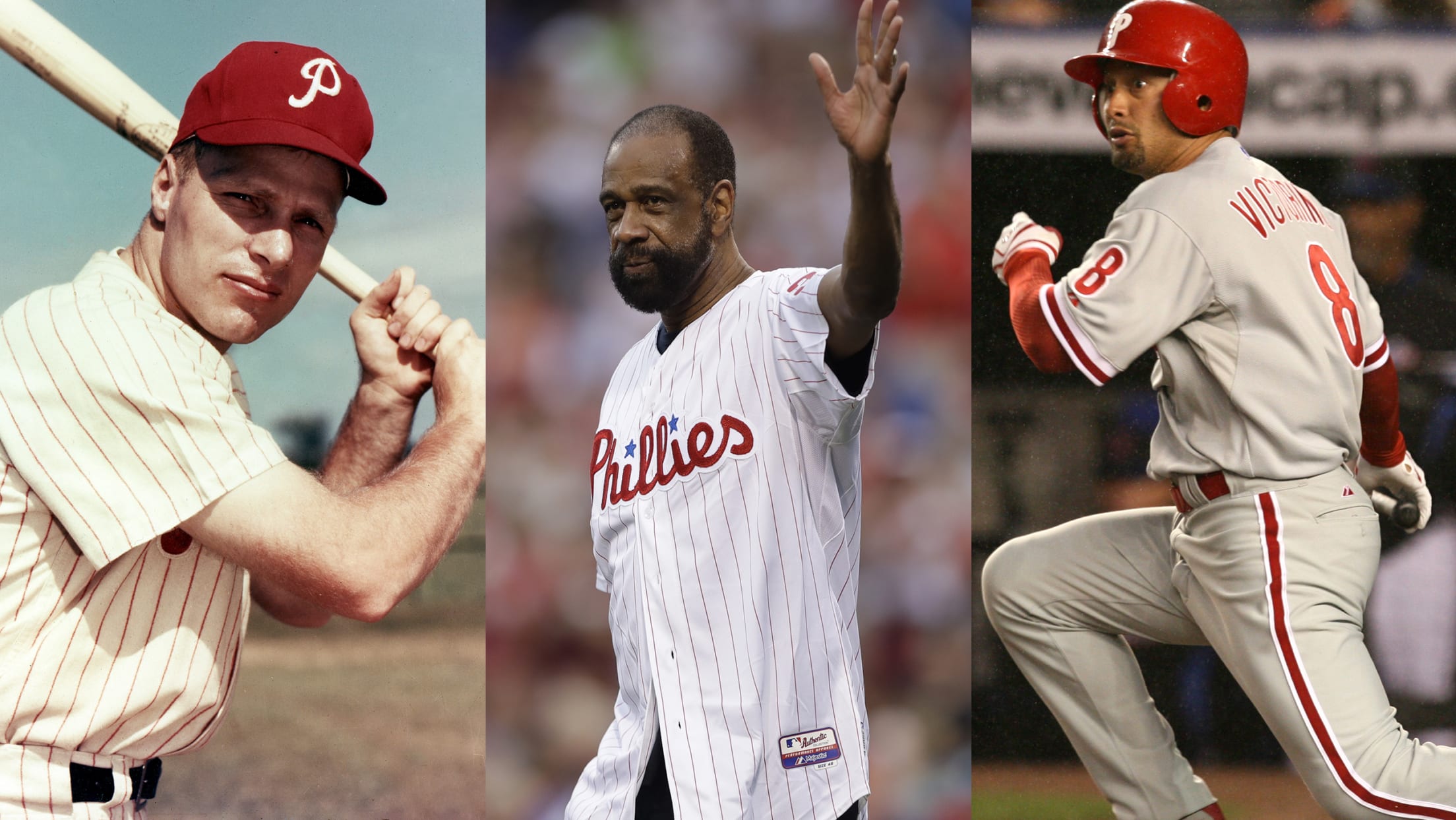 Few people love a good debate like baseball fans, and with that in mind, we asked each of our beat reporters to rank the top five players by position in the history of their franchise, based on their career while playing for that club. Love this list? Hate it? If
Few people love a good debate like baseball fans, and with that in mind, we asked each of our beat reporters to rank the top five players by position in the history of their franchise, based on their career while playing for that club. Love this list? Hate it? If you don't agree with the order, participate in the Twitter poll to vote for your favorite at this position.
Over the next few weeks, https://t.co/REbqIiGVRj is building all-time lineups for all 30 teams. We continue tomorrow in center field. We know Richie Ashburn is No. 1 for the #Phillies. Who's No. 2? My top choices (in alphabetical order):

— Todd Zolecki (@ToddZolecki) May 4, 2020
Here is Todd Zolecki's ranking of the top center fielders in Phillies history. Next week: right fielders.
• Phillies All-Time Team: C | 1B | 2B | 3B | SS | LF
1. Richie Ashburn, 1948-59
Key stat: Inducted into the Baseball Hall of Fame in 1995
Richie. Whitey. Putt Putt. Nobody called Don Richard Ashburn by his birth name.
"We called him Little Boy," Willie Mays said with a chuckle in "The Good, The Bad, & The Ugly: Heart-Pounding, Jaw-Dropping and Gut-Wrenching Moments from Philadelphia Phillies history." "We always would point at him and say, 'There goes the little boy. He can't do anything.' But he was hitting .340. We'd hit .319, but Richie would hit .340."
Nobody had more hits (1,875) in the 1950s than Ashburn. In the decade, he led the National League in hits three times, triples twice, walks three times and on-base percentage three times. He won batting titles in 1955 and '58.
Still, Ashburn flew under the radar because he played in the NL at the same time as fellow outfielders Mays, Hank Aaron, Stan Musial and Duke Snider. Maybe that is why it took so long for Ashburn to make the Hall of Fame.
"Richard, as a hitter, he would bunt for a base hit, and then he would go for hits," Mays said. "He may hit five home runs a year, but he could run."
Ashburn had 2,574 hits in his 15-year career. He had a lifetime .308 batting average and .396 on-base percentage. He hit only 29 home runs, but he could fly. Ted Williams nicknamed Ashburn "Putt Putt" because he covered the outfield like he had twin motors in his pants. Ashburn ranks sixth in baseball history in putouts by an outfielder (6,089). Only Mays, Tris Speaker, Rickey Henderson, Max Carey and Ty Cobb have more.
"He got a good jump on the ball," Mays said. "Oh yeah."
Whitey turned out to be a pretty good broadcaster, too.
2. Garry Maddox, 1975-86
Key stat: Won seven consecutive Gold Glove Awards (1976-82)
It was tough to choose between Maddox and Shane Victorino for No. 2, but Maddox edged Victorino because of his other-worldly defense. Yes, this is the part of the story where we drop the famous line from Mets broadcaster Ralph Kiner: "Two-thirds of the Earth is covered by water, the other one-third by Garry Maddox."
Maddox had a few pretty good offensive seasons, too. His 29.0 bWAR and 1,333 hits rank fourth among Phillies center fielders. He ranks second among center fielders in doubles (249) and RBIs (566) and third in stolen bases (189).
But that defense. The Secretary of Defense always delivered.
3. Shane Victorino, 2005-12
Key stat: Two NL All-Star teams, three Gold Gloves
No questions asked: the Flyin' Hawaiian is one of the most popular Phillies in recent memory.
Victorino outhit Maddox, which made the Nos. 2 and 3 spots such difficult decisions. Victorino slashed .279/.345/.439 and a 106 OPS+ with the Phillies, compared to Maddox's .284/.320/.409 with a 99 OPS+.
Yes, Maddox hit the game-winning double in Game 5 of the 1980 NL Championship Series, but Victorino hit a grand slam off CC Sabathia in Game 2 of the 2008 NLCS and a game-tying home run in Game 4 of that series. Victorino made two NL All-Star teams (Maddox never made one). Victorino also won three consecutive Gold Gloves from 2008-10, so he could cover the Earth, too.
4. Cy Williams, 1918-30
Key stat: The NL's home run king until 1929
The Phillies made mostly poor personnel decisions in the first half of the 20th century, but they made a pretty good one when they got Williams from the Cubs for Dode Paskert on Dec. 26, 1917. Williams hit 217 home runs in 13 seasons with the Phillies. He finished with 251, making him the NL's all-time home run leader until Rogers Hornsby passed him in 1929.
Williams was a left-handed pull hitter. The Phillies Encyclopedia wrote that teams in the '20s actually shifted on him. Teams positioned three outfielders between the right-field line and center field and three of the four infielders between the line and second base.
Didn't know they had computers then.
5. Lenny Dykstra, 1989-96
Key stat: Finished second in NL MVP Award voting in 1993
Nails had more than 392 plate appearances only twice in seven full seasons with the Phillies. He had trouble staying on the field. But when he played, he dominated. He slashed .305/.420/.482 with a 144 OPS+ in 1993, when the Phillies made the World Series. He led the NL in runs (143), hits (194) and walks (129).
"He's like a mosquito when you're outdoors," former Phils manager Nick Leyva said about Dykstra in The Phillies Encyclopedia. "You're always waiting for him to bite you."
Honorable mentions
Roy Thomas (1899-1908, 1910-11) has the second-highest bWAR (36.7) of any Phillies center fielder. Born in Norristown in 1874, he attended University of Pennsylvania. He has more hits (1,537) in the big leagues than any other Penn alumnus. … Tony Gonzalez (1960-68) has the sixth-highest bWAR (24.3) among center fielders. … Aaron Rowand (2006-07) gets a mention because he helped the Phillies get back to the postseason in '07. Plus, there's the catch. "For who? My teammates. For what? To win." … Doug Glanville (1998-02, 2004) ranks 10th in bWAR (8.7).