Phils use sim game to get reserves some reps
Club has used same starting lineup for all 6 games this season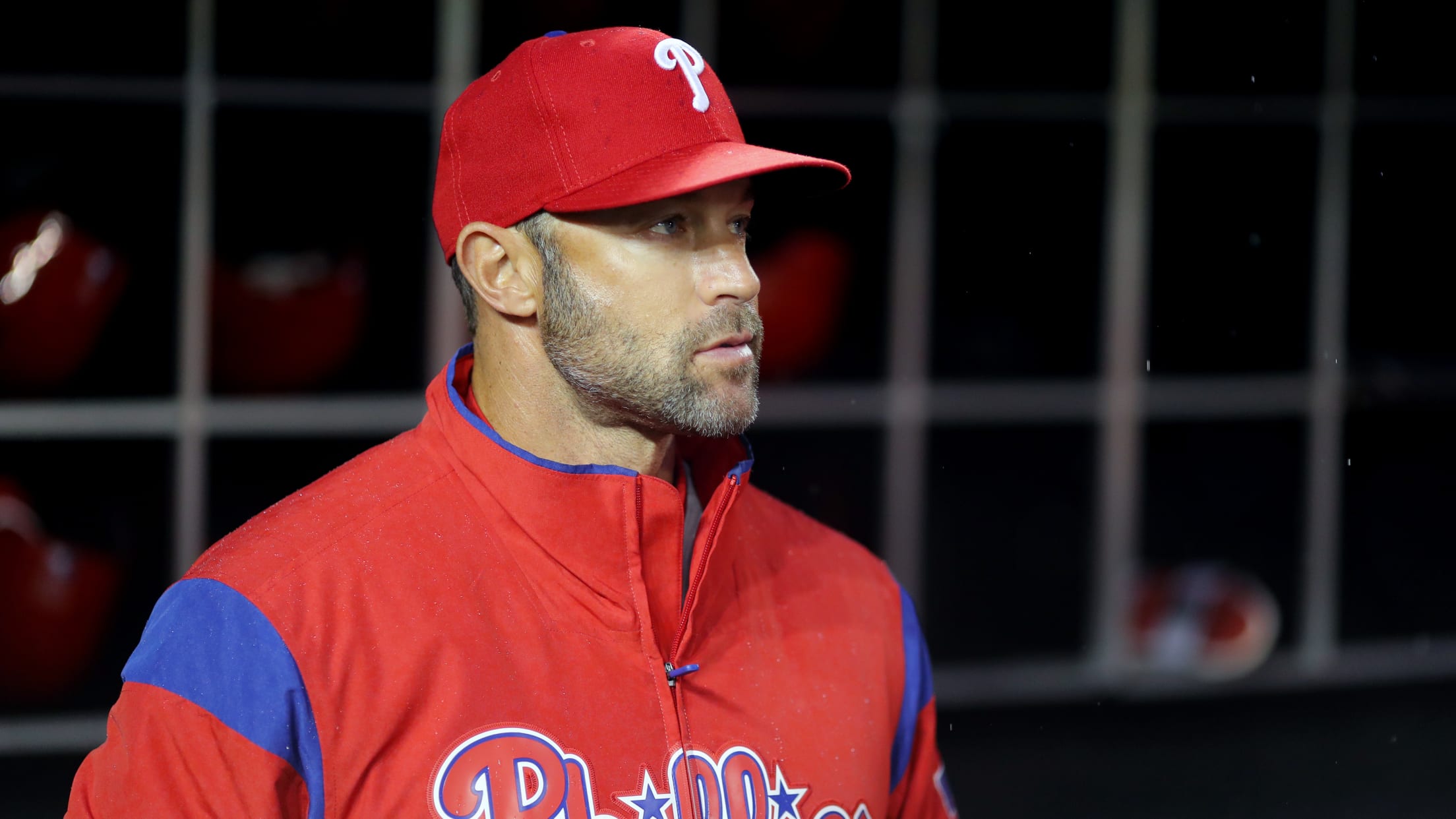 PHILADELPHIA -- The Phillies have used the same lineup in the season's first six games, which means Nick Williams, Aaron Altherr, Scott Kingery and Andrew Knapp have had a combined 14 plate appearances since the end of Spring Training. The Phillies need to keep them sharp at the plate if
PHILADELPHIA -- The Phillies have used the same lineup in the season's first six games, which means Nick Williams, Aaron Altherr, Scott Kingery and Andrew Knapp have had a combined 14 plate appearances since the end of Spring Training.
The Phillies need to keep them sharp at the plate if they ever expect them to come up with big hits late in games or play well whenever they get spot starts. To help, they flew six Minor League pitchers from Clearwater, Fla., to pitch in a simulated game Friday afternoon at Citizens Bank Park. The pitchers included Jeff Singer, Tyler Viza, Alexis Rivero, Luis Ramirez, Jack Conley and Gregori Rivero.
"Just a way to get as many reps as possible for guys who are kind of out of rhythm," Phillies manager Gabe Kapler said.
Each batter had seven to eight plate appearances, and each pitcher threw two simulated innings with 15 pitches in each inning.
"We had a game yesterday in extended [spring training] and they told us we were headed to Philly for live BP," said Singer, who grew up in Northeast Philadelphia, but went to Holy Cross Academy in Delran, N.J. "I was like, 'If this is a joke, it's really not that funny.' They said they were serious. They told us 20 minutes later that our flight was last night. We got here last night, woke up this morning and got to come here and check out the clubhouse. It's pretty cool."
Singer played tour guide and took everybody to Chickie's and Pete's in South Philadelphia.
"They loved the crab fries, which was cool," Singer said.
The group got to stay for Friday night's game against the Twins before heading back to Clearwater.
Hunter is sidelined indefinitely
Phillies right-hander Tommy Hunter received a platelet-rich plasma (PRP) injection in his right arm on Tuesday. He will not throw again for three weeks, meaning he will not rejoin the Phillies' bullpen for the foreseeable future.
Quinn moves closer to return
Phillies outfielder Roman Quinn made a rehab appearance Thursday with Class A Clearwater. He is recovering from a strained right oblique.
Quinn is expected to play back-to-back nine-inning games Saturday and Sunday. He could rejoin the team early next week, which means the Phillies will have to make a decision about their outfield. Quinn and Altherr are both out of options, so they would have to be placed on waivers if not kept on the 25-man roster. Either player would likely be claimed by other teams. Williams can be optioned, but Kapler likes Williams as a left-handed bat off the bench.
Ring the bell
Bryce Harper and his wife, along with Rhys Hoskins and his fiancée, attended Thursday night's 76ers game at the Wells Fargo Center alongside Eagles quarterback Carson Wentz and his wife. Asked about the future of Philly sports with young stars such as Harper, Wentz, Hoskins, Joel Embiid, etc. in town, Harper said, "It's definitely bright if you look at it from afar."
RING US IN @bryceharper3! #HereTheyCome pic.twitter.com/5Gpqr8g6A0

— * - Philadelphia 76ers (@sixers) April 5, 2019
"He's an incredible athlete and an incredible talent," Harper said about Wentz. "To sit up there with Carson was a lot of fun, just being able to hang out and talk shop and things like that. Just a good experience last night. I enjoyed it. He just said good luck and have fun."