Injuries & Roster Moves: Knapp progressing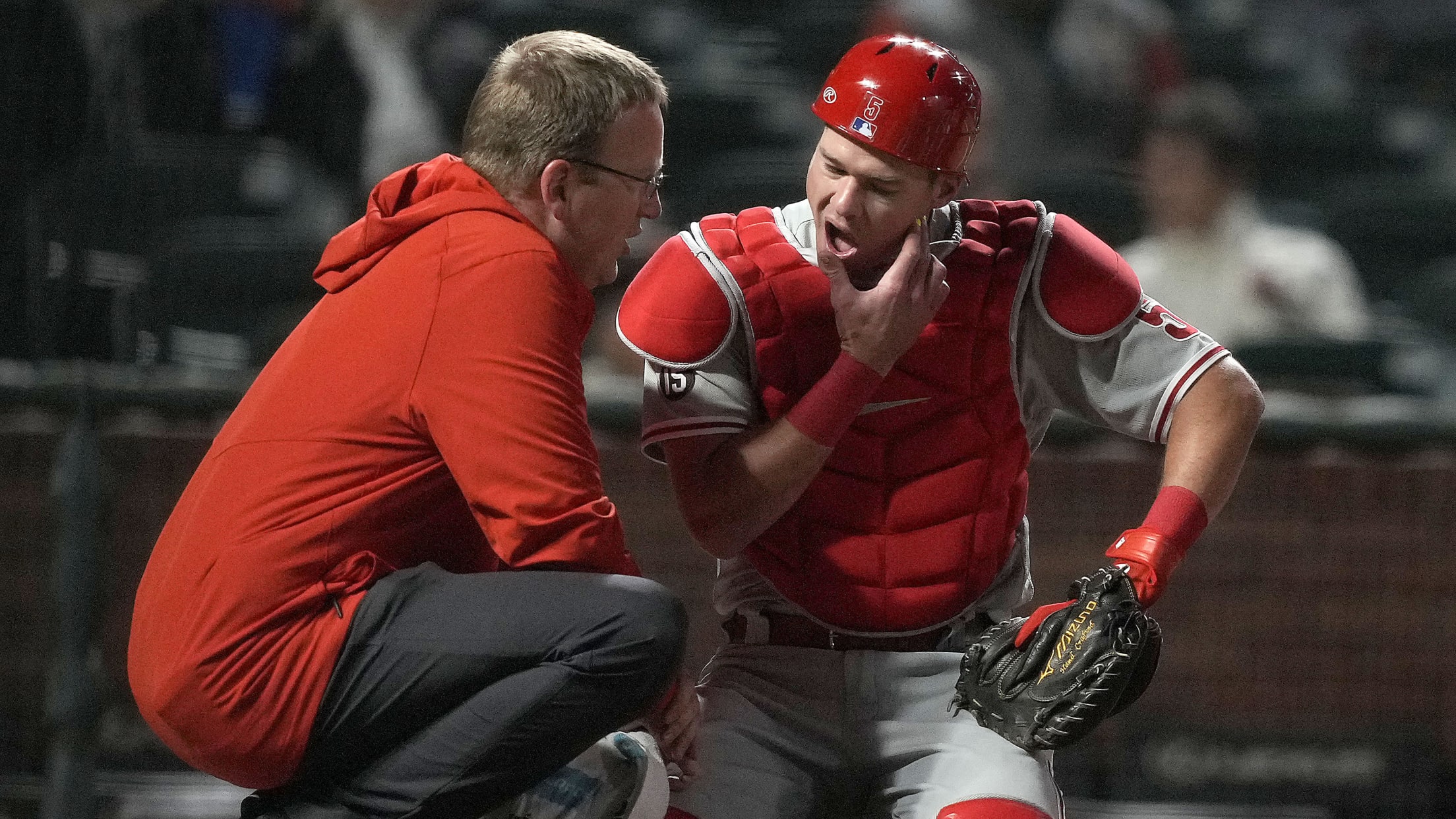 Keep track of the Phillies' recent transactions and injury updates throughout the season.
Segura to injured list; Harper day to day
LOS ANGELES -- Bryce Harper should be back in the Phillies' lineup on Friday. Jean Segura might not be back until July. The Phillies cannot afford to lose either player for even a day, but neither of them were in Wednesday night's lineup against the Dodgers at Dodger Stadium. Both
Bryce, Segura injuries overshadow loss in LA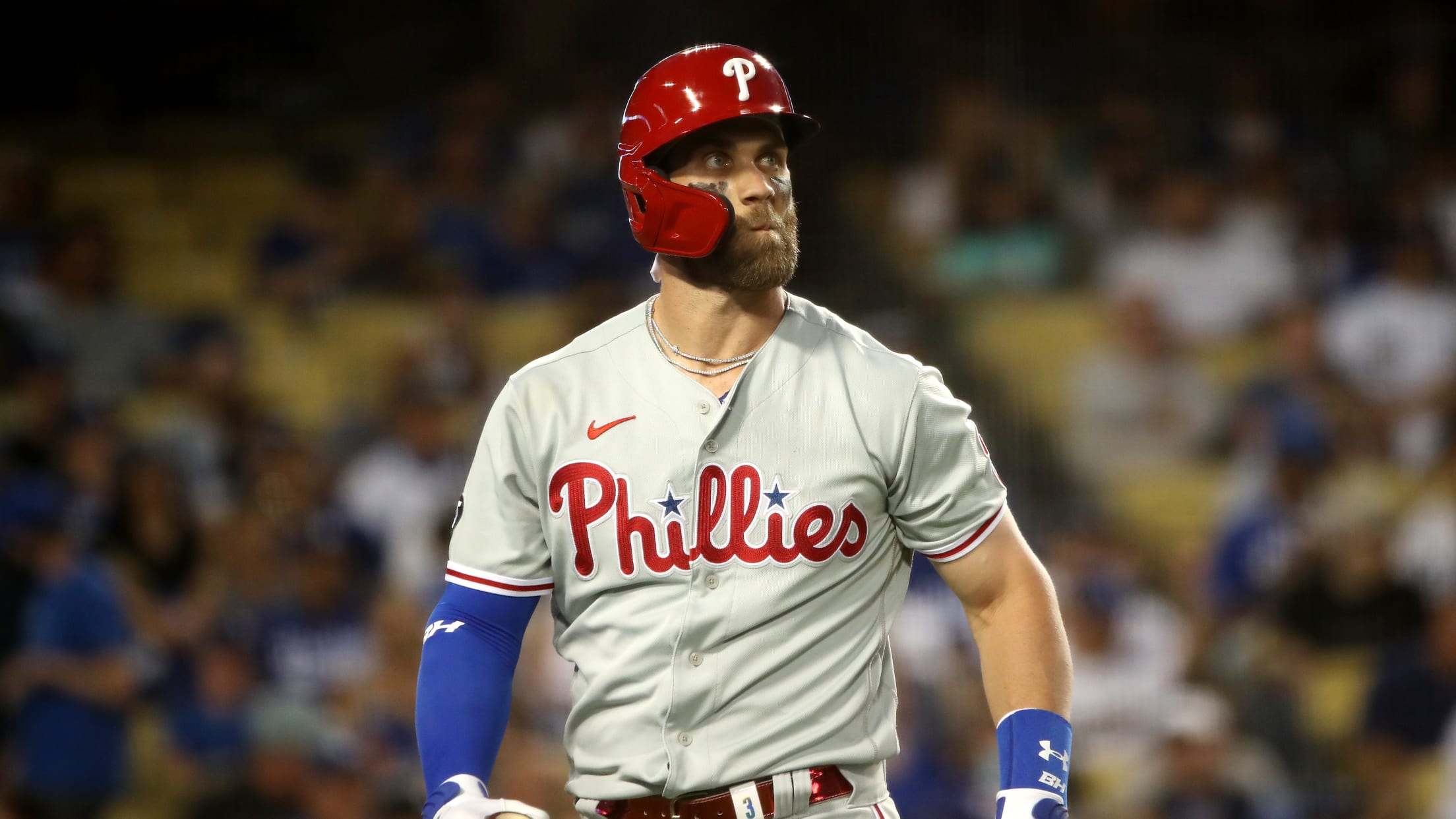 LOS ANGELES -- The Phillies are shorthanded again, and at the worst possible time. They not only watched Mookie Betts hit a go-ahead home run in the seventh inning and a two-out single to score an insurance run in the eighth in Tuesday night's 5-3 loss to the Dodgers at
Roman Quinn (left Achilles) out for season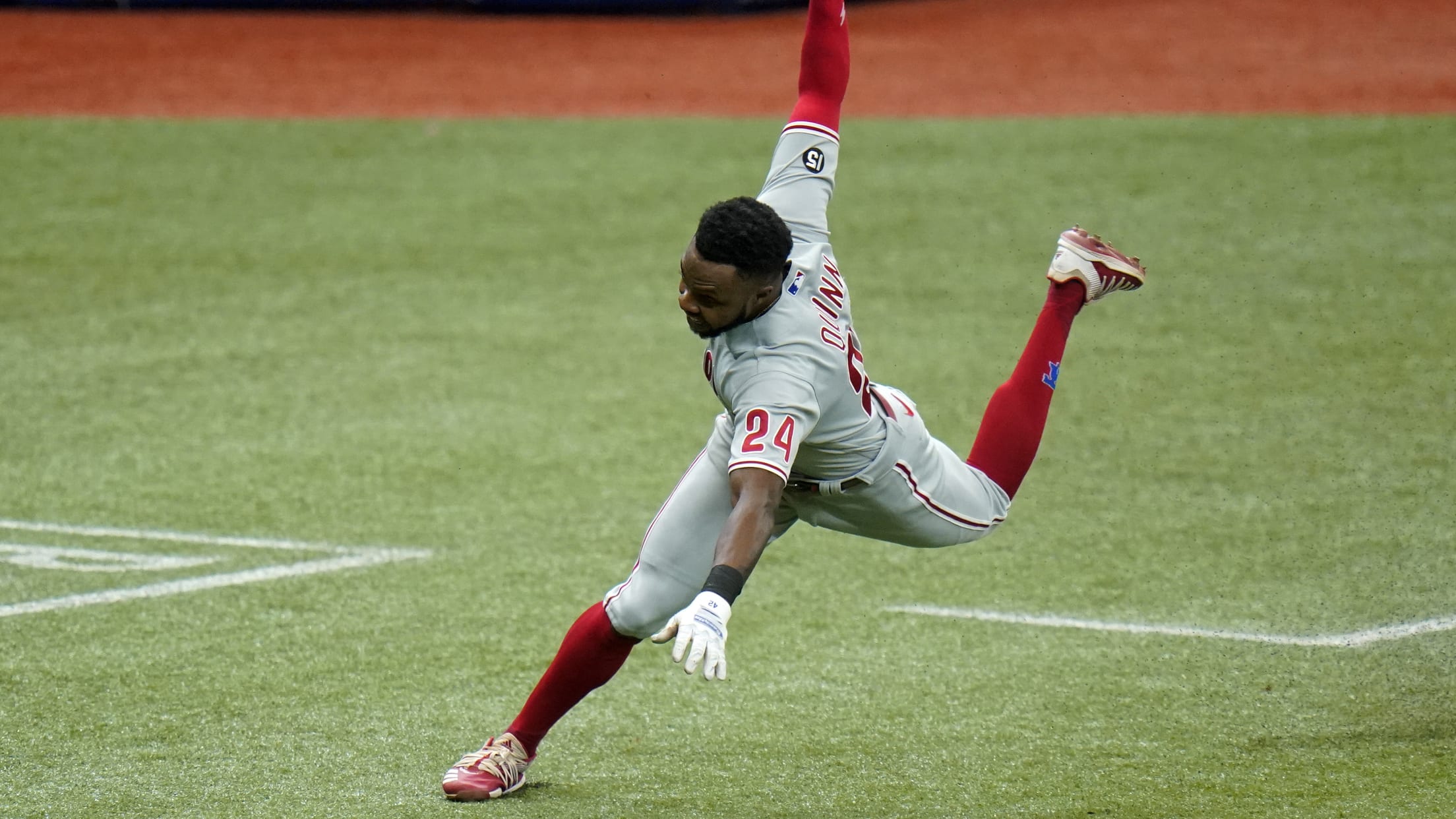 Somehow, some way, Roman Quinn still scored. Quinn suffered a season-ending left Achilles injury trying to score in the fifth inning of Saturday's 5-3 loss to the Rays at Tropicana Field. He collapsed to the turf after he rounded third, but he got up and hopped the final few feet
Harper to injured list with bruised wrist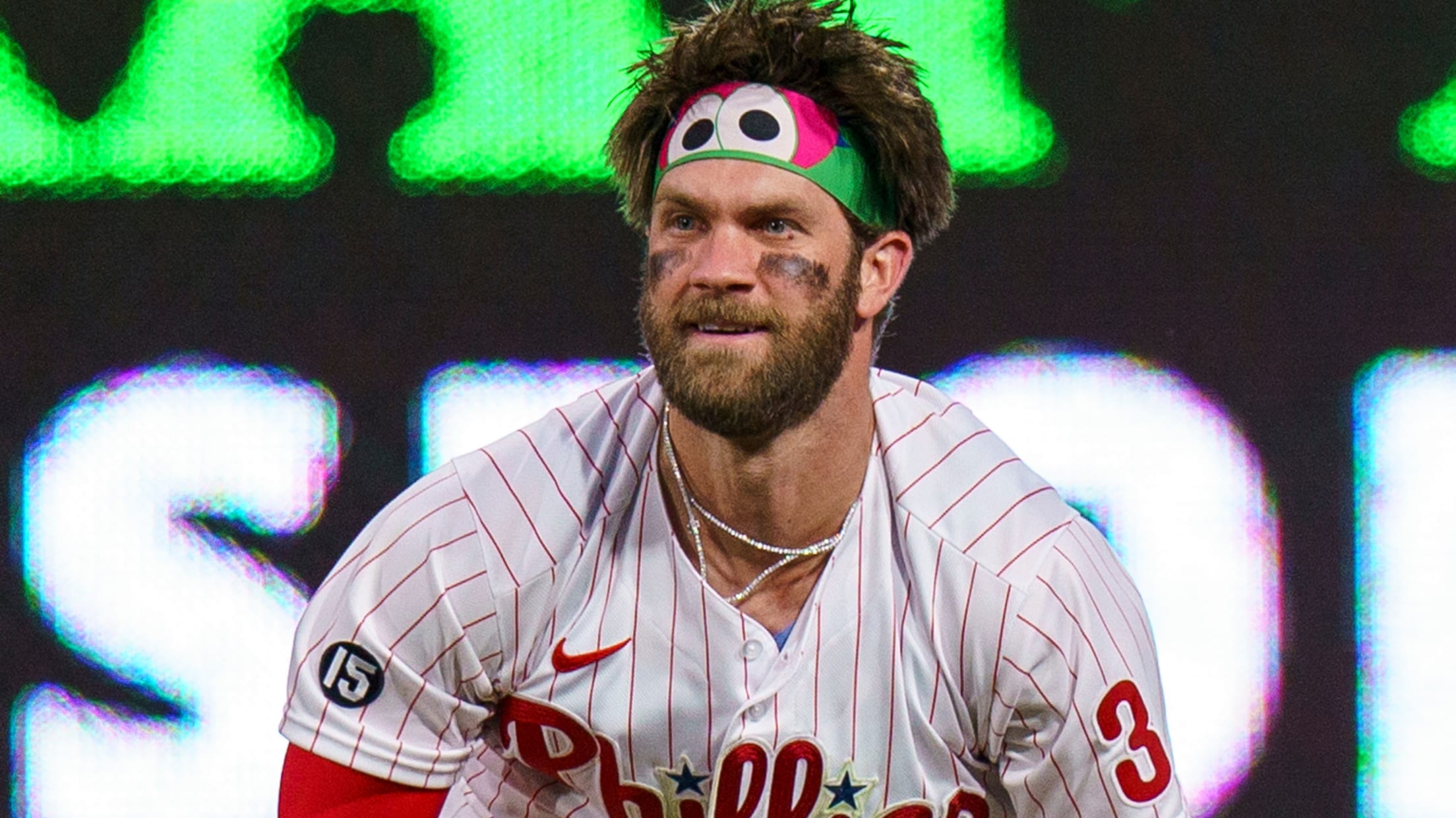 The Phillies insisted this week that Bryce Harper did not play Sunday and Monday simply because they wanted to give him a couple days off. It had nothing to do with injury concerns, manager Joe Girardi said. But the Phillies on Tuesday placed Harper on the 10-day injured list with
Realmuto (hand bruise) to IL; Pivetta returns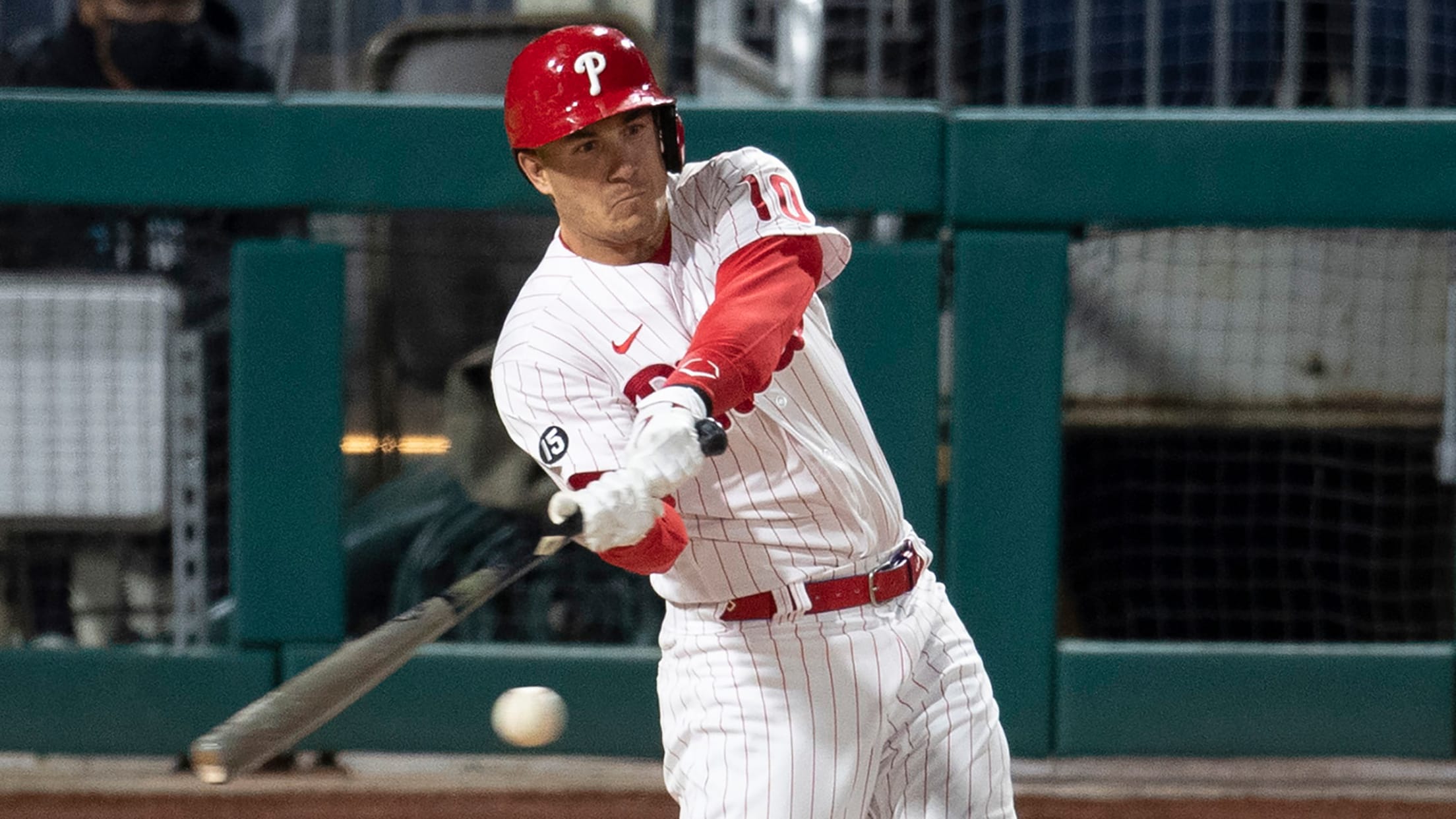 PHILADELPHIA -- The Phillies kept waiting for J.T. Realmuto's bruised left hand to heal enough to avoid a trip to the injured list. It never happened. They finally placed him on the 10-day IL on Friday. It is retroactive to Tuesday, meaning Realmuto cannot return to action until the May
Vince 'not worried,' but finger issue persists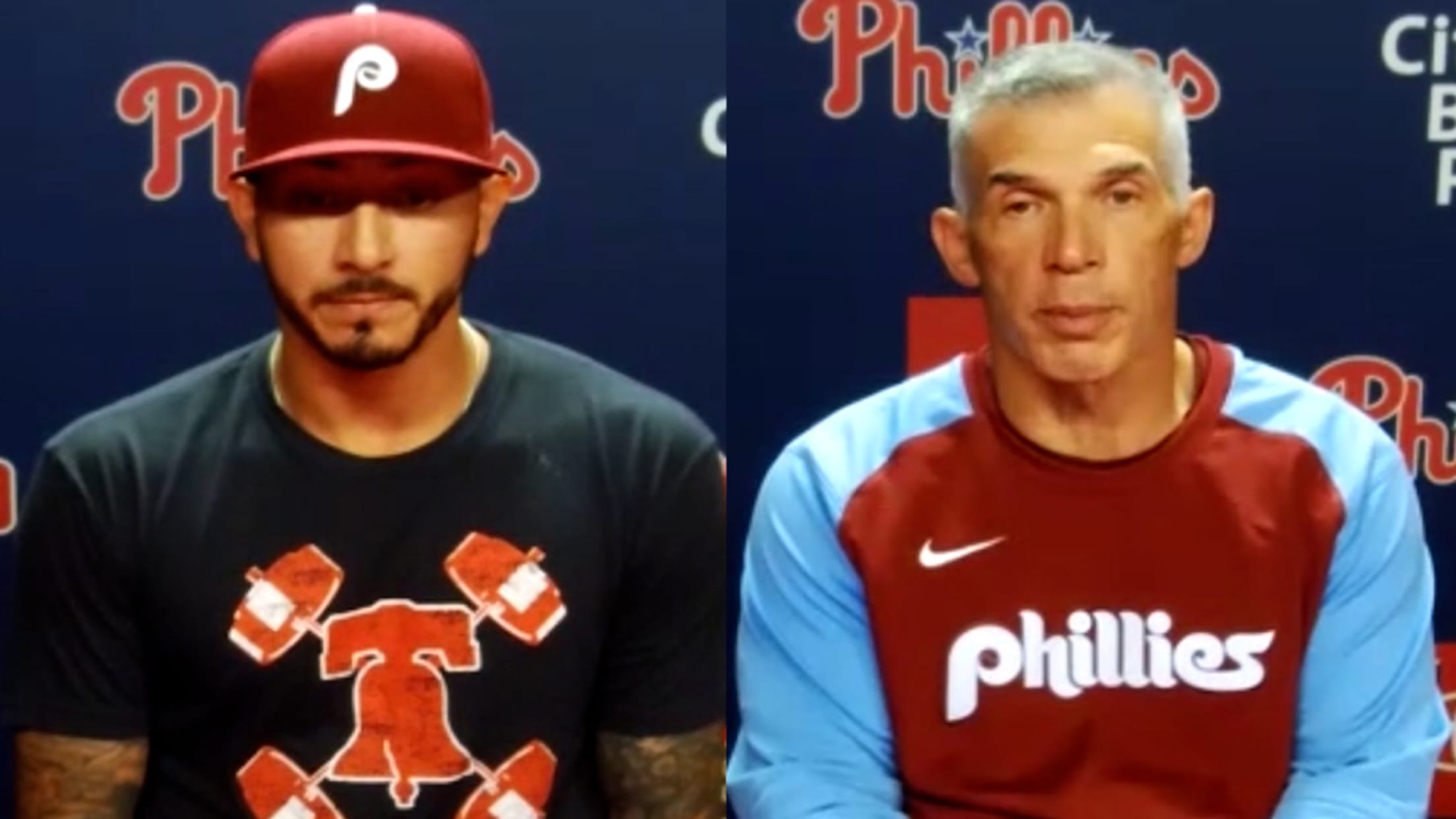 PHILADELPHIA -- Vince Velasquez showed up at Citizens Bank Park on Thursday afternoon, fully expecting to make his sixth consecutive start since he replaced left-hander Matt Moore in the rotation last month. Then he felt numbness in his right index finger. Velasquez has experienced numbness like this before, except in
Bryce (shoulder), Realmuto (wrist) day to day
McCutchen OK after hip flexor 'locked up' in 7th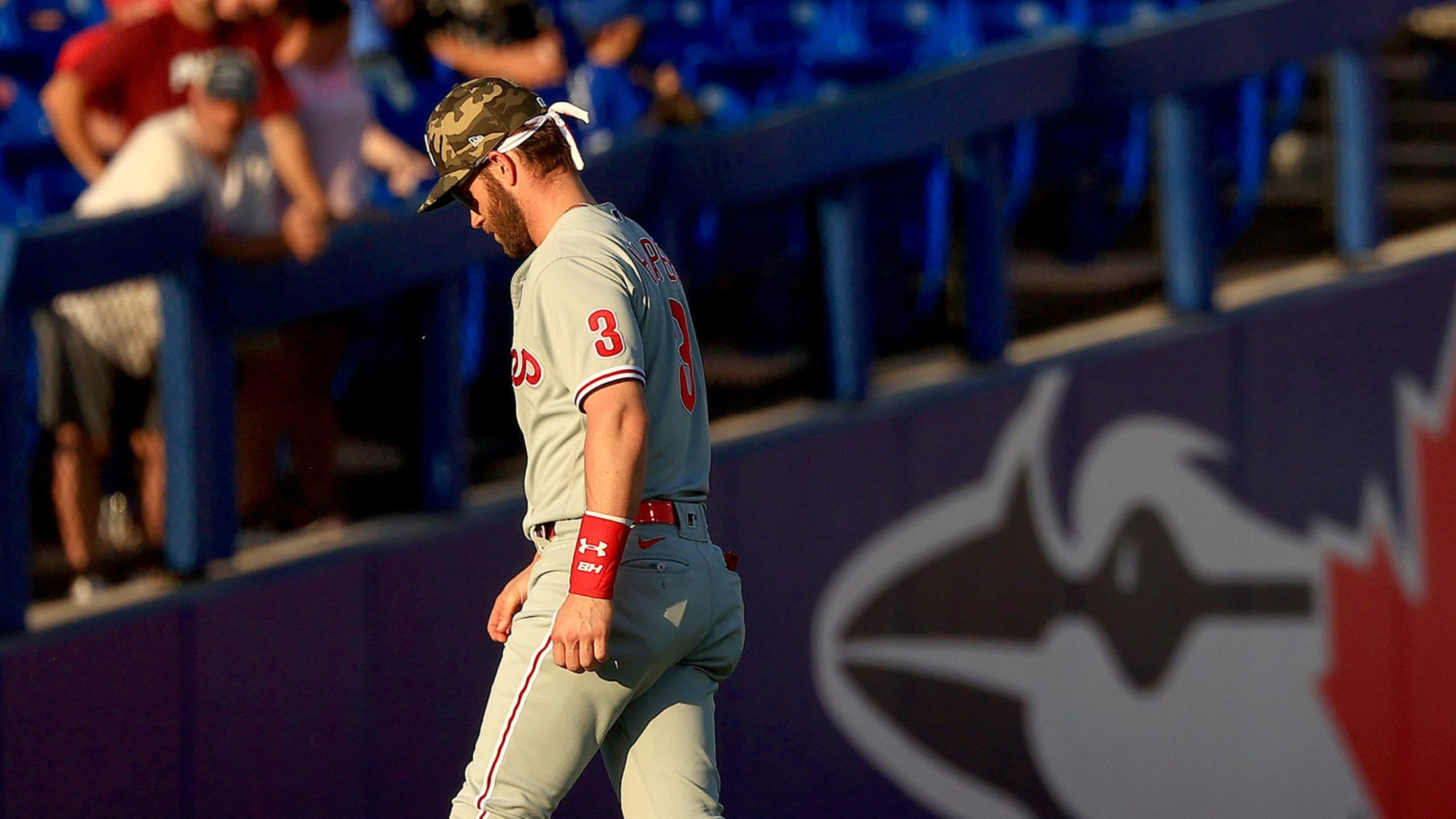 Bryce Harper was removed during Saturday night's 4-0 loss due to right shoulder soreness and is considered day to day, the Phillies announced. He was lifted for defensive replacement Scott Kingery in the bottom of the fourth inning against the Blue Jays. Phillies manager Joe Girardi acknowledged that Harper had
Realmuto placed on COVID injured list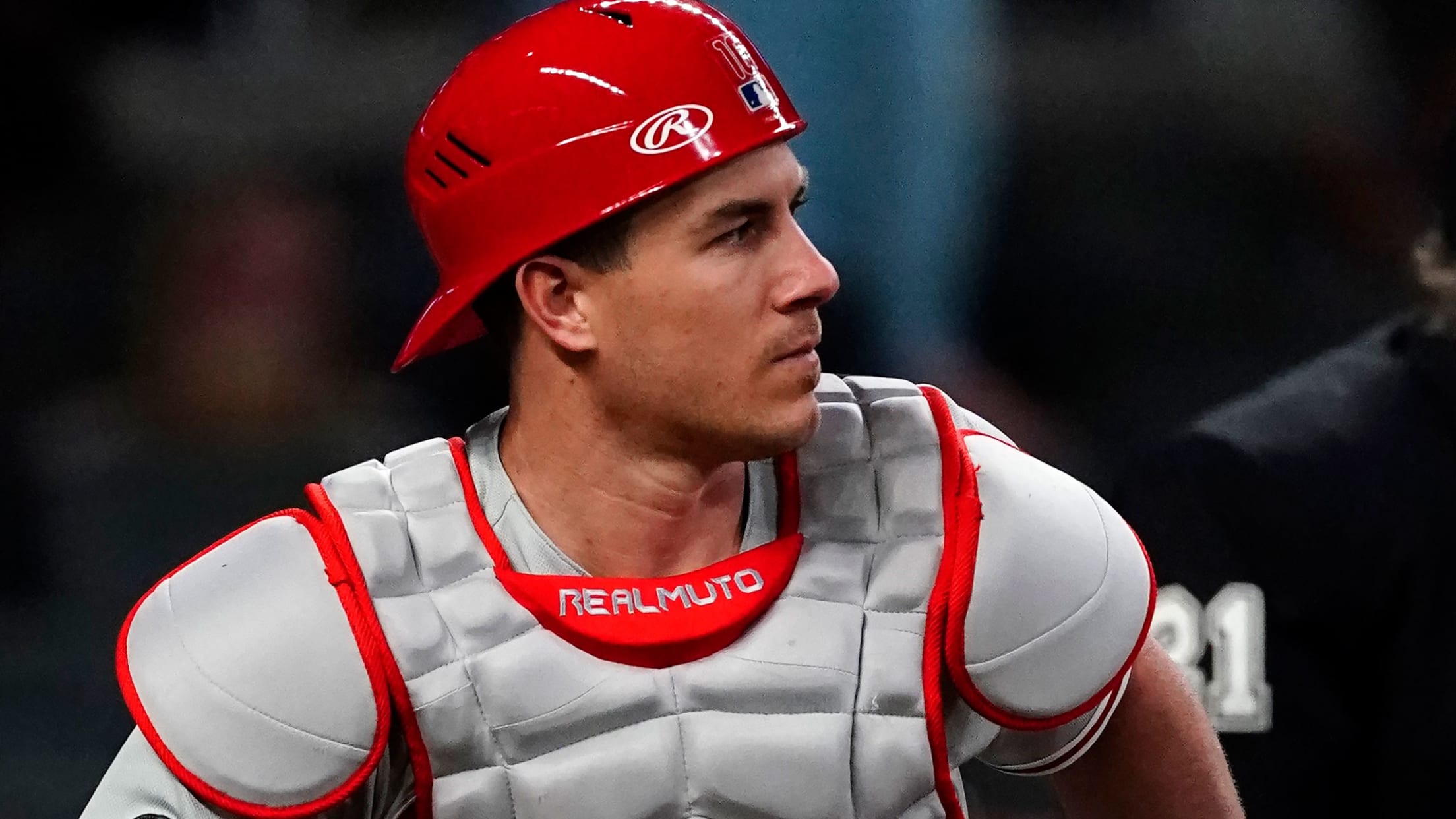 J.T. Realmuto can let his bruised left knee heal on Thursday without leaving the Phillies shorthanded on the bench. The team announced before its series finale against the Nationals at Nationals Park that it placed Realmuto on the COVID-19 injured list. The Phillies recalled catcher Rafael Marchan, who is the
Didi (right elbow) possibly out 'a couple days'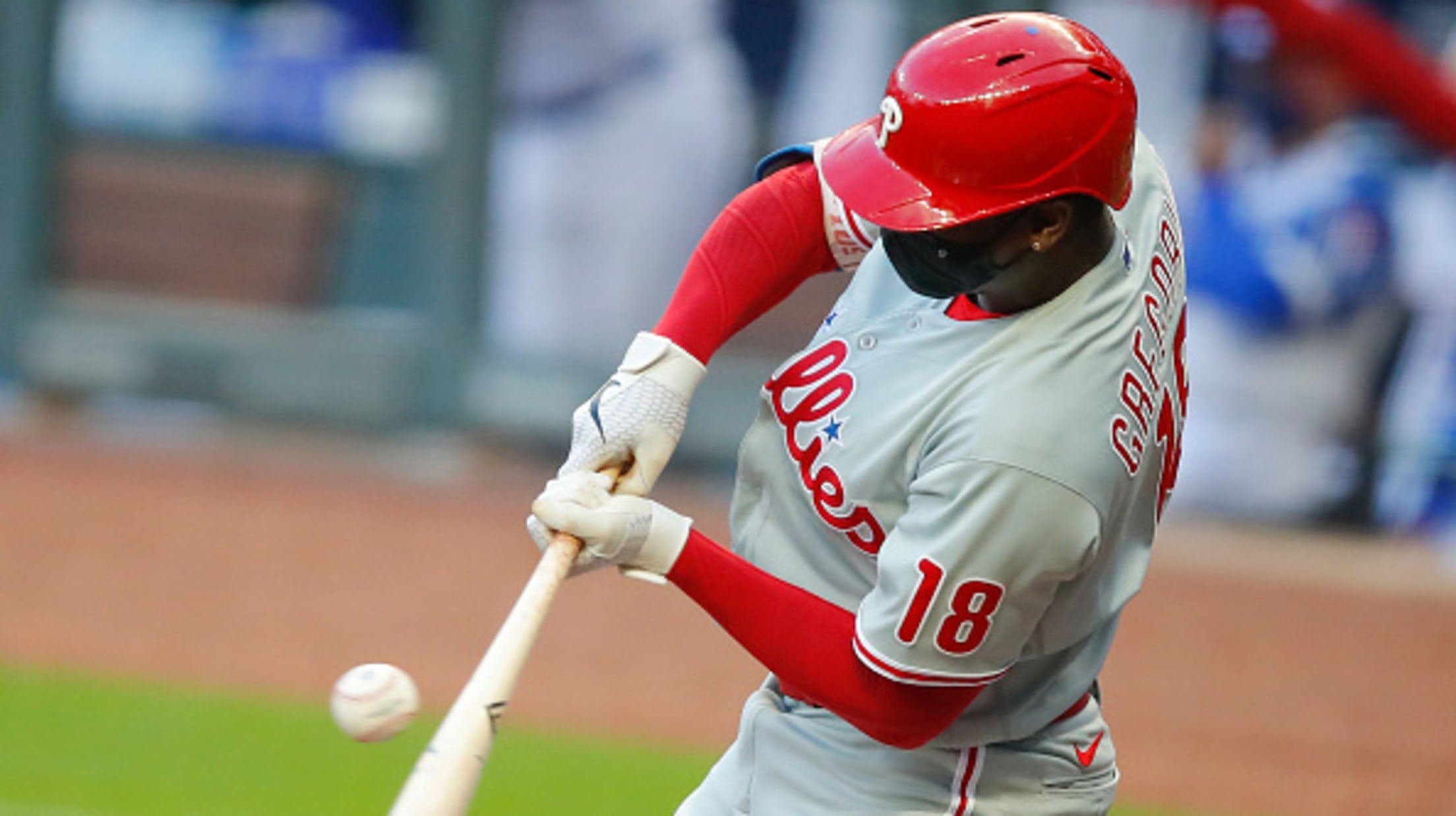 Shortstop Didi Gregorius left the Phillies' 10th-inning, 5-2 win vs. the Nats on Wednesday in the middle of the fifth inning due to stiffness in his right elbow. Nick Maton took his place. "It just kind of acted up," manager Joe Girardi said after the game. "He didn't feel it
Notes: Realmuto OK; Howard rolls at Triple-A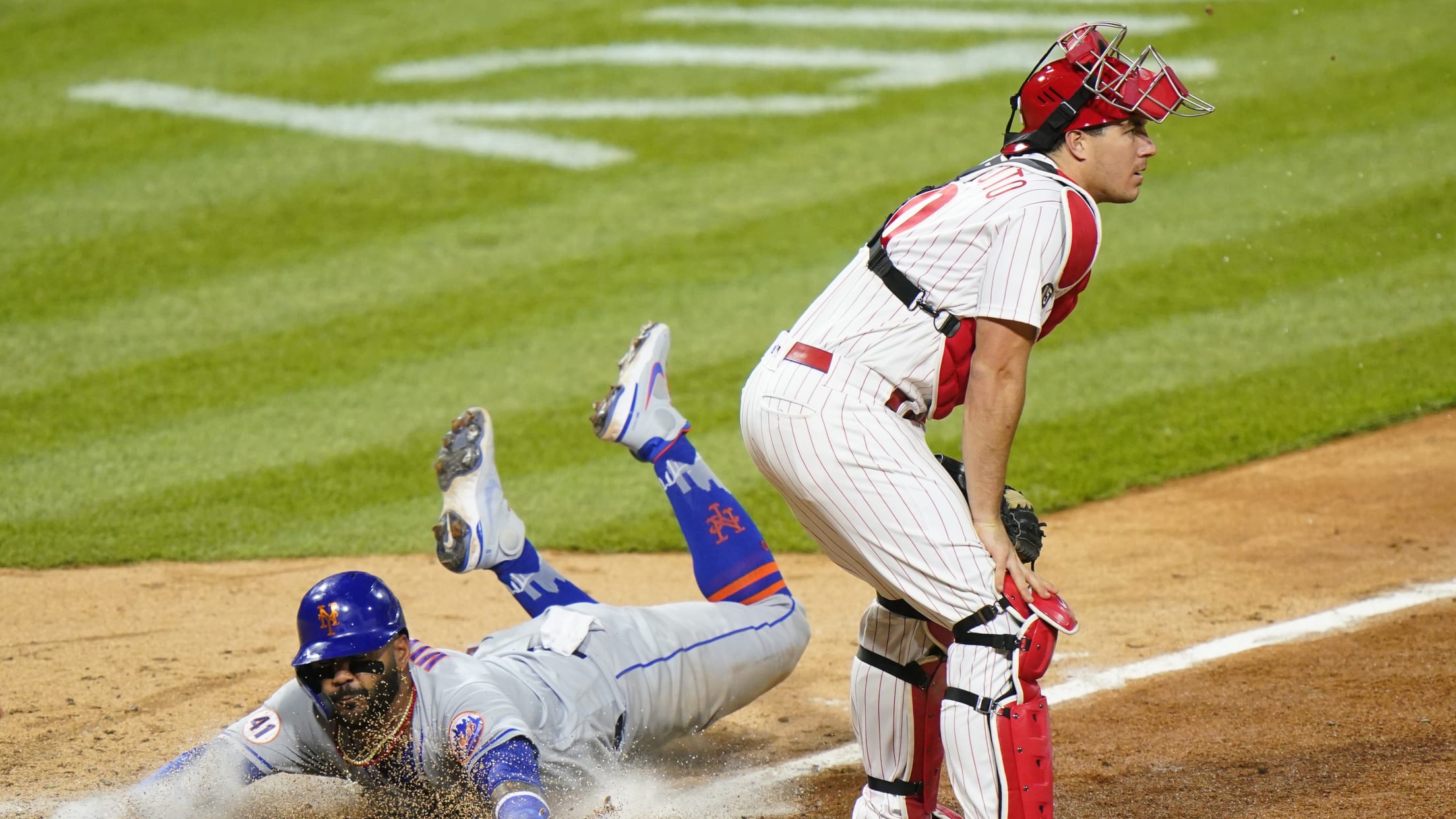 J.T. Realmuto is OK. His left knee is bruised and sore after a foul ball struck him in Tuesday night's victory over the Nationals at Nationals Park. But Phillies manager Joe Girardi said Wednesday afternoon that Realmuto will not be placed on the 10-day injured list. Instead, he is day
Bradley aims to rejoin Phils after road trip
Reliever slated to throw bullpen sessions at Triple-A; Romero lands on IL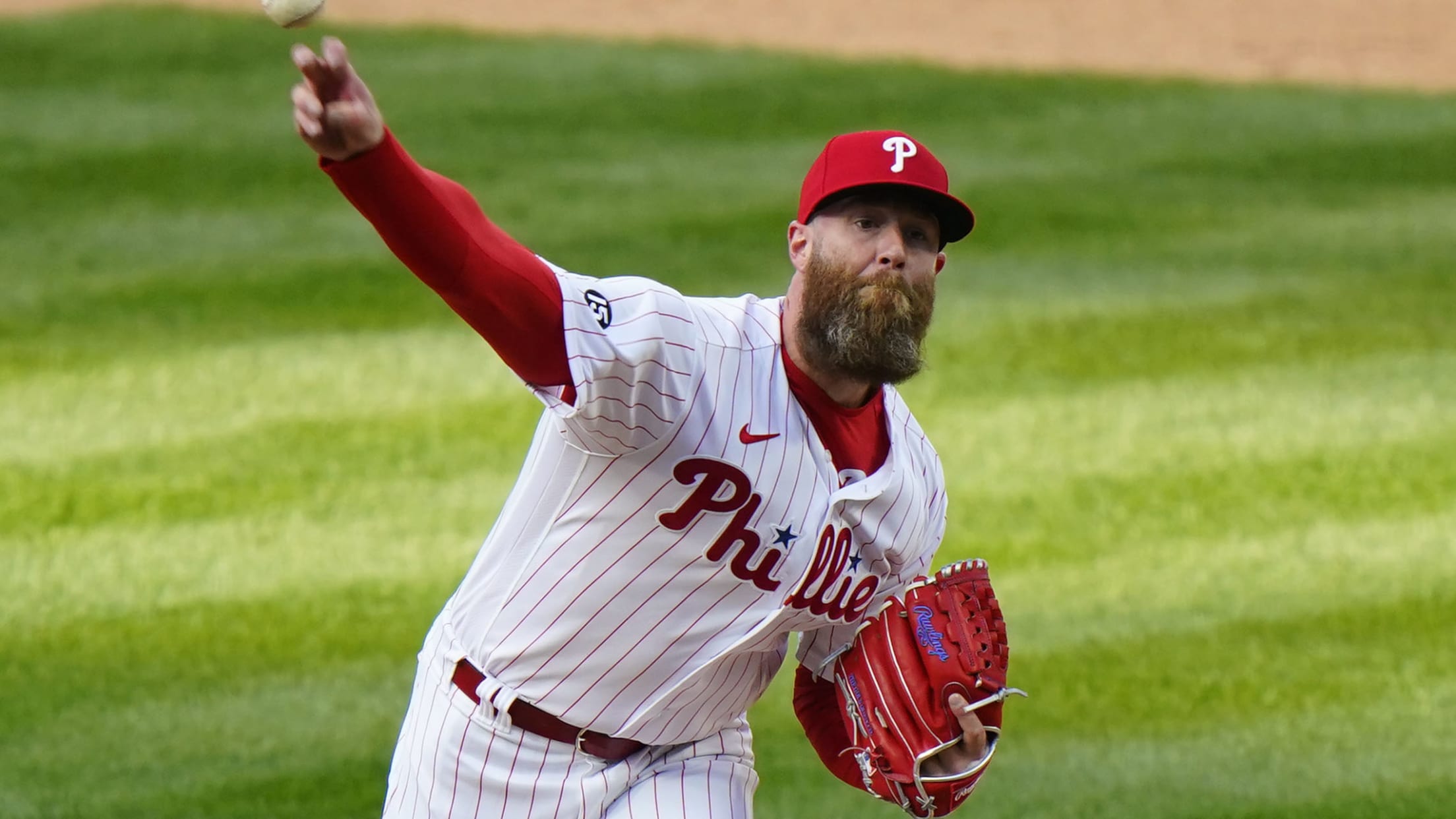 PHILADELPHIA -- Archie Bradley is beginning to ramp up in his rehab, with the hope of rejoining the Phillies following their upcoming nine-game road trip. The right-handed reliever, sidelined since April 11 with a strained left oblique, plans to head to Triple-A Lehigh Valley in Allentown, Pa., when the Phils
Notes: Quinn, Joyce to IL; Harper improving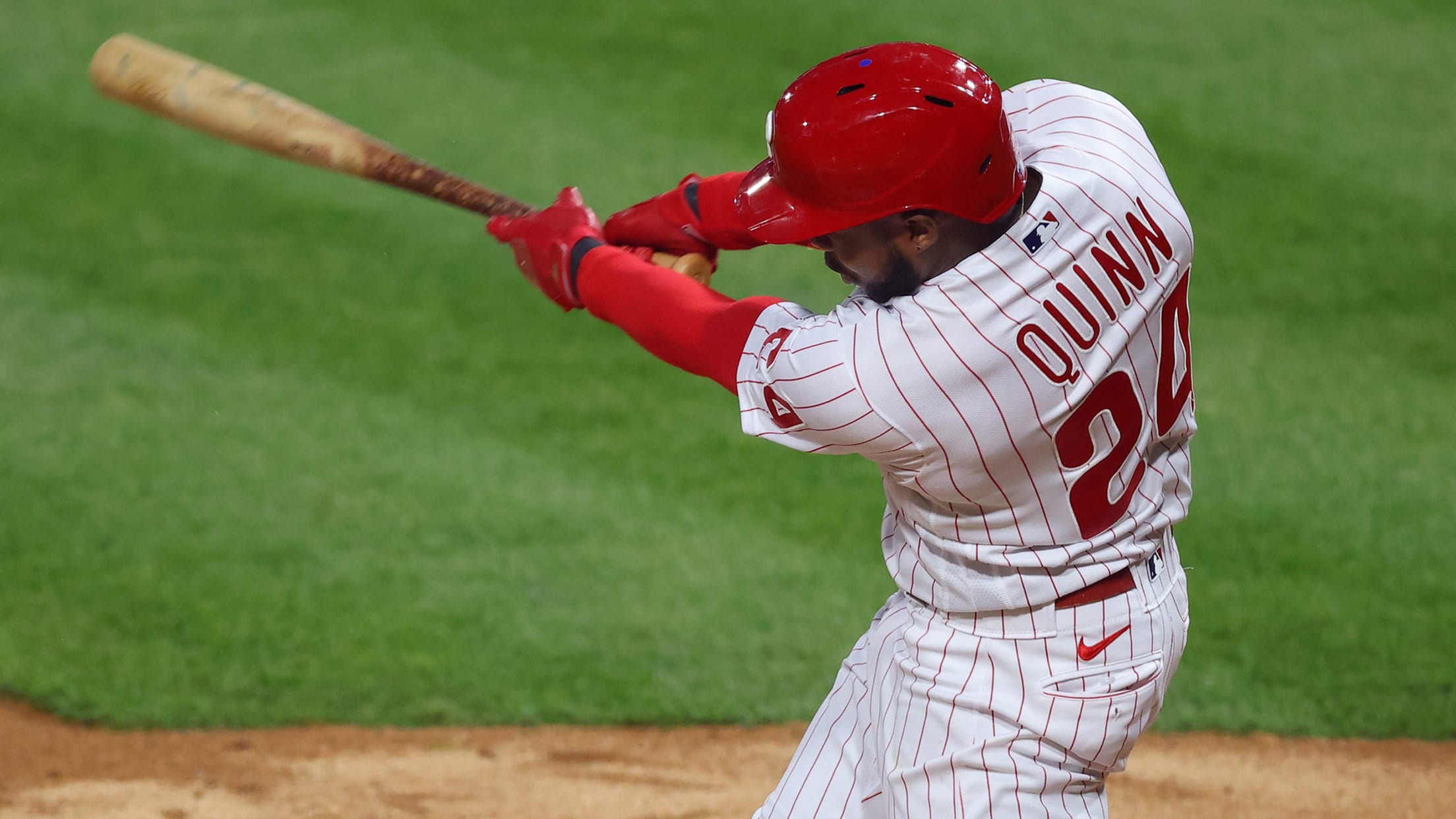 PHILADELPHIA -- Go figure. The moment a Phillies center fielder starts to hit the baseball a little bit, he lands on the injured list. The Phillies placed Roman Quinn on the 10-day IL on Wednesday after he sliced his right index finger trying to bunt on Tuesday. The cut required
9 stitches likely to land Quinn on injured list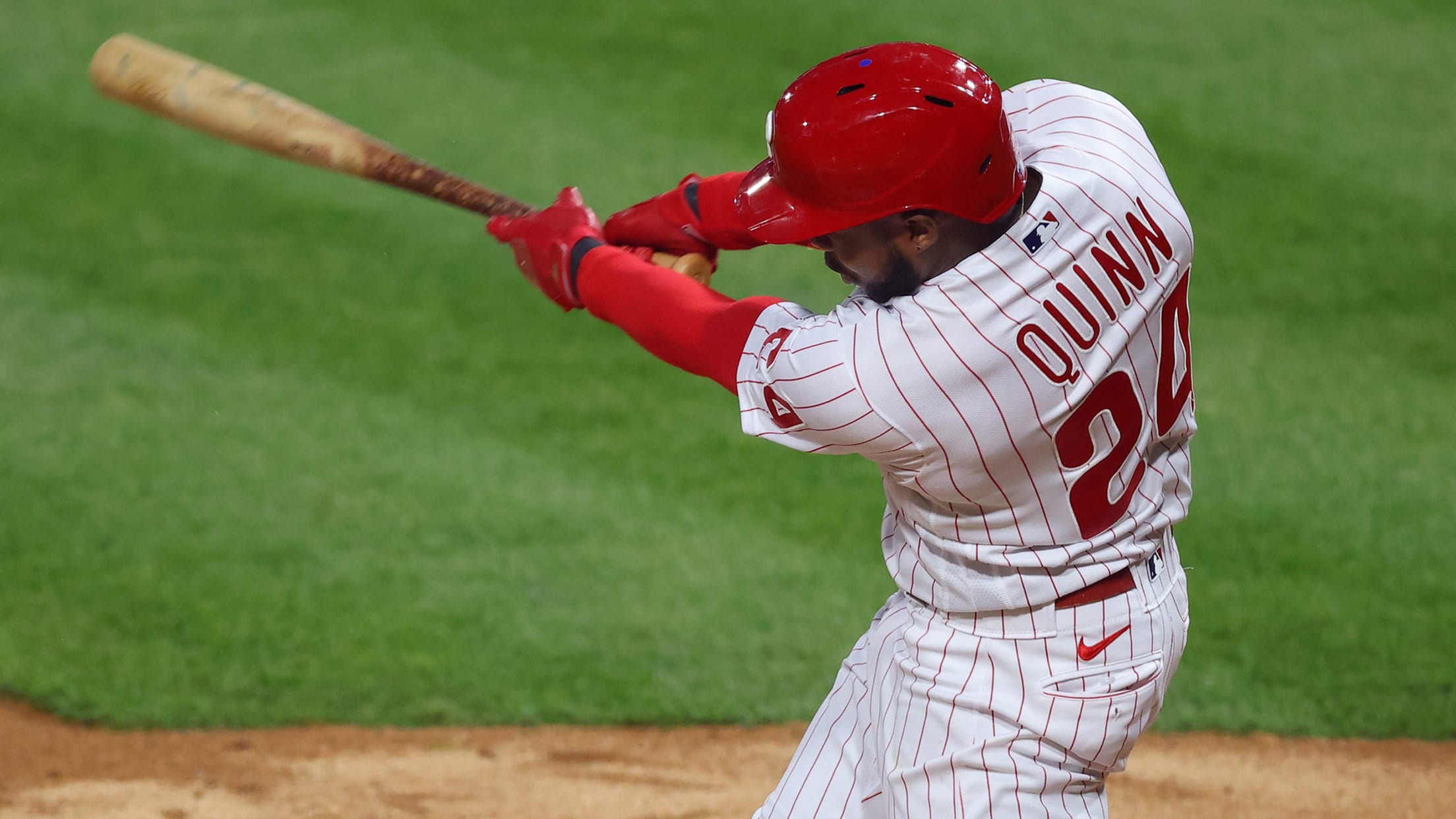 PHILADELPHIA -- The Phillies lost another center fielder, and just when he seemed to be swinging the bat a little better. Roman Quinn left Tuesday night's 6-5 victory over the Brewers at Citizens Bank Park after the second inning because of a cut on his right index finger. The cut
Bryce (wrist) sidelined 'a day or two at least'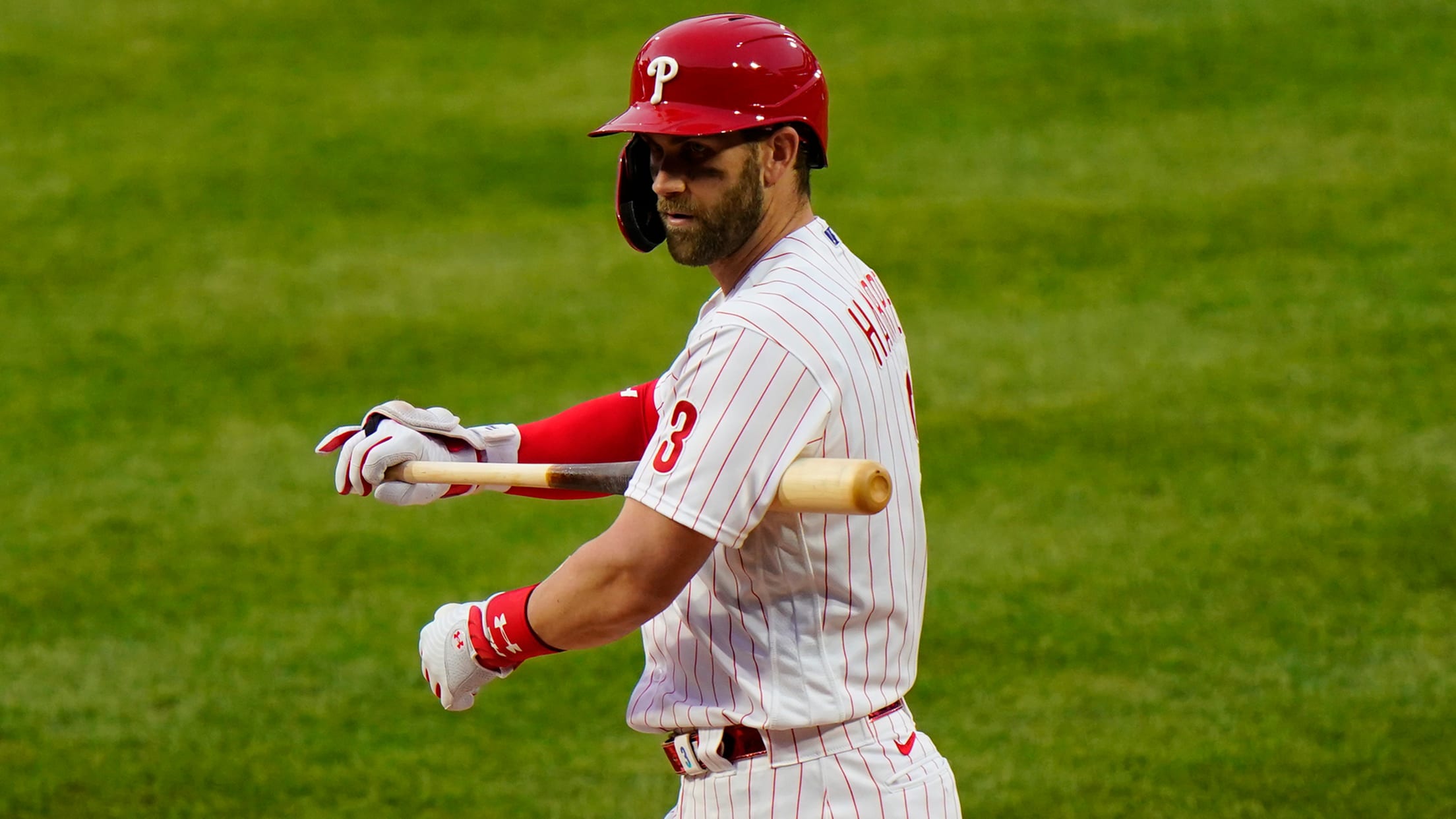 PHILADELPHIA -- Bryce Harper's left wrist remains sore, but the Phillies have no plans to place him on the injured list. Harper could not play in Monday night's 4-3 victory over the Brewers at Citizens Bank Park because of lingering pain in his wrist. Harper injured it Wednesday in St.
Didi activated, rejoins ailing Phillies lineup
PHILADELPHIA -- The Phillies got Didi Gregorius back in the lineup Saturday, but they started another game against the Mets at Citizens Bank Park without Bryce Harper, J.T. Realmuto and Jean Segura. Harper did not start for a third consecutive game after he was hit in the face with a
Notes: Didi on IL; Realmuto scratched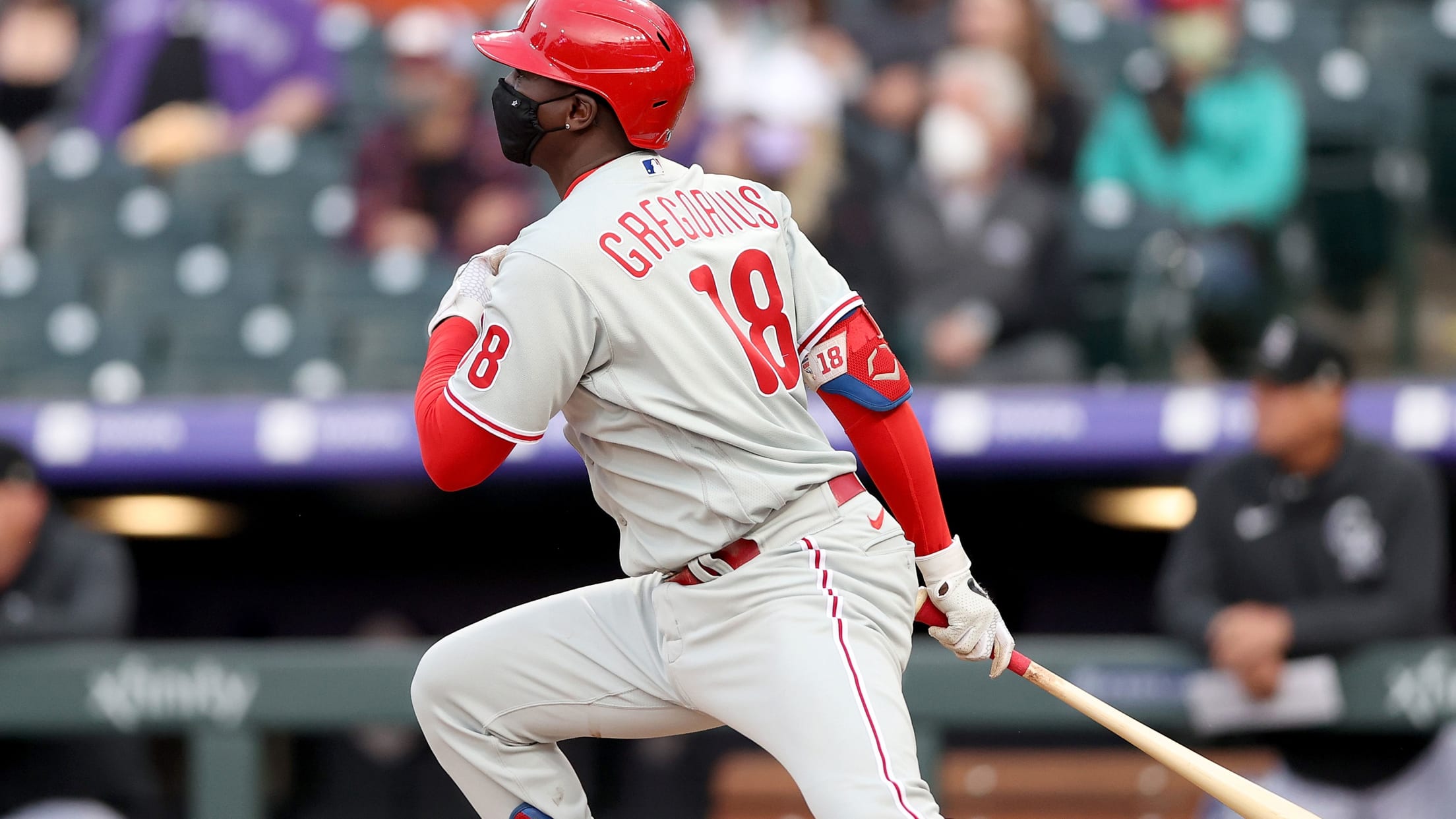 The Phillies posted a lineup Friday night at Citizens Bank Park without Bryce Harper, Didi Gregorius and Jean Segura. Then they scratched J.T. Realmuto. The Phillies said he is out with a sore left hand after trying to block a ball Thursday. They placed Gregorius on the COVID-related injured list.
Harper after HBP: 'An angel on my side'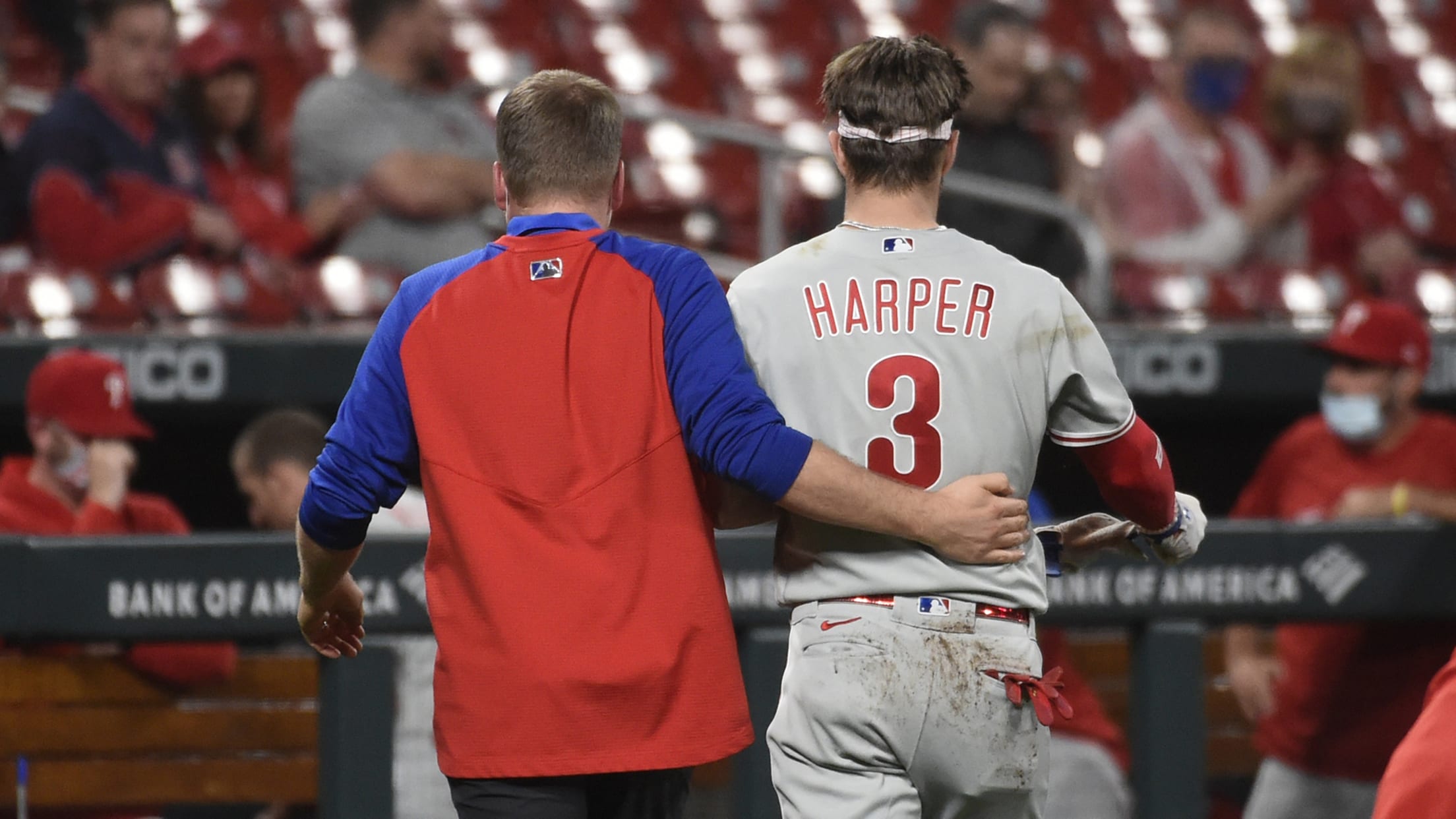 Bryce Harper is incredibly lucky. He knows it. Another inch or two up, another inch or two over, and Harper might not have walked off the field Wednesday night at Busch Stadium. He certainly would not have been on a Zoom call with reporters on Friday evening, talking about how
Harper 'all good' after 97 mph pitch to face
Slugger: 'Face is still there' after beaning during Phillies' comeback victory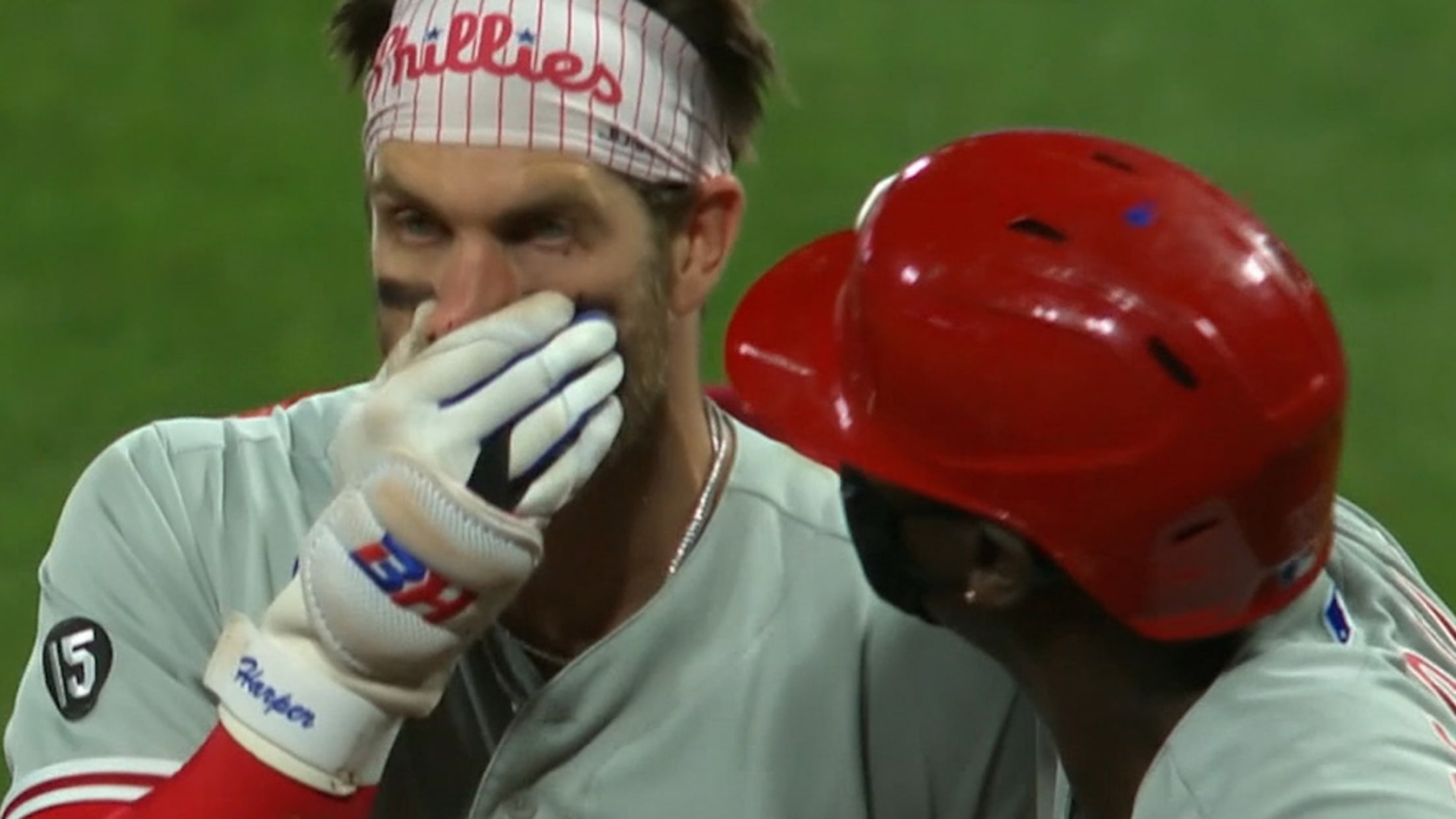 Phillies slugger Bryce Harper was forced to exit Wednesday night's 5-3 win over the Cardinals after being hit in the face by a pitch from Cardinals reliever Génesis Cabrera in the top of the sixth inning at Busch Stadium. A 96.9-mph sinker by Cabrera beaned Harper directly in the face
Notes: Segura to IL; Moniak's 1st career HR
Kingery recalled to take spot on active roster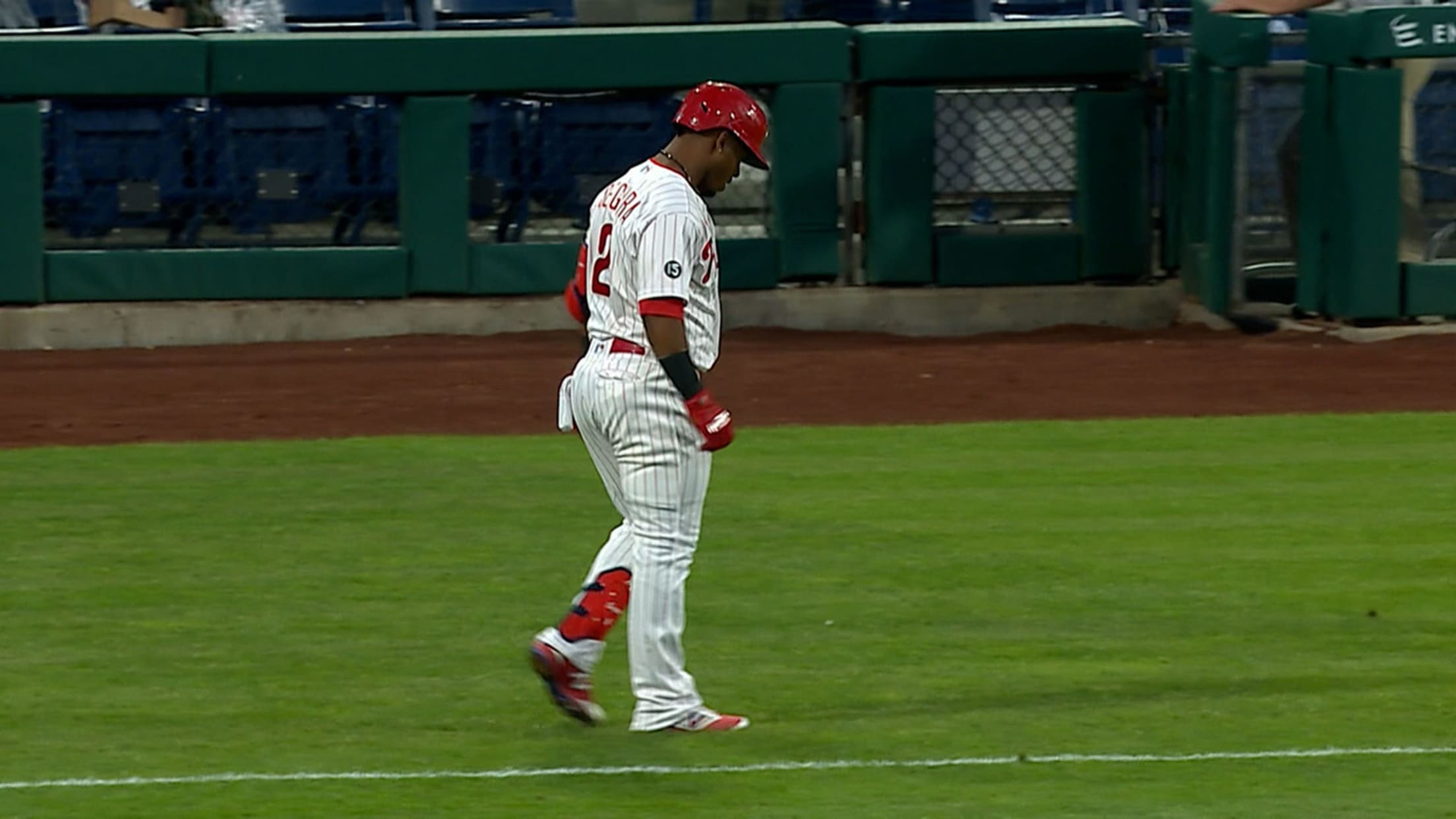 PHILADELPHIA -- Less than three weeks into the season, the Phillies' organizational depth is being pushed to its limits. They announced Wednesday morning that second baseman Jean Segura has been placed on the 10-day injured list because of a strained right quadriceps. An MRI exam confirmed the severity of the
Segura to have MRI for right quad strain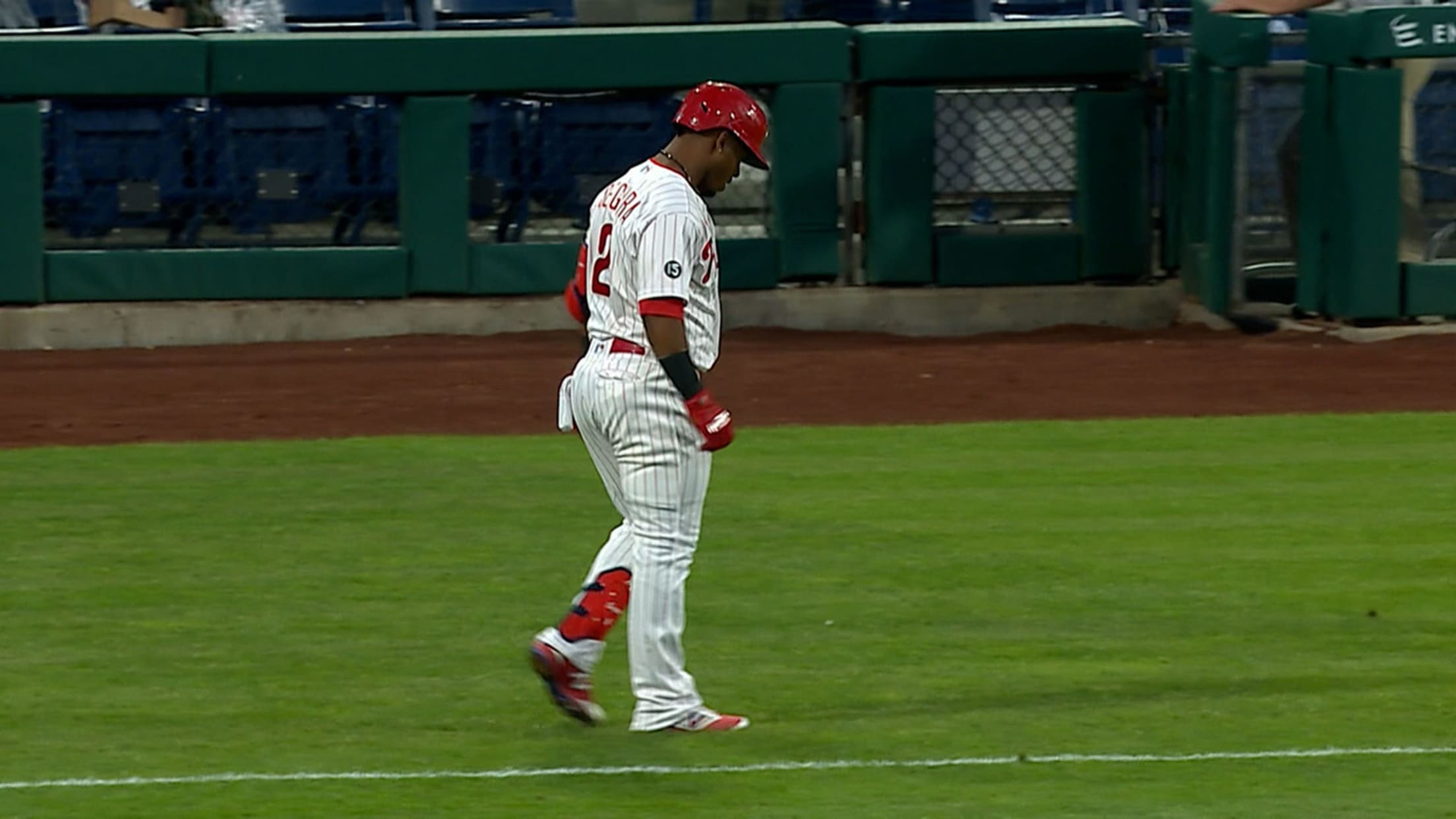 PHILADELPHIA -- The Phillies will learn Wednesday if Jean Segura is headed to the injured list. He strained his right quadriceps running hard to first base in the second inning in Tuesday night's 10-7 loss to the Giants at Citizens Bank Park. It is concerning enough that he will receive
Harper day to day with back tightness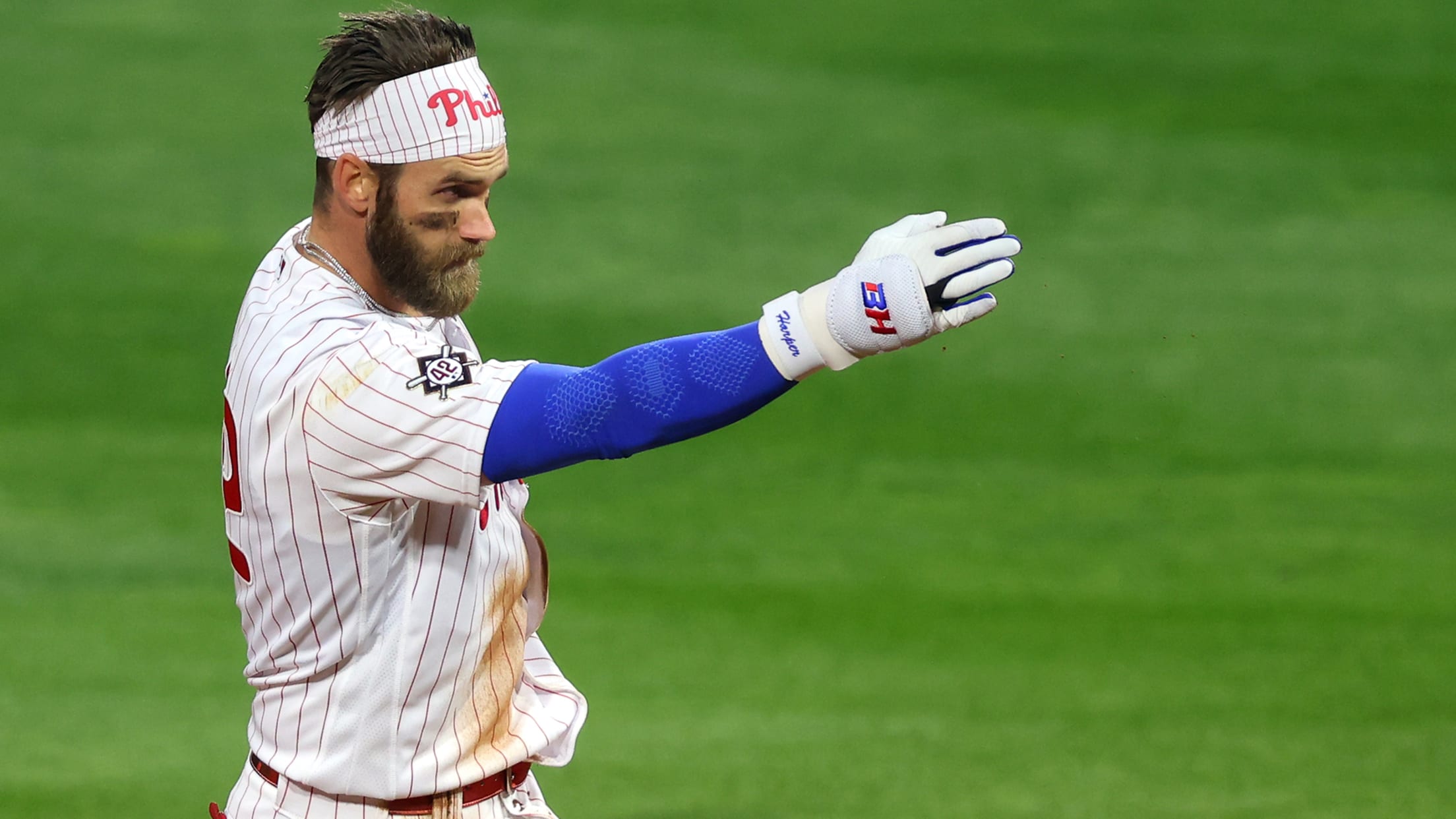 PHILADELPHIA -- Bryce Harper could play in Sunday's series finale against the Cardinals at Citizens Bank Park, which would be welcome news for the Phillies. The fact that he did not play Saturday because of lower back soreness is not. Harper woke up Saturday morning with tightness in his back.
Notes: Moniak fills OF spot; Bradley update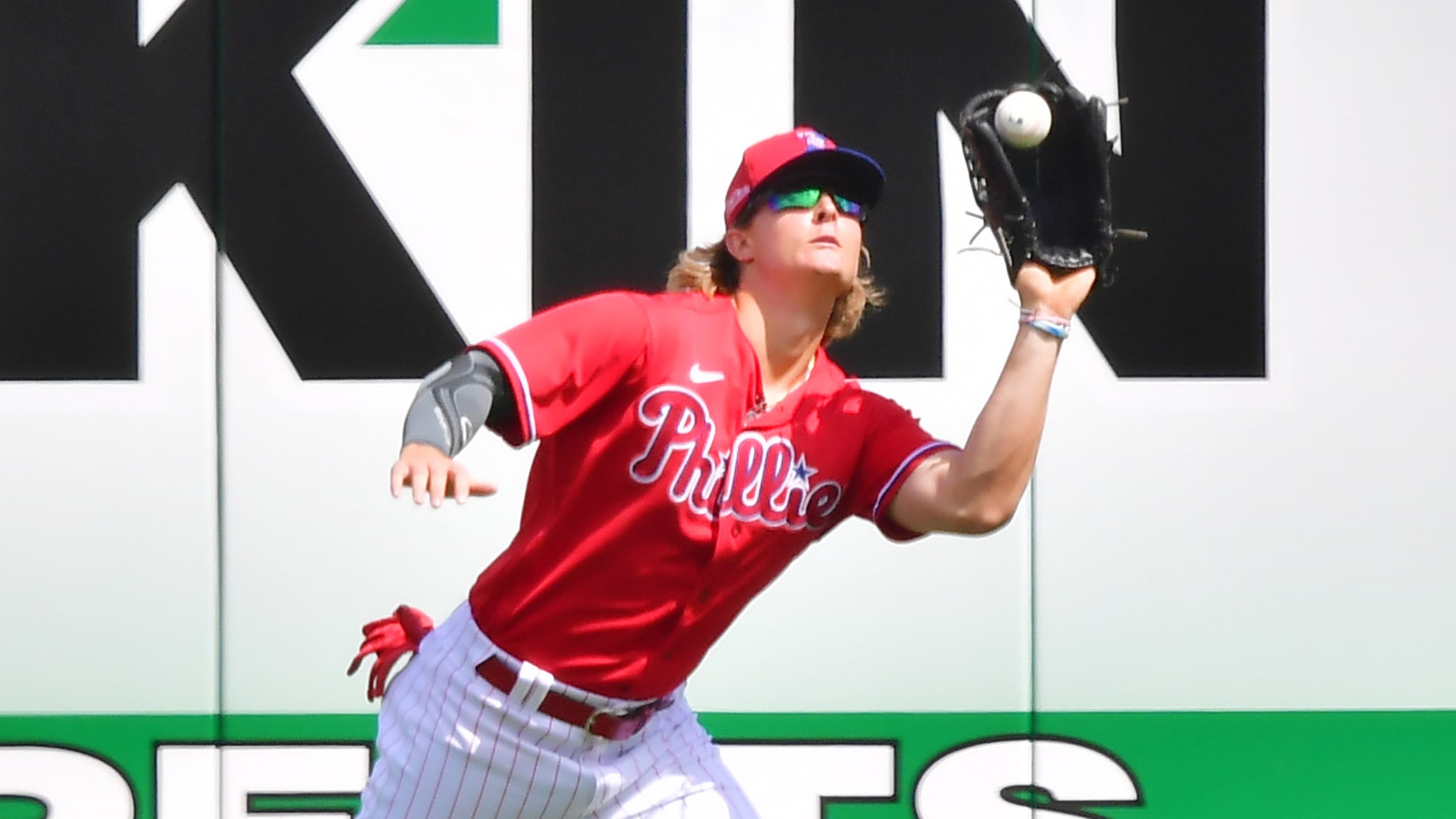 Though the Phillies have struggled to generate offense from the center-field position thus far this season, their shakeup in that spot Wednesday was due to personal, not performance, reasons. Adam Haseley has decided to leave the team for personal reasons for an undetermined amount of time, making the way for
Bradley to IL; Romero recalled to join 'pen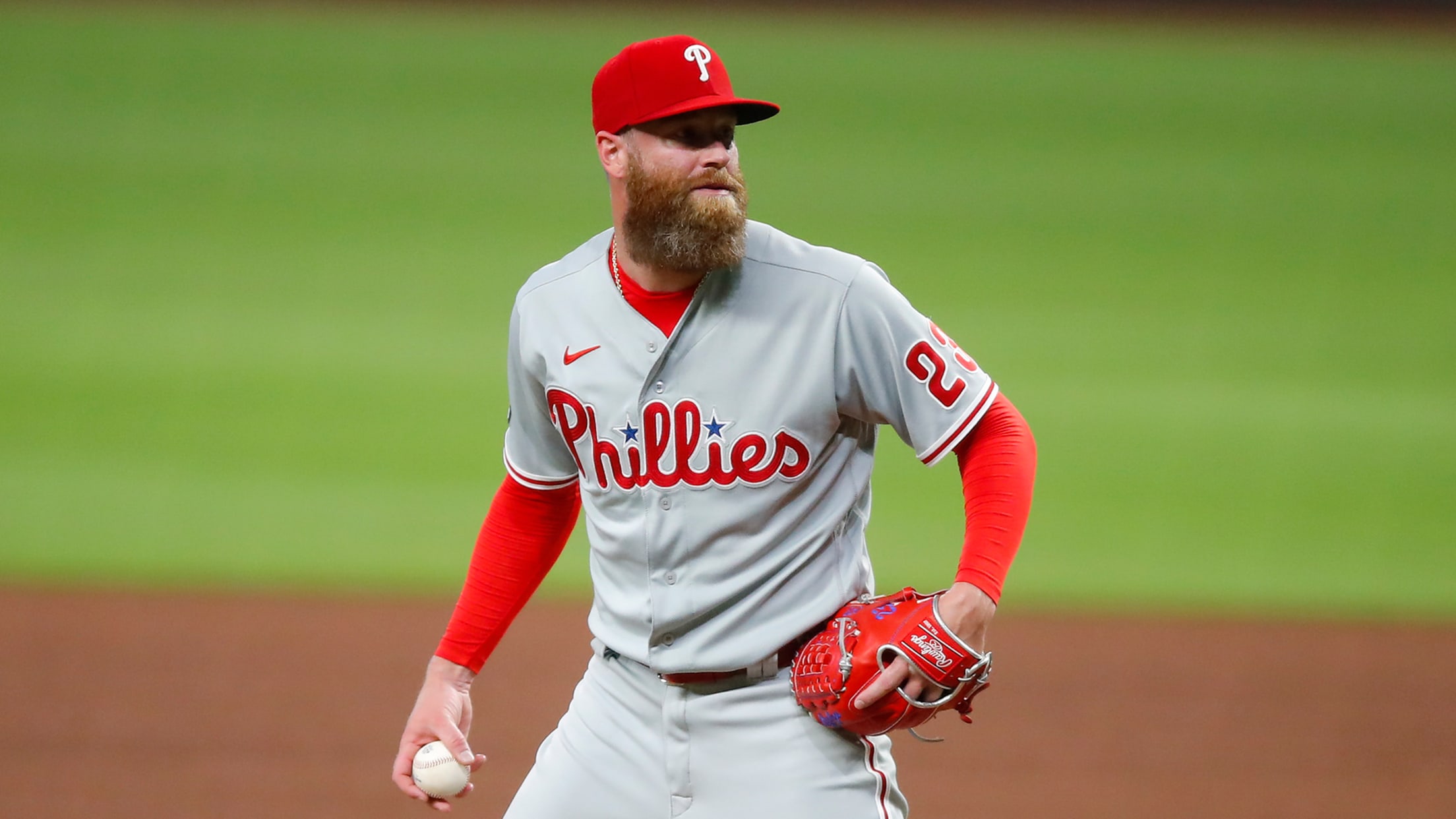 Phillies right-hander Archie Bradley said he does not know when he will rejoin the Phillies' bullpen because he does not know the severity of his strained left oblique. But it is bad enough that the team placed him on the 10-day injured list on Sunday. "It really just kind of
Realmuto's Spring Training debut delayed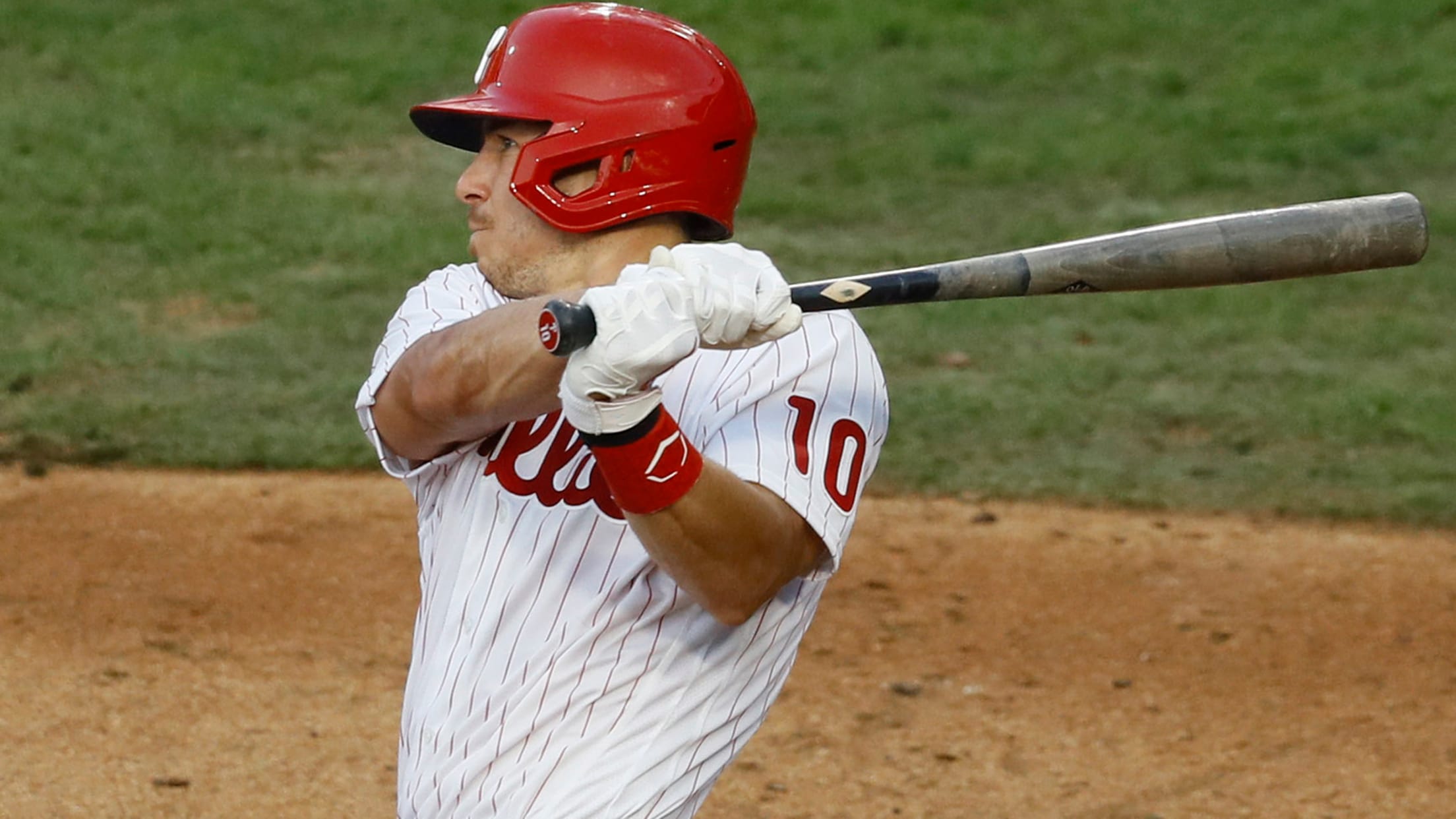 J.T. Realmuto almost made his Grapefruit League debut on Sunday against the Tigers at BayCare Ballpark in Clearwater, Fla. He might play in the next couple of days instead. Phillies manager Joe Girardi scratched Realmuto from Sunday's 5-3 loss to the Tigers with "general soreness." Realmuto has been sidelined since